If you're a fan of chocolate and caramel, especially when mixed together, you need to try homemade Turtles Candy! Also made with toasted pecans, this no-bake candy will easily become one of your favorite desserts.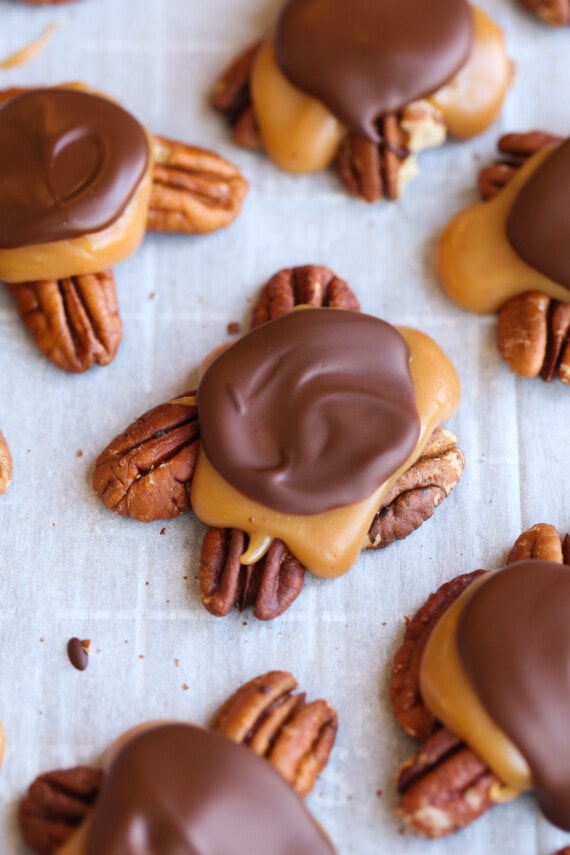 No-Bake Chocolate Caramel Candy
Toasted pecans are drizzled with homemade caramel and then topped with melted chocolate. Are you craving sugar now, or what? If that introduction didn't already convince you, trust me when I tell you that these No-Bake Turtles Candies are THE dessert to satisfy your sweet tooth with.
No matter what time of the year it is, there is always room in this house for a batch of turtles candies. They fit right in on holiday dessert trays, make appearances in lunch boxes, etc. These nutty chocolate caramels always get rave reviews, so get in on the goodness!
What is Turtles Candy?
Turtles candies are bite-sized candies made up of pecan halves, caramel, and chocolate. They are named as such because when you pile the chocolate and caramel on top of the pecans, it kind of looks like the shell of a little turtle!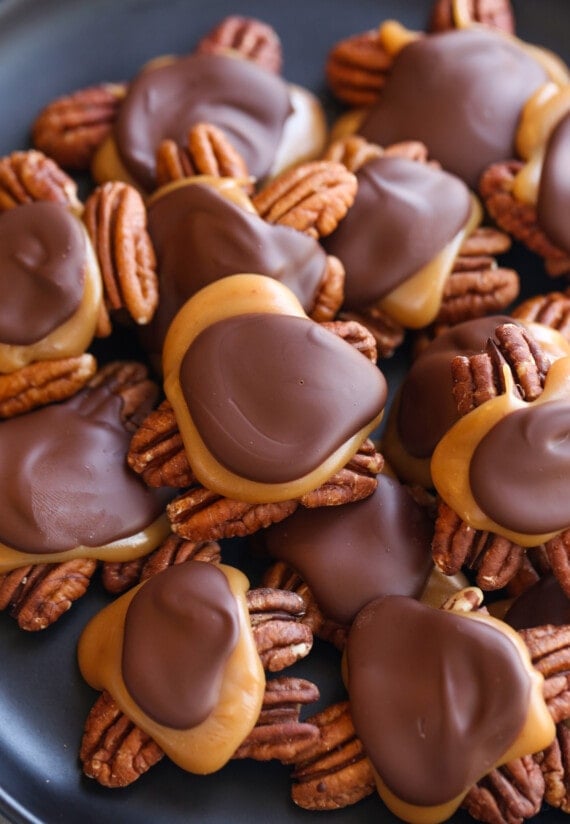 What You'll Need
What exactly goes into making turtles candies? Round up the following 9 ingredients:
Pecans: You could use whole pecans, but, in my experience, halved pecans work best and toast quicker!
Butter: Salted or unsalted, whatever you prefer.
Light Brown Sugar: To provide that sweet caramel flavor!
Light Corn Syrup: To keep the caramel from crystallizing.
Kosher Salt: Regular salt is fine too.
Condensed Milk: Sweetened condensed milk is often sold in a 14 oz can, so you might just have to make two batches!
Vanilla Extract: Offers extra sweet flavor.
Chocolate Chips: I like to use semi-sweet chocolate chips rather than milk chocolate ones.
Vegetable Oil: Adding in a little vegetable oil to your chocolate while its melting makes the consistency SO smooth.
How to Make Turtles Candy
As far as candy-making processes go, this one is pretty simple. First you'll toast the pecans, then you'll make the caramel and melt the chocolate, and finally you'll put all 3 components together.
Toast the Pecans: Preheat oven to 350°F. Line a large baking sheet with parchment paper and spread the pecan halves in a single layer on the prepared pan. Bake for 10 -12 minutes until lightly browned and fragrant.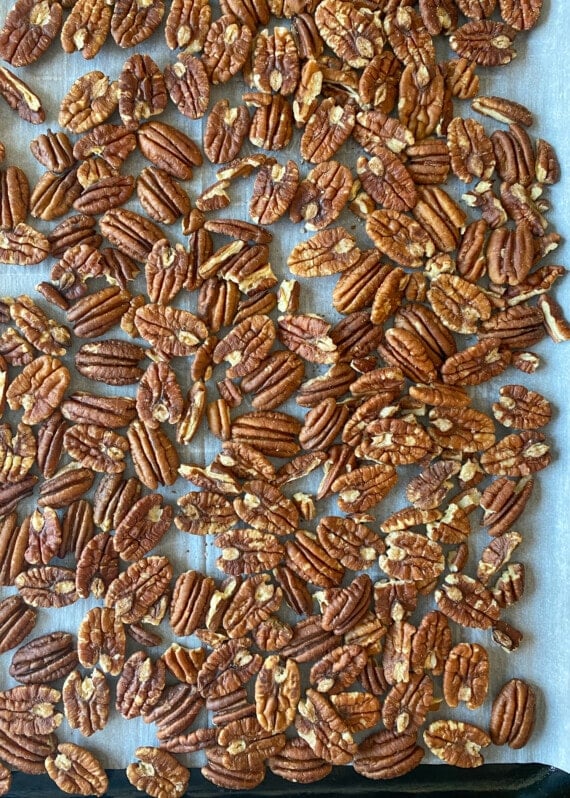 Allow the Pecans to Cool: Line another baking sheet with parchment paper and when the pecans are cooled arrange them into clusters of 3 or 4 nuts. Using an additional baking sheet allows you more space to work so they are not packed too close together as you top with caramel. Set the pecans aside.
Make the Caramel: In a medium, heavy-bottomed saucepan or Dutch Oven combine the butter, brown sugar, corn syrup, and salt. Bring to a boil over medium heat. Add in the sweetened condensed and continue boiling until it reaches 240°F on a candy thermometer.
Remove from the Heat: Stir in the vanilla. Allow the caramel to cool for 5 minutes and then spoon an approximate teaspoon on top of each pecan cluster.
Melt the Chocolate: In a small microwave-safe bowl combine the chocolate chips and vegetable oil. Heat in 30 second intervals, stirring after each until the chocolate is melted and smooth. Spoon approximately 1/2 teaspoon of melted chocolate on top of the caramel. Allow the chocolate to set completely.