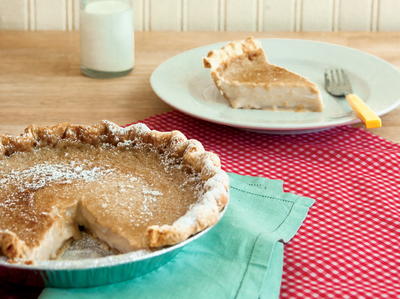 Hoosier Sugar Cream Pie
This image courtesy of Debbie Carlos
Editor's Note: When it's a hot summer's day, there is nothing quite like eating a slice of cream pie right out of the refrigerator for dessert! If you've only ever made fruit pies, then you'll want to broaden your culinary horizons with this recipe for Hoosier Sugar Cream Pie. This pie uses humble ingredients, but the result is a dessert that's decadent enough — and definitely rich enough — to serve at your next get-together with family and friends. You'll love having this recipe up your sleeve the next time you want to bake something new for dessert.
Sugar cream pie is an iconic Indiana dessert, thus the name! Native Hoosiers are sure to be familiar with this pie and its rich, custard-like texture. This version of sugar cream pie is bursting with caramel flavor, which makes it perfect for the fall!
The recipe for sugar cream pie traveled across the prairie in covered wagons with the earliest settlers of the Indiana Territories. According to pie lore, it was a great favorite of pioneering farm wives, who, to avoid washing utensils or a bowl, would throw the few staple ingredients in an unbaked pie shell and mix with their fingers before rushing back to their work in the fields. At Hoosier Mama, we pre-bake the pie shell and use utensils, but the basic recipe—cream and sugar thickened with a little flour—remains unchanged. It is a homely pie by any standard and it languished in the pie case until we started handing out samples. Now it's a customer favorite.
The flavor is wonderful—somewhere between crème brûlée and melted caramel ice cream, depending on the exact recipe. Recipes are closely guarded and passed down from generation to generation, with each family claiming their recipe is best. Our recipe, somewhat controversially, calls for both white and brown sugar. Hoosier Mama Pie makers like to throw leftover Sugar Creams in the freezer and snack on the frozen slices.
OccasionBuffet, Casual Dinner Party
Taste and TextureButtery, Creamy, Rich, Sweet
We are adding your Comments.

Thank you! Your comment has been added.
We are sorry. There was an error tyring to post your rating and review.
Your comment will appear after our editors have had a chance to review it.