How To Cook Spaghetti Squash in the oven OR microwave! A low carb or low calorie dream come true!
Spaghetti squash can be used as a delicious side dish or a low carb/low calorie alternative to replace pasta, depending on your dietary needs. Learn how to prepare and cook spaghetti squash right here!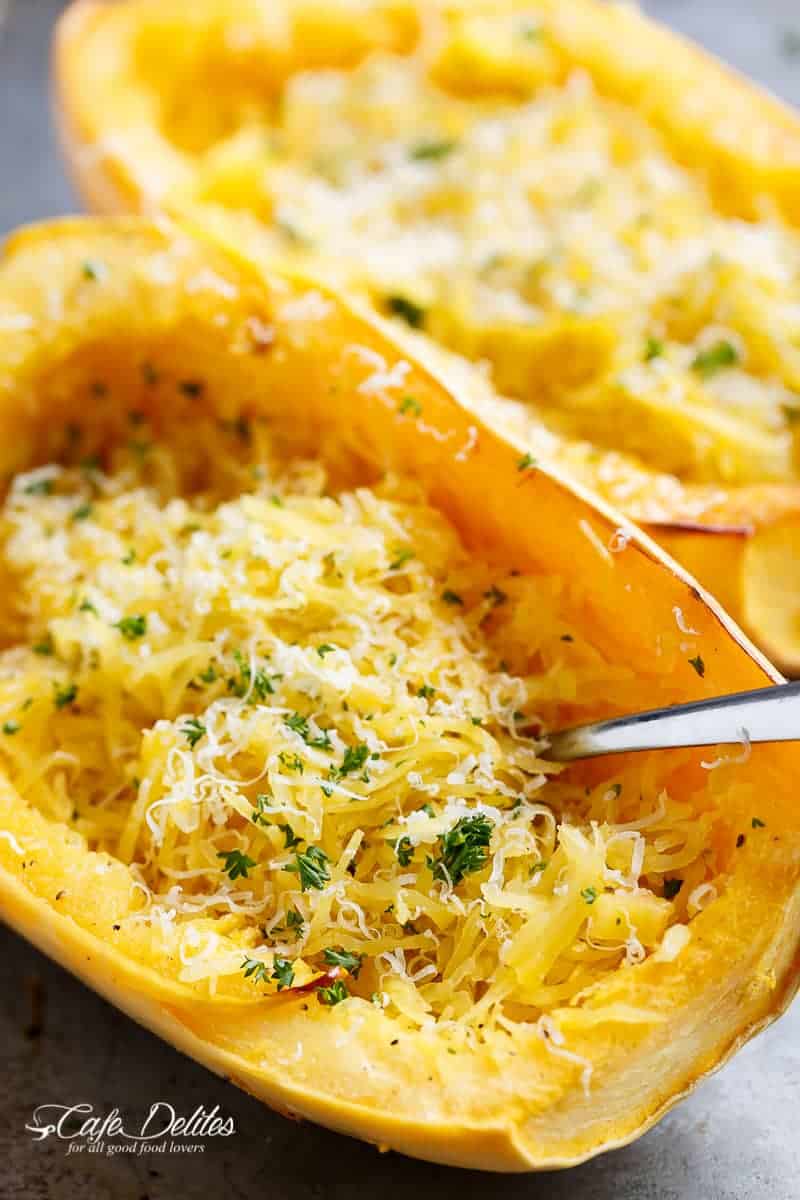 SPAGHETTI SQUASH
Anything can be stuffed inside them OR drizzled and sprinkled over Spaghetti Squash for an easy weeknight or weekend meal. Tomato based sauces like Bolognaise sauce or Ragu? Absolutely!
Creamy sauces can also be served with these low carb spaghetti strands! I'm thinking Lemon Parmesan Chicken Piccata, Creamy Garlic Parmesan Mushroom Chicken & Bacon, you get the idea.
Not only is spaghetti squash a wonderful alternative to pasta, it is also rich in nutrition! B vitamins, niacin, thiamin, riboflavin, folate, potassium, manganese, calcium, iron, phosphorus, and zinc, omega-3 and omega-6.
HOW TO COOK SPAGHETTI SQUASH TWO WAYS
Cooking spaghetti squash it in the oven creates an irresistible caramelized flavour on the edges, making it slightly sweeter with a deep flavour when compared to microwaving.
However, cooking squash in the microwave gives you the advantage of having it ready a lot sooner when compared to baking it in the oven.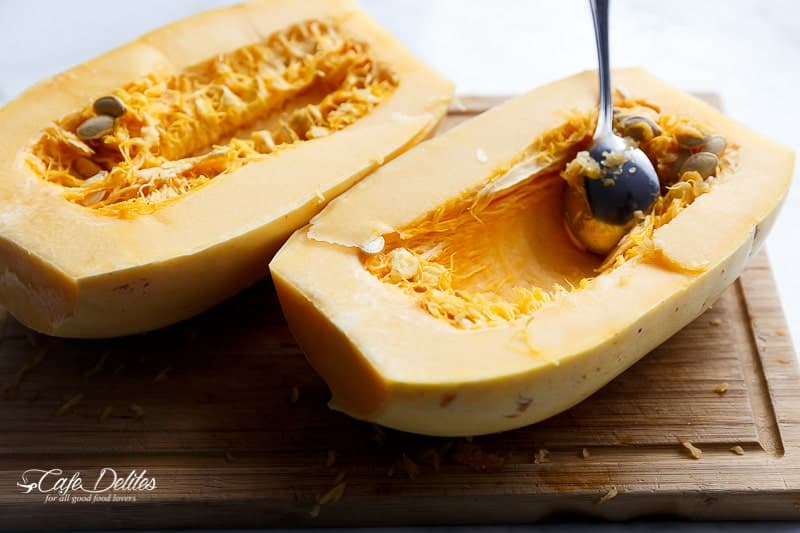 PREPARATION: The hardest part about preparing spaghetti squash is cutting them in half. You can ask your grocer to cut it for you!
Trim the ends if the surrounding area is tough and give them a good wash.
Pat dry tight paper towel and scoop out the seeds and discard (or save the seeds to roast separately later for a really healthy snack idea)!
Drizzle with olive and season with salt and pepper. You can also season with paprika, chili powder, garlic powder, onion powder, dried herbs — whatever the heart wants.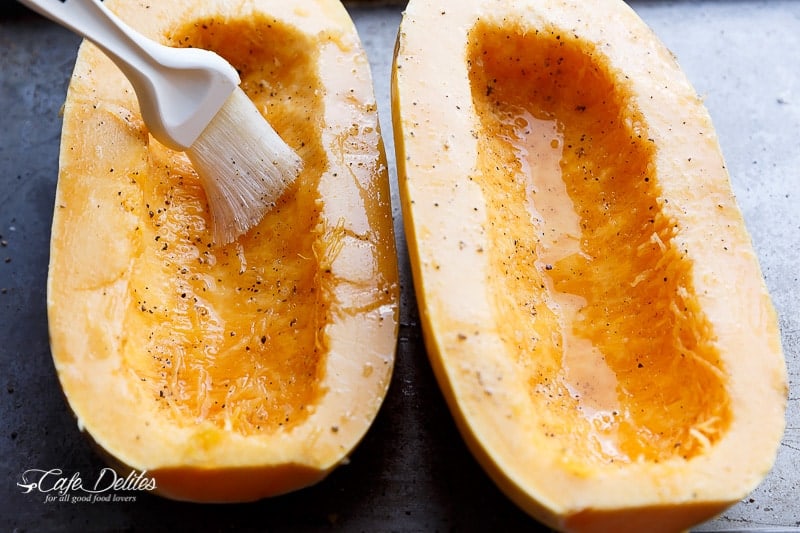 BAKED SPAGHETTI SQUASH
Place them, cut-side down, on a lightly greased baking sheet (or tray) and ROAST in a preheated oven until tender about 35-50 minutes, depending on the size of your squash.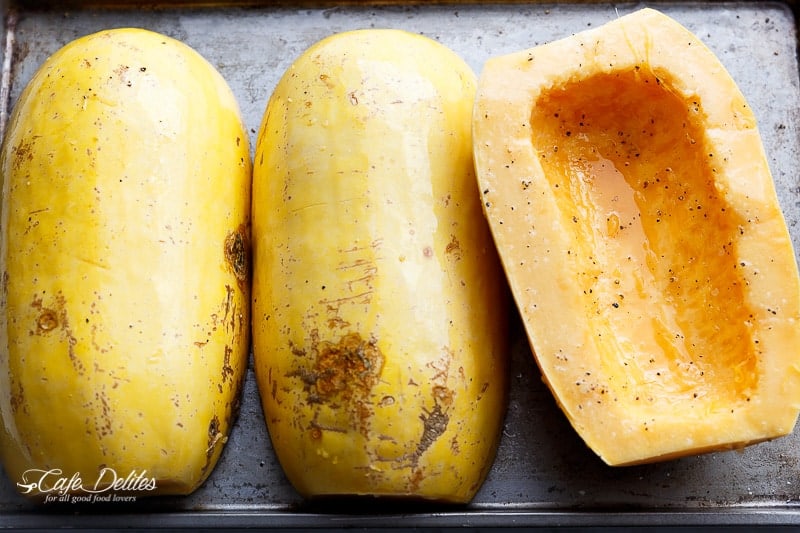 Remove from oven and allow to cool before handling. Scrape with a fork, back and forth across the squash to separate the strands from the squash…they will look just like spaghetti strands!
HOW LONG TO BAKE SPAGHETTI SQUASH
Cooking times will vary with the size of your squash. At the 30 minute mark test one by piercing it through the skin with a fork. If it pierces easily, it's ready.
MICROWAVE SPAGHETTI SQUASH
Prepare as above, but instead of placing them on a baking sheet, you're going to arrange the squash cut-side down in a microwave safe baking dish (large enough to fit 2 halves).
Fill the dish with about 1-inch of water, which will create steam in the microwave and microwave on HIGH for 15 minutes. If not cooked enough, microwave for 5 more minutes until tender in the middle.
Carefully remove squash from microwave and allow to cool for a few minutes before handling. Scrape the inside flesh with a fork, and you'll see spaghetti strands come straight off of the insides!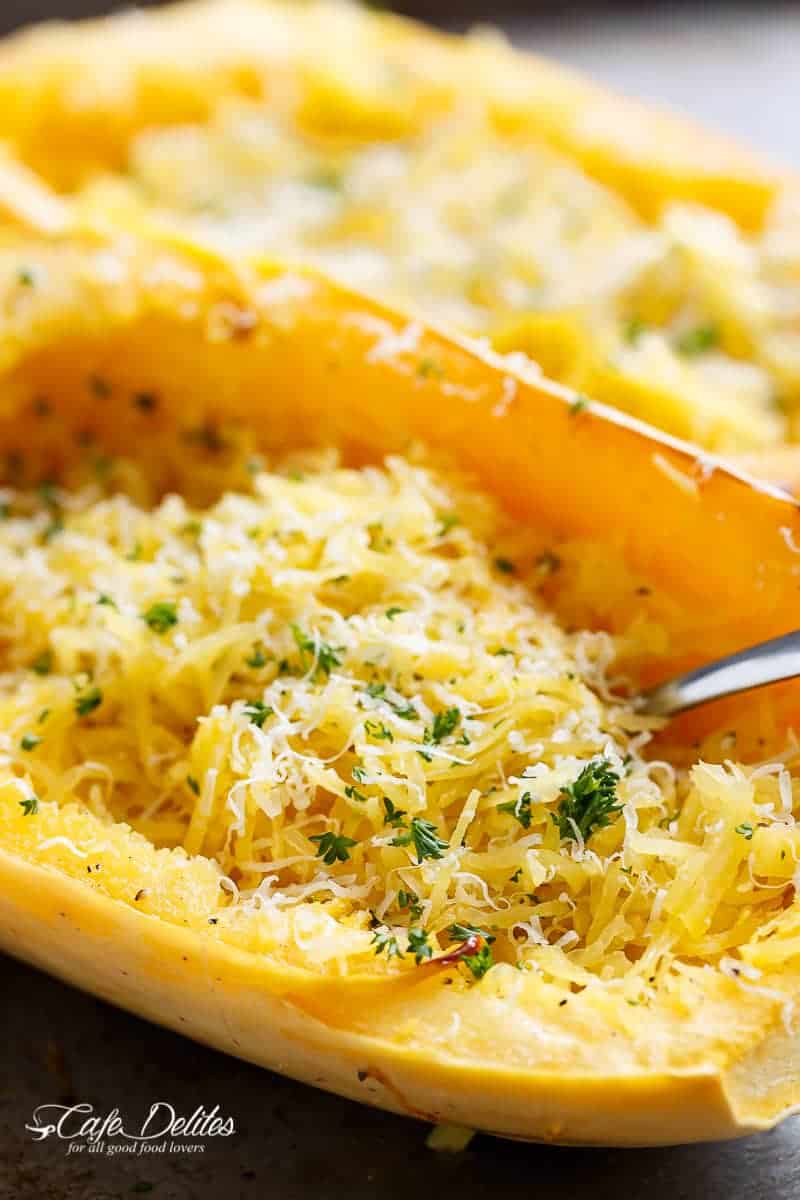 Tender and natural spaghetti strands! Mother nature… we heart you.
Looking for more spaghetti squash recipes? Try this!
Spaghetti Squash Lasagna Boats
Love zucchini? Try these!
Parmesan Crust Zucchini
Spinach And Ricotta Zucchini Cannelloni
Low Carb Zucchini Brownies