This savory Slow Cooker Beef Machaca is perfect if you're looking for a satisfying Mexican dinner option that's a little out of the ordinary. Plus, it stores really well, so it's perfect for meal prep! Whether you like your beef spicy, mild, or hot, this is the recipe for you.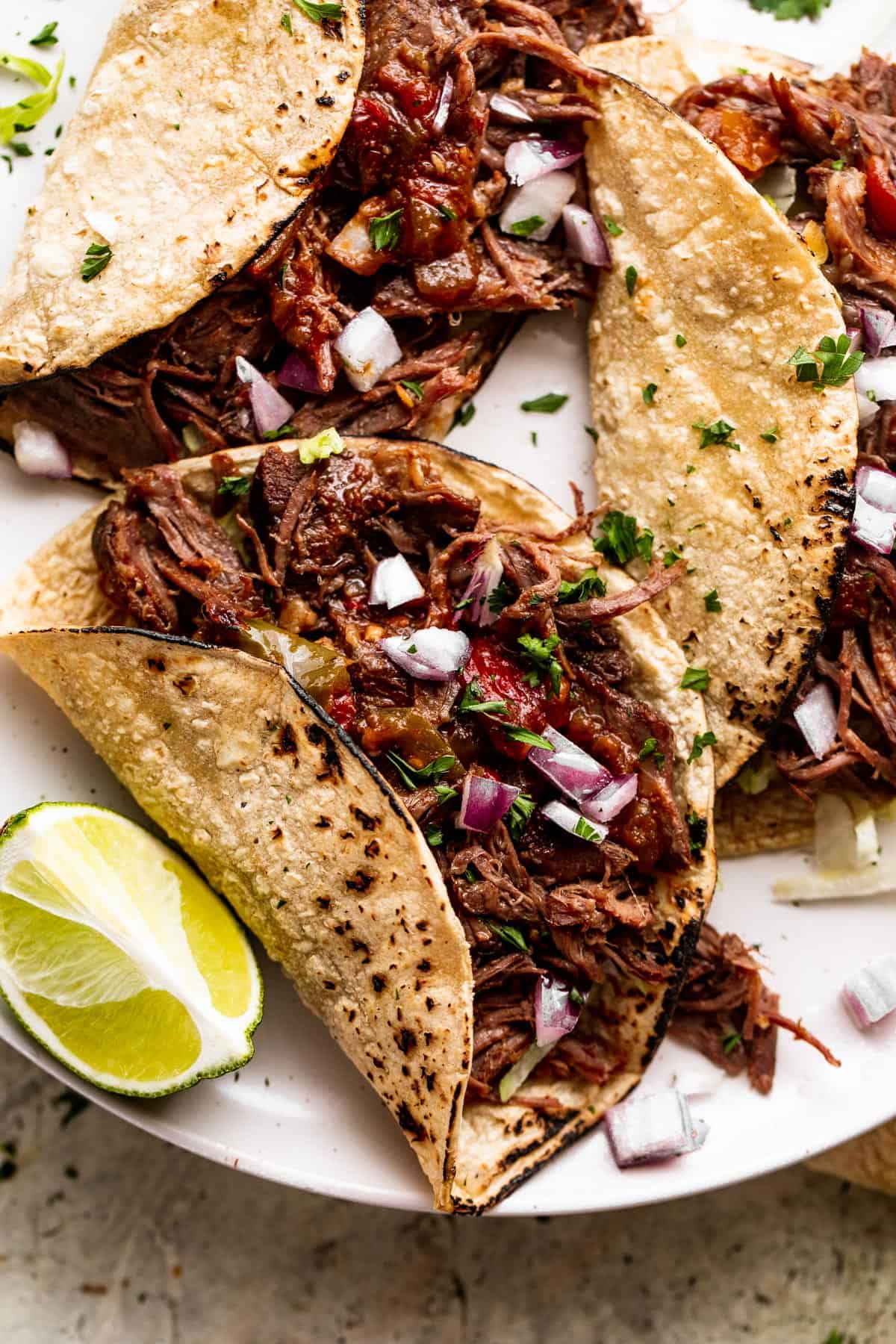 Savory Beef Machaca in the Crockpot!
Beef machaca is a traditional Mexican dish chock-full of amazing flavors and spices. The tender beef is shredded and can then be served in all kinds of ways: with rice, with eggs, in tacos, you name it! Machaca is often found in authentic Mexican restaurants, but lucky for all of us, it's also possible to make a tasty homemade version that you can season and change to your heart's content.
To get the most succulent beef possible, this recipe is made in your crockpot! This also makes it really, really easy. Win-win! 🏆
While I use beef for this recipe, you could also use pork, or even chicken, if you really want to. You can also adjust the spices, seasonings, and other ingredients to suit your family's dietary needs, so feel free to play around with it! Even if it's not totally authentic, it will still be a hearty, flavorful main course.
What's the Difference Between Machaca and Shredded Beef?
Traditionally, machaca was a form of dried, spiced beef that would stay good for a long time, unrefrigerated – making it perfect for taking on journeys or out on a hard day's work. It could be simmered and rehydrated as needed.
These days, the drying and rehydrating steps aren't as necessary, so machaca is much more similar to shredded beef, but it still has that characteristic spice and seasoning blend that gives it an extra-special flavor.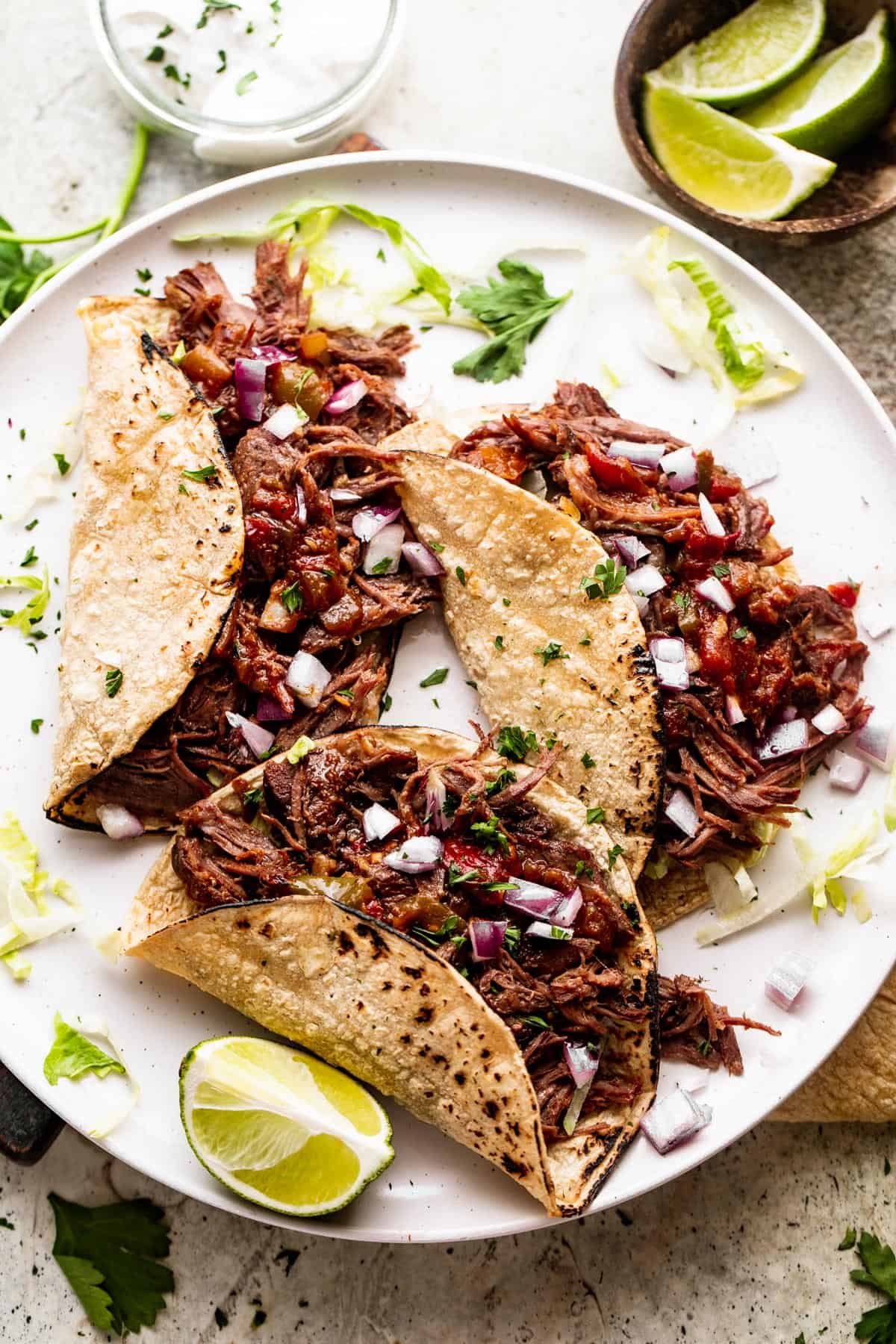 The Ingredients You'll Need
First off, what will you need for this awesome beef machaca? Well, here's the list! Be careful, it may cause excessive drooling! 🤤
Beef: Chuck roast is my favorite. It has that classic beef taste, and it's very forgiving. Unlike leaner cuts, chuck roast usually turns out very tender and moist, even if you go over the cooking time somewhat. Other great cuts include rump roast, brisket, and skirt.
Spices: My personal blend of spices for machaca includes chili powder, cumin, garlic powder, onion powder, dried oregano, and cayenne pepper.
Salt and Pepper
Oil: A little bit of olive oil for sauteing is just right. No olive oil? No problem! You can also use vegetable oil, avocado oil, etc.
Bell Pepper: Dice up a bell pepper. Any color is fine.
Chipotle and Adobo: You'll need a can of chipotle peppers in adobo sauce – some of the peppers will go into the dish, plus some of the adobo sauce from the can. If you don't like spicy food, skip this.
Onion: I like to use yellow onions, but any kind of onion will work.
Garlic: Fresh minced garlic is great, or you can substitute a little extra garlic powder.
Tomatoes: Canned, diced tomatoes with chilies add a nice, spicy touch and plenty of tangy goodness. If you don't have canned tomatoes with chilies, you can substitute regular canned tomatoes instead.
Broth: Beef broth is great for slow-cooking this beef dish. Homemade or store-bought is fine. I typically use low-sodium broth.
Lime: The juice of one lime balances out the flavors in this dish, and adds a touch of tropical flavor as well.
For Serving: A simple way to serve your machaca is with corn or flour tortillas, shredded cheese, shredded lettuce, and sour cream.