Easy25 minsQuick
Learn how to make homemade croutons from scratch with this simple, customizable croutons recipe.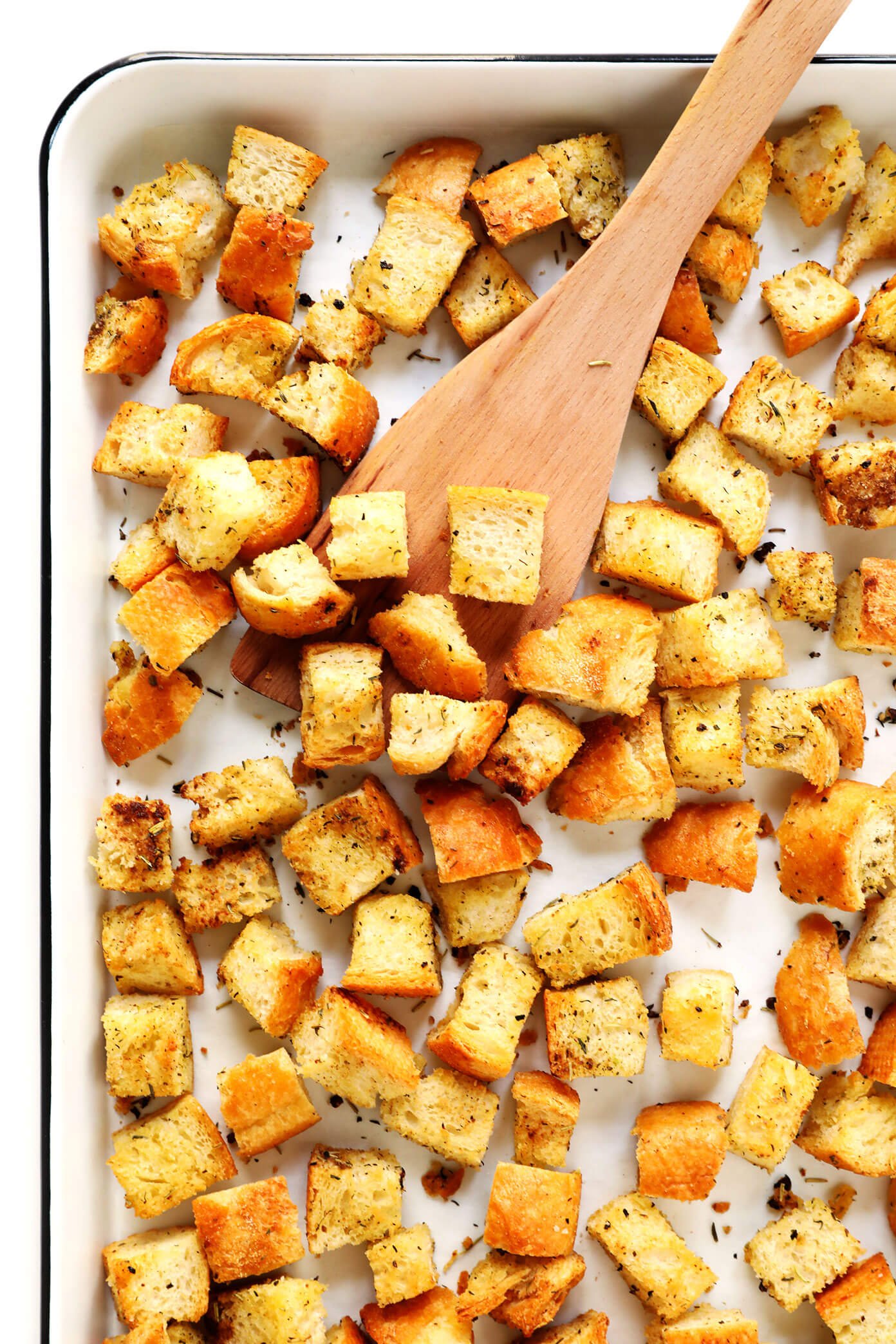 Have leftover bread?
Make croutons! ♡
Homemade croutons are just about the easiest thing ever to make, and a million times better than anything you can buy at the store.  They're also easy to customize with whatever seasonings you might be craving, they can be made with any kind of bread that you have on hand (including gluten-free), and they're easy to make as large or small, soft or crispy, plain or seasoned as you might prefer.  Plus, if you're trying to eat more greens in your life, I'm convinced that having a fresh batch of croutons around is one of the best motivators to toss together a quick salad.  Or they're also delicious for topping a fresh bowl of tomato soup or gazpacho (<– new recipe coming tomorrow, stay tuned!) this time of year.
So grab that leftover bread, and let's bake up a quick batch!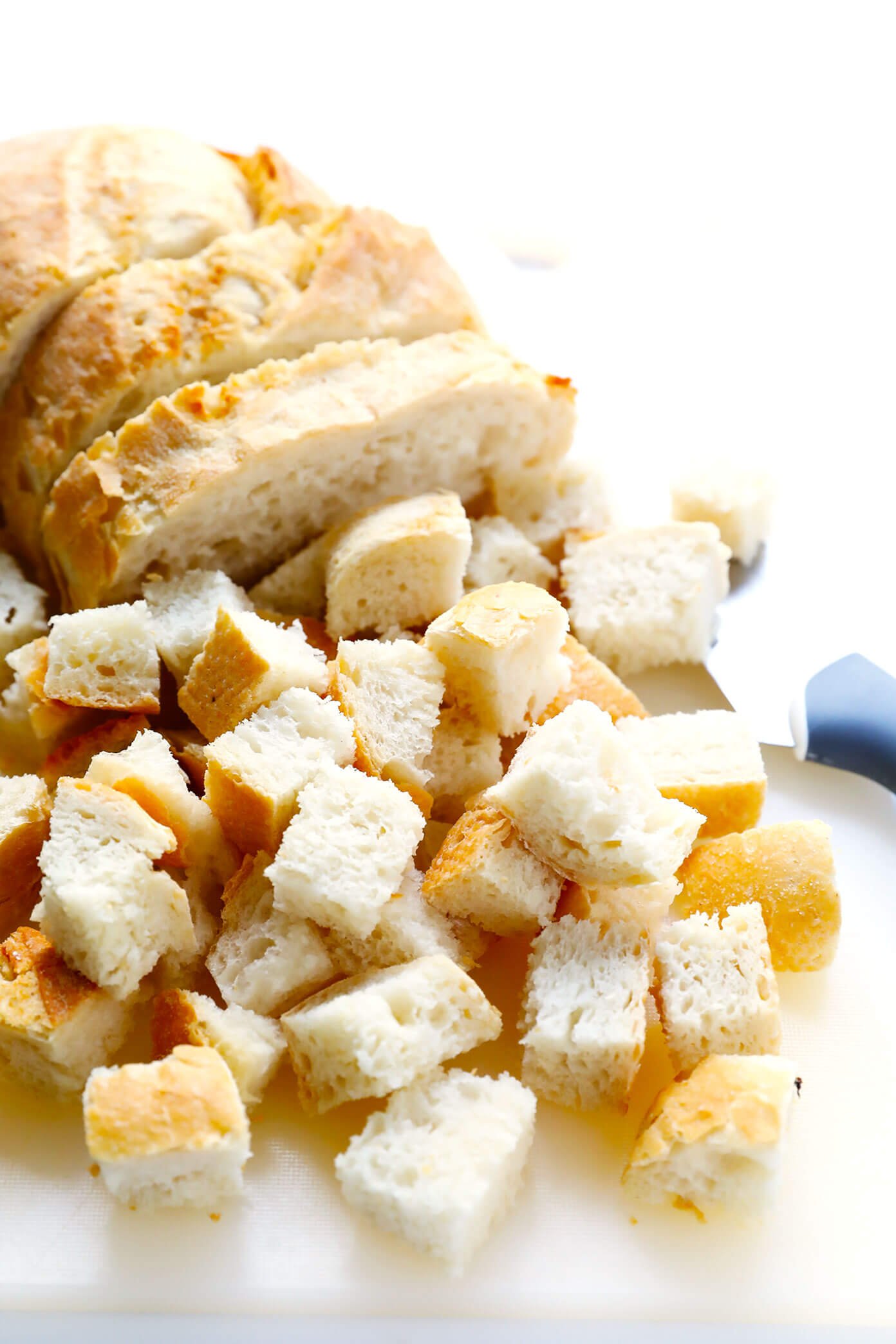 Homemade Croutons Ingredients:
To make homemade croutons, you just need three main ingredients:
Bread: Ideally at least a day or two old, any variety will do.
Olive oil: Or melted butter, if you prefer.
Seasonings: Totally up to you!  I always, always add garlic powder to my croutons.  Plus salt and black pepper.  But any other seasonings are up to you!  I often turn to Italian seasoning or blackening seasoning, and will occasionally sprinkle on some Parmesan cheese too.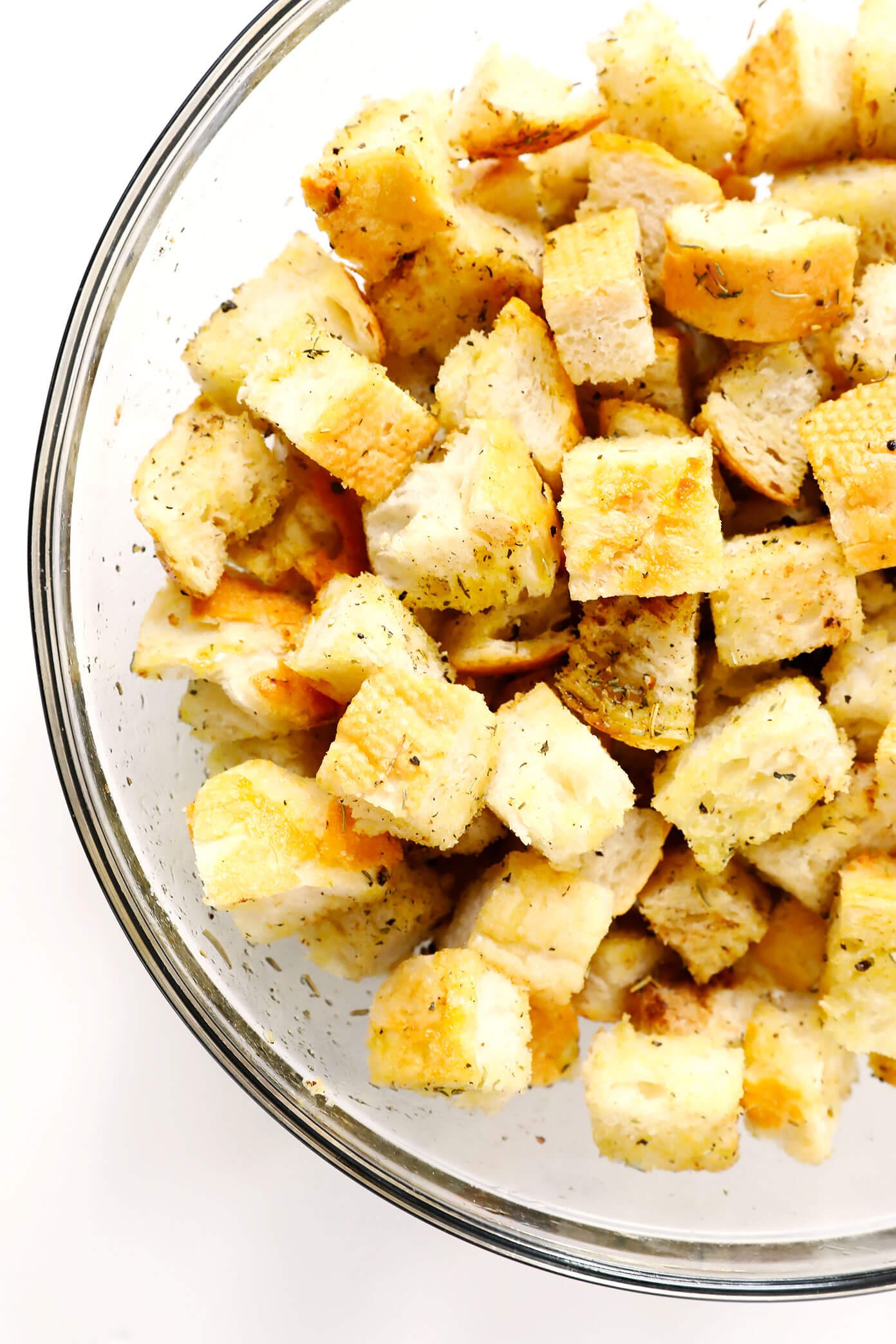 How To Make Croutons:
Simply:
Dice your bread: Choose whatever size of cubes you prefer, either cut with a knife or torn into small chunks by hand.  It's just important that the croutons be uniformly sized so that they cook evenly.
Toss with oil and seasonings: In a large bowl, drizzle the bread evenly with the oil and seasonings.  Then toss until evenly combined.
Spread out on a baking sheet: Turn the croutons out onto a parchment-covered baking sheet, and spread out in a single layer.
Bake until crispy: Flipping the croutons once halfway through baking.  Then baking until they croutons reach your desired level of crispiness.  (If they start to get too brown, lower the heat and let them bake lower and slower.)
Serve or store: Then serve immediately.  Or let the croutons cool until they reach room temperature, then store in a sealed container for up to 2 weeks.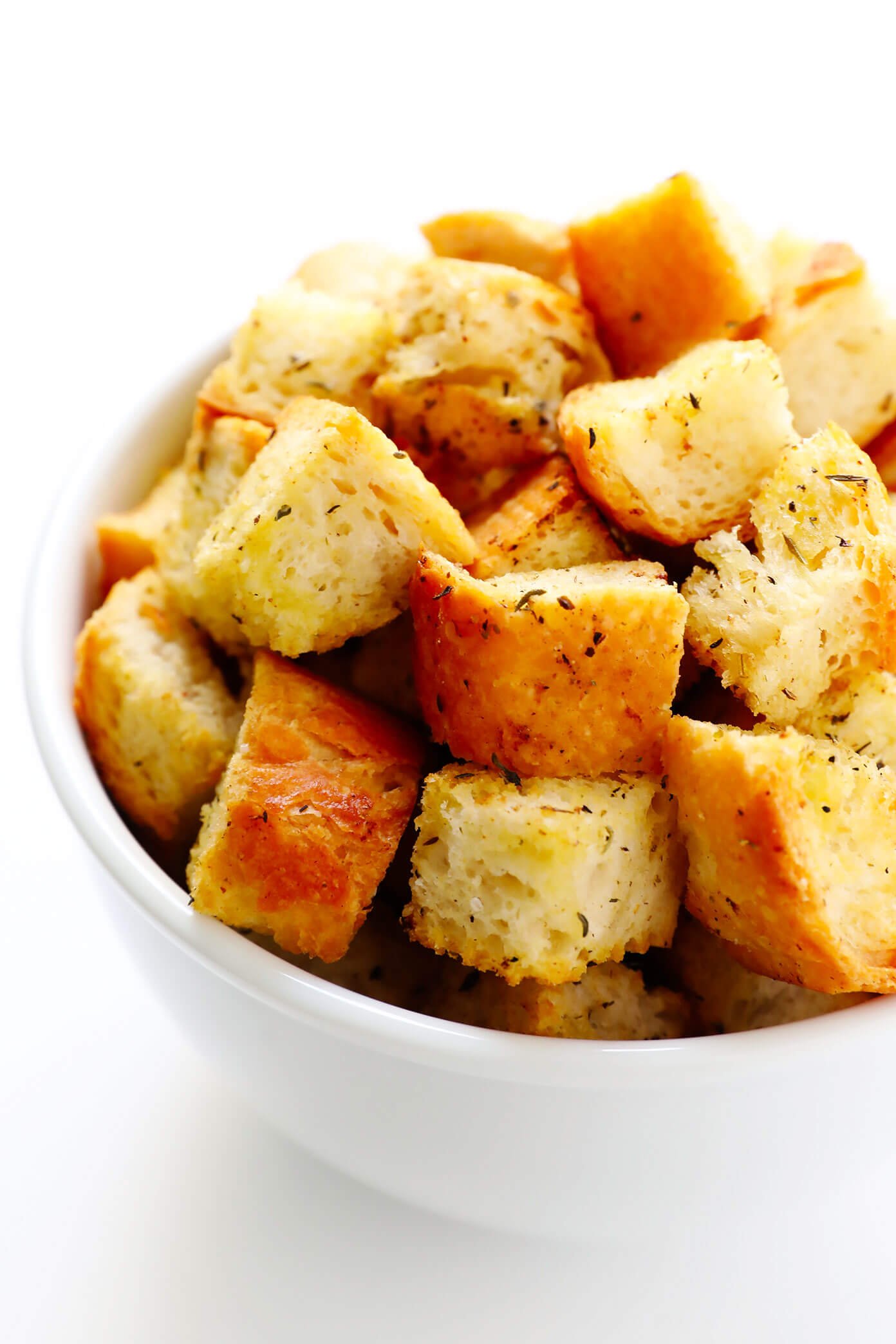 Ways To Use Homemade Croutons:
Some of my favorite ways to use homemade croutons include:
Salads: Especially any kind of Caesar salad, or my favorite Everyday Salad.
Soups: Especially hot tomato soup, or authentic Spanish gazpacho (recipe coming soon!)
Stuffings/Casseroles: Especially around the holidays
And of course, anytime you need breadcrumbs, just use a rolling pin or food processor to break those croutons up into your preferred size of breadcrumbs.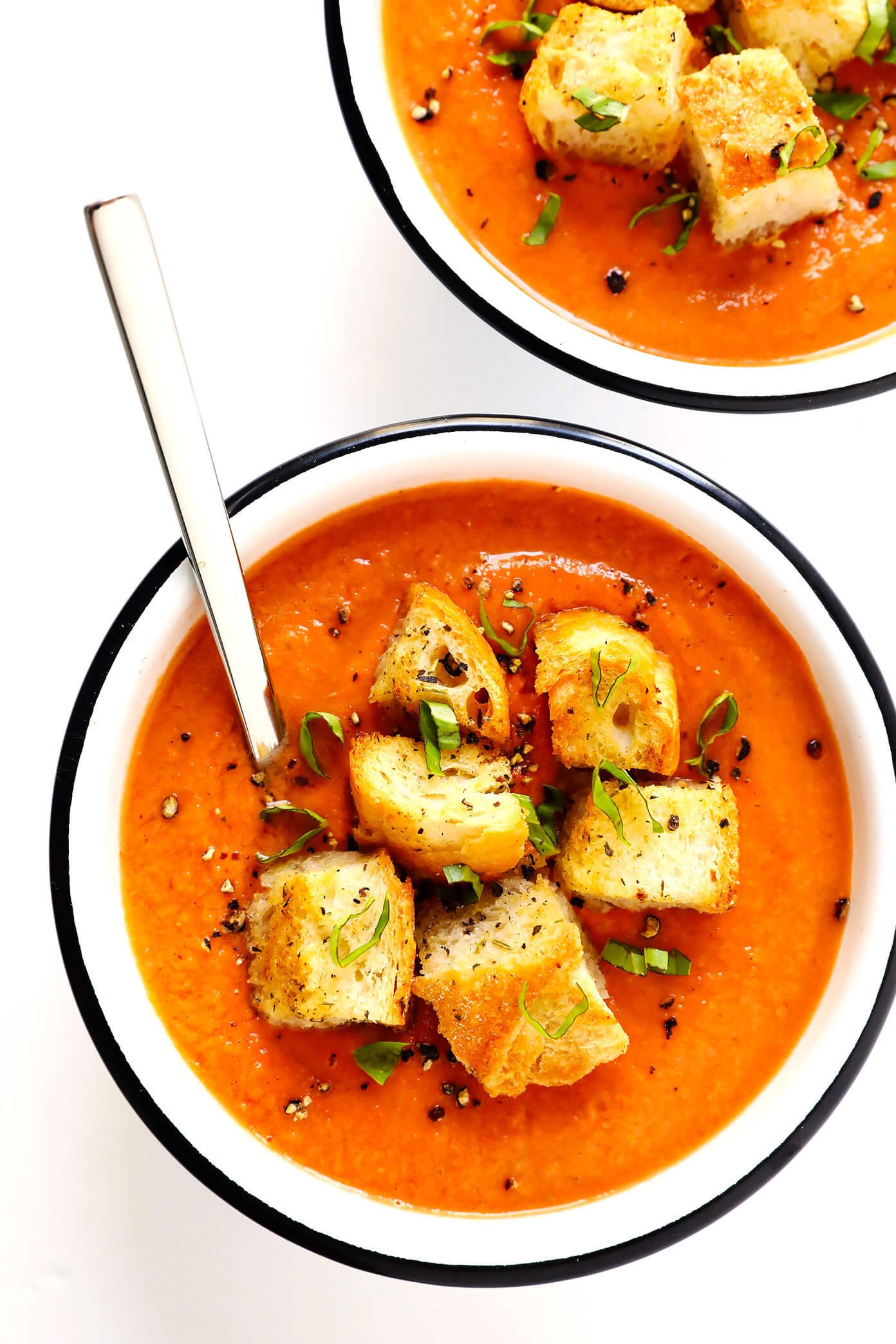 Enjoy, everyone!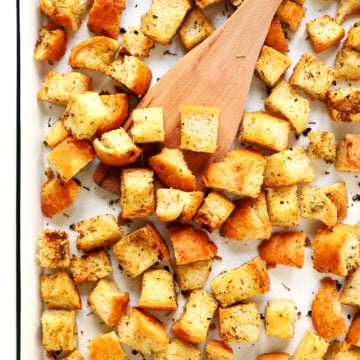 Yield: 4-6 cups
How To Make Homemade Croutons
Learn how to make homemade croutons from scratch with this simple, customizable croutons recipe.
Ingredients:
1 loaf of bread (about 12 ounces), cut into 3/4-inch cubes
1/4 cup olive oil
2 teaspoons Italian seasoning, homemade or store-bought
1 teaspoon garlic powder
3/4 teaspoon fine sea salt
1/2 teaspoon black pepper
Directions:
Preheat oven to 375°F.  Line a large baking sheet with parchment paper; set aside.
In a large bowl, evenly drizzle the olive oil over the bread chunks.  Then evenly sprinkle the Italian seasoning, garlic powder, salt and pepper over the bread.  Toss gently until well-combined.
Spread the bread cubes out in a single layer on a baking sheet.
Bake until golden, turning once halfway through cooking in order to brown all sides of the croutons.  Cooking time will depend on the thickness of the cubes, so watch to be sure that they do not burn. (Mine generally take between 15-20 minutes.)
Remove from oven, and let cool completely.  Use immediately, or store in an air-tight container for up to 1 week.
*Recipe updated in July 2018.
Difficulty: EasyCategory: Quick


All images and text ©Gimme Some Oven
If you make this recipe, be sure to snap a photo and hashtag it #gimmesomeoven. I'd love to see what you cook!