Instant Pot Pork Chops and Gravy will become an instant favorite at your house. Imagine diving into thick-cut, tender, boneless pork chops smothered in a buttery onion gravy with mushrooms and garlic — all done in a flash. 
For more Instant Pot recipes you're sure to love, try my Instant Pot Chicken Marsala Soup, Instant Pot Slow Cooker Beef Stroganoff Soup, or Instant Pot French Dip Sandwiches. 
I'm on a kick guys. Just whittling away the hours, waiting for spring has me dreaming up all sorts of new recipes. Since we have begun to work in our yard a little when the weather allows, I have been running short on time to cook dinner. Between raking leftover leaves and picking up all kinds of sticks and other brush that has blown around, not to mention getting the garden beds sorta ready, by the time I come inside, I am sorta scrambling to get a hot meal on the table. 
When that happens more than one day in a row, I turn to my trusty Instant Pot. One of my favorite appliances, that trusty kitchen soldier has saved me a time or 2. Or 10. From soups to stroganoffs and from mac and cheese to pot roast, why, I don't think there's a recipe I can't make in the Instant Pot. Okay, well maybe like cupcakes or something. Anyone tried that? Get back to me. 
For this pork chop recipe in the Instant Pot, I used the tenderest, thickest-cut pork chops I could find (if your grocer doesn't have them then ask the butcher to cut them for you). Then, I top those off with a gravy made from butter, onions, mushrooms, garlic, broth, and sour cream that's out of this world. You'll never be able to look at plain old pork chops the same way again.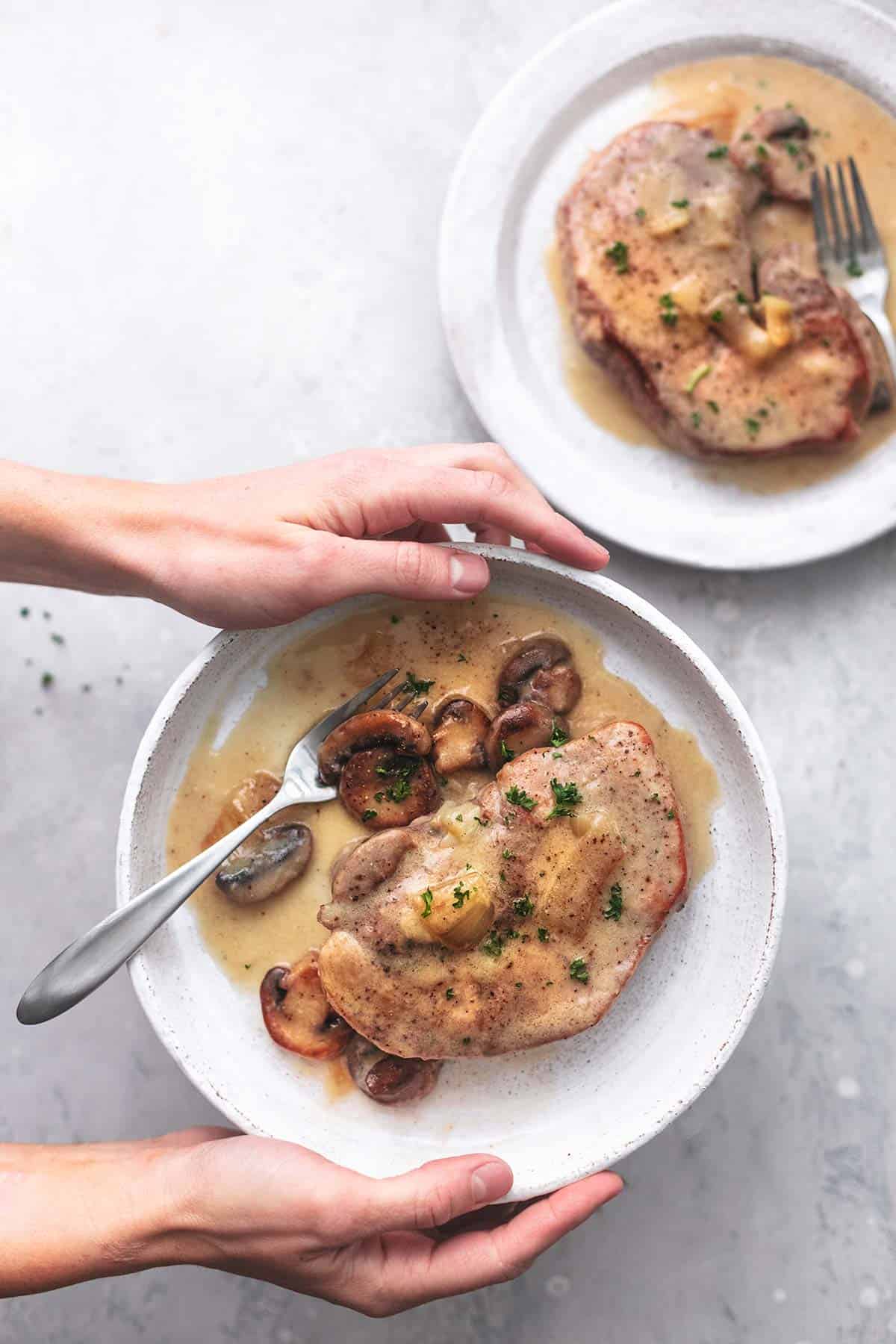 WHAT INGREDIENTS DO YOU NEED FOR INSTANT POT PORK CHOPS AND GRAVY?
Pork chops 

Salt and pepper 

Butter

Olive oil

Yellow onion

Mushrooms

Garlic

Chicken broth

Sour cream

Cold water

Corn starch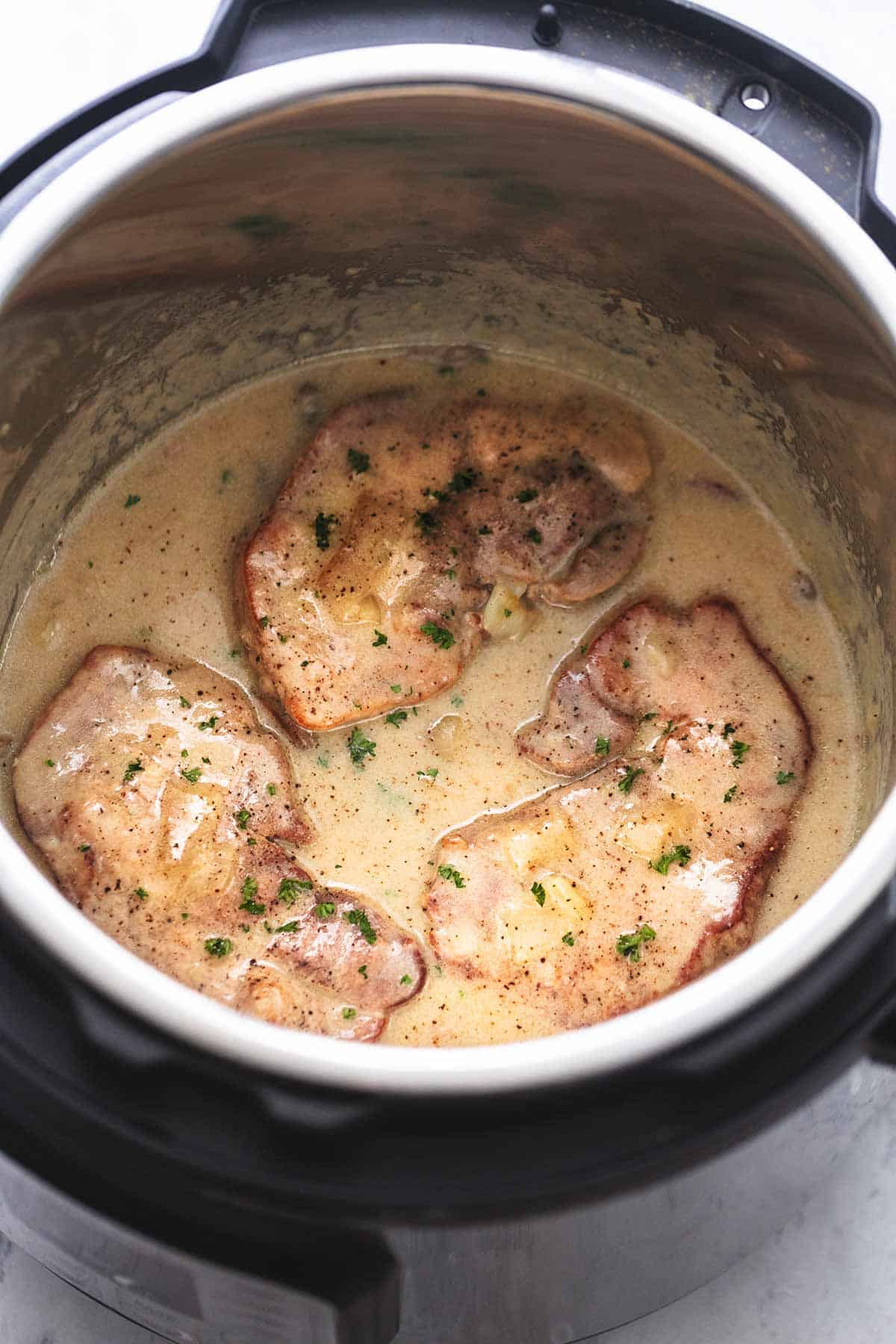 HOW DO YOU MAKE INSTANT POT PORK CHOPS AND GRAVY?
So you want to know how to make this healthy pork chop recipe you say? Well, okay then, let's do this! 
First things first: Season the pork chops generously with salt and pepper. Be sure to do both sides. Then, set the pressure cooker to "saute" and melt 2 tablespoons of butter, then stir in the oil so the butter doesn't burn. Cook the pork chops on both sides for 4-5 minutes in the Instant Pot liner. Use tongs to turn them throughout to ensure even browning on all sides. Transfer them to a plate and get to work on the gravy. 
Add the rest of the butter, then the onions, mushrooms, and garlic to the bottom of the Instant Pot and saute this all together for 2-3 minutes or until the onions are tender and translucent. Next, stir in the chicken broth and add the pork chops back to the pot. See if you can get them to all fit in a single layer on the bottom of the saute pan, but if they overlap a little that's okay.

Change the setting on the pressure cooker to "pressure cook" or "manual" on high for 12 minutes. When the time is up, let the pot naturally release the pressure for 15 minutes and then turn the vent to let the rest of the steam out. When the valve drops, you can open the lid and transfer the pork chops to a plate. Cover the plate to keep the pork chops warm.

Whisk the sour cream into the mushroom gravy mixture in the Instant Pot. Once it's fully incorporated, add salt and pepper to taste. Change the setting to "soup" and let the gravy boil. Then stir together the water and cornstarch in a small bowl until the corn starch is dissolved. Then whisk that mixture into the gravy and let it thicken. Taste and add more salt and pepper if you like.

Spoon the gravy mixture over the pork chops and serve.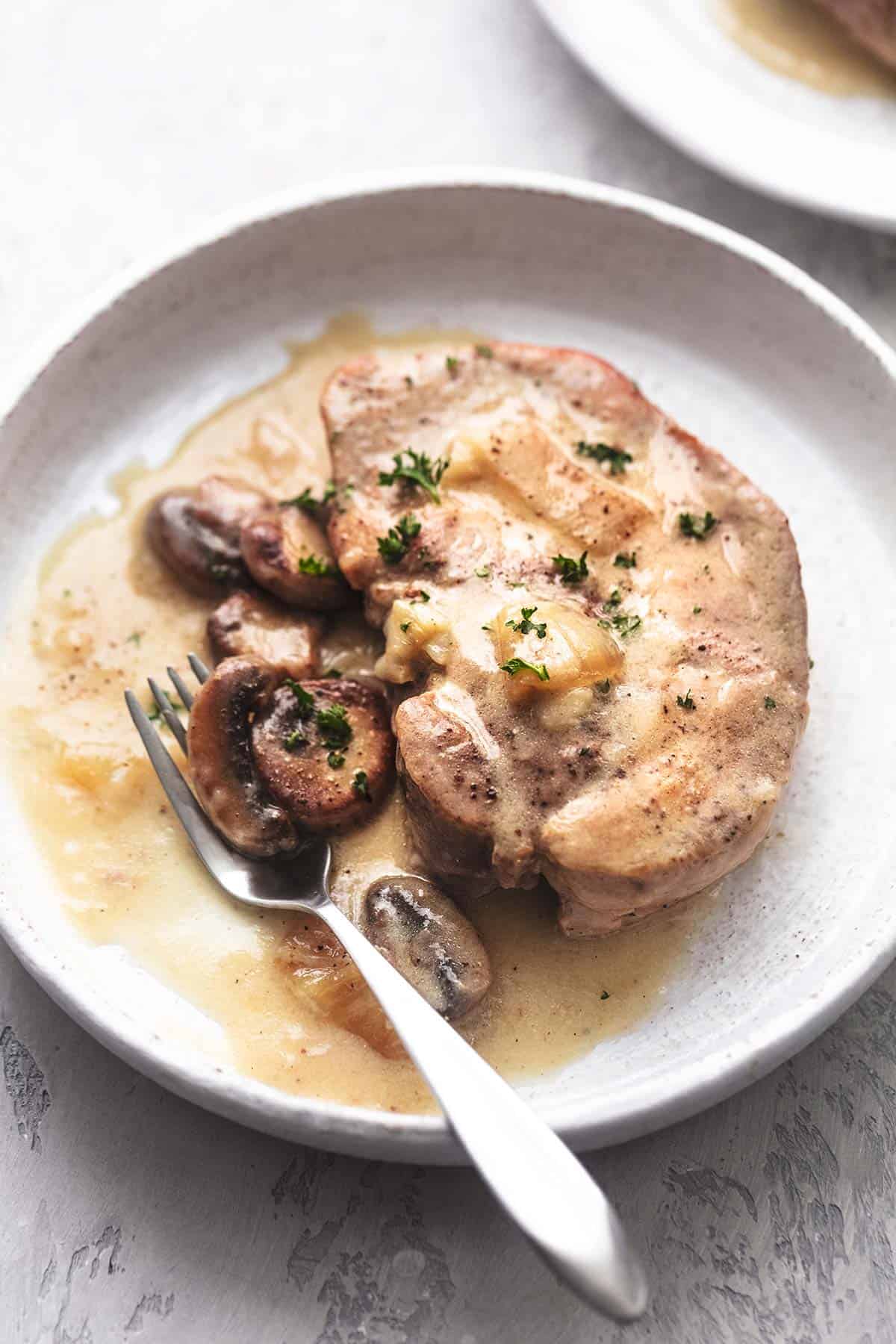 DO I HAVE TO USE THICK-CUT PORK CHOPS IN AN INSTANT POT?
While I like to use pork chops that are cut on the thicker side, you absolutely don't have to. If you have thinner pork chops at home already or just prefer a thinner-cut pork chop, then those will work in the Instant Pot as well. For a thin pork chops recipe, simply reduce the cooking time in half (so for 6 minutes on manual instead of 12) and follow the rest of the directions just the same. 
WHAT IS THE WHITE STUFF THAT COMES OUT OF PORK CHOPS?
Okay so sometimes when you cook or bake pork chops, you'll see white blobs float to the surface around the cuts of meat or next to the meat. Don't be alarmed, that's just the juices of the pork chop cooking off.  And, while it's not very appetizing you can just skim it off and throw it away. It won't hurt you and it's totally normal.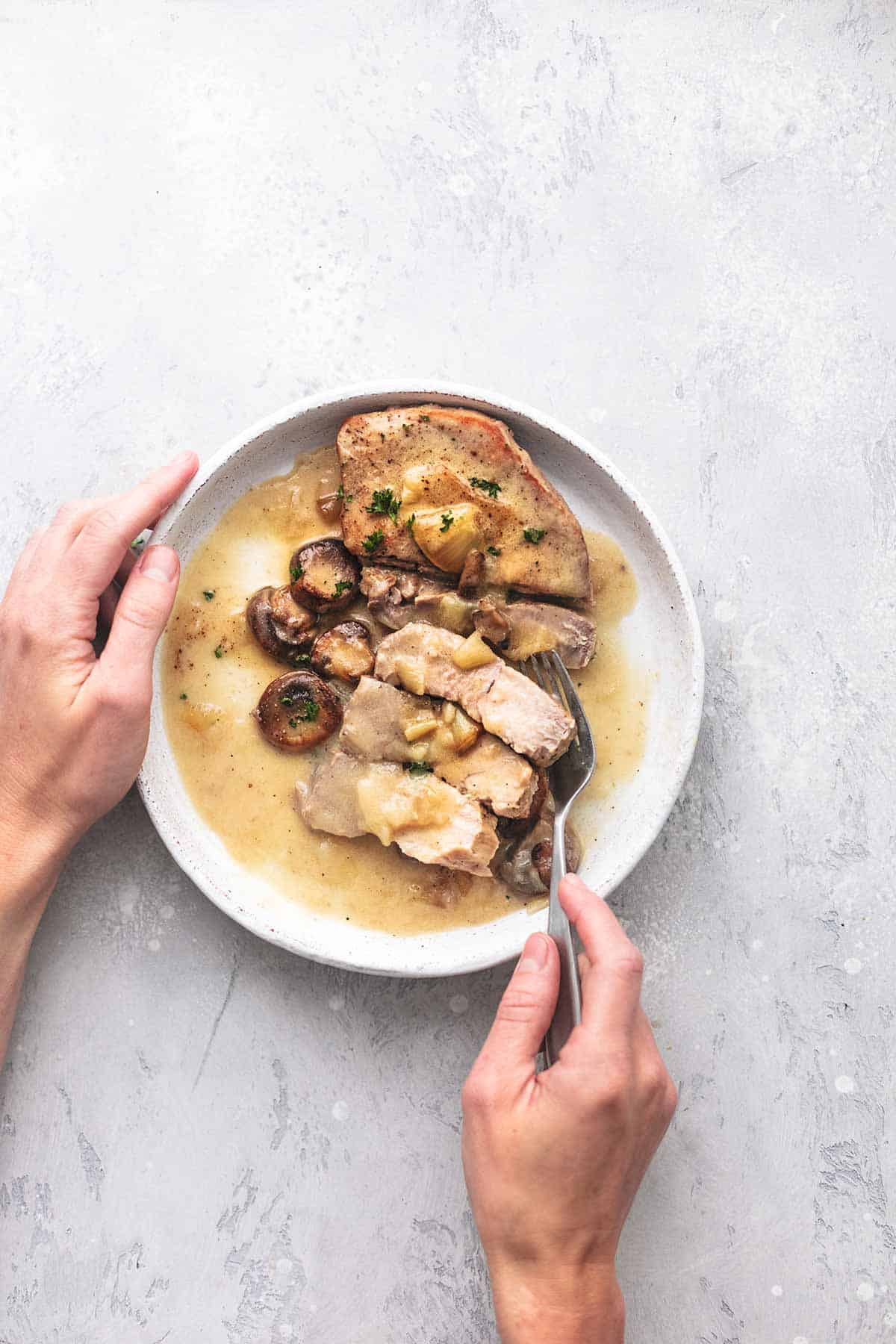 Prep Time: 10 minutes
Cook Time: 30 minutes
Servings: 4 servings
for the pork chops
4

thick-cut boneless pork chops

see note for thin pork chops

salt and pepper to taste

3

tablespoons

butter

divided

1

tablespoon

olive oil

1

yellow onion, sliced into rings

1/2-1

cup

sliced mushrooms

1

teaspoon

minced garlic

1

cup

chicken broth

I used low sodium

1/2

cup

sour cream

1/4

cup

cold water

1

tablespoon

corn starch
Season pork chops generously with salt and pepper on both sides.

Set pressure cooker to SAUTE. Melt 2 tablespoons butter, stir in oil. Cook pork chops for 4-5 minutes using tongs to turn throughout to ensure browning on all sides. Transfer to a plate and set aside.

Add remaining 1 tablespoon butter, onions, mushrooms, and garlic and saute 2-3 minutes til onions are tender and translucent.

Stir in chicken broth. Transfer pork chops back to the pot – try to fit them in one single layer as best as you can but it is okay if they are overlapping.

Set pressure cooker to PRESSURE COOK (on high) or MANUAL for 12 minutes.

Once time is up let the pot naturally release pressure for 15 minutes (do nothing during this time) then turn the vent to the venting position and remove the lid once the float valve drops. Transfer pork chops to a plate and cover to keep warm.

Whisk in sour cream til fully incorporated. Stir in salt and pepper (I used about 1/2 teaspoon salt and 1/4 teaspoon pepper).

Set to SOUP setting. Once boiling, stir together water and corn starch til dissolved, once dissolved whisk into the pot til gravy thickens. Taste and add salt and pepper if needed.

Spoon gravy over pork chops and serve.
For thin pork chops, reduce cook time by half.