One pot meals are life! Make this One Pot Curry Chicken and Rice when you're craving Indian food but you don't want to do a lot of dishes. Chicken and rice seasoned with curry and coconut milk over fragrant Basmati rice hits the spot!
Searching for more Indian dishes? Search no further! I've got you covered with my Chicken and Broccoli Coconut Curry, Instant Pot Chicken Tikka Masala, and Grilled Tandoori Chicken.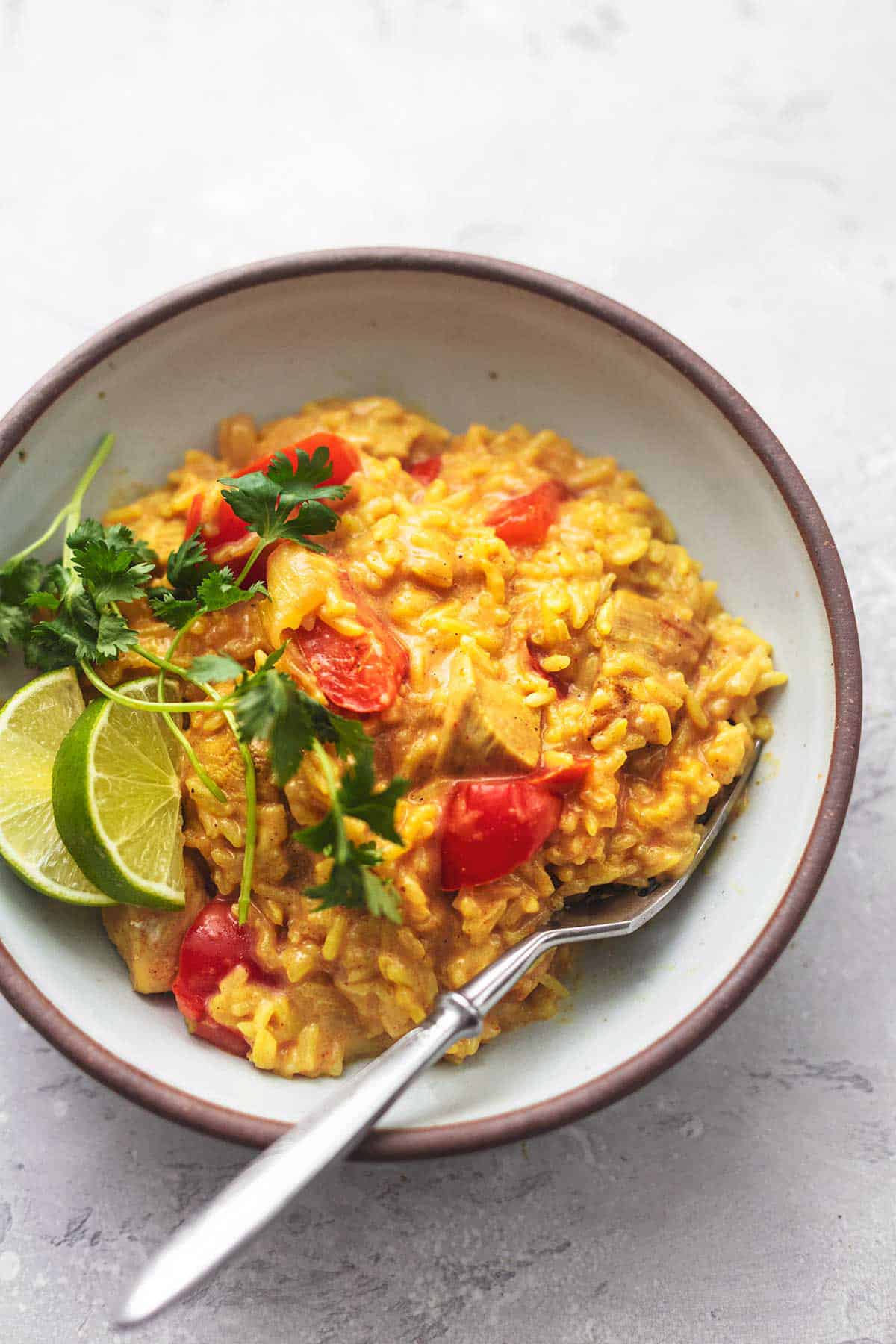 As with most ethnic cuisines in my life, I'm always a little skeptical till I try and then, I'm essentially hooked forever. The first time I tried Indian food I was in junior high. I went to some hole-in-the-wall with my older sister. I would never say "no" to any place my siblings wanted to take me, so I ordered and happily dug in. And I was rewarded with some of the best food I'd ever tasted. 
While Samosas were the "easy" gateway Indian food, after that meal I never shied away from any and all options on the menu. That all-in mentality is what led me to try to make all the Indian dishes as an adult. I have no regrets. 
Here's What You Need
This healthy chicken and rice recipe is one of my family's favorites and I've even impressed my parents with it! They're not shy about giving their honest opinions so when they give two-thumbs-up I know it's a keeper!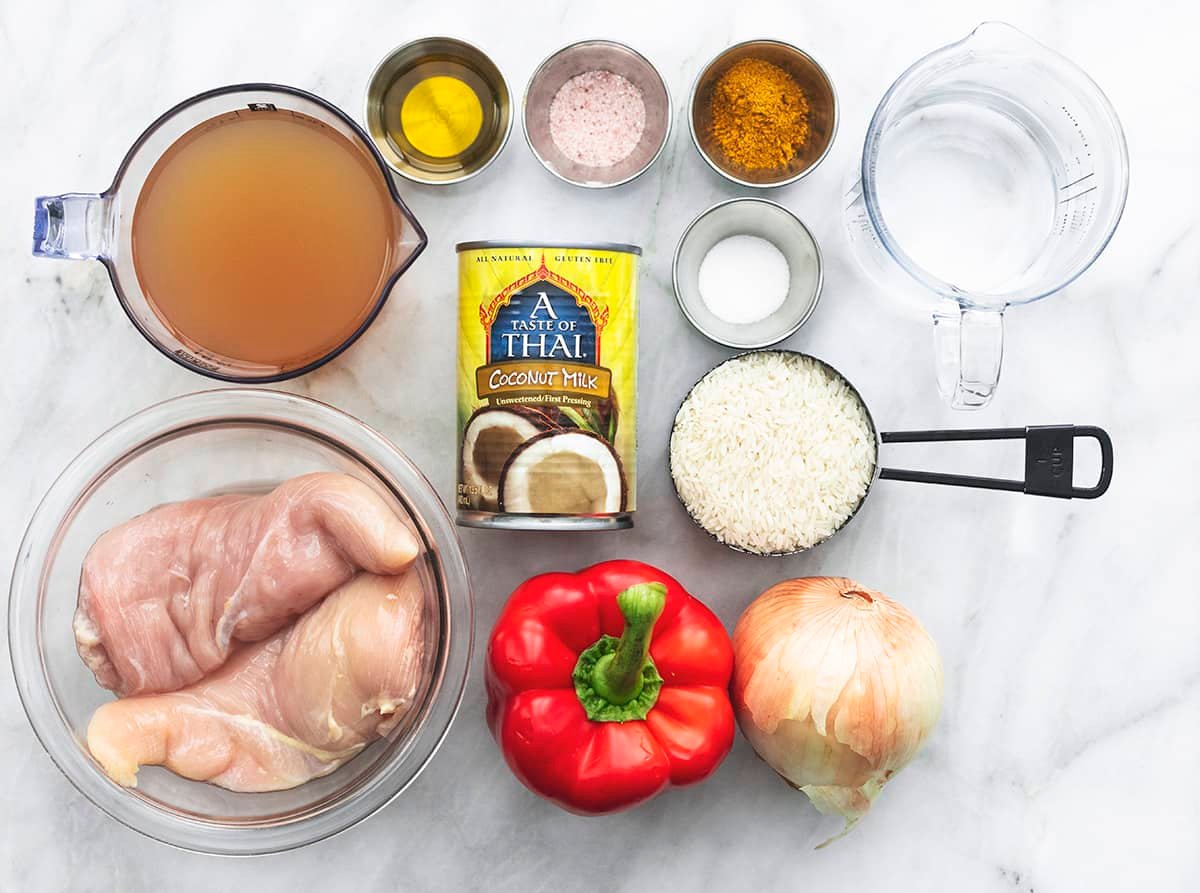 Boneless skinless chicken breasts or thighs

Oil

Curry powder

Salt 

White or Basmati rice 

Chicken broth

Water

Sugar

Coconut milk

Fresh cilantro or basil for garnish (optional) 
Here's How You Make It
Making this dish is easy to begin with and making it into a one-pot recipe makes it even simpler with one dish to clean. 
So, go ahead and get out the pot in which you want to cook this curry chicken and rice dish. I use a large 2-inch-deep skillet with a lid. But you can use a Dutch oven or any other large pot with a lid.

In that pot, add the oil and heat over a medium-high heat. Add the chicken to the oil and saute it for 1 minute.

Sprinkle the chicken with 1 tablespoon of curry powder and some salt. Keep stirring and cooking for about another minute or until the chicken is golden brown on the outside. Though it will not be cooked all the way through, you'll be cooking it again in a couple steps so don't worry. Take the chicken out of the pan and put into a dish and cover to keep warm.

Next, using the same pan, add the rice, broth, water, salt, sugar, and the rest of the curry powder. Stir it all together again, and bring it to a boil. Reduce to a simmer after it starts to boil. Let the mixture boil and the rice cook for about 15 minutes with the lid on. 

Take the lid off for a moment while you add the chicken back into the pan on top of the rice, arranged in a single layer. Cook for another 10 minutes with the lid back on.

And, last but not least, take the lid off again and stir in the coconut milk. That's it! Garnish this diced chicken and rice recipe with fresh basil or cilantro and serve! 
Expert Tips and Customizations 
Want to mix this dish up a bit? Great! Here are some of my ideas but I'd love to hear yours too! 
Top this dish with more than just herbs for garnish. Some ways I like to top yellow curry chicken are to add small dices of cucumber and/or tomato, a tablespoon of sour cream or Greek yogurt, or sliced green onions. 
Add a can of drained, rinsed chickpeas at the end with the coconut milk, or

roast them

and sprinkle them on top when you're ready to serve. 

Skip the chicken all together and just go with the chickpeas, tofu, or both for a vegetarian dish. 
Swap the rice for another grain like quinoa. 
Add cut, cooked potatoes to the mix when you add back in the chicken. Cut chicken to 1 pound and add a pound of potatoes to make sure not to overwhelm the other ingredients. 
Peas, diced carrots, and celery all make great additions too. Add carrots and celery when you're cooking the chicken, and add the peas at the end.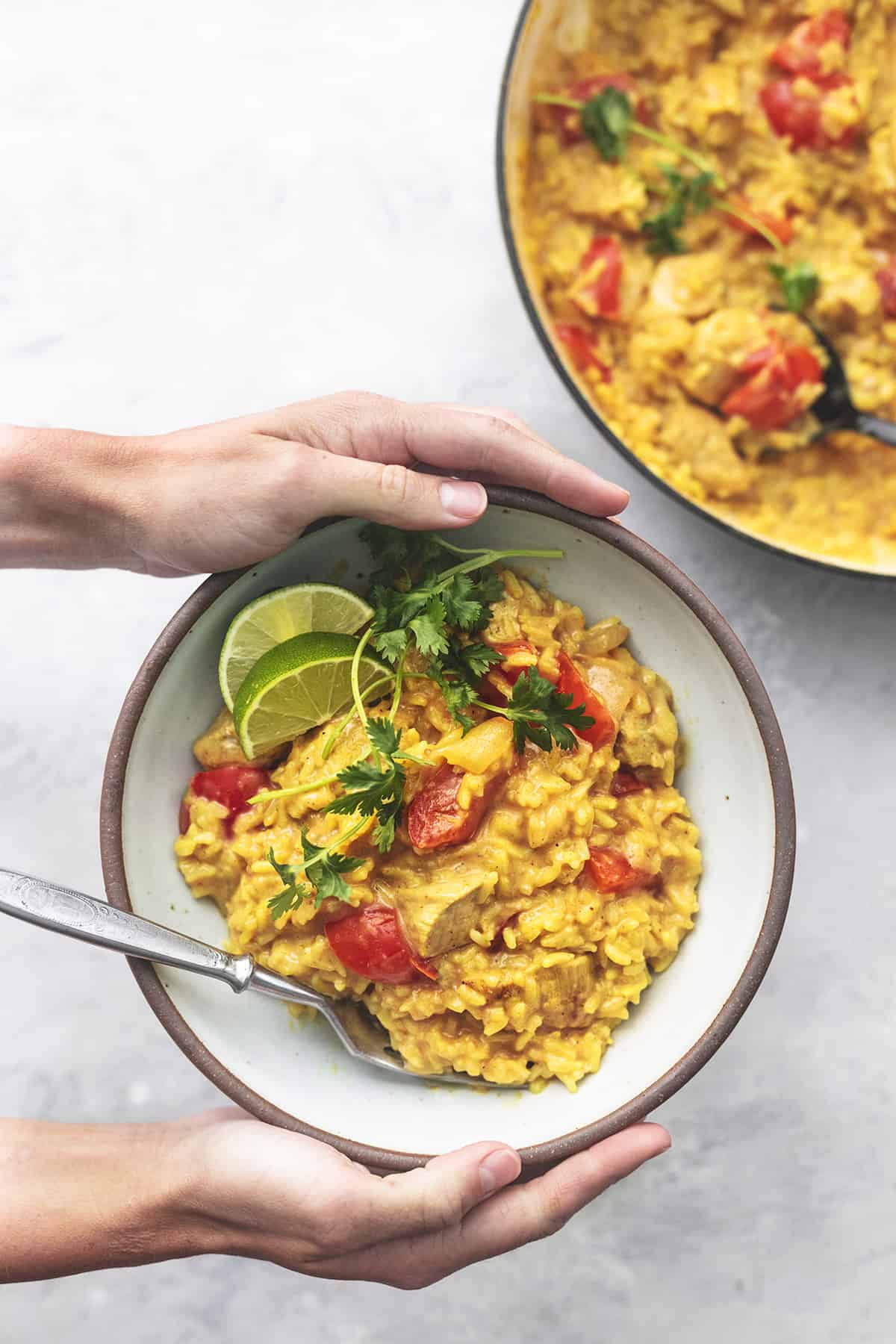 More One Pan Meals
Did you make this recipe? Please give it a rating! 
In a large, 2-inch deep skillet with a lid, heat oil. Add chicken and saute 1 minute. Sprinkle with 1 tablespoon curry powder and 1/2 teaspoon salt and saute about 1 minutes longer til golden brown on the outside. (Chicken will not be cooked through yet) Transfer to a dish and cover to keep warm.

In the same pan, combine rice, broth, water, salt, sugar, and remaining 2 teaspoons curry powder. Stir well.

Bring to a boil then reduce to high simmer. Cover and cook for 15 minutes.

Uncover, return chicken to the pan (do not stir it in, just arrange it in a single layer on top of the rice so it isn't all heaped in the center of the pan). Cover and cook 10 minutes longer.

Uncover, stir in coconut milk and salt to taste. Garnish with fresh herbs if desired and serve.