This Instant Pot Spaghetti recipe is made with real ingredients, extra veggies and whole grain pasta, yet it still comes together just as quickly! With VIDEO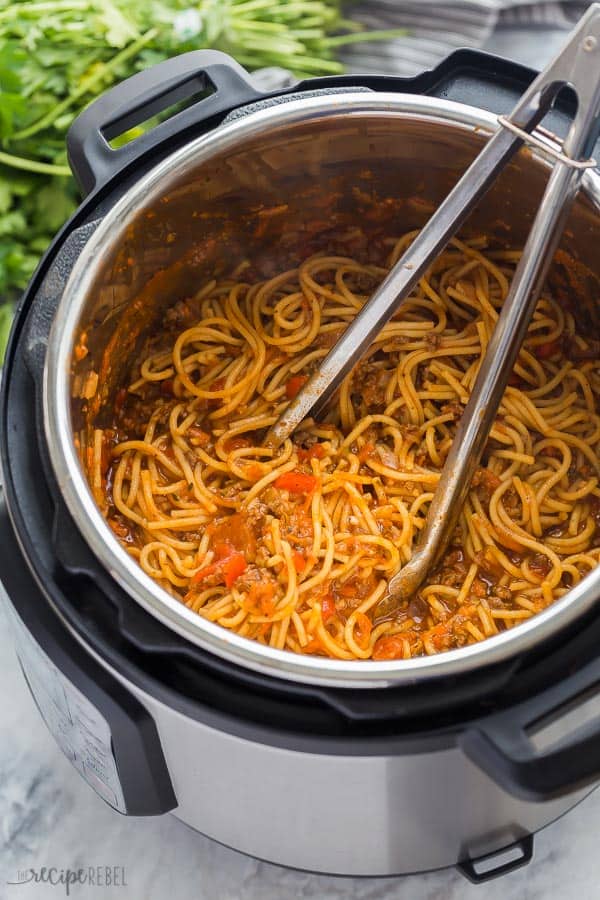 Can I just first say that I almost feel as if by this point I don't even have a right to share an Instant Pot Spaghetti recipe, because it has.been.done.
Almost.
I know that there are plenty of recipes that will show you how to dump spaghetti noodles, jars of tomato sauce and ground beef into the Instant Pot and come out with dinner.
But spaghetti is one of my girls favorite dinners (I would say top 3 easily), and so I am going to share my version.
And my version is made with extra vegetables (great for picky eaters!) and whole grain or high fiber spaghetti, because I like to bump up the nutritional value of the food we eat wherever I can.
I'll admit that here, the picky eater is myself, but I get so much delight out of seeing how many veggies I can cram into the dishes we eat before anyone notices 😉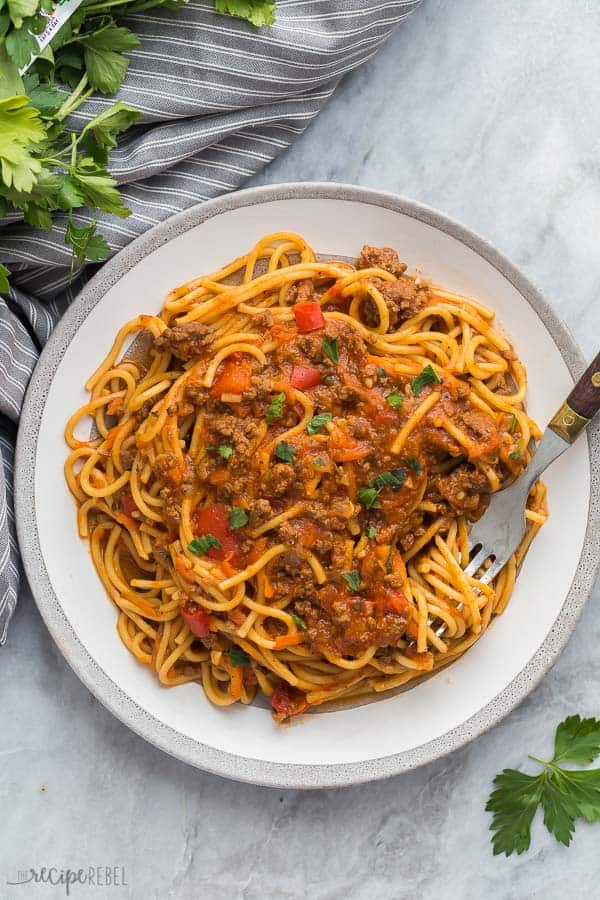 (My kids? They actually prefer their vegetables raw. Go figure!)
How to make Instant Pot Spaghetti:
Instant Pot Spaghetti is pretty easy to make but there are a few tips and tricks that will help you see perfection every time.
First, we brown our ground beef (you can sub this for ground turkey or even make it vegetarian — see my tips below!) and onion.
Then we toast our garlic and other spices — adding them to the hot dry pan helps to bring their flavor back to life!
We deglaze with our broth or water — give it a good scrape to release any stuck on bits and prevent the burn notice!
Then we top with our vegetables, pasta, and pasta sauce.
Add the lid and pressure cook (but be careful not to overcook! Pasta cooks quickly in the Instant Pot and no one likes mushy pasta)
Give it a good stir and serve.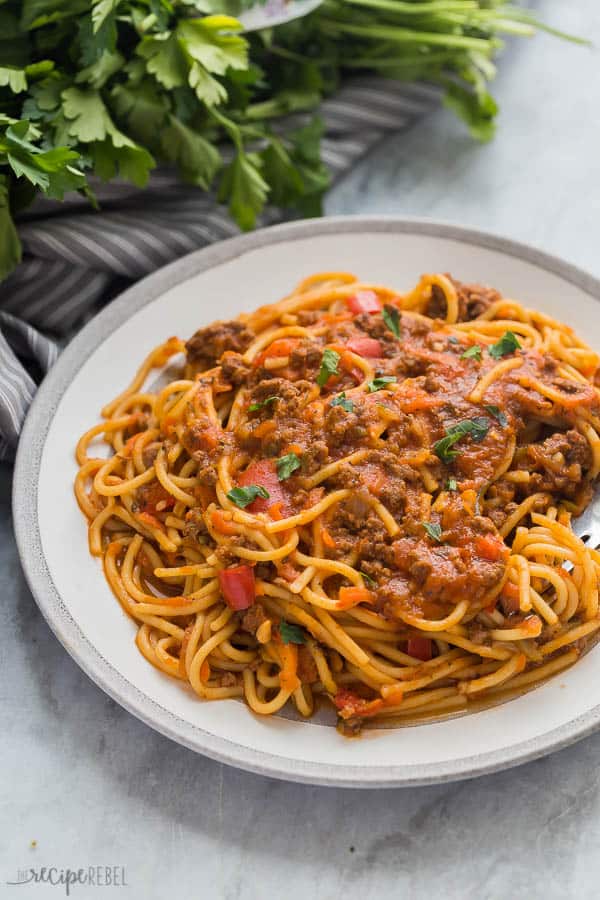 Choosing your ingredients for this pressure cooker spaghetti recipe:
Making healthy choices starts at the grocery store! Here are a few things I keep in mind when I'm grabbing ingredients for this recipe:
I choose lean or extra lean ground beef — it has a ton of protein and iron (so important for the kiddos!), but less fat.
I grab any vegetables that I think will go: onions, carrots, zucchini, tomatoes or mushrooms are all great!
Always choose low sodium broth (or make your own if that's your thing!)
I look for whole grain or white plus fiber pasta
I always read the back of tomato sauce or pasta sauce jars carefully and look for one with no added sugar — often sugar is so high up on the ingredient list it's scary! Make sure the ingredients are ones you know and love.
Variations of this Instant Pot Spaghetti:
This pressure cooker spaghetti is naturally dairy-free, but be sure to check all of your ingredient labels to be sure.
To make this Instant Pot Spaghetti vegetarian, replace the ground beef with extra sauteed veggies like mushrooms. Saute them as you would the beef, then proceed with the recipe.
You can use another type of pasta if you don't have spaghetti — I actually think short cuts are easier to cook in the Instant Pot as they are less likely to stick together. For macaroni, do 2 minutes cook time, and for a medium-sized short cut of pasta, do 3 minutes cook time.
Don't have an Instant Pot?
You're in luck! I've got a one pot and a slow cooker version of this recipe.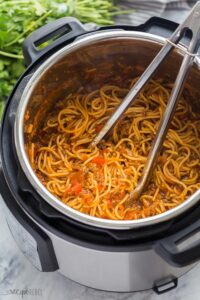 Instant Pot Spaghetti
This Instant Pot Spaghetti recipe is made with real ingredients, extra veggies and whole grain pasta, yet it still comes together just as quickly!
Prep Time 15 minutes
Cook Time 2 minutes
Total Time 17 minutes
Servings 5 servings
Calories 454kcal
Author Ashley Fehr
Ingredients
1

lb

lean ground beef

1

onion

finely diced

1

red pepper

finely chopped

1

zucchini

finely chopped or shredded

1

large carrot

peeled and shredded

1

teaspoon

minced garlic

1

teaspoon

Italian seasoning

1

teaspoon

salt

1/4

teaspoon

black pepper

1

pinch

red chili flakes

(optional, for a bit of heat)

4

cups

low sodium chicken broth

340

grams

whole grain or high fiber spaghetti

(1 regular box)

1

jar

tomato-based pasta sauce

(650ml)
Instructions
Turn

the Instant Pot

to saute, add the ground beef and onion, and cook, stirring regularly, until browned.

Add the red pepper, zucchini, carrots, garlic, Italian seasoning, salt, pepper and chili flakes (if using). Cook and stir for 1 minute. 

Add the chicken broth and scrape the bottom of the pan well with a hard spoon or spatula to remove any brown bits from the bottom of the pan (this will prevent a burn message).

Turn the Instant Pot off. Break the spaghetti noodles in half, and place a thin, even layer of pasta across the meat (don't stir). Place another thin, even layer of spaghetti noodles on top of the first layer in the other direction, and repeat until all spaghetti noodles are used, alternating directions each time. Basically, we want to prevent any clumps, so be sure that your layers are not to thick — the noodles will cook in the exact place you put them. If they are in one big pile, they will cook into one big clump.

Top with pasta sauce, spread evenly to cover the spaghetti noodles to the best of your ability. 

Put the lid on, turn the Instant Pot to Manual or Pressure Cook (high pressure), and select a cook time of 2 minutes. It will take about 10-15 minutes to reach pressure and begin counting down.

When the cook time is over, turn the Instant Pot off and let pressure release naturally for 3-4 minutes. Open the valve to quickly release remaining pressure.

Stir to combine sauce and noodles. Serve. 
Video
Nutrition (this is an estimate)
Nutrition Facts
Instant Pot Spaghetti
Amount Per Serving
Calories 454 Calories from Fat 63
% Daily Value*
Total Fat 7g 11%
Saturated Fat 2g 10%
Cholesterol 56mg 19%
Sodium 1313mg 55%
Potassium 1296mg 37%
Total Carbohydrates 67g 22%
Dietary Fiber 3g 12%
Sugars 9g
Protein 36g 72%
Vitamin A 69%
Vitamin C 60.1%
Calcium 8.2%
Iron 38.3%
* Percent Daily Values are based on a 2000 calorie diet.