This Apple Cinnamon Oatmeal recipe is a hearty, healthy breakfast recipe that is loaded with tender apples and fall spices. Gluten free and dairy free, plus meal prep breakfast friendly!
It's no secret that we love oatmeal around here, and although I have lots of recipes for baked oatmeal, this is my first stove top and microwave oatmeal recipe!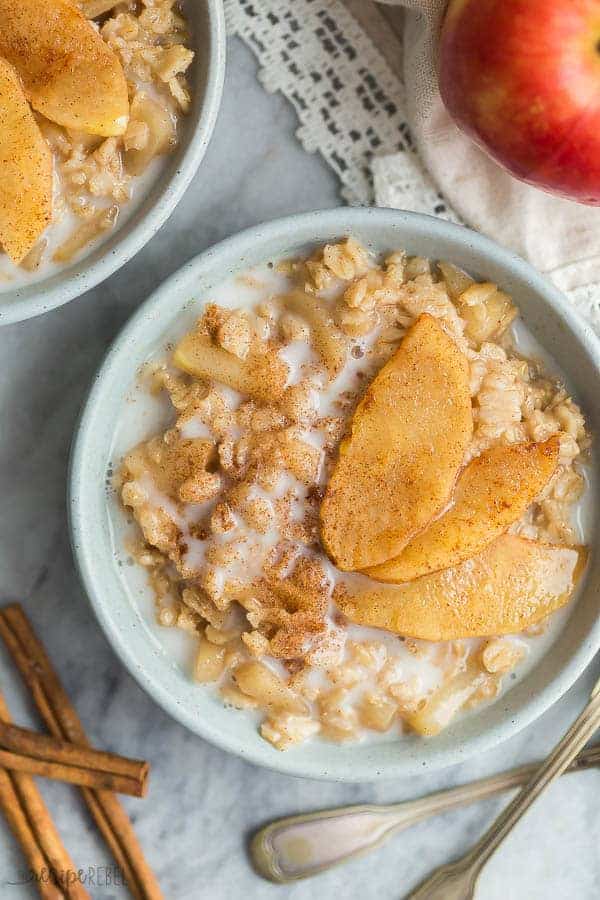 Now that the days are officially COLD, I'm craving all kinds of warm, hearty breakfasts, and I love that this oatmeal is easy to make ahead in big batches, then refrigerate for the week (because with 3 kids 6 and under, I don't always get a lot of time to make breakfast before my daughter has to be out the door to school!).
I've never been a big fan of the packaged instant oatmeals, which are quick to prepare but often packed with quite a bit of sugar.
Instead, I like to make a big batch of oatmeal and reheat through the week. This way, I know what's going in and have more control over the calories, protein, and fiber (and can sneak in extra things like you'll see below).
Variations of this Apple Cinnamon Oatmeal:
This oatmeal is easily made gluten-free using certified gluten-free oats. but be sure to check all of your packaging.
This oatmeal is naturally dairy-free and vegan, but you can add a splash of milk or almond milk to finish if you like your oatmeal a little thinner and creamier.
A lot of different fruits would work great in this recipe. Canned peaches or pears would eliminate the step of cooking the apples and get breakfast on the table sooner, and any frozen fruit or fresh berries would be great as well!
I like the heartier texture of regular large flake oats or rolled oats, but instant or quick oats would work as well. You can use them interchangeably in this recipe.
If you prefer honey over maple syrup (or another sweetener), you can use that as well. I use maple syrup or brown sugar because it pairs great with apples and makes this recipe vegan.
How to make this Apple Cinnamon Oatmeal recipe in the microwave:
To make in the microwave, add your apples and butter to a large microwave-safe bowl (it will bubble up so give yourself extra room!). Microwave on high for 2 minutes, stirring half way, just until apples are tender crisp.
Add cinnamon and ginger if desired, and stir.
Add water and oats and stir well. Microwave for 3-5 minutes, stirring every minute, until desired tenderness is reached.
Stir in maple syrup, vanilla and salt. Adjust sweetness to taste.
How to boost the nutrition in this oatmeal recipe:
I know that sometimes carbs and grains get a bad rep, but as long as you're opting for whole grains any time they're available, they are a great choice for a healthy breakfast or meal! Oatmeal is a great option for a healthy breakfast and packs in so many good things to start your day, like fiber, protein, and other nutrients like iron and magnesium.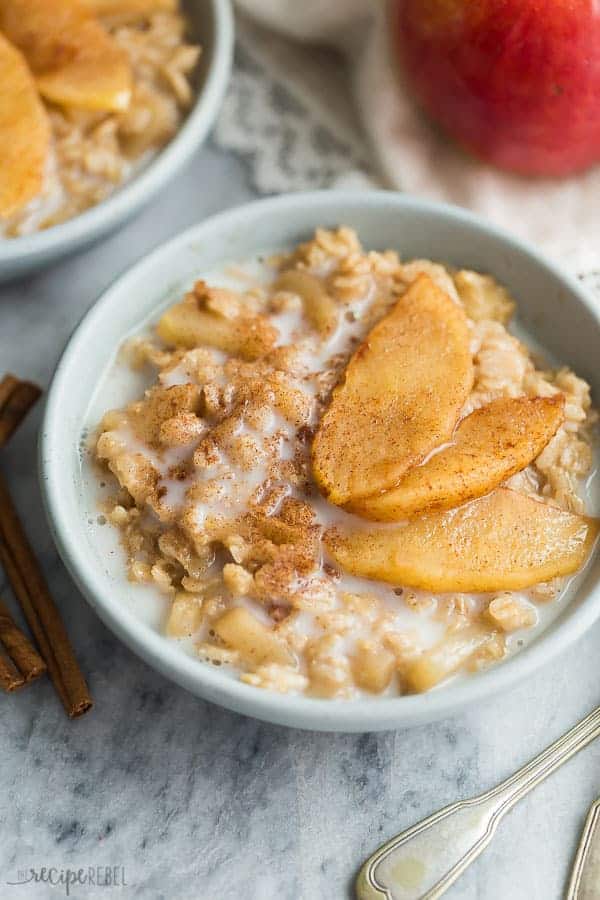 Considering how few calories are in a half cup of oats, you get a lot of bang for your buck when you add them to your diet!
Protein oatmeal: add a scoop of your favorite vanilla or unflavored protein powder into the oatmeal before serving.
Boost the fiber and iron: add ground flax or wheat bran to punch up the fiber and iron.
Reduce the sugar: you can always reduce the sugar in this recipe if you prefer. For this oatmeal recipe, I was aiming for the right balance between "healthy" and "delicious".