This Instant Pot Teriyaki Chicken and Rice is an easy dinner recipe made completely in one pot! Loaded with vegetables and covered in a sweet, tangy teriyaki sauce that cooks all together. A healthy dinner that comes together in minutes with no extra pots!
We're back with the next instalment in my dust-off-the-Instant-Pot series: Instant Pot Teriyaki Chicken and Rice!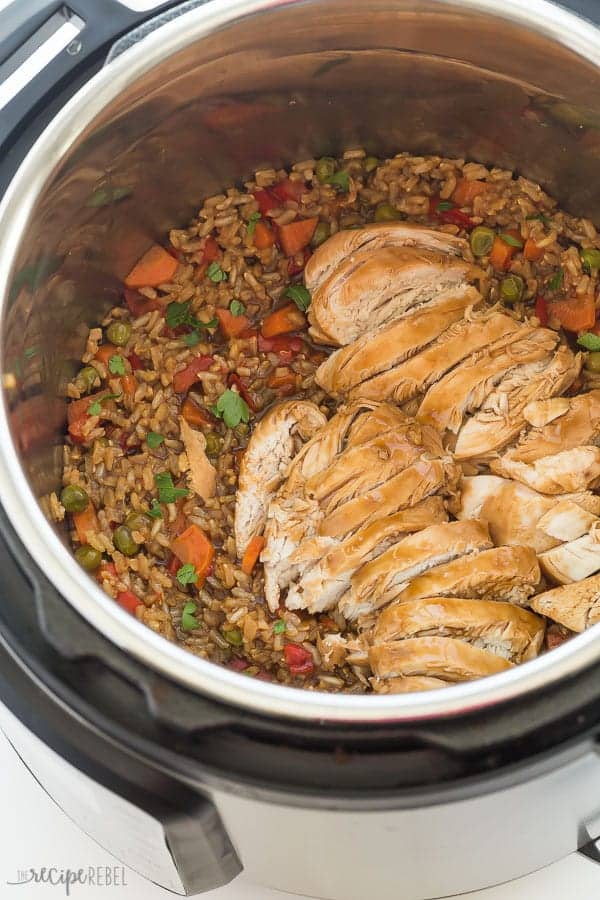 If you've been following along, you know that we started pretty basic, but things are starting to get exciting here. This is one of those recipes that I was pretty sure was going to be a big fail, but when I pulled off that lid I was pleasantly surprised! I couldn't believe that it cooked up so nicely and I didn't even get one of those nasty "burn" warnings (you better believe it's happened before!).
The sauce in this Instant Pot Teriyaki Chicken and Rice thickens beautifully, and it doesn't take on that weird "been cooking too long" flavour like it might if you were to throw it in the slow cooker. Plus the chicken is incredible moist and dinner is ready in about half an hour and mostly hands off!
I wanted to try this in the pressure cooker because of how popular this One Pot Teriyaki Chicken, Rice and Vegetables has been here on The Recipe Rebel. It's a quick meal — maybe even quicker, but you're using instant rice and it's more hands on with stirring and such — that's loaded with veggies just like this one.
It's also one my kids will eat enthusiastically, so it's a winner around here for sure.
You can definitely mix up the veggies to suit your tastes, just remember that vegetables don't take long to cook at all in the Instant Pot. You will likely want to throw them in just for a few minutes at the end, or steam them briefly in the microwave and toss them in with the finished dish (or serve on the side!).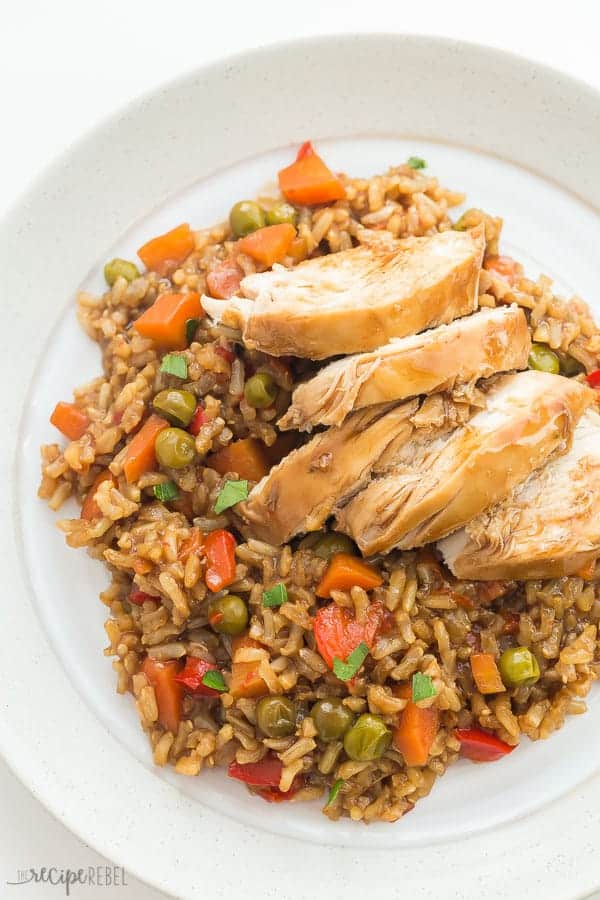 Tips and Tricks for Making this Instant Pot Teriyaki Chicken and Rice:
You can add all your veggies in at the beginning of the cook time if you want to skip the extra step, but they will be complete mush. You'll get a much better texture if you add them just for the last couple minutes!
I use boneless, skinless chicken breasts for a lean, healthy meal, but boneless, skinless chicken thighs would work great, too! You don't need to add any extra cook time.
If you want to make this a vegetarian meal, simply omit the chicken and bump up the veg.
If you want to make this a gluten-free meal, simply read all of your ingredients carefully to be sure there are no issues, as all of the ingredients themselves are gluten-free.
I don't recommend using any other rice for this recipe, as they all require different amounts of liquid and cook time. This recipe has only been tested with long grain brown rice.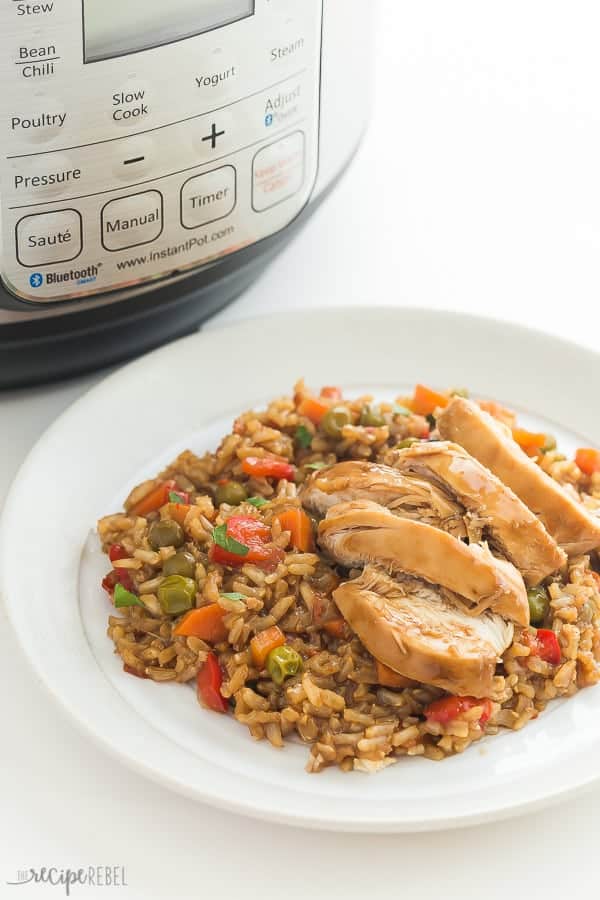 Ingredients
2 cups low sodium chicken broth
1/3 cup low sodium soy sauce
1/4 cup hoisin sauce
1 tablespoon white vinegar
1 tablespoon liquid honey
2 teaspoons minced garlic
1 teaspoon minced ginger
1 pinch red pepper flakes (optional)
1 1/2 cups long grain brown rice
2 boneless, skinless chicken breasts
1 red bell pepper, chopped
1 large carrot, finely diced
1 cup frozen peas
Directions
To your Instant Pot or electric pressure cooker, add broth, soy sauce, hoisin sauce, vinegar, honey, garlic, ginger and pepper flakes if using. Stir well.
Stir in the rice and place the chicken breasts on top (they will sink down into the liquid, and that's okay).
Put the lid on and switch valve to sealing. Select Manual, high pressure (the automatic setting), and set for 20 minutes. It will take 15-20 minutes to come to pressure on top of the 20 minutes cook time. 
When the 20 minutes are up, do a quick release of the pressure and add the pepper, carrot and peas. Put the lid on, switch valve to sealing, and cook on Manual, high, for 3 more minutes. 
When the cook time is over, do a quick release (you can let it release pressure naturally but the food will continue to cook in this time, making the rice and vegetables softer). Serve immediately.
Loading nutrition data…