Easy30 minsQuick
This Italian Orzo Tuna Salad recipe is one of my all-time faves — fresh, zesty, savory, and blessedly mayo-free.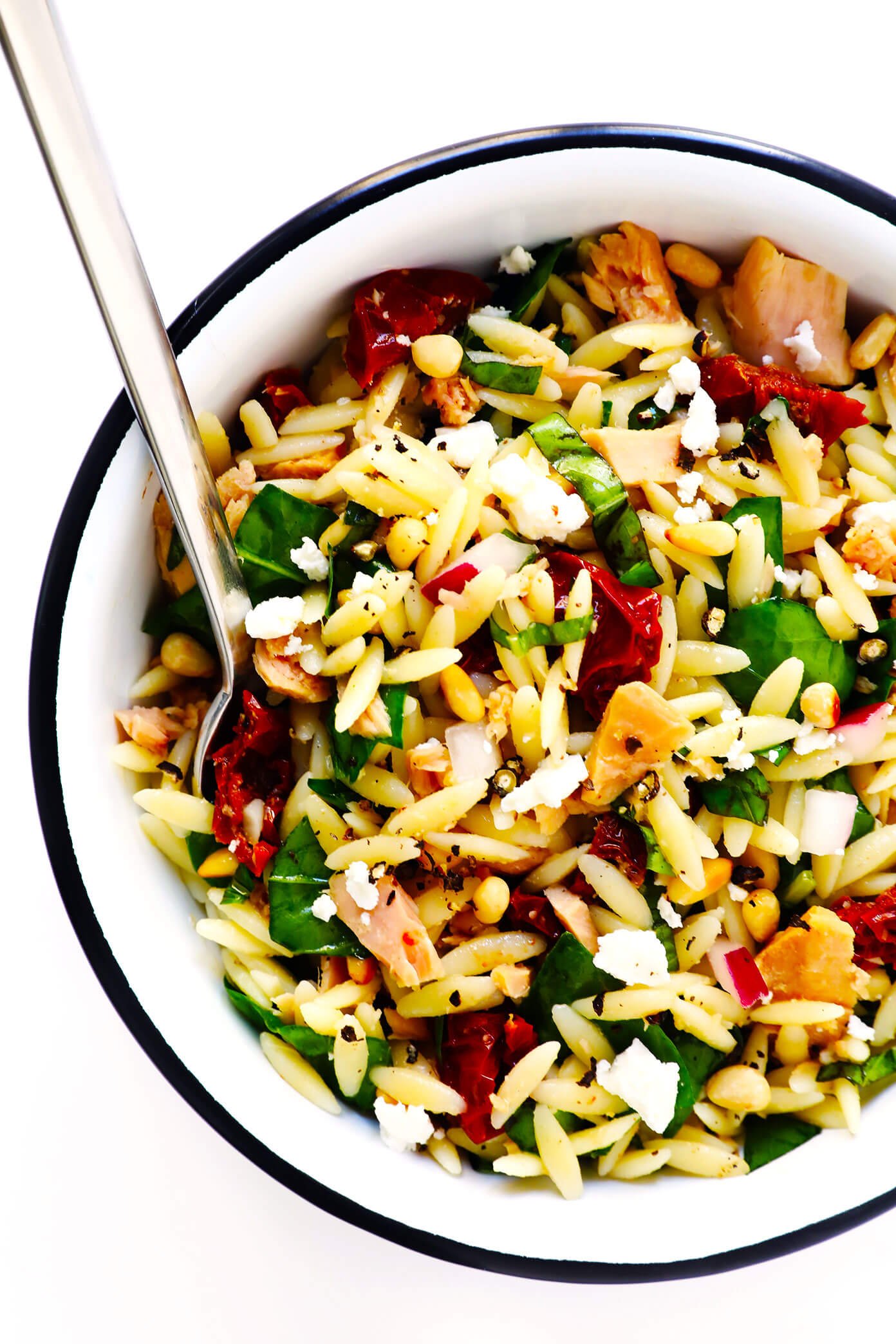 Gotta say, I never really considered myself a tuna salad person…
…until I met this tuna salad.
It's made with all of my favorite Italian pasta salad ingredients, like sun-dried tomatoes, crisp red onion, toasted pine nuts, soft feta cheese, and loads of fresh basil.  It's tossed in a zippy fresh lemon dressing.  It calls for a few simple cans of tuna, whose flavor is balanced out nicely by all of the other ingredients and adds a nice extra dose of protein to this dish.  It's easy to make ahead, and equally delicious served hot or cold.  And perhaps most importantly to me, it includes zero mayo.  Because
I randomly whipped this one up for Barclay and I a few weeks ago when we were cleaning out the pantry, not really sure whether adding the tuna in at the last second was a great or a terrible idea.  But after taking our first bites, we turned to each other with eyes wide open and agreed — "This stuff is good!"  So good, in fact, that we both went back for seconds and polished off every tiny last bite of orzo…and then promptly made it again later that week.
Guys, this tuna salad!
Italian Orzo Tuna Salad Ingredients:
Alright, let's talk ingredients.  To make this Italian orzo tuna salad recipe, you will need:
Pasta: I used orzo, but any shape will do.
Tuna: Any variety of canned tuna that you prefer will work well here.  Just be sure to drain it before adding to the salad.
Sun-dried tomatoes: I love the sweet and tangy richness of sun-dried tomatoes in this recipe.  But fresh chopped tomatoes would also be delicious.
Red onion: If you would like the flavor of the red onions to be a bit milder, just rinse them in cold water for a minute before adding to the salad.
Fresh spinach: Or any favorite salad greens that you have on hand.
Toasted pine nuts: Or any kind of nuts or seeds you prefer.
Fresh basil: The more, the merrier, if you ask me. 🙂
Lemon dressing: I used the dressing here from my everyday salad recipe, made with fresh lemon juice, olive oil, dijon, garlic, salt and pepper.  It's easy to make, and compliments the other flavors nicely.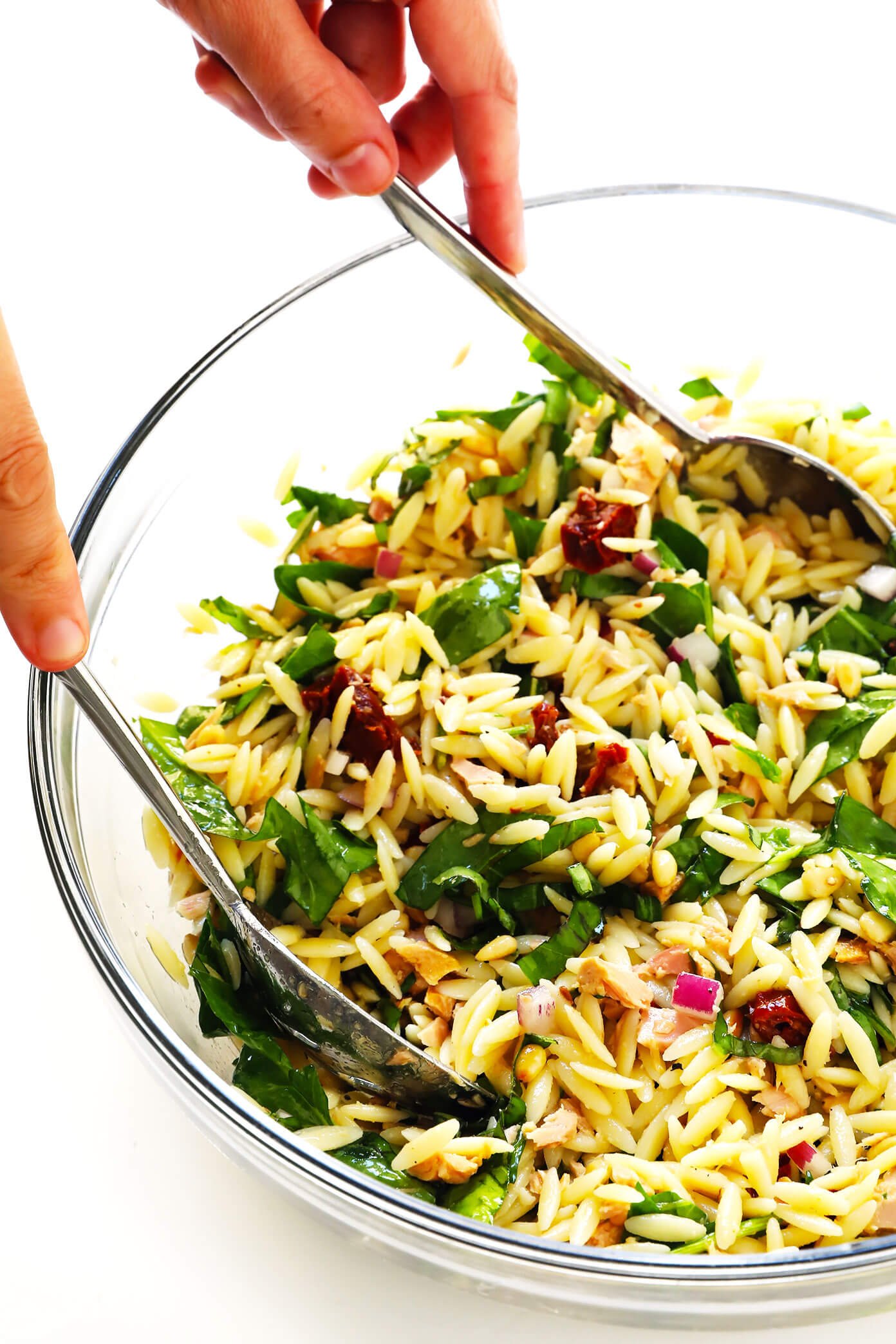 How To Make This Tuna Salad:
As I said, this salad is delicious served warm or cold.  If making the salad warm, be sure to prep your ingredients ahead of time so that you can toss everything together as soon as the pasta has finished cooking.  If making the salad cold (my preference), simply:
Cook, drain and rinse the pasta: Cook the pasta al dente in a large pot of salted water, according to package instructions.  Then drain the pasta, and rinse it thoroughly with cold water until chilled, and set aside.  Meanwhile…
Whisk together your dressing: In a small bowl (or mason jar), whisk (or shake) all of the ingredients together until combined.
Prep your remaining ingredients: Chop the sun-dried tomatoes, basil, onion, and spinach. Toast your pine nuts.  Crumble that cheese.
Toss: Then toss everything together in a large bowl until combined.  Taste, and season with salt and pepper as needed. And…
Serve!  Ta-da!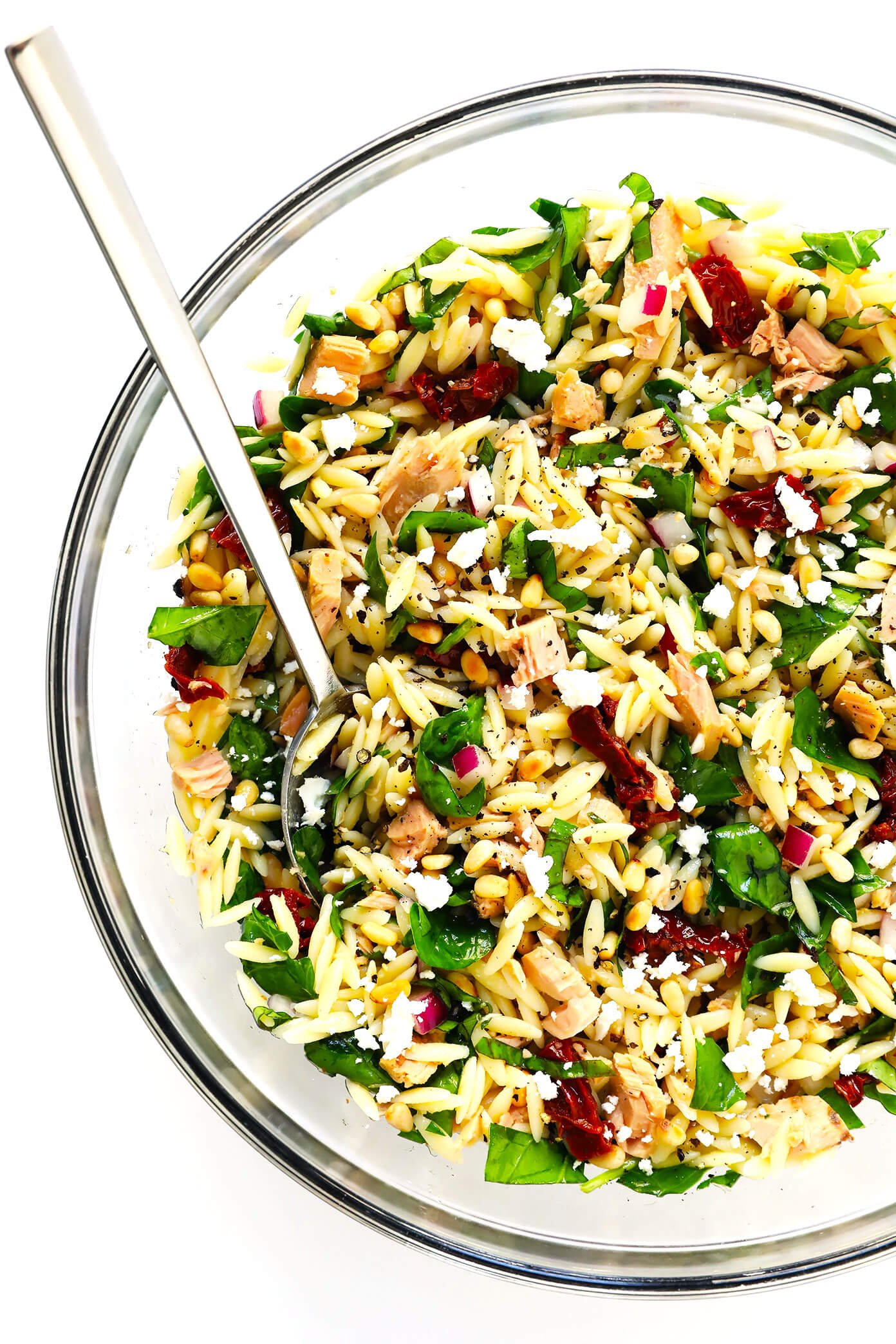 Ways To Customize This Tuna Salad:
Feel like mixing things up?  There are all sorts of ways you could customize this one, including:
Swap out the pasta: And in its place, add cooked quinoa, farro, barley, or any other favorite grains.
Use your favorite dressing: A variety of other Italian-style dressings would be delicious in this salad.  Or you could simplify things even more and just use some olive oil and a big squeeze of lemon.
Add a different protein: In place of tuna, you could add cooked chicken, shrimp, or any Italian salamis/sausages.  Or nix the meat/seafood entirely.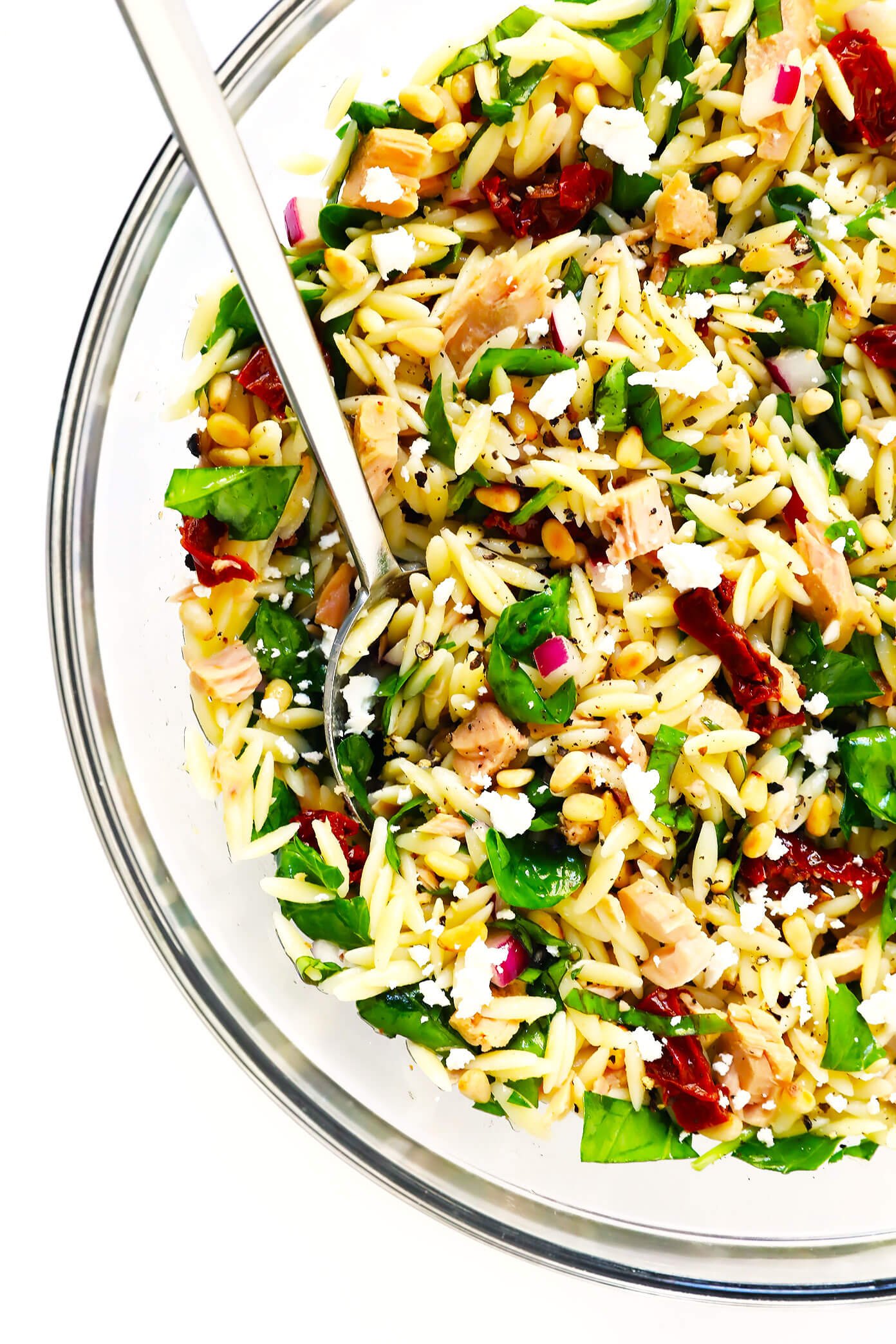 Enjoy, everyone!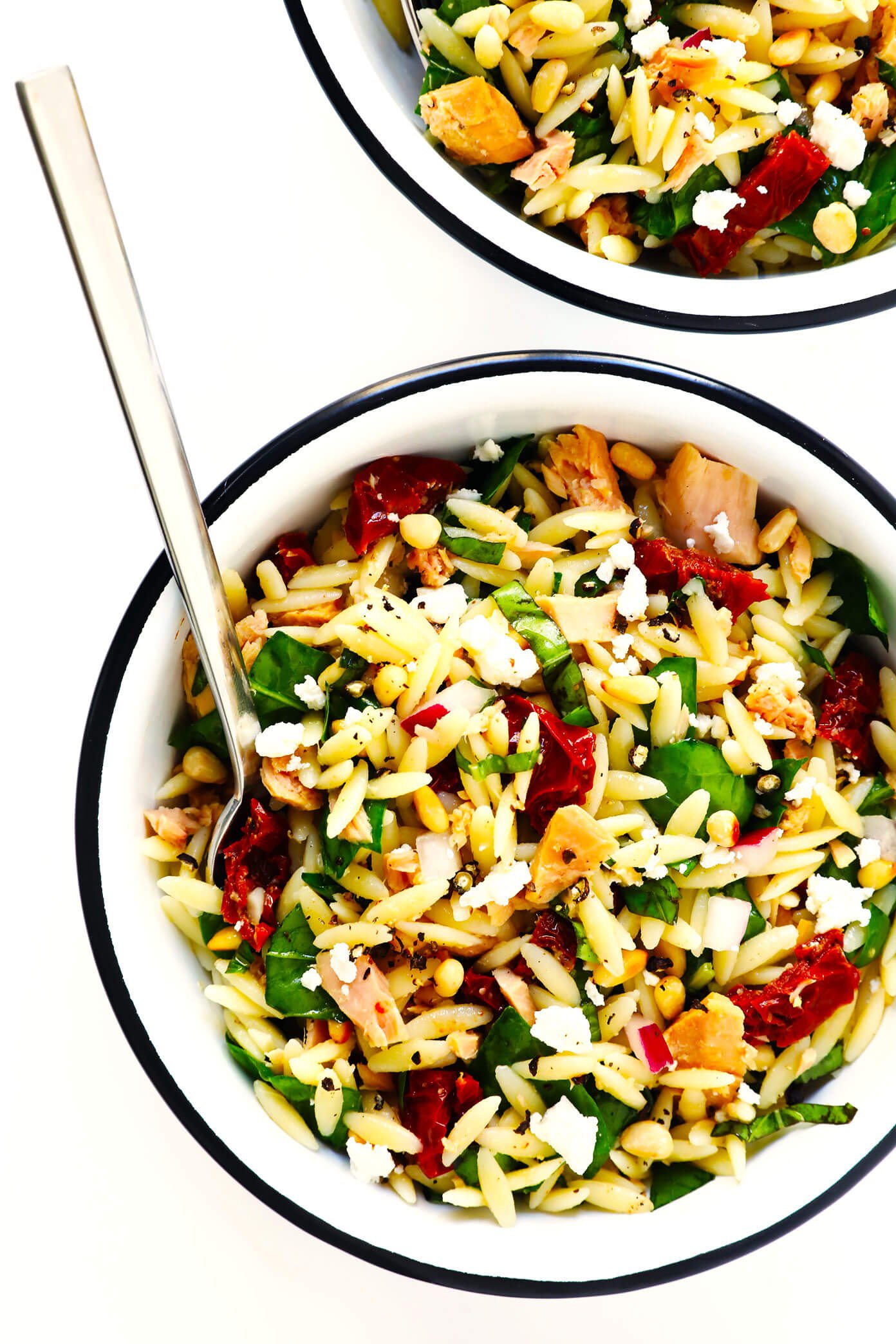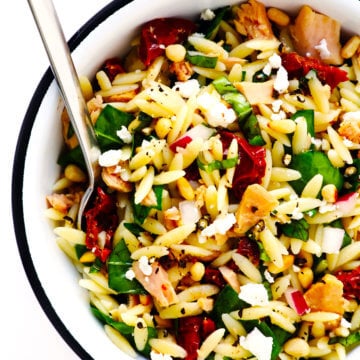 Yield: 4 servings
Italian Orzo Tuna Salad
This Italian Orzo Tuna Salad recipe is one of my all-time faves — fresh, zesty, savory, and blessedly mayo-free.
Ingredients:
Pasta Salad Ingredients:
8 ounces uncooked orzo pasta
2 handfuls baby spinach, roughly-chopped
2 (5-ounce) cans tuna, drained
half of a small red onion, peeled and diced
1/2 cup crumbled feta cheese
1/2 cup sun-dried tomatoes, drained and chopped
1/2 cup toasted pine nuts
1/3 cup chopped fresh basil leaves
Lemon Dressing Ingredients:
3 tablespoons olive oil
1 tablespoon freshly-squeezed lemon juice
1 teaspoon Dijon mustard
1 small clove garlic, pressed or finely-minced (or 1/2 teaspoon garlic powder)
1/2 teaspoon fine sea salt
1/4 teaspoon freshly-cracked black pepper
Directions:
To Make The Pasta Salad:
Cook orzo in a large stockpot of generously-salted water according to package instructions until al dente.  Drain the pasta, then rinse thoroughly with cold water in a colander until the pasta is completely chilled.
Transfer pasta to a large mixing bowl.  Add the remaining ingredients and prepared dressing (see below), and toss until evenly combined.  Taste and season with salt and pepper as needed.  Then serve immediately, or refrigerate in a sealed container for up to 3 days.
To Make The Dressing:
Whisk all ingredients together in a bowl (or shake together in a mason jar) until combined.  Use immediately or refrigerate in a sealed container for up to 3 days.
Difficulty: EasyCategory: Quick


All images and text ©Gimme Some Oven
If you make this recipe, be sure to snap a photo and hashtag it #gimmesomeoven. I'd love to see what you cook!