This Kale and Brussels Sprouts Salad with a Maple Dijon Vinaigrette is the perfect salad for fall. It's so fresh and flavorful!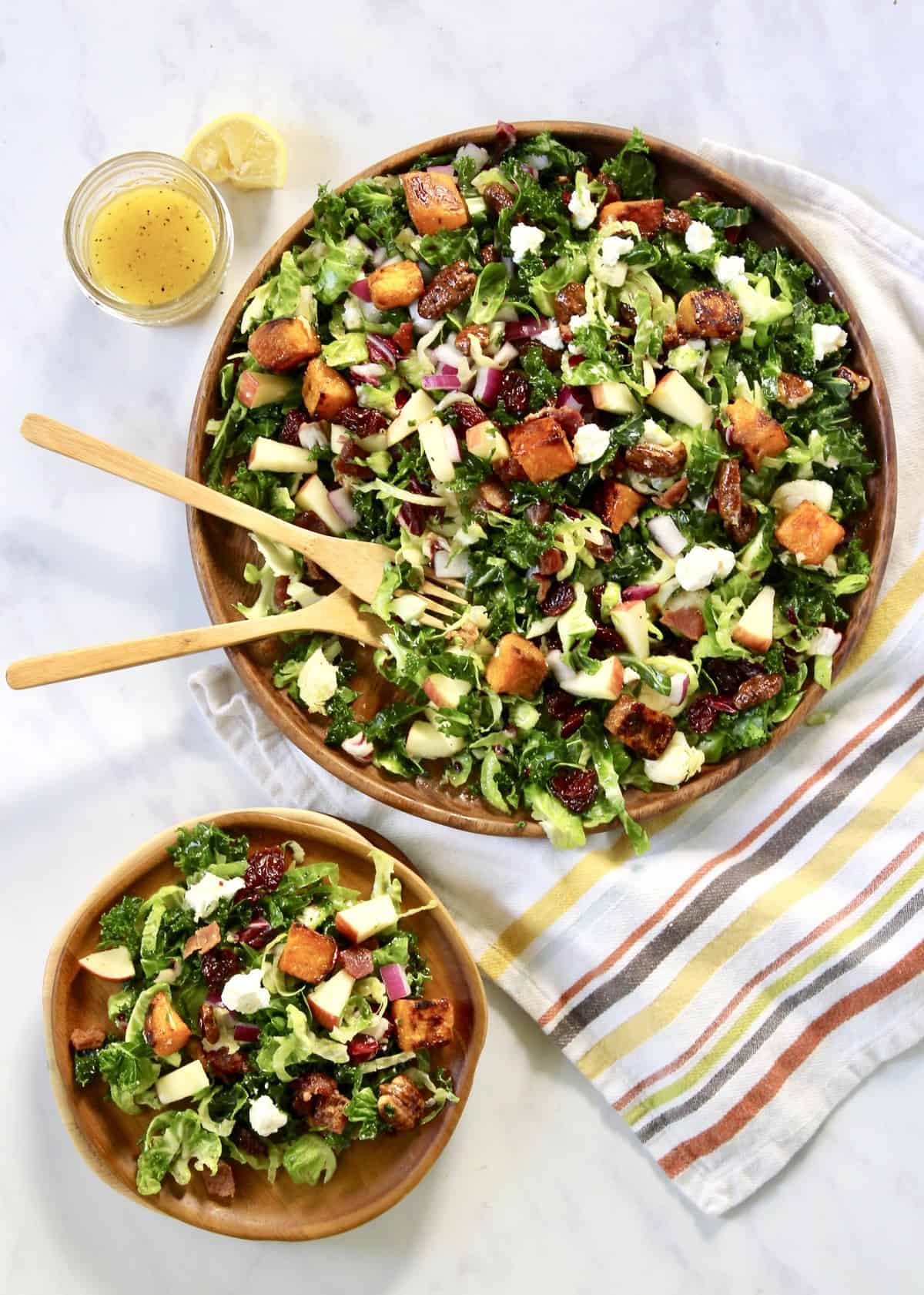 This beautiful and delicious salad is sure to become a fall favorite for you and your loved ones. Whether you're making it for a light lunch or as a side dish to a big fall feast, it's guaranteed to be enjoyed by all. Roasted butternut squash, Honeycrisp apples, candied pecans, and goat cheese are just some of the exciting fall flavors and textures that make this salad so fantastic!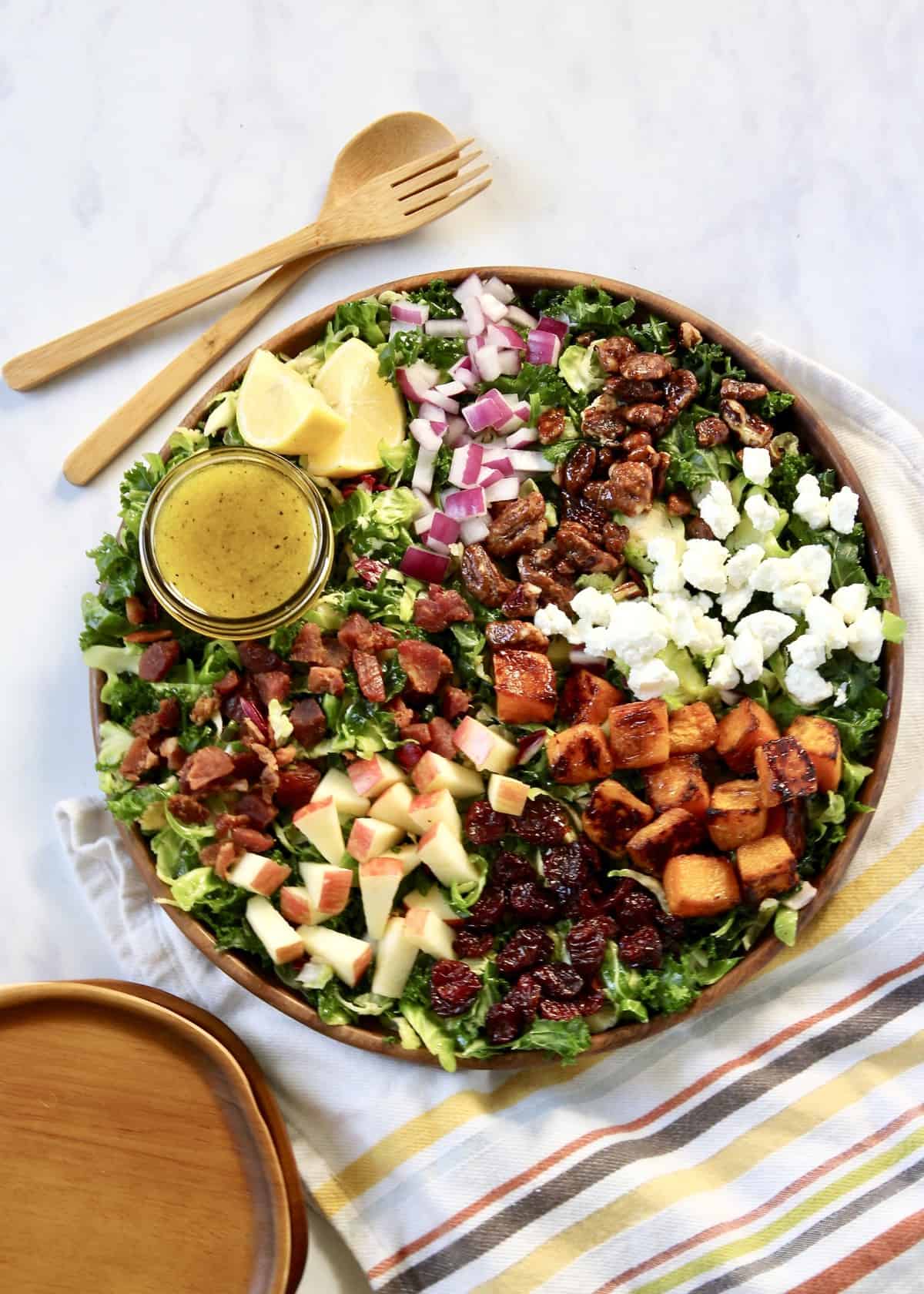 I love a hearty salad and this is definitely one of my all-time favorites! The fresh kale and brussels sprouts hold their crunchiness so well when coated in the maple dijon vinaigrette. The lemon in the vinaigrette really brightens the salad up and brings the savory ingredients together so deliciously.
The beauty of this salad is that you can make it in advance and keep it covered in the fridge or at room temperature and the heartiness of the greens will hold their crispness so wonderfully. It's a great salad to meal prep at the beginning of the week and enjoy for lunch all week long. And it's a stunning salad to make for a dinner party that will go great with just about any main dish.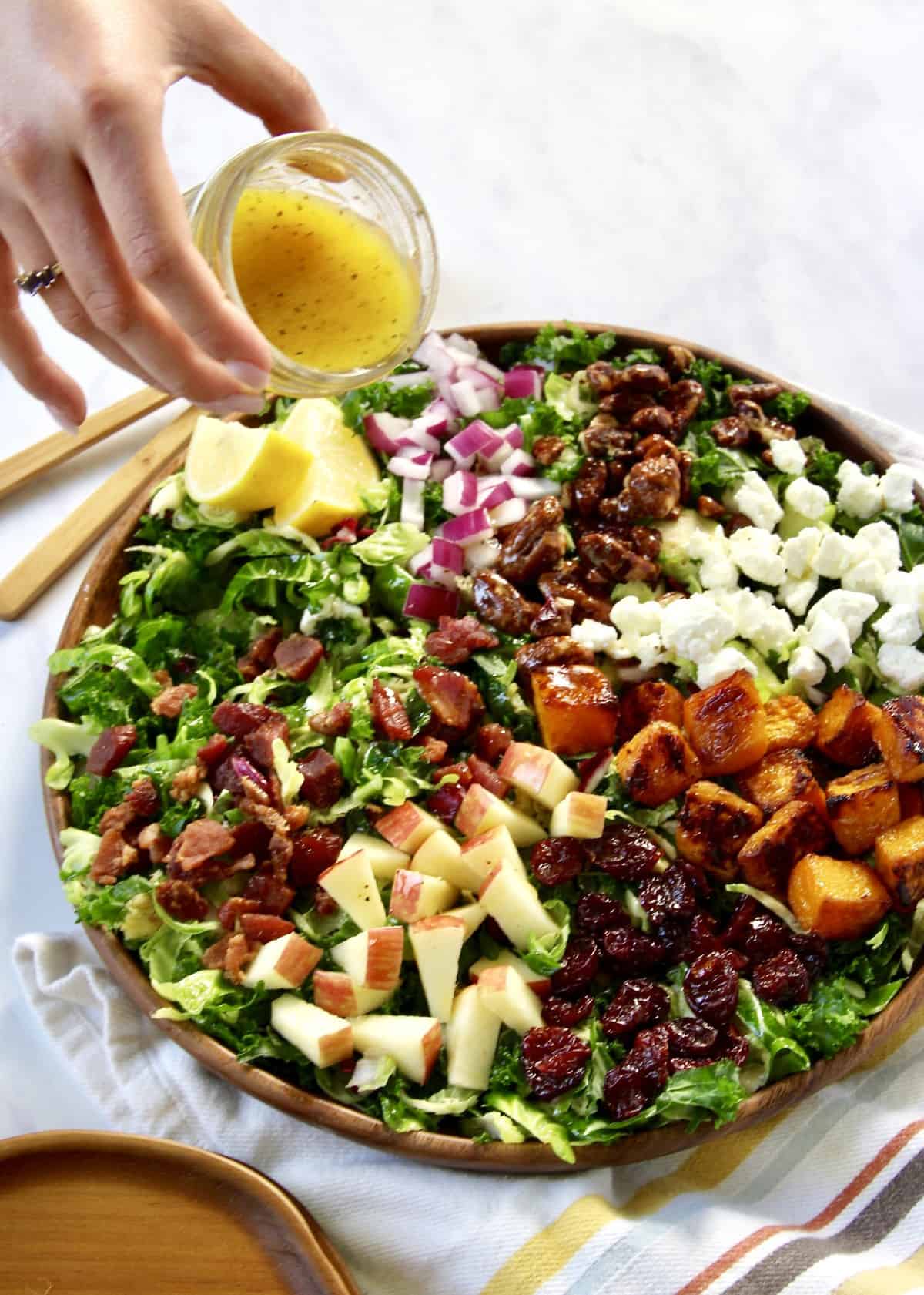 The roasted butternut squash, crisp bacon and creamy goat cheese add a level of comfort to this salad that is unforgettable. It's truly love at first bite that will have you craving it over and over again. I love how easy it is to make and that it leaves a lasting impression with it's unbelievable flavor and texture combinations.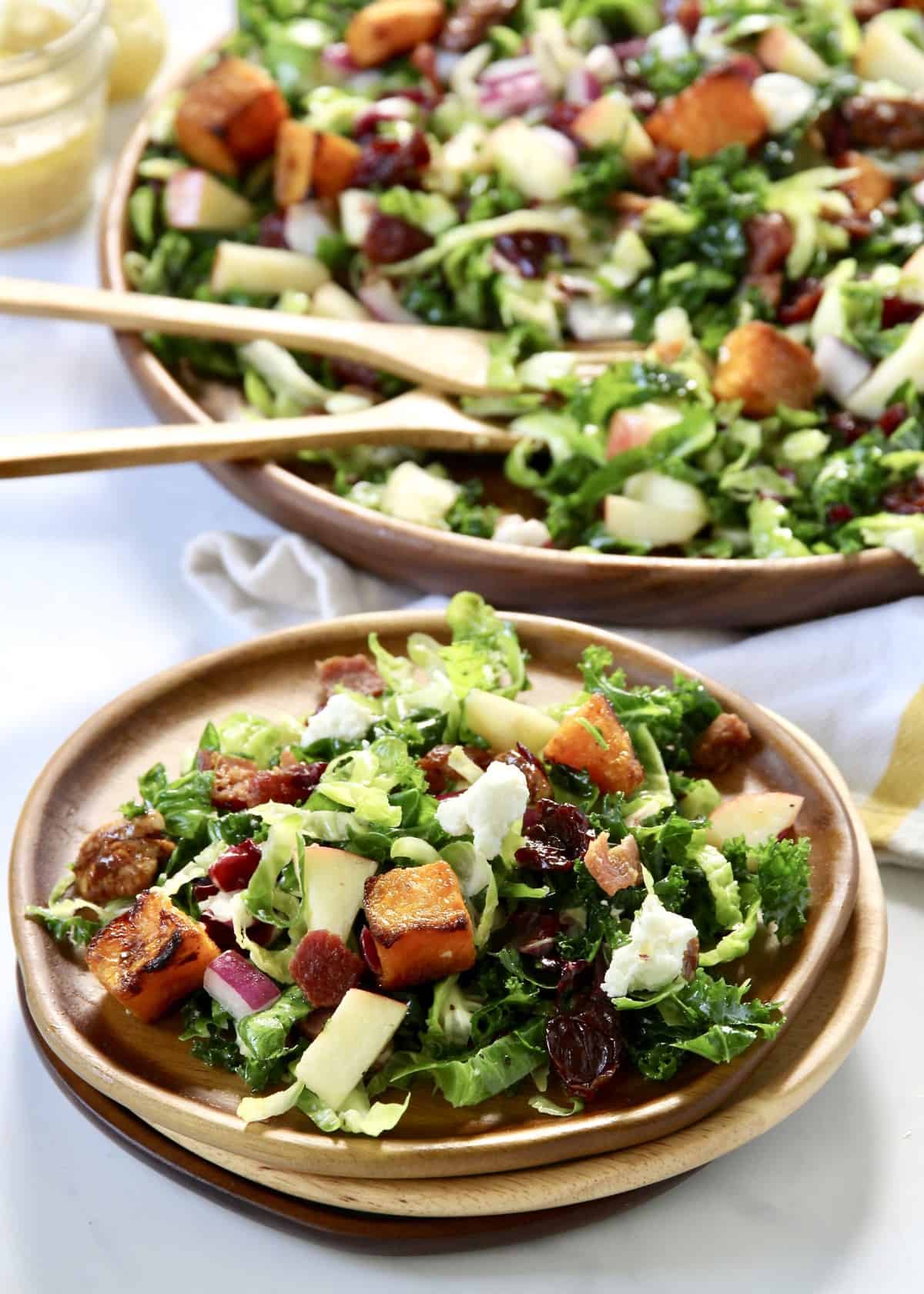 I recently shared this amazing salad in the Fall Edition of IBB Home Magazine along with recipes for Sweet Potato Ricotta Gnocchi, Pecan Pie Thumbprint Cookies and Apple Cider Sangria. A perfect menu for a lovely fall gathering!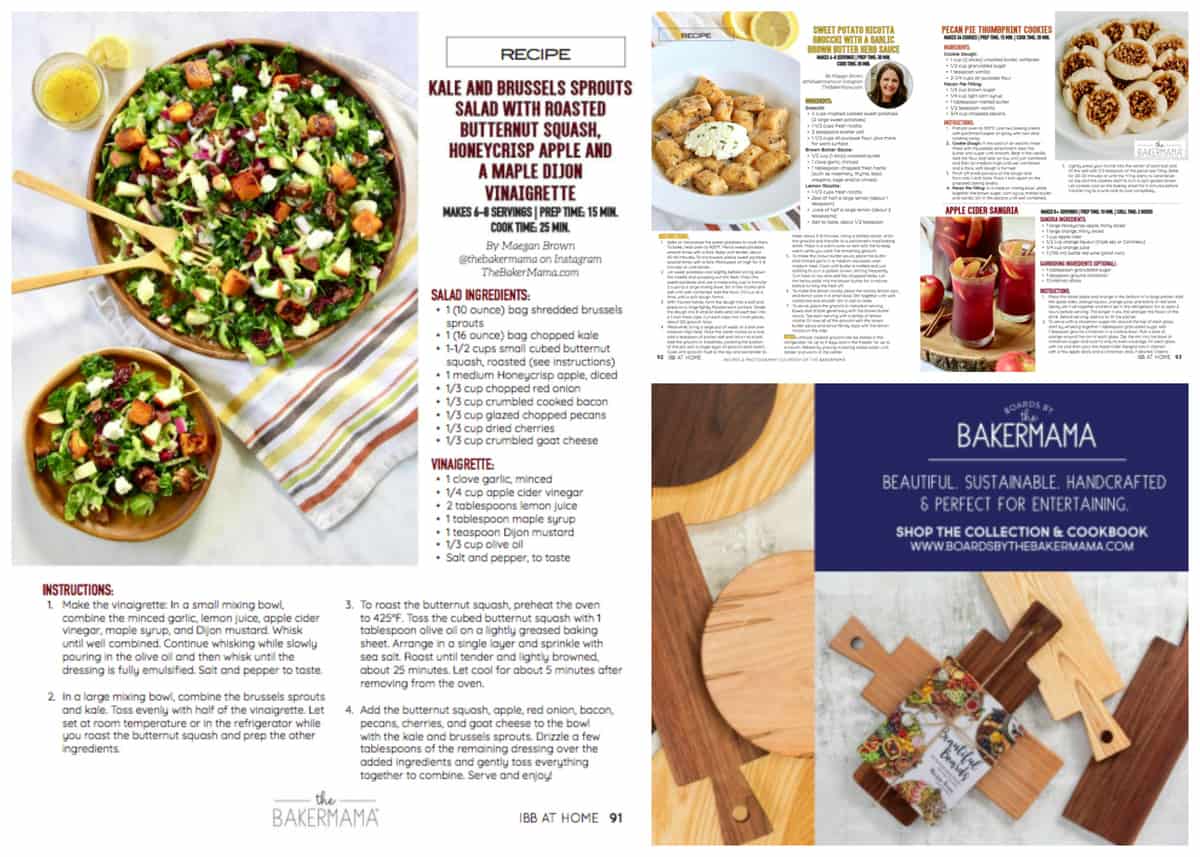 I hope you and your loved ones enjoy this fabulous Kale and Brussels Sprouts Salad as much as we do. When you make it and share on social media, be sure to tag me @thebakermama so I can see and others can be inspired. I love seeing you make and enjoy the recipes I share!
xoxo,