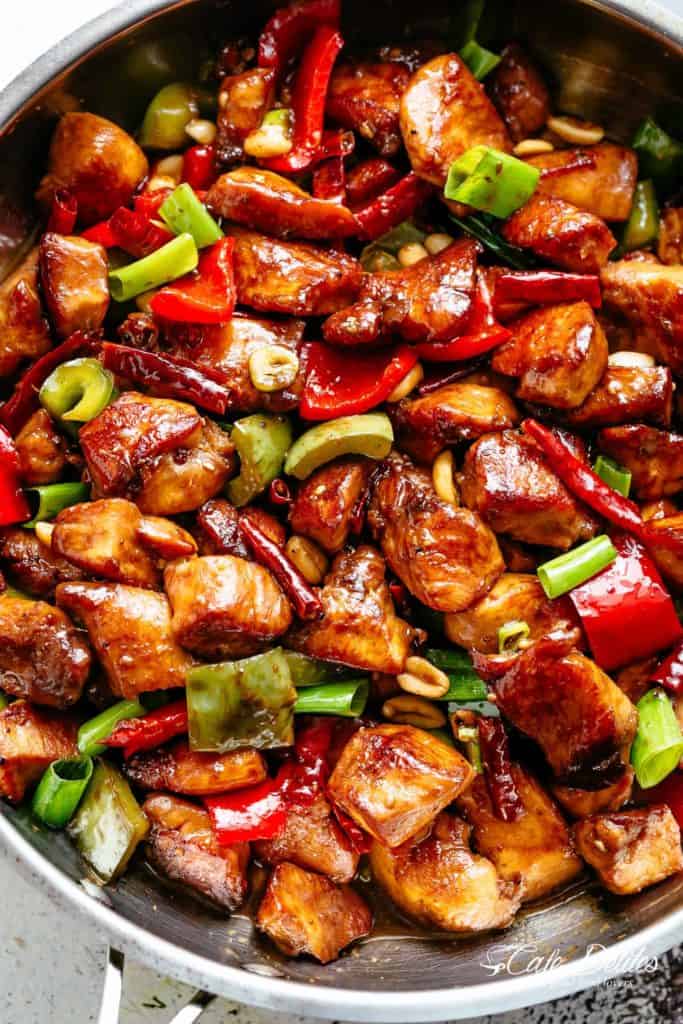 Kung Pao Chicken is a highly addictive stir-fried chicken with the perfect combination of salty, sweet and spicy flavour!
Make Kung Pao Chicken better than Chinese take out right at home! With crisp-tender, mouthwatering chicken pieces swimming in the most delicious silky Chinese sauce exploding with flavour, this is one Kung Pao chicken recipe hard to pass up!
One of your most requested recipes is finally here!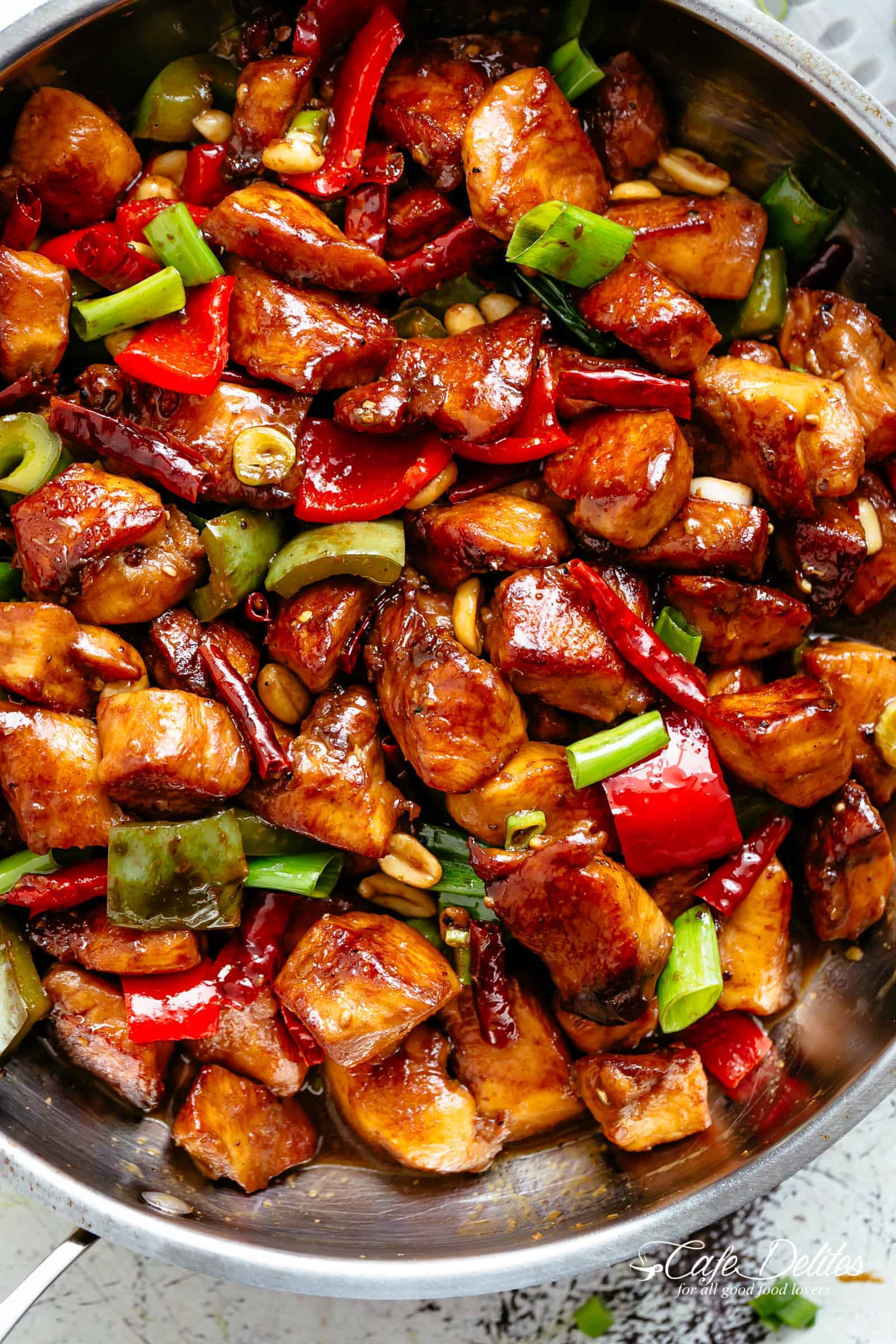 Easy Kung Pao Chicken Recipe
Traditionally, this Chinese chicken dish is a dry-stir fry — not a lot of sauce is added into Kung Pao chicken. However, with the amount of flavour explosions happening in this dish, you don't miss OR want any more sauce. There's so much flavour in this it's crazy!
What is velveting
A meat tenderising technique used by Chinese restaurants and it's super easy.
First, you're going to marinate chicken pieces in a mixture of cornstarch, baking soda (YES) and Chinese wine (or sherry or rice wine. You can also use vinegar!) Then you're going to quickly fry them in hot oil before finishing them off in the stir-fry with other ingredients. The cornstarch/soy/wine marinade not only provides amazing flavour to the chicken, it acts like a protective coating which seals moisture inside the chicken, creating beautiful golden edges while preventing the chicken from overcooking.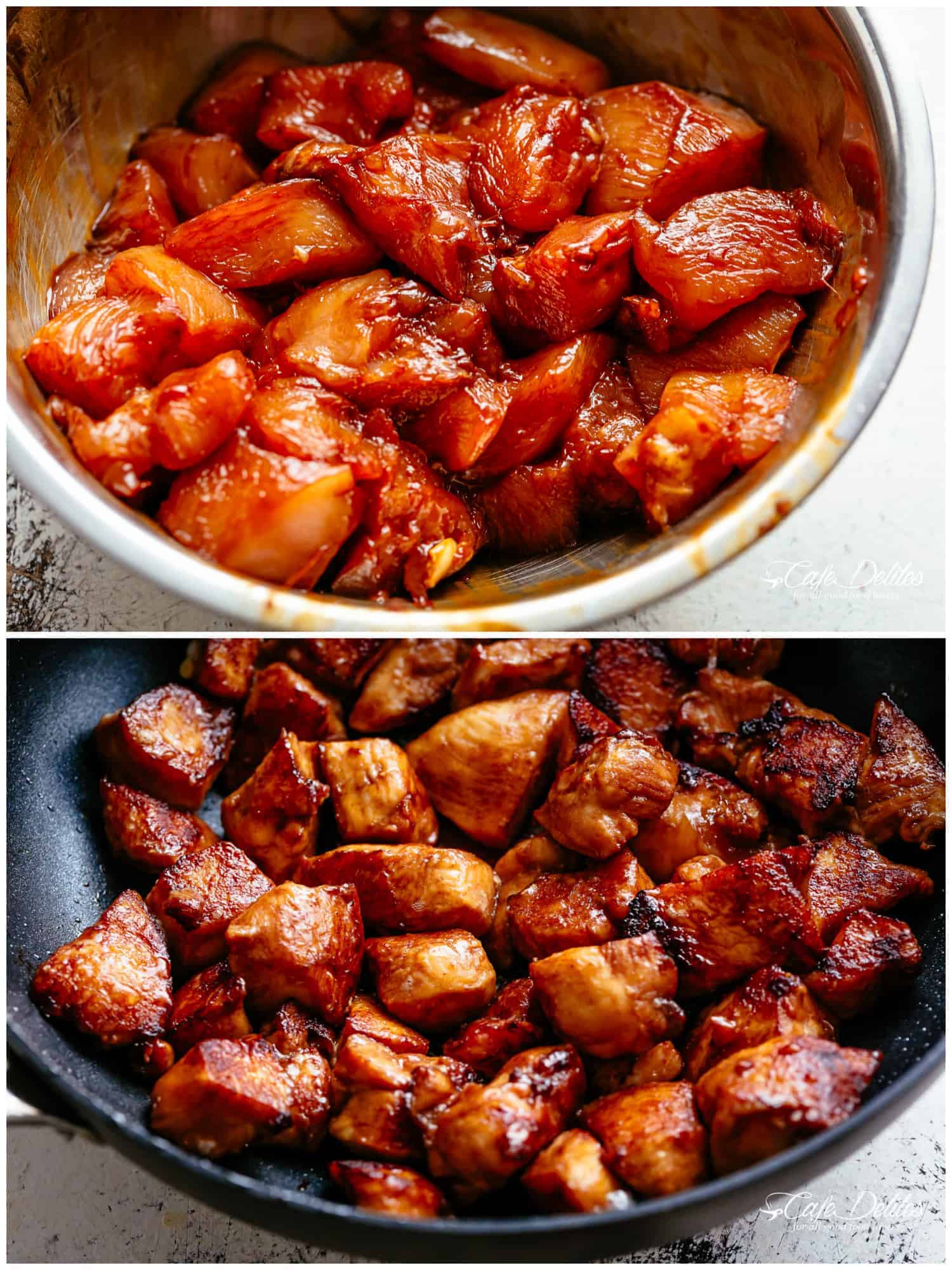 Kung Pao Sauce
The perfect time to prepare your sauce is while your chicken is marinating. Having everything ready before you start a stir fry is essential — and the sauce is the most important part! Well, besides the chicken.
Once your chicken is done, add in your sauce and watch it bubble and turn into a beautiful, slightly thick and silky sauce, coating each piece of chicken perfectly.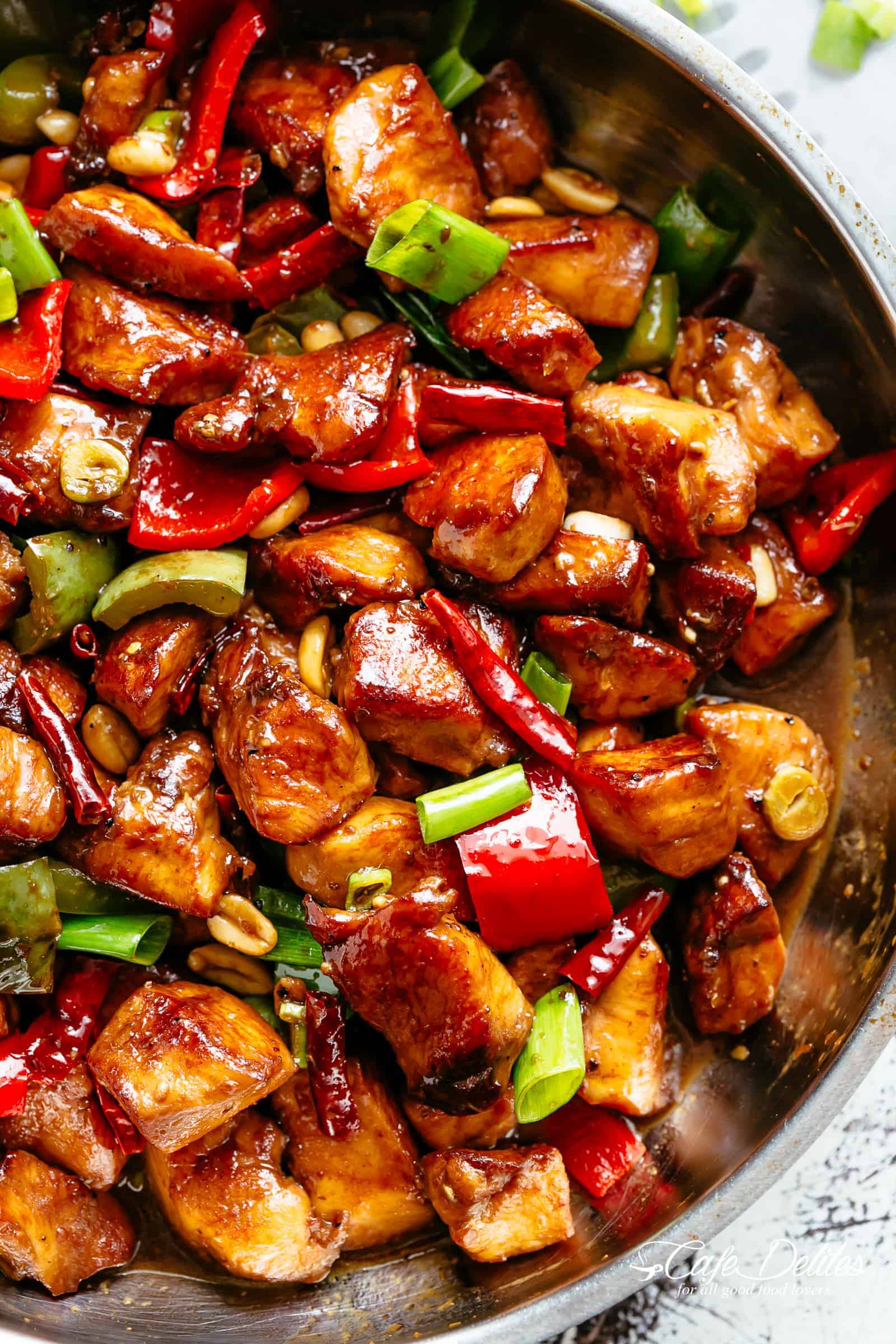 Kung Pao Stir Fry
There are 6 main ingredients in the sauce to make the perfect Kung Pao Chicken:
Chicken broth or stock (use low sodium) — you can also use water if you don't have any broth on hand!
Light soy — use light or low sodium if you can. Regular soy creates a really salty sauce for this recipe.
Dark Soy Sauce — adds beautiful colour and flavour to the sauce!
Hoisin sauce — more depth of flavour!
Chinese black vinegar — or a good quality balsamic vinegar can be used instead.
Chinese wine (Shaoxing) — to substitute you can use any of the following: dry sherry, gin, rice wine vinegar, apple cider vinegar.
For the stir fry, I've included broth red and green bell peppers (or capsicums) and the traditional roasted peanuts. You can also add in diced celery, sliced carrots and/or zucchini!
Sichuan peppercorns (Szechuan pepper)
We can't call it Kung Pao Chicken if there's no Sichuan (or Szechuan) pepper! They provide delicious mouth-numbing heat! Find them in Asian grocery stores and supermarkets, or Chinatown shops (even gourmet chains such as Whole Foods).
To toast them, add to a dry pan, wok or skillet over medium heat. Stir for about one minute until fragrant. Then transfer to a mortar and pestle to grind.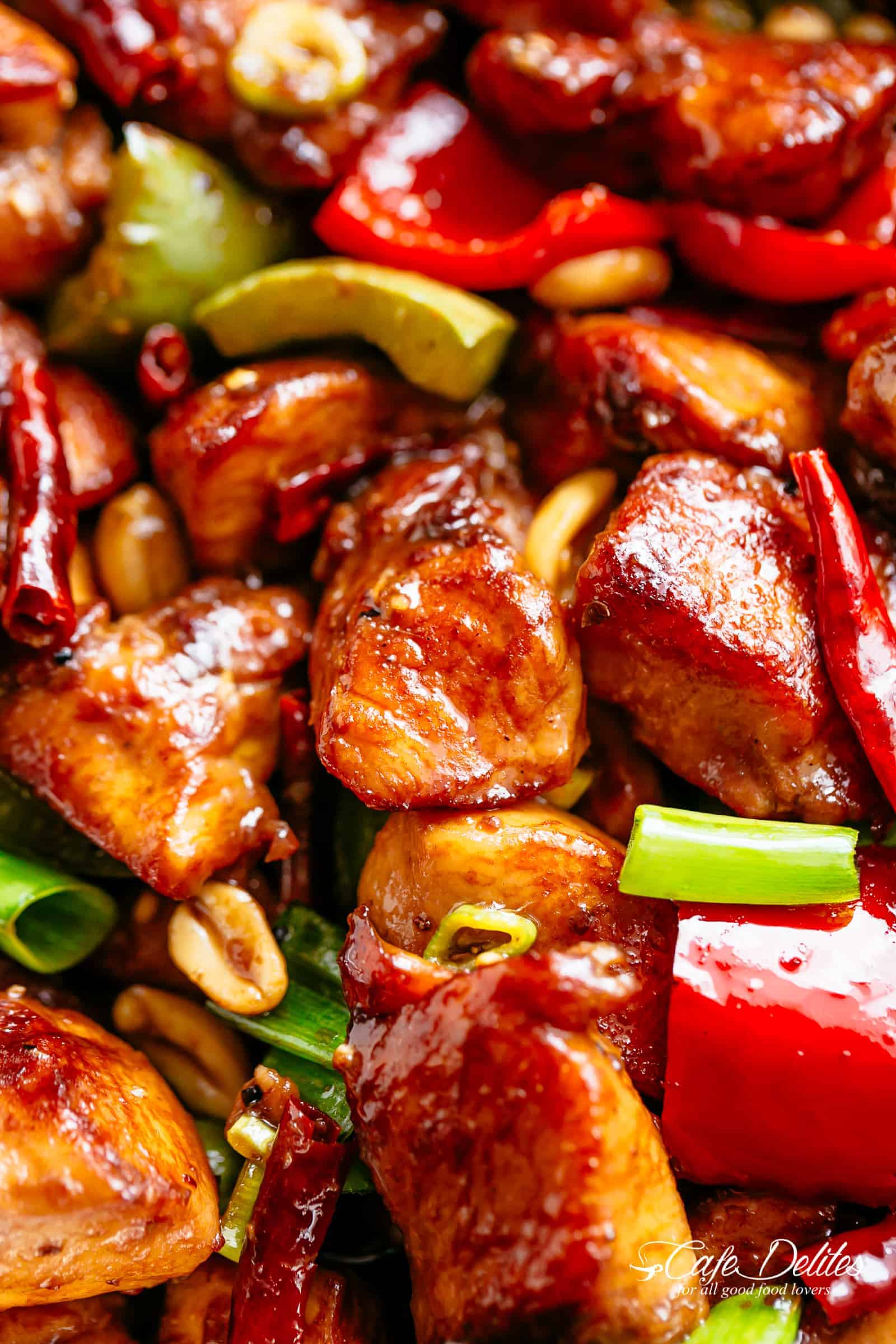 Looking for more stir fry recipes? Try these!
Simple Chicken Teriyaki Stir Fry | Sesame Beef Stir Fry | Honey Soy Chicken Stir Fry
Kung Pao Chicken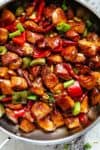 Kung Pao Chicken is highly addictive stir-fried chicken with the perfect combination of salty, sweet and spicy flavour! Make it better than Chinese take out right at home! With crisp-tender chicken pieces and some crunchy veggies thrown in, this is one Kung Pao chicken recipe hard to pass up! 
Chicken:
28 ounces (800g) boneless/skinless chicken breast (cut into 1 inch cubes)
1 tablespoon shaoxing wine (or dry sherry)
1 tablespoon light soy sauce
2 teaspoons baking soda
1 teaspoon cornstarch / corn flour
Sauce:
1/2 cup low-sodium chicken stock ((or broth) — water can be used)
5 tablespoons light soy sauce
2 tablespoons Chinese black vinegar ((or substitute good-quality balsamic vinegar))
2 tablespoon Chinese Shaoxing wine ((or dry sherry))
2 teaspoon dark soy sauce
2 teaspoons hoisin sauce
2 tablespoons sugar
1 teaspoon cornstarch / corn flour
Stir Fry:
4 tablespoons cooking oil (divided)
1 1/2 tablespoons garlic ((4-6 cloves))
1 tablespoon ginger
1/2 red bell pepper (capsicum) (seeded and diced)
1/2 green bell pepper (capsicum) (seeded and diced)
8-10 dried chilies (cut into ½-inch pieces (adjust to taste))
1 tablespoon Sichuan peppercorns (lightly toasted and ground)
4 green onion / scallion stems (cut into 1-inch pieces)
1/2 cup roasted/unsalted peanuts
2 teaspoons sesame oil (optional)
Combine all ingredients for the chicken in a shallow bowl; cover and marinate for 10 minutes (if time allows).

Whisk sauce ingredients together until sugar dissolves; set aside.

Heat a large skillet, pan or wok over high heat. Add 2 tablespoons of cooking oil, allow to heat up, then add marinated chicken. Fry chicken for 3-4 minutes while occasionally stirring, until edges are browned. Remove from heat and set aside.

Add remaining cooking oil into the same pan/wok. Stir in garlic, ginger, chili diced peppers (capsicums) and Sichuan peppercorns and stir fry for 1 minute. 

Give the prepared sauce a mix, then pour it into the pan and bring it to a boil while stirring. 

Once it begins to thicken slightly, add chicken back into the pan/wok and mix all of the ingredients through the sauce until the chicken is evenly coated and sauce has thickened, (about 2 minutes).

Stir in green onions, peanuts and sesame oil. Toss well and continue to cook for a further 2 minutes to infuse all of the flavours together.

Serve immediately with steamed/cooked rice or fried rice!
The post Kung Pao Chicken appeared first on Cafe Delites.