This post may contain affiliate links. Please read my disclosure policy.
All of the flavors you love best about lasagna in a quick and easy soup!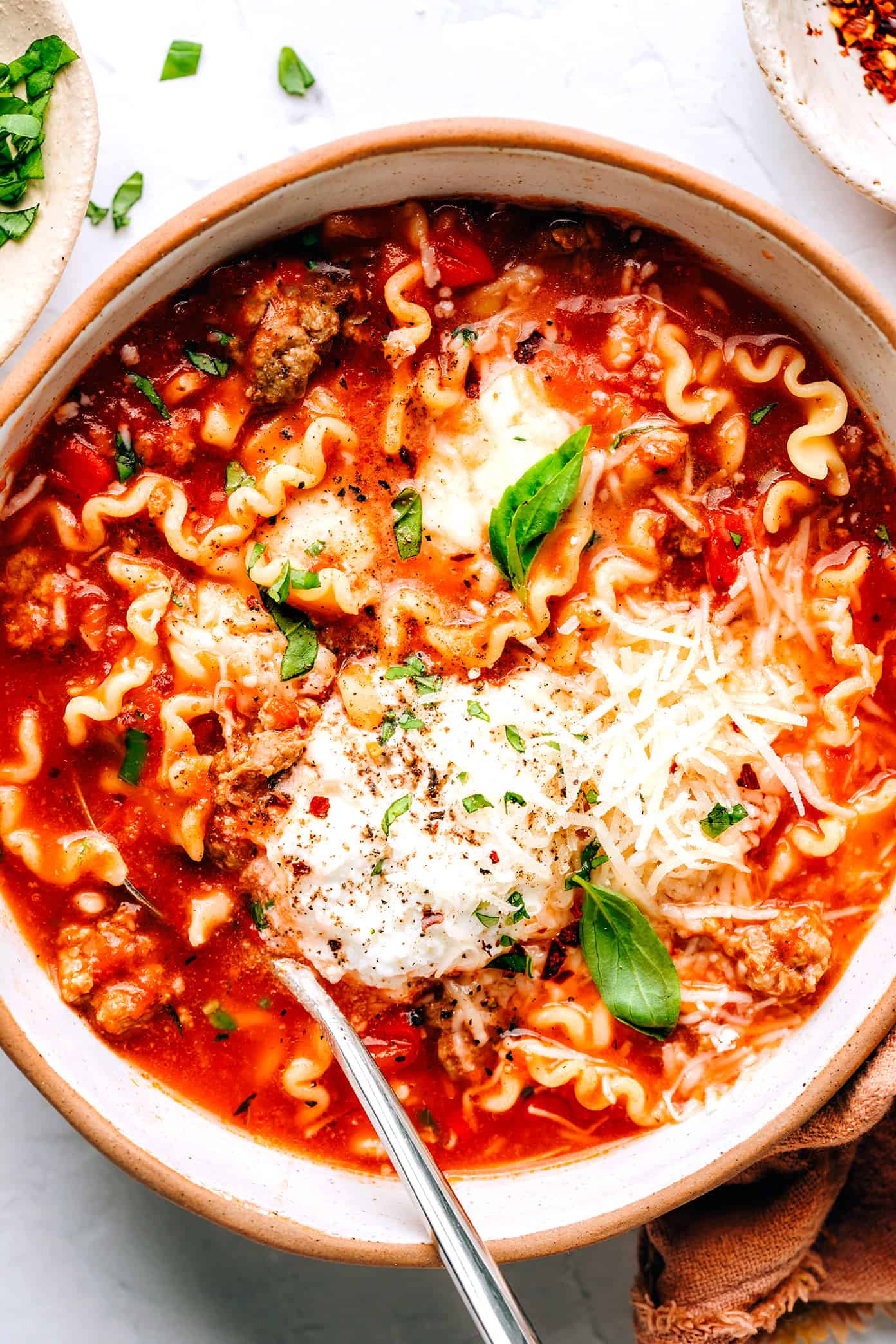 As a couple of lasagna lovers who haven't found the time to layer up an actual pan of lasagna in forever (hello, trying to do anything while chasing a crawling baby around the house), Barclay and I have become big fans lately of the next best thing…
…lasagna soup. ♡
I feel like everyone I know has jumped on the lasagna soup trend these past few years, and with good reason — the lasagna ingredients we all know and love also simmer together perfectly in a cozy and delicious pot of soup! There are of course about a million ways that you can customize your own lasagna soup. But here in our house, we like making ours more or less the classic way with Italian sausage (either traditional or plant-based), a rich tomato broth seasoned with Italian seasonings and a hint of heat, lots of cute and curly mafalda pasta, and a generous helping of three cheeses on top (why choose between ricotta, mozz and Parm when you can have all three?!).
The beauty of the soup version of lasagna is that it's easy to make and can come together in just around a half hour. It's also easy to make this recipe gluten-free, vegetarian and/or vegan if you'd like. And if you happen to have any leftover soup-friendly veggies or greens in the crisper drawer, by all means, toss 'em in too. This recipe is endlessly flexible and is always such a winner, especially on busy nights when those lasagna comfort food cravings hit.
Let's simmer up a batch together!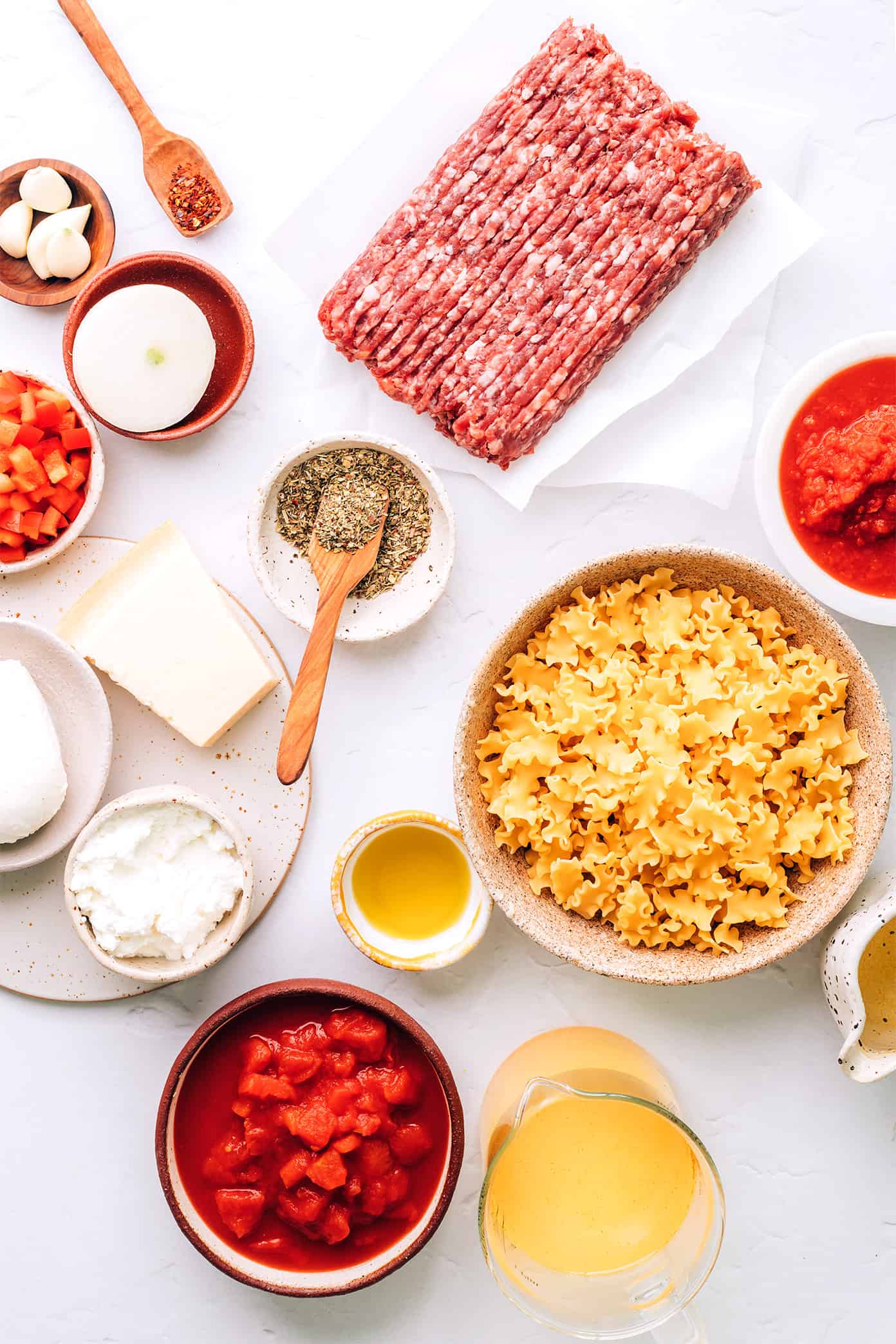 Lasagna Soup Ingredients
Before we get to the full lasagna soup recipe below, here are a few quick notes about the ingredients you will need:
Italian sausage: Feel free to use any type of Italian sausage (pork, beef, chicken, vegan) that you prefer for this recipe. Just about any option will work!
Veggies: I kept things simple with a basic mix of onion, red bell pepper and garlic. But feel free to toss in any other soup-friendly veggies or greens (such as carrots, celery, potatoes, spinach, etc) that you'd like.
Seasonings: I went with pantry-friendly Italian seasoning, bay leaf, crushed red pepper flakes, fine sea salt and black pepper for this recipe. But you're welcome to tinker around with whatever fresh or dried Italian-inspired seasonings you love best.
Dry white wine: Any dry white or red wine will work well to deglaze the pan and add some depth to the broth. (See substitution note below, however, if you do not cook with alcohol.)
Stock: I prefer making lasagna soup with beef stock, but beef, chicken or vegetable stock will all work well.
Tomatoes: I recommend a mix of fire-roasted diced tomatoes and crushed tomatoes for the best flavor and texture. But just about any canned tomatoes that you have on hand will do.
Pasta: I used mafalda corta pasta, but you can break up traditional long lasagna noodles into small pieces, or use any other shape of pasta that you prefer.
Toppings: These are essential in my book! I love adding on 

lots

of cheese, usually a mix of both mozzarella, ricotta and Parmesan. Then I also recommend sprinkling on some chopped fresh basil, which brightens up the flavor and adds a lovely pop of color.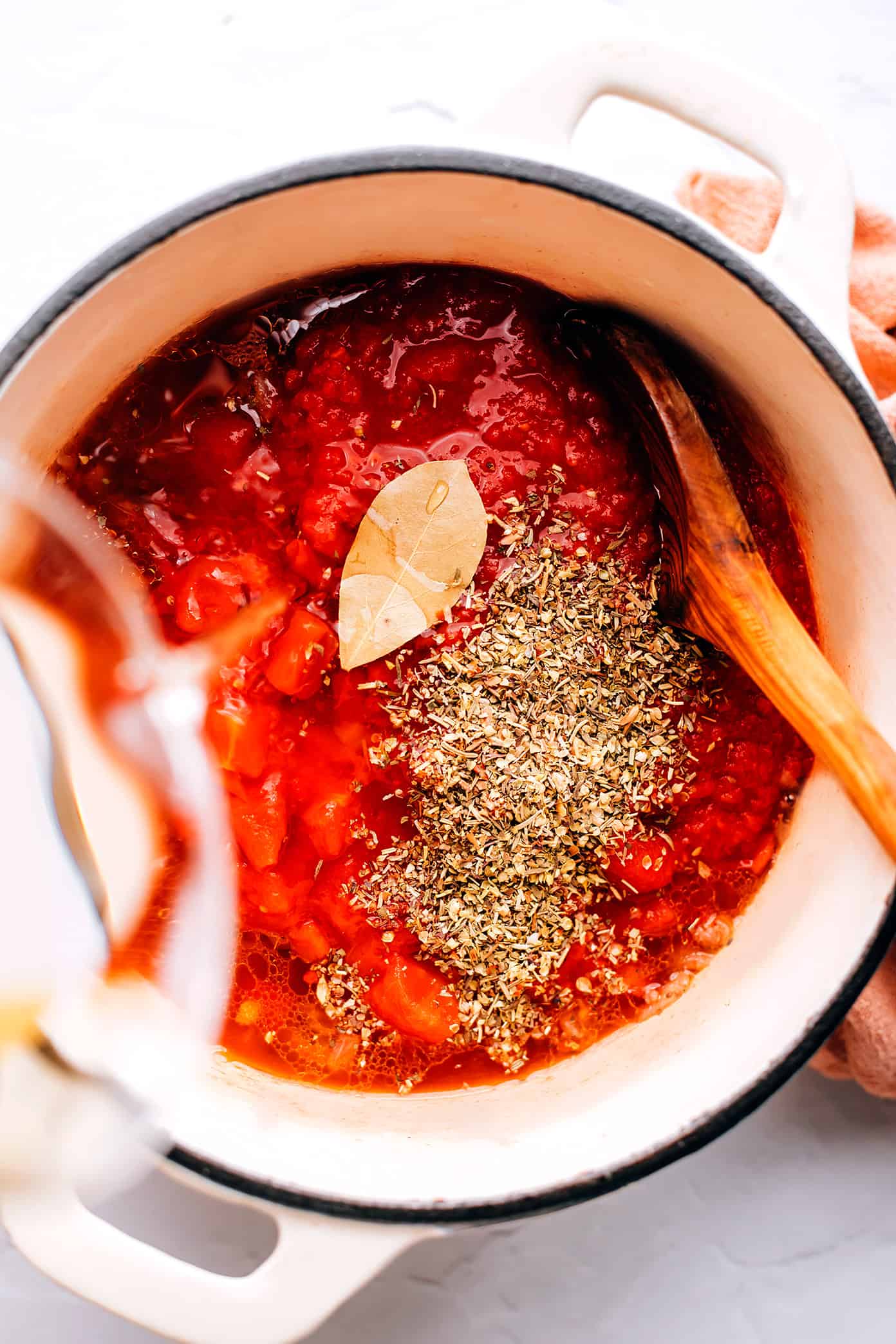 Lasagna Soup Recipe Variations
This recipe is endlessly flexible, so please feel free to customize and make it your own! Here are a few potential variations…
Make it vegetarian. Use a plant-based Italian sausage and vegetable stock to make vegetarian lasagna soup. (We just made a batch last week with Beyond sausage and it was great!)
Make it vegan. Use the vegetarian swaps, as well as your favorite plant-based cheeses.
Make it gluten-free. Use certified GF pasta to make gluten-free lasagna soup.
Omit the wine. If you cook without alcohol, just add in an extra cup of broth plus a splash of red wine vinegar in place of the white wine.
Use a different protein. If Italian sausage isn't your thing, this soup would also be delicious with beef, chicken or pork.
Add extra veggies/greens. Just about any Italian soup-friendly veggies or greens could be added to this mix, such as carrots, celery, mushrooms, zucchini, spinach, kale, collards, etc.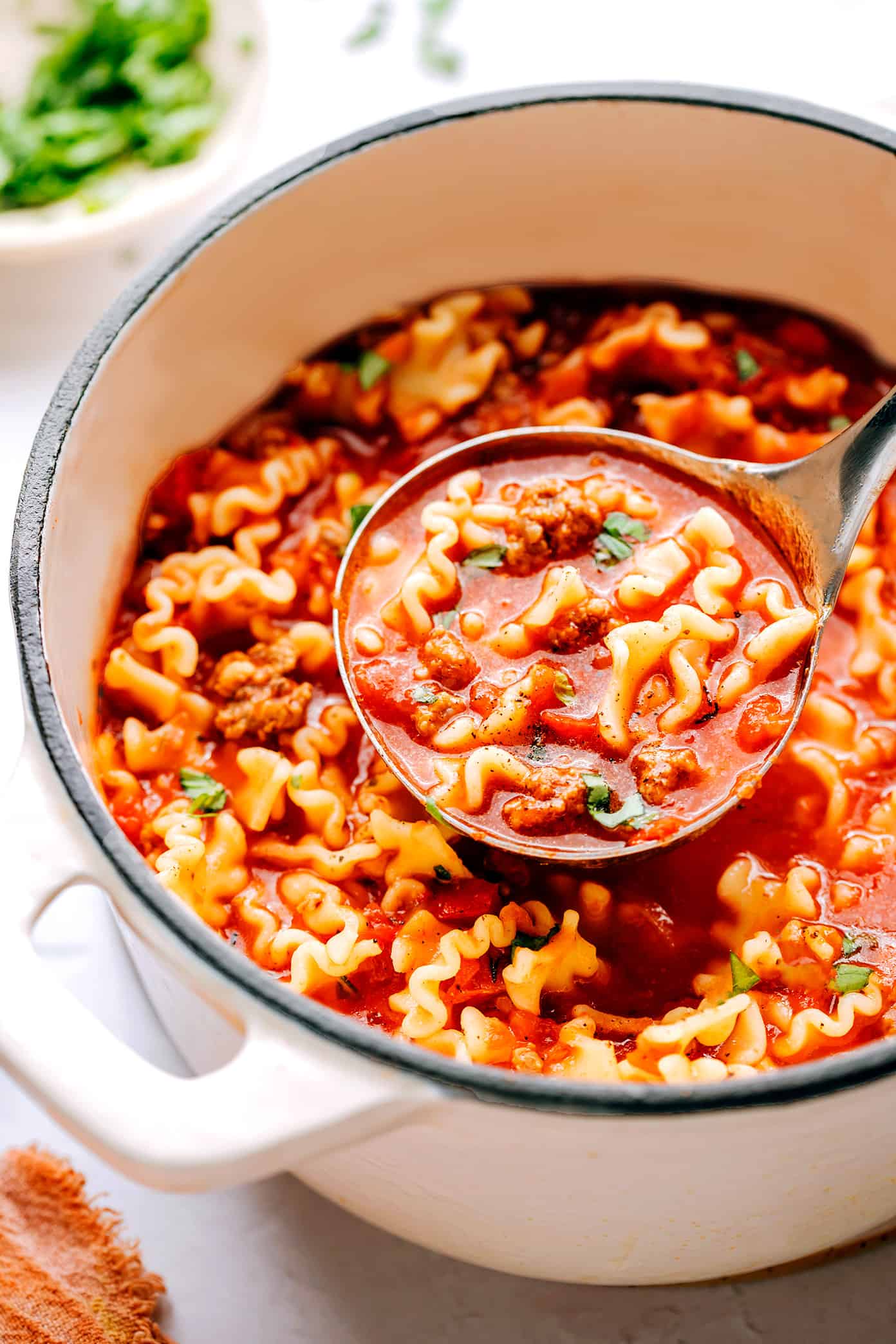 Favorite Cozy Soup Recipes
Looking for more comforting soup recipes to warm you up this winter? Here are a few of my faves:
---
Description
All of the flavors you love best about lasagna…simmered together in a quick and easy soup!
---
1 tablespoon

olive oil

1

pound ground Italian sausage

1

medium white onion, diced

1

red bell pepper, diced

5

cloves garlic, pressed or minced

1/2 teaspoon

crushed red pepper flakes

1 cup

dry white wine

4 cups

beef, chicken or vegetable stock

1

(15-ounce) can fire-roasted diced tomatoes

1

(15-ounce) can crushed tomatoes

1 1/2 tablespoons

Italian seasoning

1

bay leaf

8 ounces

uncooked mafalda pasta (or your preferred shape of pasta)

fine sea salt and freshly-cracked black pepper

toppings: lots of cheese (shredded mozzarella, ricotta and/or Parmesan cheese), chopped fresh basil
---
Prep the pasta water.

Bring a medium pot of salted water to a boil.

Cook the sausage and veggies.

Meanwhile, in a separate large stockpot, heat the olive oil over medium-high heat. Add the sausage, onion, bell pepper and sauté, breaking up the sausage with a wooden spoon as it cooks, for about 8-10 minutes or until the sausage is browned. Add the garlic and crushed red pepper flakes and sauté for 2 minutes, stirring frequently.

Add the broth.

Add the white wine to deglaze the pan, using a wooden spoon to scrape up any of yummy browned bits that are stuck to the bottom. Add the stock, diced tomatoes, crushed tomatoes, Italian seasoning, bay leaf and stir to combine.

Cook the pasta.

Meanwhile, add the pasta to the pot of boiling water and cook until the pasta just nearly reaches al dente.

Simmer.

Continue cooking the soup until it reaches a simmer. Then reduce heat to medium-low, cover, and continue cooking until the pasta is al dente. Once the pasta is ready to go, use a strainer to transfer the pasta directly to the pot of soup and stir to combine. 

Season.

Taste and season the soup with salt and pepper as needed, plus extra Italian seasoning or crushed red pepper flakes if desired.

Serve. Serve immediately, topped generously with your favorite toppings. Enjoy!
---
---