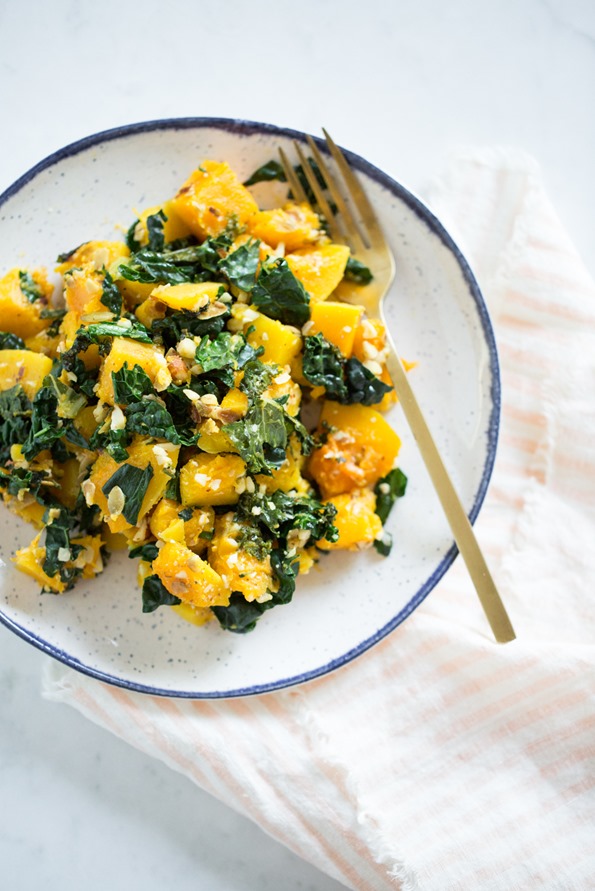 I posted this story and make-ahead technique to my Instagram account recently, only to be cut off part-way through when I exceeded the word limit. As Stephanie Tanner would say: How rude, lol. Did you even know that Instagram has a word limit? I guess it wasn't designed for Chatty Cathy's like me. That's when it hit me: I should post this on the blog so I can go a bit more in-depth! So read on, my friends….
The other weekend I decided it had been way too long since I had made my beloved roasted butternut squash dish, complete with vegan parmesan…kale…and lots of garlic. Have you made it? Oh my, it's a show-stealing side I tell ya. (This dish makes all its other dinner companions give the side-eye, heh. #BUTTERNUTPLEASE!)
Here's a little summary of comments I received when I served it to the fam:
Eric: *Burns mouth.* "Holy sh*t, that's hot!!!" (He never learns.) Then: "Butternut squash is so much better than pumpkin." (Lol…so random…I die.)
Adriana, three years old: "NO THANK YOUUUUUUU" (as she skips away with Arlo's favourite toy in her grasp). Spotted 10 minutes earlier: downing a box of "circle crackers" (sigh).
Arlo, one year old: *Screams and beats his hands in protest because he has to wait for the squash to cool* then proceeds to inhale it. He was nice enough to smash the leftover squash into his hair, and even tossed some over his shoulder for good luck.
Me: *Scream and beat my hands in protest because I have to wait for it to cool* then enjoys two big servings.
You know the saying…as far as anyone knows, we're a nice, normal family. Bahaha.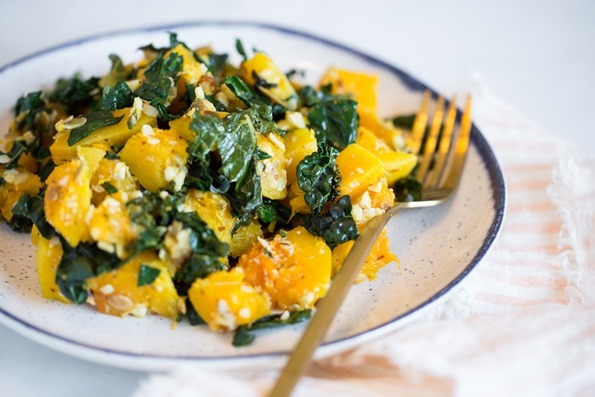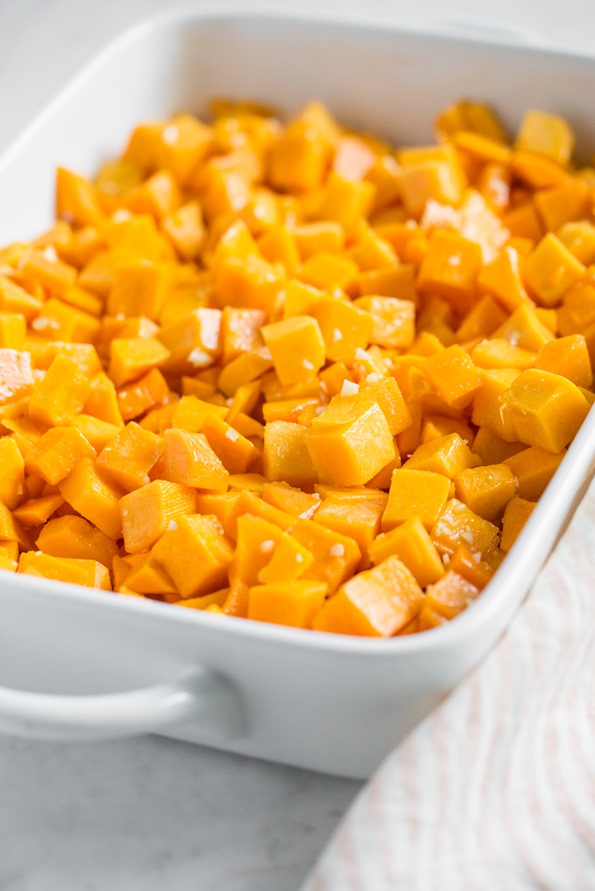 MAKE IT AHEAD!
You may have noticed lately that I've been on a crusade to create as many time-saving recipes and make-ahead tips as I can. In recent posts, I shared Adriana's Favourite 10-Minute Pasta, 8-Minute Pantry Dal, and Make-Ahead Thanksgiving Panzanella, to name a few. Last week, I came up with a make-ahead version for one of my favourite side dishes: Roasted Butternut Squash with Pecan Parmesan and Kale! I'm so excited to share how I tweaked the original recipe to minimize day-of prep time. Now that we're getting into all kinds of holiday celebration meals, my goal is to share as many time-saving tricks with you as I can. It's making life much less hectic in the Liddon household.
I discovered that this dish can be prepped and stored in the fridge two to three days in advance—and no one will be the wiser! This is a fun trick for holiday meal prep when sanity reaches an all-time low (or is that just me?).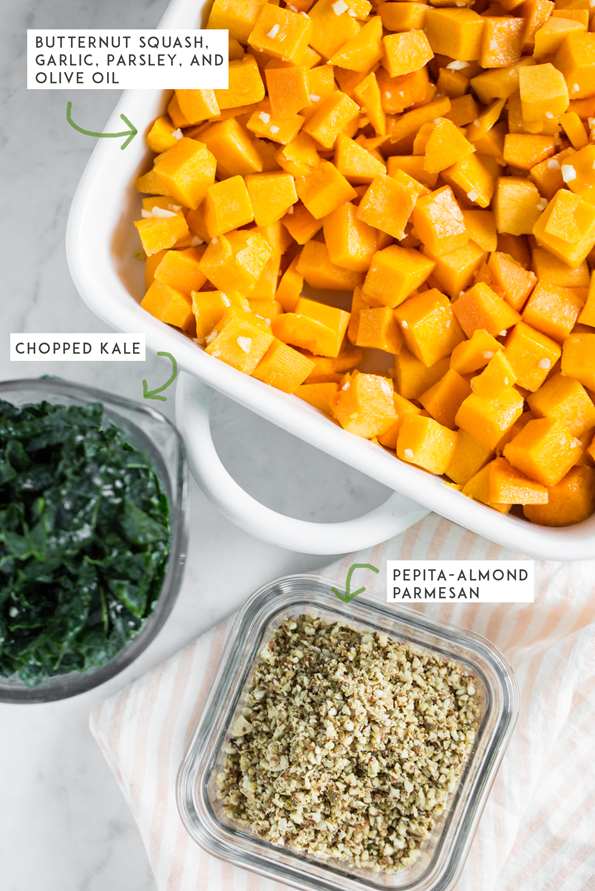 Here's what you do:
1) Combine the chopped squash, minced garlic, parsley (not shown in the photo!), oil, and salt in an extra-large casserole dish. Pro tip: if I'm really short on time, I'll occasionally buy fresh pre-chopped squash to save the hassle of peeling and dicing a large one! Sometimes you just gotta live your best life, ya know?
2) Stem and chop the kale, then place it into a zip bag or container.
3) Make the vegan parmesan, and place that into a separate fridge-friendly container.
PREP WORK DONEZO.
When you're ready to roast this beauty either later that day or as many as two to three days later, proceed with the recipe as usual…maybe while giving an evil cackle about how you outsmarted the original instructions. I won't mind.
One thing's for sure, I'll be using this trick for all of my future holiday meals, and even busy weeknights! It's so handy to have everything prepped and ready to go. I hope this tip helps streamline your own holiday meal planning as well. If you're looking for more crunch-time holiday inspiration, don't forget to check out my Make-Ahead Thanksgiving Panzanella recipe—it has had some great feedback so far. Oh, and let me know in the comments if you have any make-ahead recipe requests! I'd love to hear them.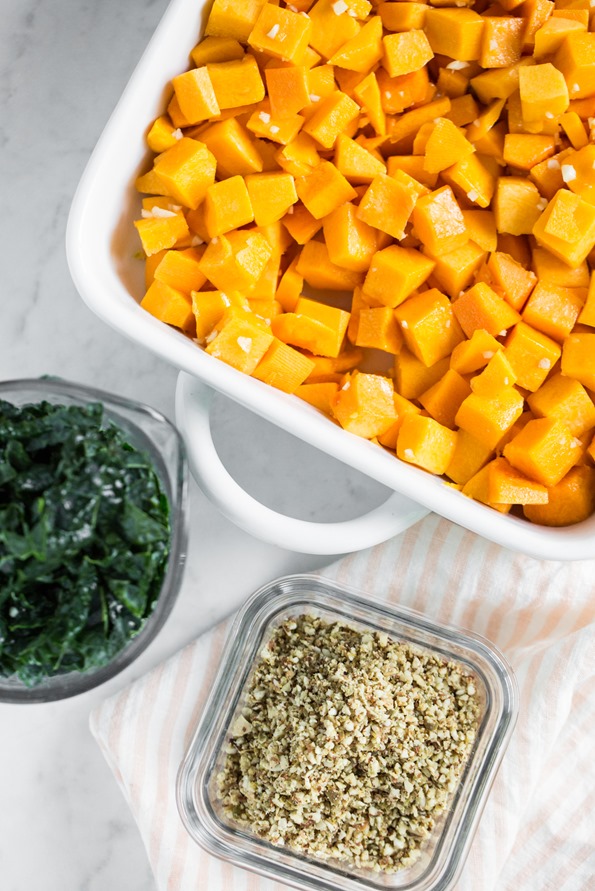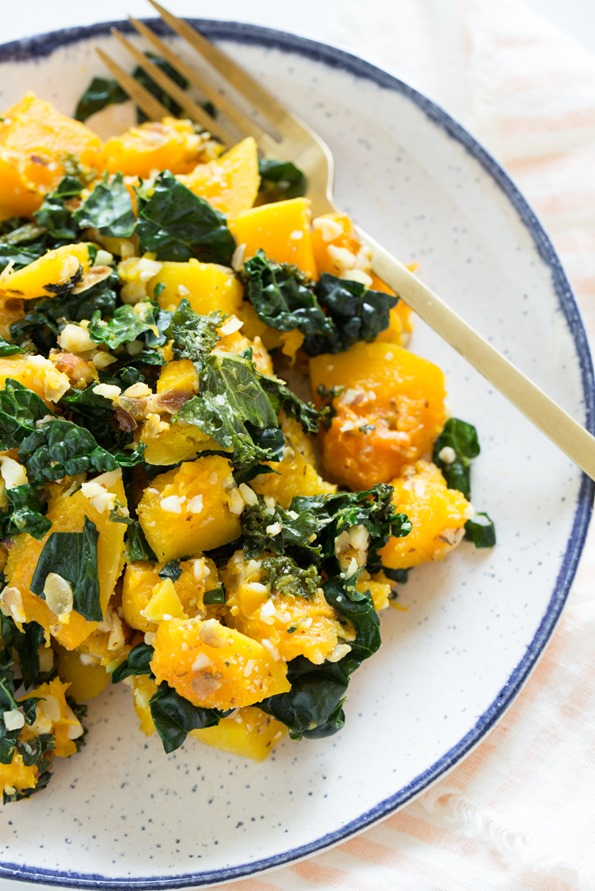 Let's get social! Follow Angela on Instagram (@ohsheglows + @theglowspot), Facebook, Twitter, Pinterest, Snapchat, and Google+