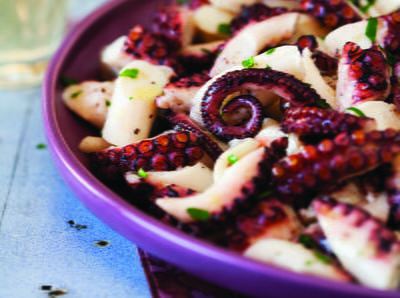 Marinated Octopus Salad with Olive Oil and Lemon
Editor's Note: Make a creative meal for your friends and family with this recipe for Marinated Octopus Salad with Olive Oil and Lemon. The best thing about this seafood recipe is that it will teach you how to cook octopus. After the octopus is cooked to tender perfection, it is tossed with a marinade made from olive oil, lemon juice, parsley, and garlic. These simple ingredients combine with the octopus to make a dish that is easy to make yet entirely elegant and flavorful. Expand your seafood horizons with this easy recipe for Marinated Octopus Salad with Olive Oil and Lemon and you will not be sorry.
Fresh octopus is a summer mainstay in Calabria's coastal restaurants and markets. Few people would consider cooking a frozen one out of season; Calabrians eat this tentacled denizen of the Mediterranean enthusiastically, but only when fresh. Because it is so prized, most cooks treat octopus simply. In one typical preparation, it is boiled in salted water to tenderize it, then grilled to give the flesh a charred edge. Alternatively, as I describe here, the octopus is boiled, cooled, sliced, and served as a salad with the most basic of dressings: just olive oil, lemon juice, minced garlic, and parsley. Some cooks add boiled and sliced potatoes to this salad. Either way, octopus is rarely mixed with other seafood or with celery, onion, tomato, or other ingredients typical of seafood salads. Calabrians don't want to mask its briny flavor and pleasantly chewy texture by over-embellishing it. Octopus is rarely available fresh in the United States, but the frozen product is a more than adequate substitute. You need reasonably large octopus for this recipe—at least 2 pounds (goo grams) each—so the tentacles will be thick enough to make meaty chunks when sliced. The baby octopus available in some markets is too small. Many people hesitate to cook octopus because they fear it will be tough. If cooked slowly for a long time, it will become tender, although you want to stop the cooking while it still has some "chew." Every culture that enjoys octopus has a different theory on how to tenderize it. Some people slap it repeatedly against a hard surface before cooking it. In the Sicilian beach town of Mondello, near my husband's home, the street vendors dip the octopus into a cauldron of boiling water three times before cooking it, a process they claim makes it tender. I have always done the same, and I can't be sure it makes a difference because I would never not do it.
Octopus salad is an appetizer in Calabrian restaurants. At home, we tend to eat it as a room-temperature second course, after a first course of pasta with clams or Risotto with Fresh Mussels.
Dietary ConsiderationEgg-free, Gluten-free, Lactose-free, Peanut Free, Soy Free, Tree Nut Free