Mexican Rice is easy to make at home and tastes even better than the popular restaurant rice. This easy side dish goes great with any Mexican meal.
Mexican rice is a standard side dish at almost every Mexican and Tex-Mex restaurant. Almost every meal comes with Mexican rice and beans. I always fill up on chips and salsa and usually don't have room for my rice, but Josh LOVES Mexican rice and always eats his portion and mine.
We don't eat out that often and so Josh decided to make his favorite Mexican rice at home and I have to say his Mexican rice recipe is better than any Mexican rice I have ever tasted at a restaurant. It is so good I don't share with Josh. I eat all of my rice by myself. And our boys love it too! It is a hit with the whole family!

OTHER RECIPES

Easy Mexican Rice
Mexican rice is a tomato based rice that is made with long grain white rice. This traditional red rice is pretty basic, but Josh does "spice" his up a bit to have more flavor and I think it is the BEST Mexican rice. The rice is flavored with:
tomatoes
onion
garlic
jalapeño
vegetable or chicken broth
cumin
chili powder
cayenne pepper
cilantro
Don't worry, this rice isn't spicy at all, it just has amazing flavor!
This Mexican rice recipe is easy to make at home and SO much better than store bought packets of Mexican rice. Homemade, from scratch, Mexican rice is the way to go! It is worth the extra effort and we promise it is easy!
How to Make Mexican Rice
First, rinse your rice under cold water in a fine mesh strainer. Do not skip this step! Rinsing rice removes the starch and will prevent the rice from clumping up and sticking together.
Use whole canned tomatoes and not tomato sauce. We like the flavor of whole tomatoes better, they give the rice a more "real" tomato flavor.
Blend the whole tomatoes in the blender or food processor with the onion and jalapeño. You will only need 2 cups of the tomato sauce for this recipe. We like to freeze the remaining sauce in a freezer bag so we have it on hand to make Mexican rice the next time!
Bring 2 cups of the tomato sauce with the broth, garlic, and spices to a boil and simmer for 15 minutes so the flavors can come together.
While the sauce is simmering, toast the rice. Use a large nonstick pan so the rice doesn't stick.
Toast the rice with 2 tablespoons of vegetable or canola oil. Cook stirring frequently, until the rice is golden brown and toasted.
Cook the rice in the tomato sauce to give it lots of flavor. Make you sure you cover the rice and don't lift the lid until it is done cooking, about 20 minutes.
We don't add veggies, but you can add diced carrots, peas, or corn to the rice if you wish.
When the rice is done cooking, let it sit for 5 minutes. Add lime juice and fluff with a fork. Stir in the cilantro and fresh diced tomatoes.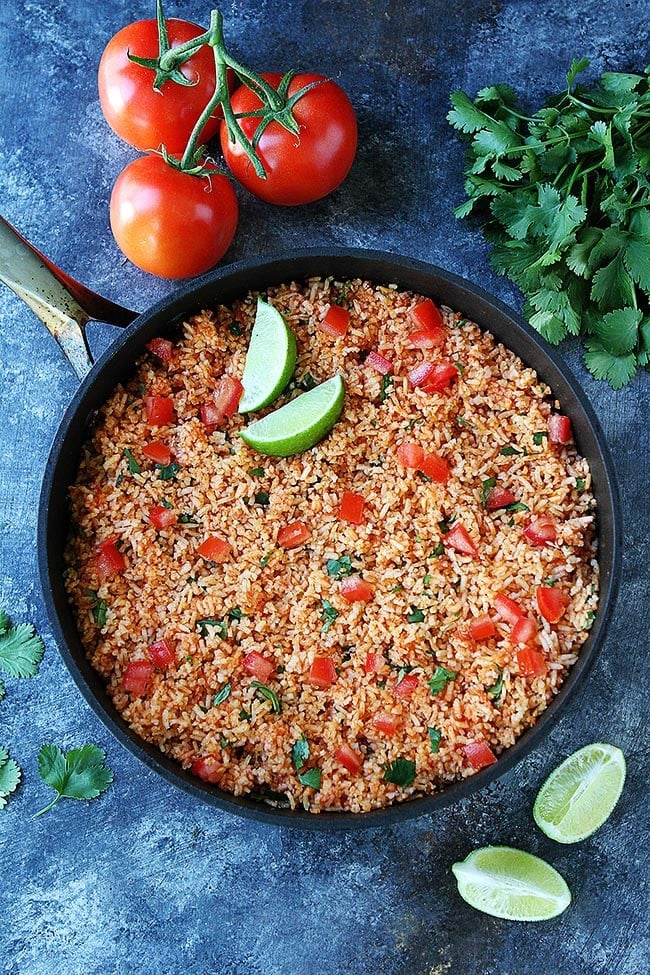 What to Serve with Mexican Rice
Mexican rice is a great side dish to any Mexican meal. Traditionally, rice and beans are always served together. We like to serve our Mexican rice with:
The next time you are making Mexican food at home, add Mexican rice to the menu too! You will love this restaurant-style Mexican rice!
If you like this Mexican Rice recipe, you might also like: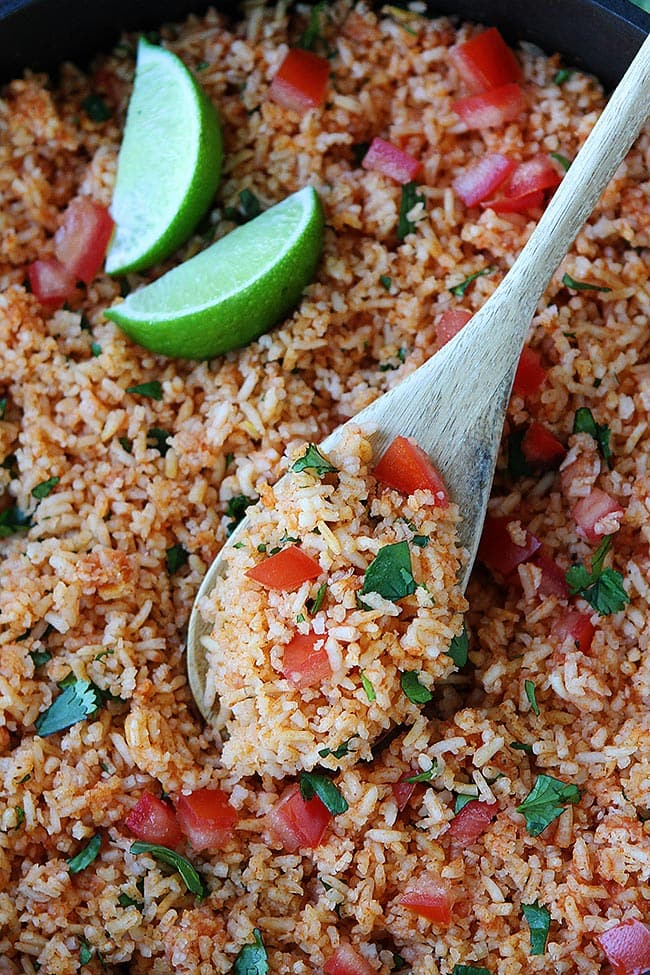 Mexican Rice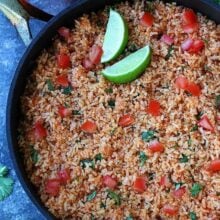 The BEST Mexican rice recipe and it's easy to make at home! Serve this easy Mexican rice with your favorite Mexican dishes!
Yield: Serves 6-8
Prep Time: 15 minutes
Cook Time: 30 minutes
Total Time: 45 minutes
Ingredients:
2 cups long grain white rice
1 (28 oz) can whole peeled tomatoes
1 medium yellow onion, peeled and roughly chopped
1 large jalapeño, seeds removed and chopped
2 cups vegetable broth (can use chicken broth)
4 cloves garlic, minced
1 1/2 teaspoons kosher salt
1/2 teaspoon ground cumin
1/2 teaspoon chili powder
1/8 teaspoon cayenne pepper
2 tablespoons vegetable oil, canola oil, or olive oil
2 tablespoons fresh lime juice
1/4 cup chopped cilantro
1 large tomato, seeds removed and diced
Directions:
Place the rice in a fine mesh strainer and rinse well. Spread the rice on a sheet pan lined with paper towels. Pat the rice with paper towels to help it dry faster. Let it sit while you prepare the sauce.
In a blender or food processor blend the tomatoes, onion, and jalapeño until smooth. Measure 2 cups of the tomato sauce and reserve the remaining sauce for another time. We freeze the leftover sauce so we have it on hand to make Mexican rice anytime.
Pour 2 cups of the tomato sauce in a large skillet and add the broth, garlic, salt, cumin, chili powder, and cayenne pepper. Bring the sauce to a boil and then turn to low and simmer for 15 minutes while you prepare the rice.
In a large nonstick skillet, heat the oil over medium high heat. Add the rice to the pan and toast, stirring constantly for 10 minutes or until the rice is golden brown and toasted.
Add the tomato sauce to the large skillet with the rice and stir to combine. Bring to a boil. Cover and reduce heat to low. Cook until rice is tender, about 20 minutes. Don't lift the lid to stir, just let the rice cook and absorb all of the tomato sauce.
Let the rice sit for 5 minutes. Add the lime juice and fluff the rice with a fork. Stir in the cilantro and diced tomatoes. Serve warm.


All images and text ©Two Peas & Their Pod.




Follow twopeasandpod on Instagram and show us what recipes you are making from our blog! Use the hashtag #twopeasandtheirpod! We want to see what you are making in your kitchen!