Get your greens in muffin form with a recipe for moist Mini Zucchini Muffins made with warming spices and your choice of chocolate chips or nuts.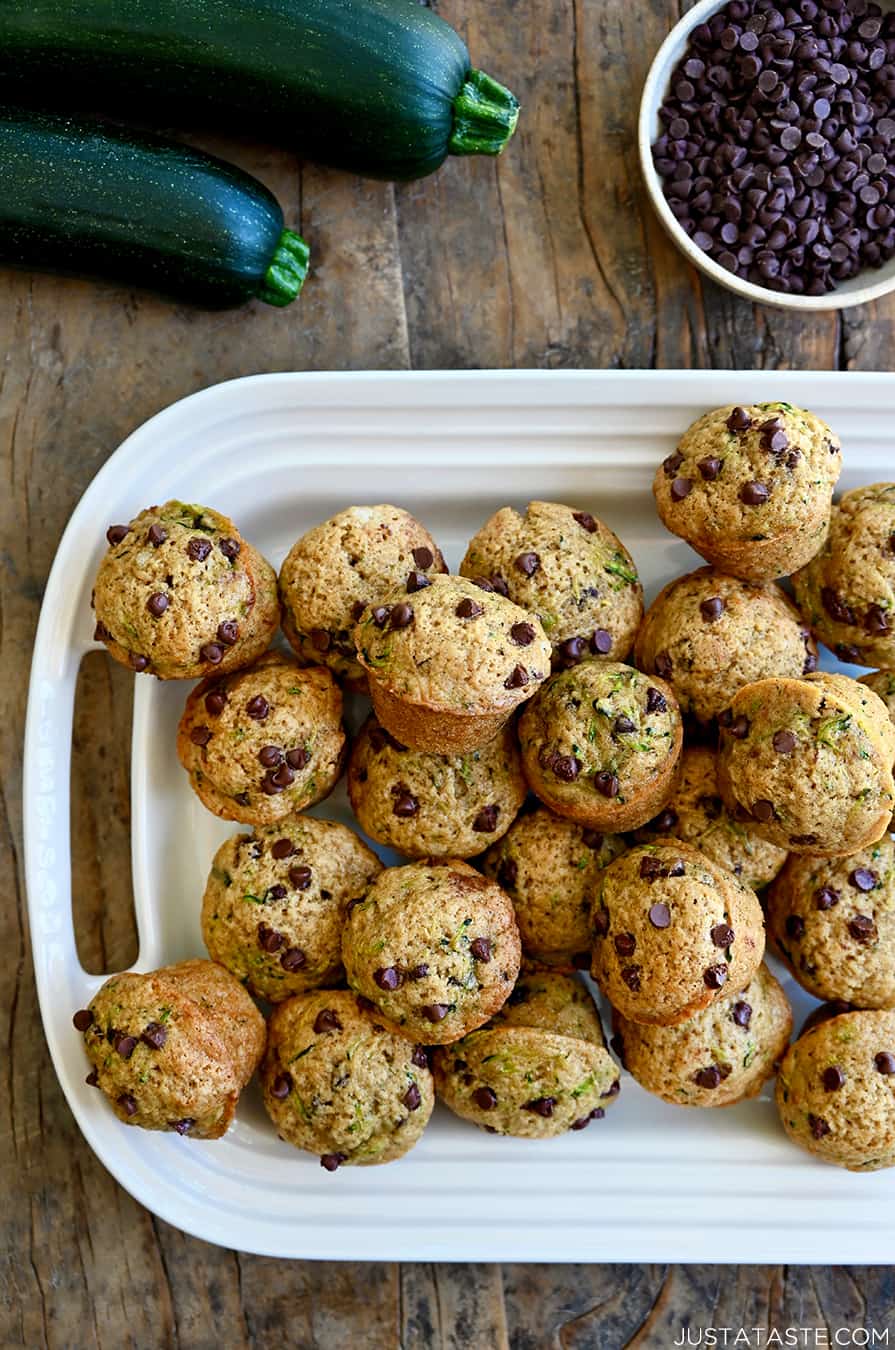 This is hardly news, but mornings can be hard, especially when you're wrangling a whole bunch of little ones. So why not sweeten up those a.m. hours any way you can? My morning cup of coffee certainly helps get the gears going, but this recipe for Mini Zucchini Muffins has me in a near full sprint towards the kitchen for breakfast.
Zucchini adds welcome heartiness, not to mention nutrition, to these bite-sized snacks. They bake up in minutes, are great for snacks on-the-go and fit conveniently in lunch boxes. What more can we ask of a veggie-packed muffin?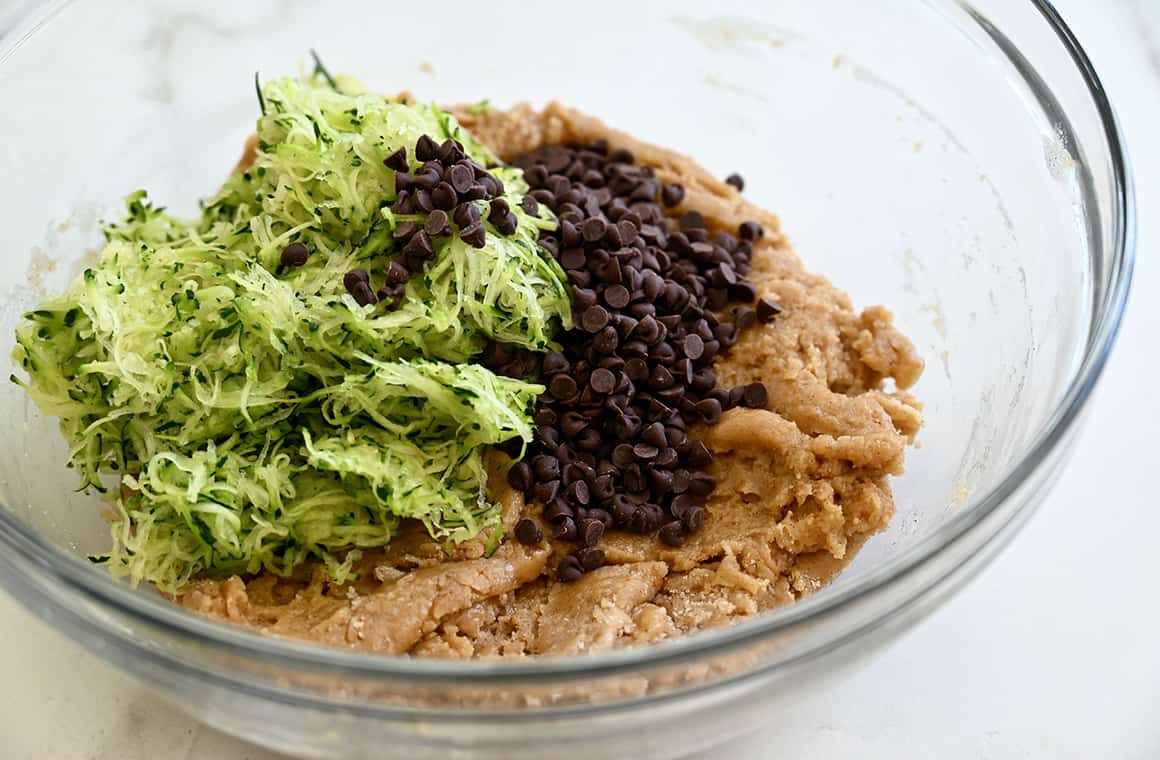 Can You Add Chocolate Chips?
Please do! Please add all the chocolate chips your (or your little one's) heart desires. Much like banana bread (and my Zucchini Banana Muffins), these muffins are incredible with or without without chocolate chips, of course.
If chocolate really isn't your thing, consider any combination of the below mix-ins as welcome additions:
Chopped walnuts
Chopped pistachios
Flaked coconut
Raisins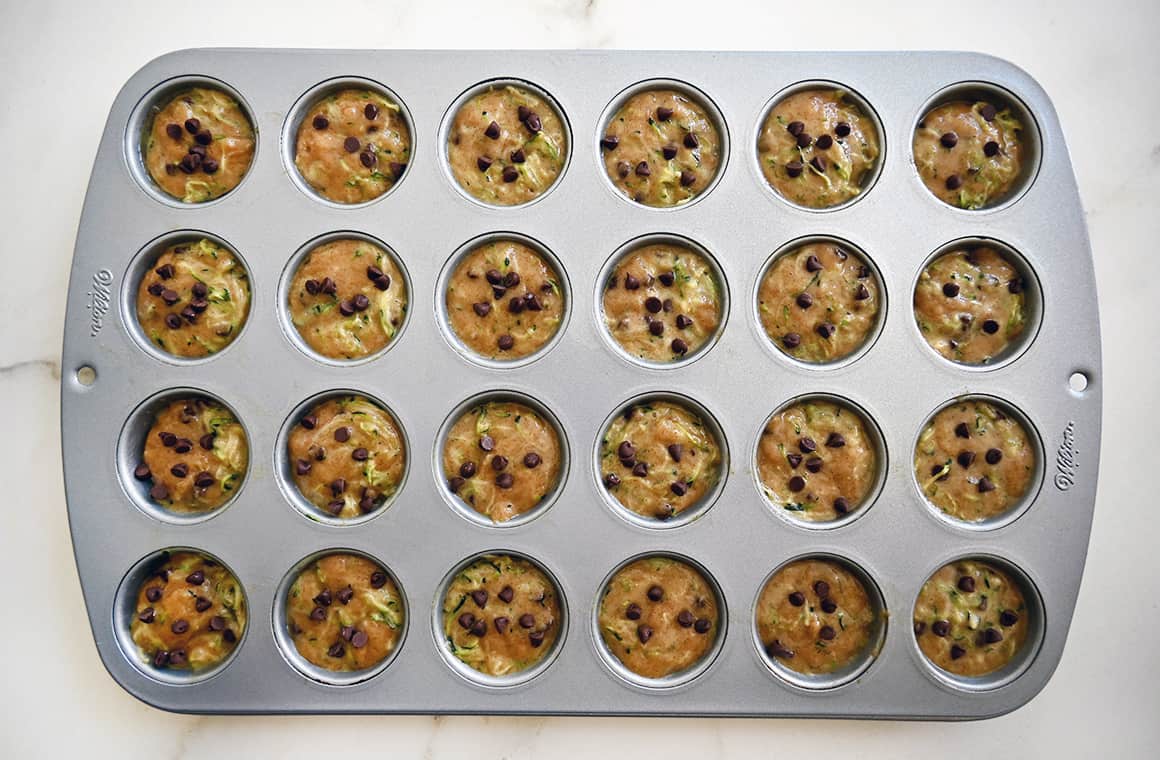 Do Mini Zucchini Muffins Freeze Well?
Absolutely. As with most baked goods, you'll want to make sure these muffins are completely cooled before popping them in the freezer. Any excess condensation that comes from warm muffins in a cold freezer will change the texture (read: chewiness galore, and not in a good way!).
First, you'll freeze the muffins on a baking sheet (or in their muffin tins) for 30 minutes until they're frozen solid. Next up, transfer the frozen muffins to a freezer-safe plastic bag, squeezing out any excess air in the bag. These Mini Zucchini Muffins will keep in the freezer for 2 to 3 months when stored properly, which means many, many happy mornings on the horizon.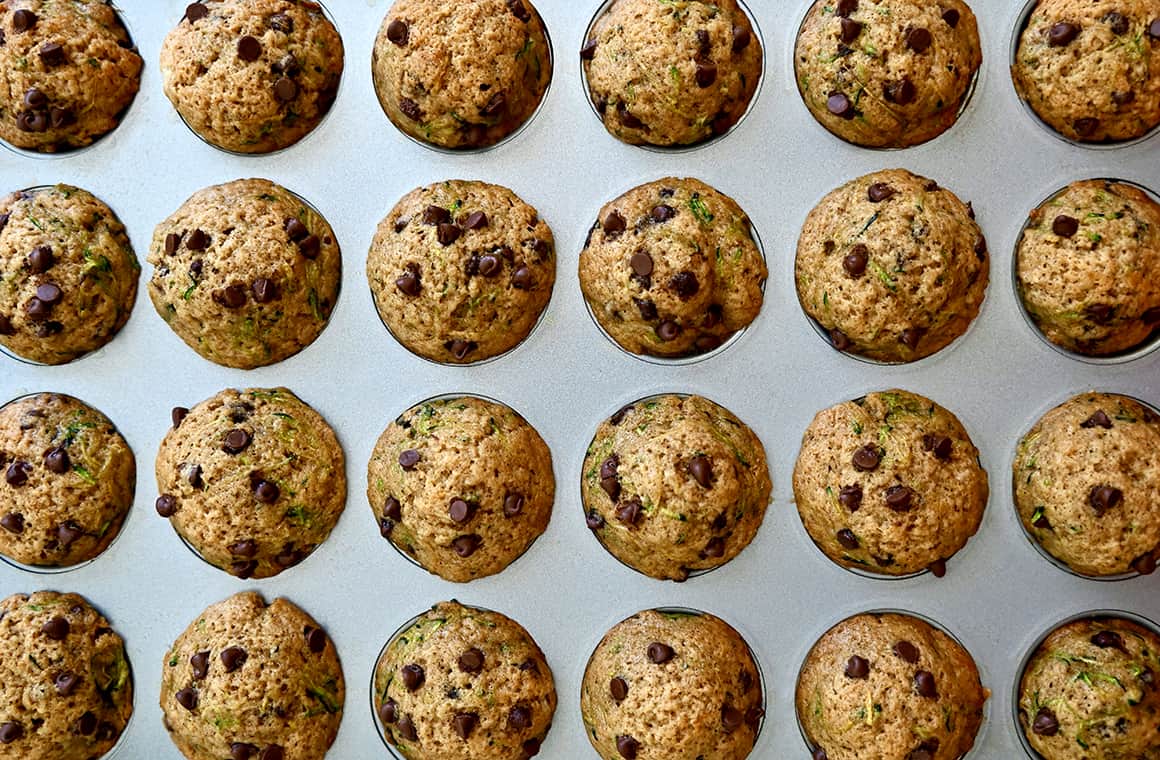 What Should the Consistency of the Muffin Batter Look Like?
Don't be alarmed, but the batter will be very thick and hard to stir at first. Once you add the zucchini, it will loosen right back up, which means it's then time to fold in your mix-in of choice. If you're at my house, you can expect each and every muffin to be thoroughly studded with mini chocolate chips.
Most important of all: Be sure your zucchini is grated and rung out very well in a towel to remove any excess moisture. Zucchini hoards water, which we don't thinning out the batter and affecting the perfect light, fluffy consistency.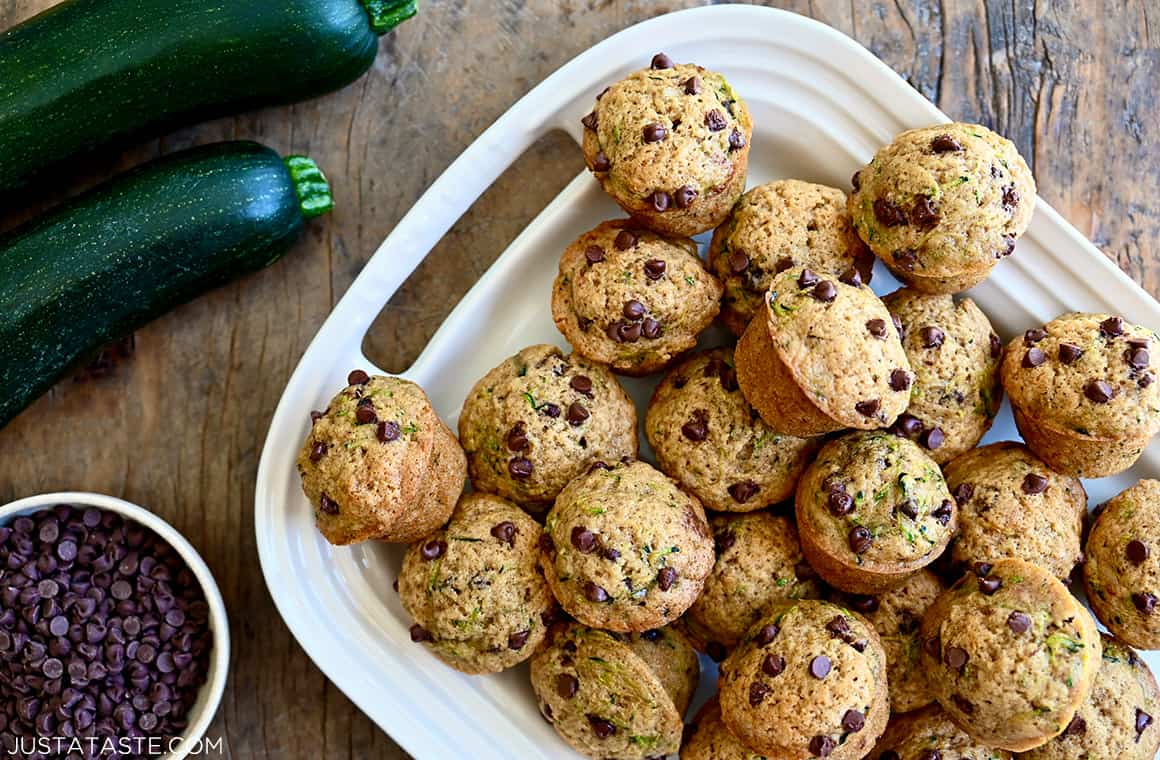 Craving more? Subscribe to Just a Taste to get new recipes, meal plans and a newsletter delivered straight to your inbox! And stay in touch on Facebook, Twitter, Pinterest and Instagram for all of the latest updates.
Preheat the oven to 400°F. Grease a mini muffin pan with cooking spray.

In a large bowl, whisk together the flour, baking powder, baking soda, cinnamon and salt. 

In a separate medium bowl, whisk together the eggs, olive oil, sugar and vanilla extract. Fold the wet ingredients into the dry. (The batter will be very thick and hard to stir but will loosen as soon as the zucchini is added.) 

Add the grated zucchini to a kitchen towel and ring out as much moisture as possible. Fold the grated zucchini and mini chocolate chips (optional) into the batter.

Divide the batter among the mini muffin tin cups, filling each cup full.

Bake the muffins until a toothpick inserted comes out clean, 14 to 18 minutes. Remove them from the oven and let them cool in the pan for 5 minutes before serving.

★ Did you make this recipe? Don't forget to give it a star rating below!