Moist Banana Pound Cake is a delicious spin on a classic, combining Pound Cake and Banana Cake all in one amazingly comforting cake recipe. AND it's all topped with a sweet brown sugar glaze!
Make sure to check out my unbelievably delicious Banana Cake Recipe, or my Classic Pound Cake!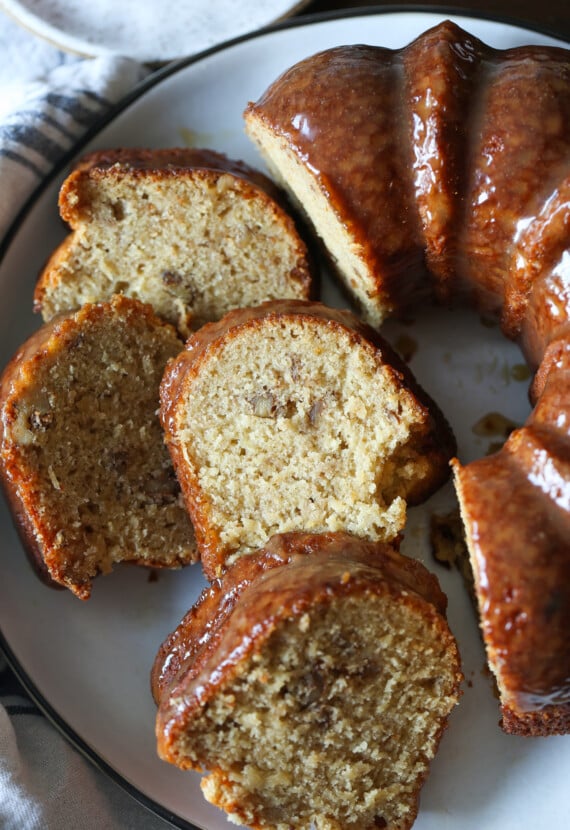 My Favorite Banana Bundt Cake!
The best way to eat a banana? That would be with sugar. And butter. And walnuts. I'm talking, of course, about the ingredients that make up Banana Pound Cake, or Banana Bundt Cake – whichever you prefer.
In all seriousness, homemade banana pound cake is one of my favorite ways to use up those ripe bananas that have been sitting on the counter for ages. And as much as I adore banana bread, sometimes I've gotta switch it up, you know?
Not that it's a hardship to do so, because moist banana pound cake is SUCH a treat. It's dense and moist, like a pound cake should be, and it's filled with crunchy, chopped walnuts. If that wasn't delicious enough, it's also topped with a sugary vanilla glaze. Now you know why I'm always tempted to let the bananas become overripe on purpose…
Love Pound Cake? Here Are a few Other Recipes To Try: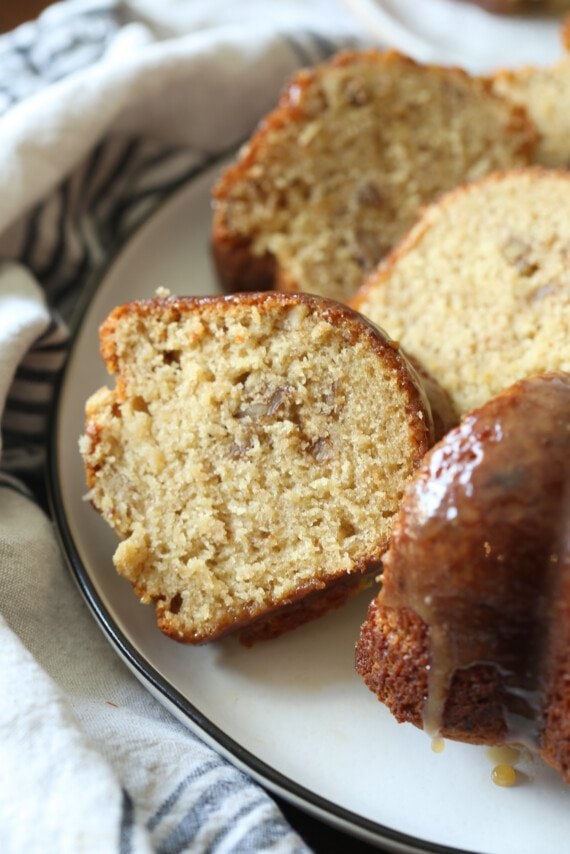 What You'll Need
Alright, so what goes into making this delicious banana pound cake? Predictably, most of this recipe is made up of pretty standard cake-making ingredients. Here's what we're working with:
For the Banana Pound Cake
Butter: Let this come to room temperature before you begin.
Brown Sugar: I like to use light brown sugar in this recipe.
Eggs: Eggs are the binding agents for your pound cake batter.
Vanilla Extract: For a touch of extra sweetness in your cake.
Bananas: Mash these before you begin. Also, the riper they are the better!
Salt: I like to use kosher salt, but use whatever kind of salt that you usually bake with.
Baking Powder and Baking Soda: These will work as leavening agents in your batter.
Flour: I generally just use all-purpose flour.
Chopped Walnuts: These are optional, but I love how they pair with the bananas.
For the Brown Sugar Glaze
Butter: Salted or unsalted, it doesn't really matter. If you use salted, you may want to leave out the kosher salt.
Brown Sugar: Again, I like to use light brown sugar here because of its caramel notes.
Kosher Salt: To enhance the sweetness in the glaze.
Vanilla Extract: To offer sweet vanilla flavor.
Heavy Cream: You could try substituting this with whole milk, but personally I love the richness that cream brings to the glaze.
How to Make Banana Pound Cake
Mixing this banana pound cake together is pretty simple. It only needs about 20 minutes of prep time, and then the cake pan is ready for the oven. In fact, most of the time that this recipe requires is cooking time, which is code for staring at the oven door while the cake bakes. Patiently, of course.
Here's the step-by-step guide to an excellent banana cake:
Preheat Oven to 325°F: Then, in the bowl of your stand mixer fitted with the paddle attachment, mix the butter and brown sugar together for 2 minutes on medium speed. Add in the eggs, one at a time, vanilla, bananas, salt, baking powder, and baking soda, mixing until combined, scraping the sides of the bow as necessary.
Combine with Flour: Turn the mixer to low and add in the flour until just incorporated. Stir in the walnuts until evenly combined.
Grease the Pan: Coat a 10- cup bundt pan liberally with baking spray and pour the batter into the prepared pan.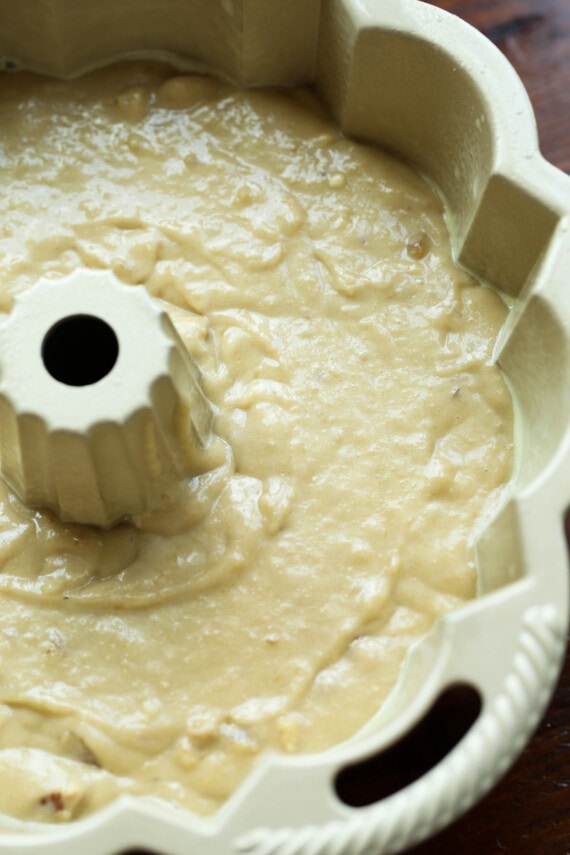 Bake the Cake: Bake for 70 – 80 minutes until the cake is set and a toothpick inserted into the center comes out clean.
Let Cool: Allow the cake to cool in the pan for 20 minutes. Loosen the sides of the cake with a butter knife, and then invert the cake pan onto a platter or wire rack to cool.