Nacho Cheese Sauce is something everyone should be able to make. An easy cheese dip (made in 5 minutes!) always comes in handy! This homemade nacho cheese sauce recipe is so delicious and so quick. Make it in a flash, dip in some chips, or use this versatile cheese sauce on all kinds of recipes!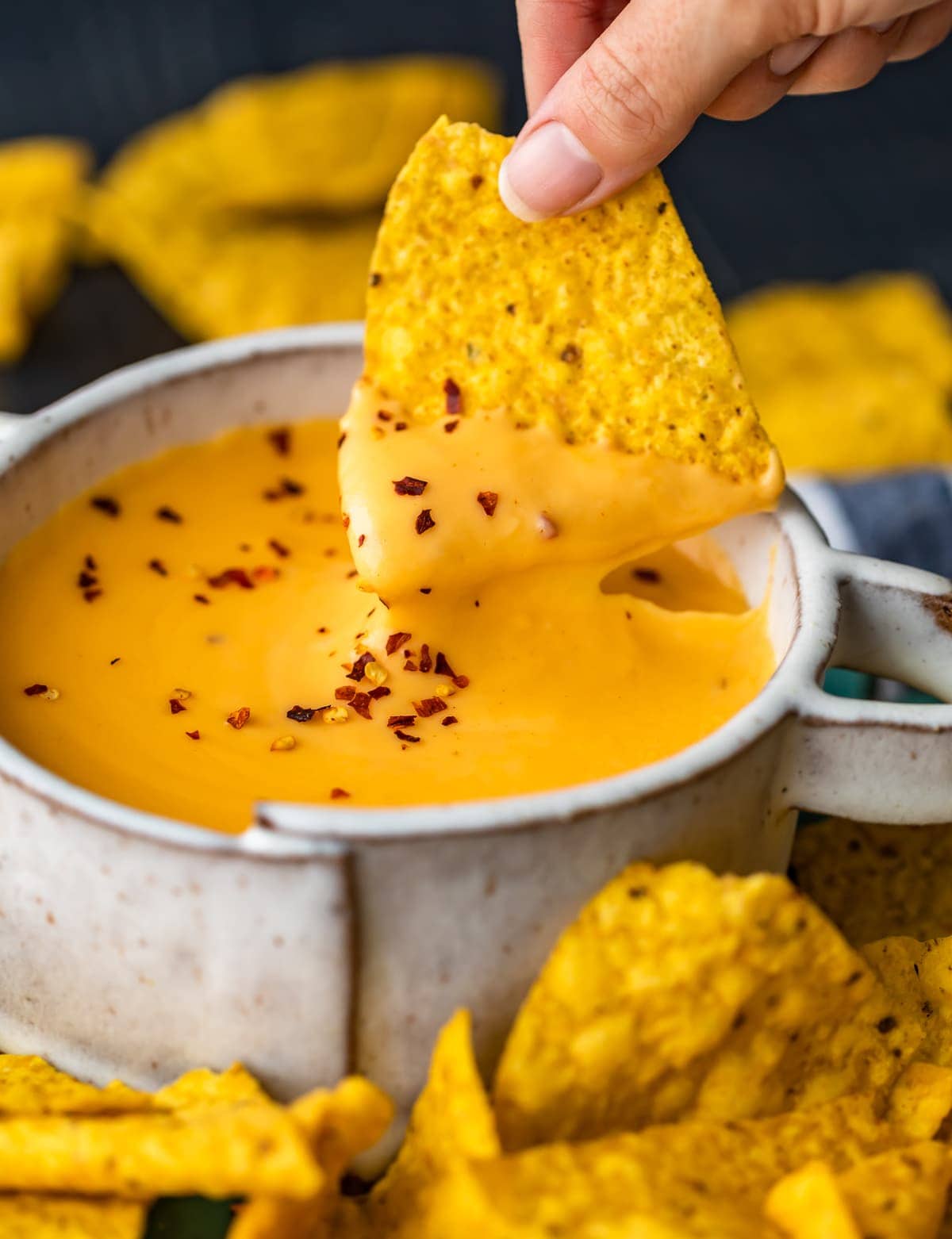 Nacho Cheese Sauce
This homemade nacho cheese sauce recipe is a lifesaver. It's SO cheesy, and it only takes 5 minutes to make. Make this easy cheese dip ANY time!
There's one thing in this life that I will never get tired of. That thing is CHEESE. As if I haven't already made a million delicious queso recipes, I'm back at it with this EASY cheese dip. Forget stressing out to get a dip ready for that party or unexpected guests. This recipe only takes 5 minutes to make!
I'll be honest, my favorite use for this cheese sauce is actually for those times when I'm CRAVING cheese out of nowhere and just need a quick fix. Of course this easy cheese dip is great for parties, but it's even better for those times when you're at home alone and need something to dip your chips in.
This homemade nacho cheese sauce is soooo cheesy, and it has just a little hint of heat from the hot sauce. So perfect! It's great for chips and nachos, but you can really use it on anything. I actually made it for this Cheesy Pretzel Crust Pizza, but now I'm using for all my dipping needs!
This easy Nacho Cheese Sauce recipe can be made in just 5 minutes. It will be ready for dipping in a flash!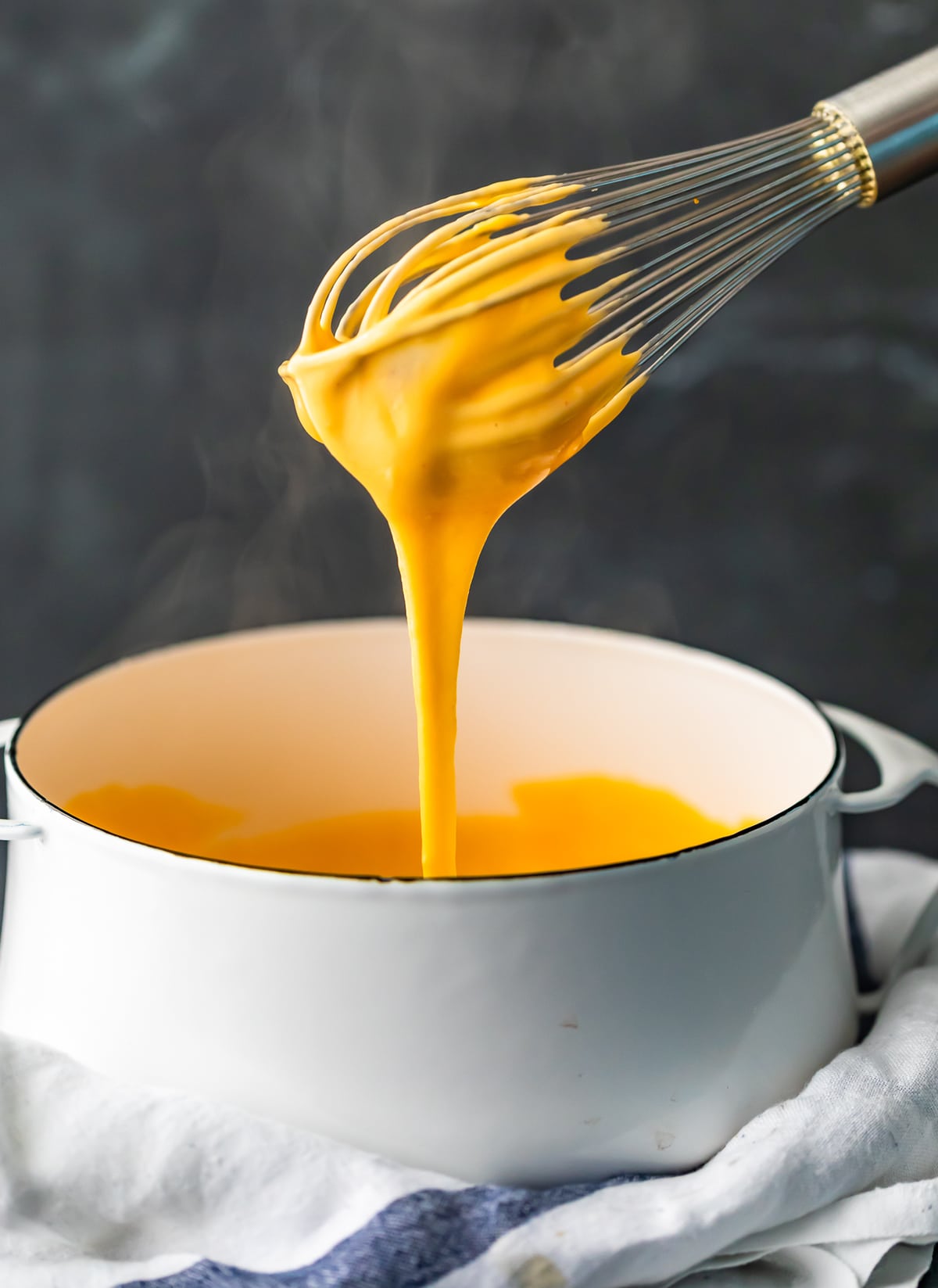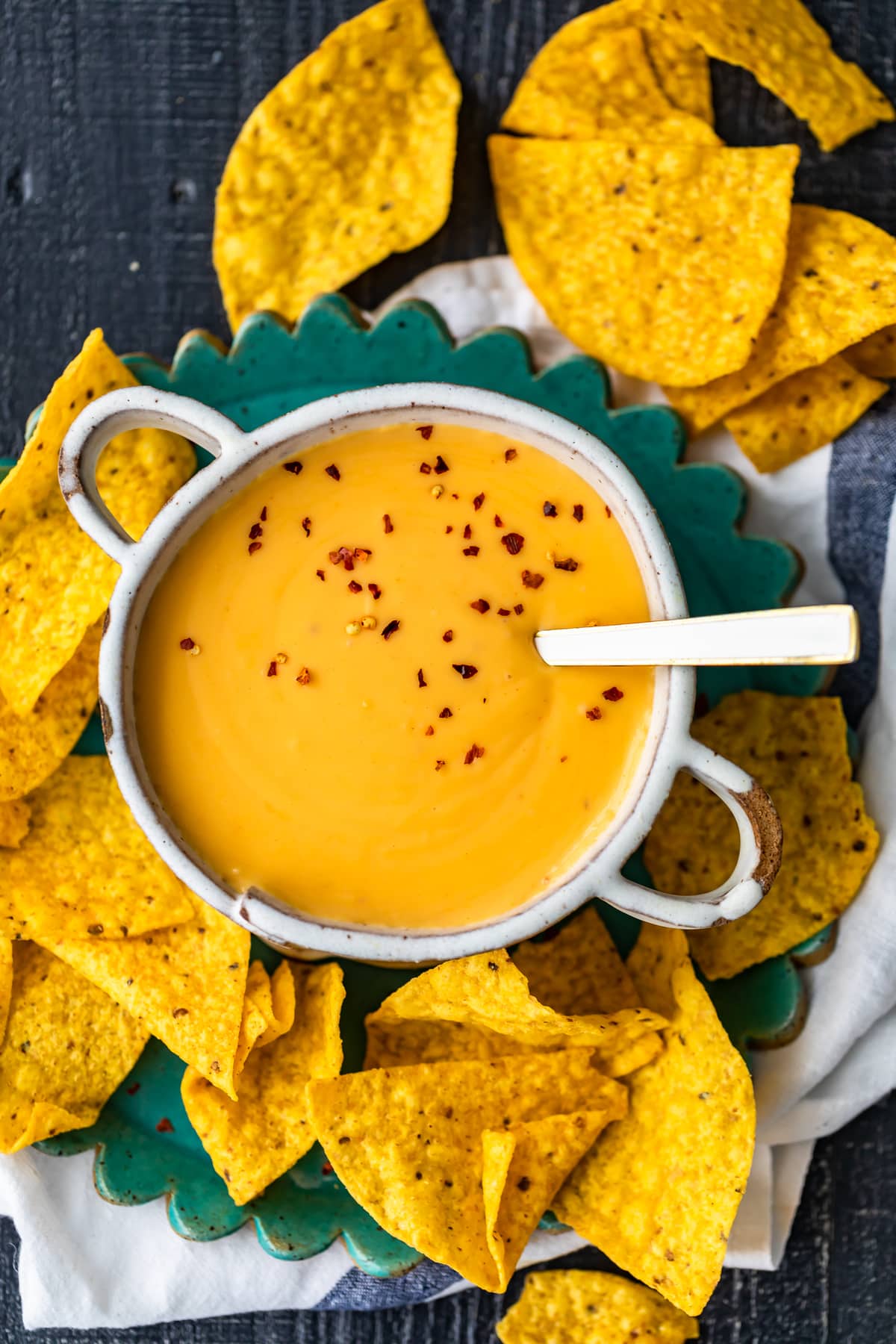 Homemade Nacho Cheese Sauce Recipe
Nacho Cheese (yum)…I've always been a fan of those nachos you get at the ballpark or at movie theaters. Sure, you can get nachos baked and covered with all kinds of toppings. But sometimes I'm a simple gal, who just wants to dip some tortilla chips in a bowl of cheese dip.
This homemade nacho cheese recipe is the perfect EASY cheese dip to make for simple nachos. Just whip it up on the stove top, and you've got a hot and cheesy dip ready in no time. It gets so thick and bubbly, and it's just perfect with classic tortilla chips. Everyone LOVES this dip on game day.
That's not the only thing you can use it for, of course. This cheese sauce works as a dip for any appetizer, and man would this make some great cheese fries! Pour it, dip it, drink it…I won't judge. Just make sure you make some of this nacho cheese sauce ASAP.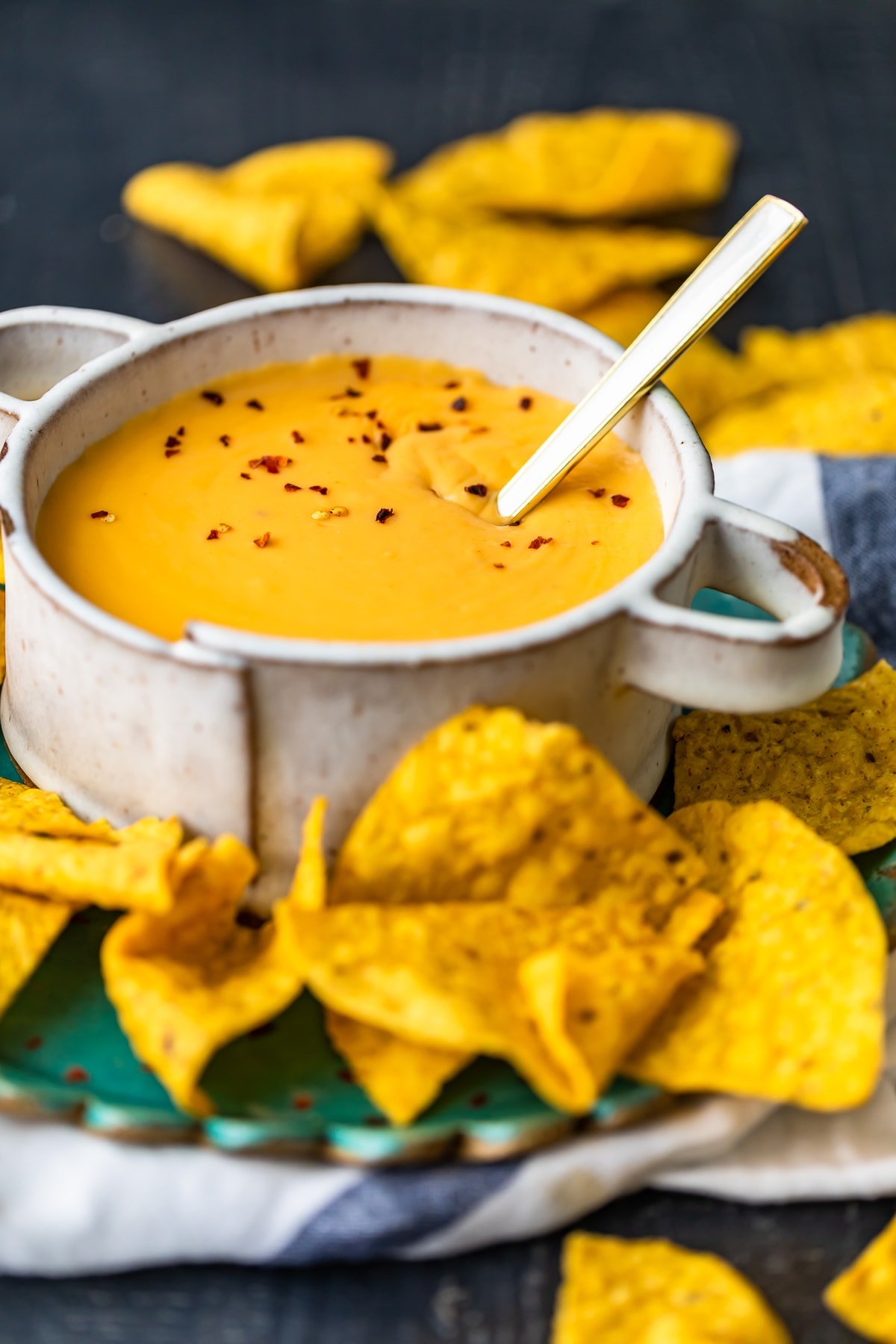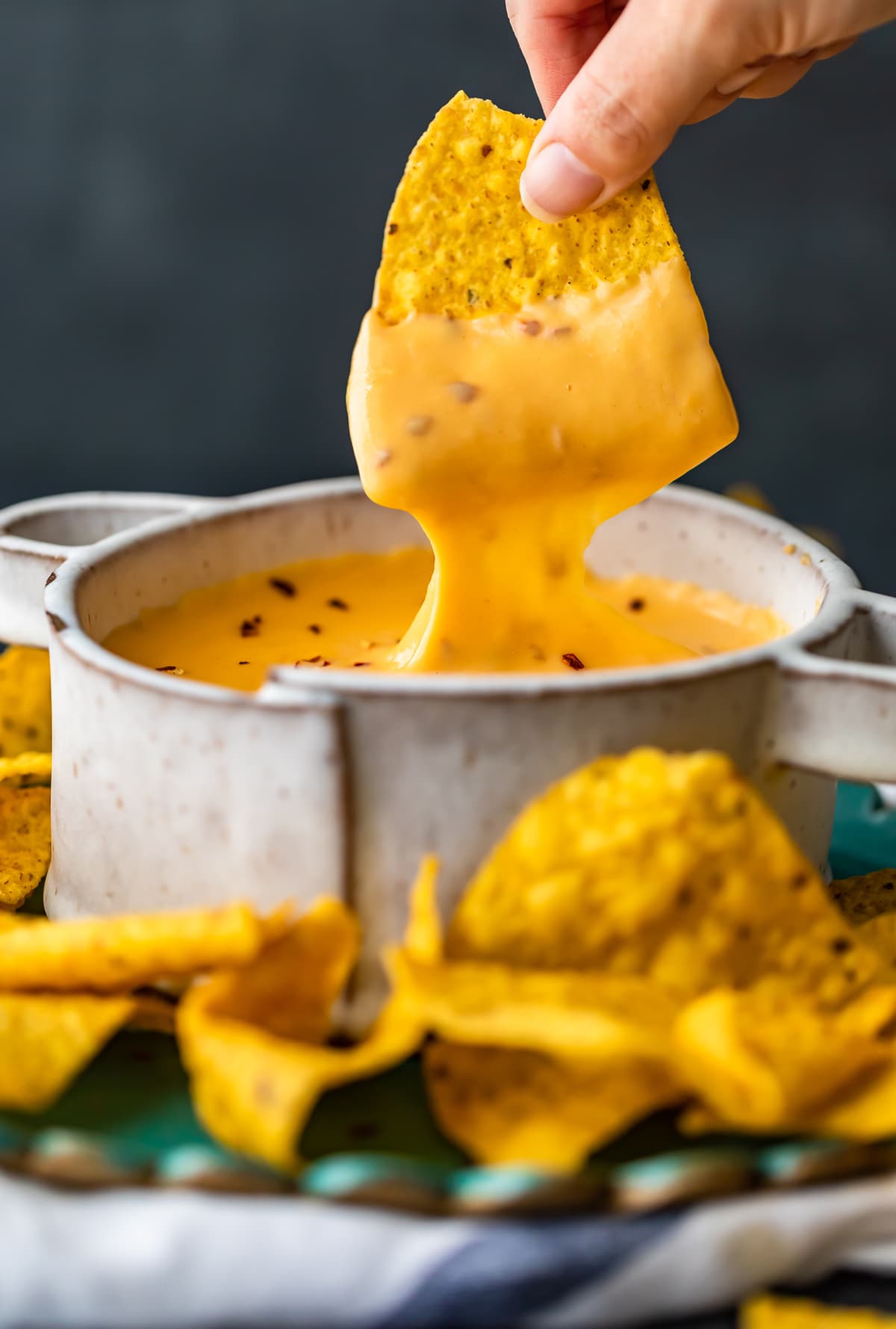 How to Make Nacho Cheese Sauce
Making this easy nacho cheese sauce is a breeze. All you have to do is whisk those ingredients together in a saucepan, and you'll have the best cheese dip ever! It's a mix of sharp cheddar cheese and pepper jack cheese, plus hot sauce for a little spice. 
How to Make Nacho Cheese Sauce:
First, combine all cheese and cornstarch in a saucepan over low heat.
Then add in the evaporated milk and hot sauce, and whisk constantly until the cheese melts. 
Keep whisking for about 5 minutes, until the cheese sauce gets nice and thick, and a little bubbly.
Pour in a little more evaporated milk if the sauce gets TOO thick. That will thin it out a bit.
Once you get your nacho cheese sauce to the perfect consistency, it's ready to go! Serve it while it's hot with some fresh tortilla chips (make your own with my homemade tortilla chips recipe). 
If you manage to have any leftovers, just store it in an airtight container in the refrigerator. Reheat it on the stove, stirring consistently until it's heated all the way through.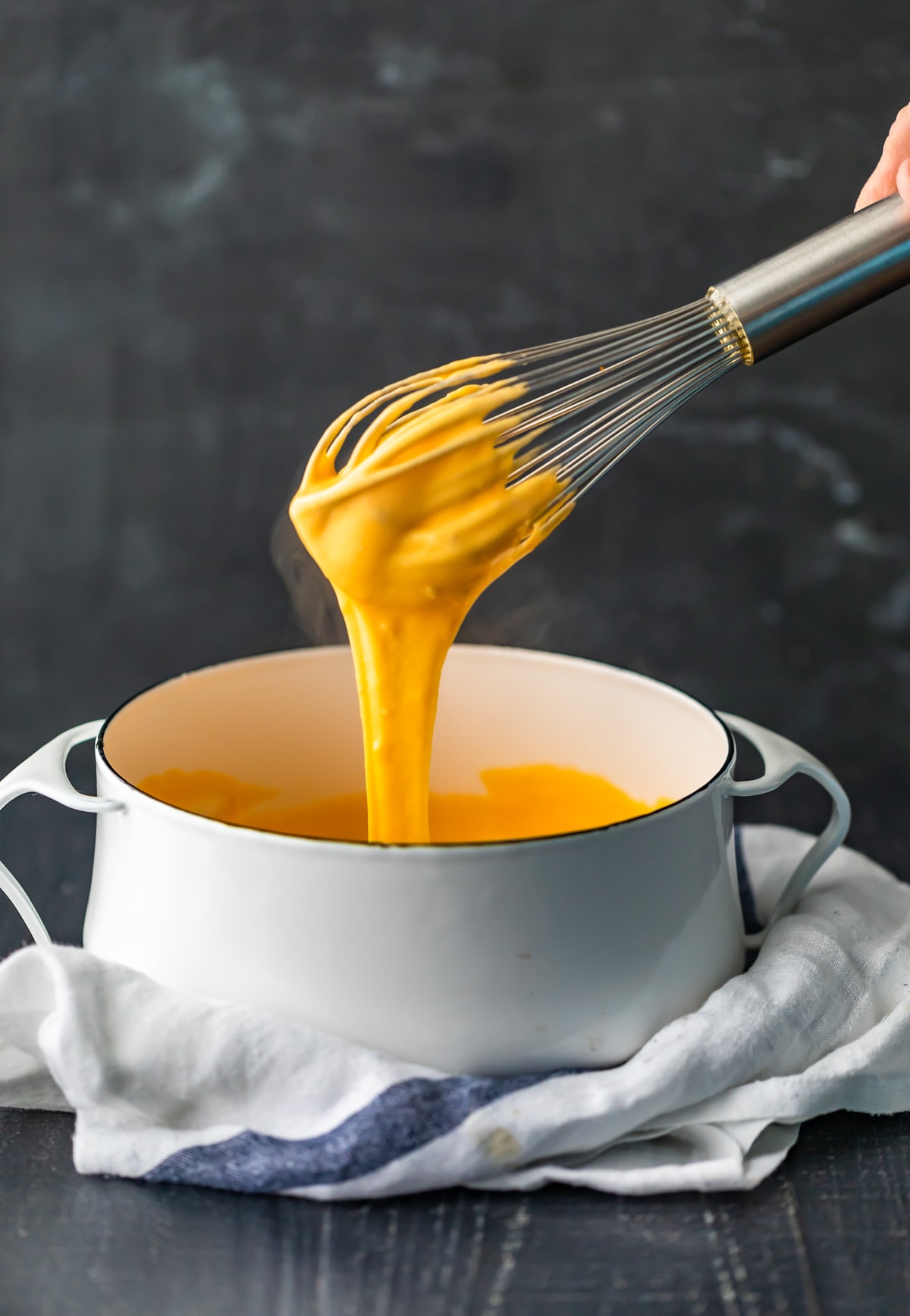 This homemade nacho cheese sauce recipe is about to blow you away! Make this easy cheese dip for game day, for any party, or for a quick little snack.
See the recipe card below for detail on how to make Nacho Cheese Sauce. Enjoy!
If you like this homemade cheese dip recipe, you'll love our other cheesy dips!