No Bake Cookies with Peanut Butter and Pretzels – the easiest and BEST no bake cookies you will ever make! The sweet and salty combo is to die for! 
I'm a Big No Bake Cookie Fan!
Raise your hand if you are a fan of the famous no bake cookies? You know, the chocolate peanut butter oat cookies that are made on the stovetop and don't even require an oven! I am a HUGE fan. I've been making no bake cookies since I was a little girl. They have always been one of my favorite cookies. I remember making them all of the time during the holidays or during the hot summer months. If it was too hot to turn on the oven, we would make no bake cookies! The only problem, they never last long because they are SO good!

OTHER RECIPES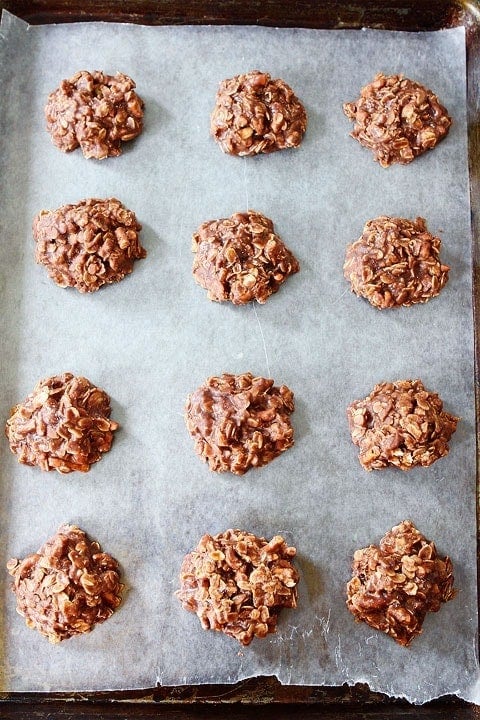 Best No Bake Cookies
Well, I just made the traditional no bake cookies better by adding pretzels and sea salt. Yep, these No Bake Chocolate Peanut Butter Pretzel Cookies are almost too good to be true. The sweet and salty combo is amazing and you've gotta love the no-bake part, especially since it is sweltering outside. These cookies are the perfect summer cookie!
And these no-bake cookies are almost too easy to make. Not only do you not have to turn on the oven, you probably have all of the ingredients in your kitchen right now.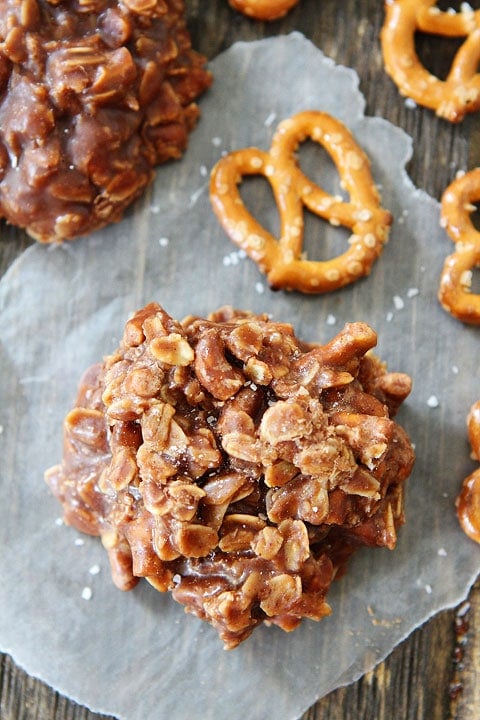 Bit of Salt with Lots of Sweet
I especially love these no bake cookies because the pretzels go so well with the chocolate, peanut butter, and oats. I also add sea salt to the recipe and sprinkle a little sea salt on top. I am telling you, all of these ingredients combined make one delicious cookie.
If you are craving something sweet, make these No Bake Chocolate Peanut Butter Pretzel Cookies. If you are craving something salty, make these No-Bake Chocolate Peanut Butter Cookies. These cookies are perfect for whatever craving you are having! I can make them in no time and they always hit the spot!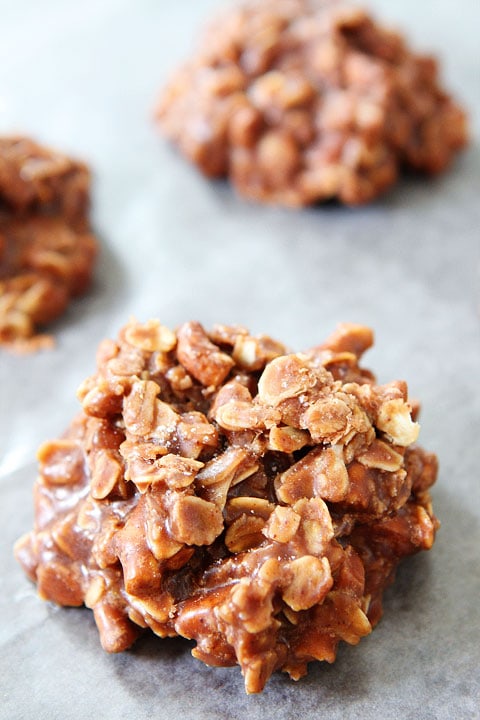 No Bake Cookies Worth every Bite
These chocolate no bake cookies only take about 15 minutes to make, plus some time for the cookies to set up. But who waits for no bake cookies to set up? Not me! The best part is licking the pan clean and grabbing big blobs of cookies from the wax paper….even if they aren't set up. I can never stop myself.
You can make the cookies gluten-free by using gluten-free oats and gluten-free pretzels.
How to Make No Bake Cookies
If you like these easy no bake cookies, you might also like:
No Bake Chocolate Peanut Butter Pretzel Cookies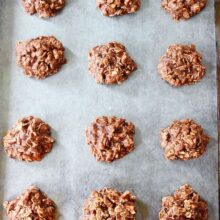 These sweet and salty no-bake cookies are one of my very favorite cookies! They are easy to make and too easy to eat!
Yield: 2 dozen cookies
Prep Time: 10 minutes
Cook Time: 5 minutes
Total Time: 15 minutes
Ingredients:
1/2 cup unsalted butter
1/2 cup milk
2 cups granulated sugar
1/4 cup unsweetened cocoa
1/2 cup creamy peanut butter
1 teaspoon vanilla extract
2 1/2 cups old fashioned oats
1 cup chopped pretzels
1/4 teaspoon sea salt, plus extra for sprinkling on cookies
Directions:
In a medium saucepan, melt butter over medium-high heat. Add milk, sugar, and cocoa and stir to combine while bringing to a boil. Boil for 1-2 minutes, stirring occasionally. Remove pan from heat. Add in peanut butter and vanilla, and stir until smooth. Stir in oats, chopped pretzels, and sea salt.
Drop mixture by spoonfuls onto waxed paper and let cool completely. Cookies will set up and harden when they cool. Store in an air-tight container on the counter for up to 4 days.
Note-you can make these gluten-free by using gluten-free oats and pretzels!


All images and text ©Two Peas & Their Pod.




Follow twopeasandpod on Instagram and show us what recipes you are making from our blog! Use the hashtag #twopeasandtheirpod! We want to see what you are making in your kitchen!