This No Bake Oreo Cheesecake is made with just a few ingredients! It's so silky smooth and loaded with chunks of Oreos. The perfect no bake dessert for summer!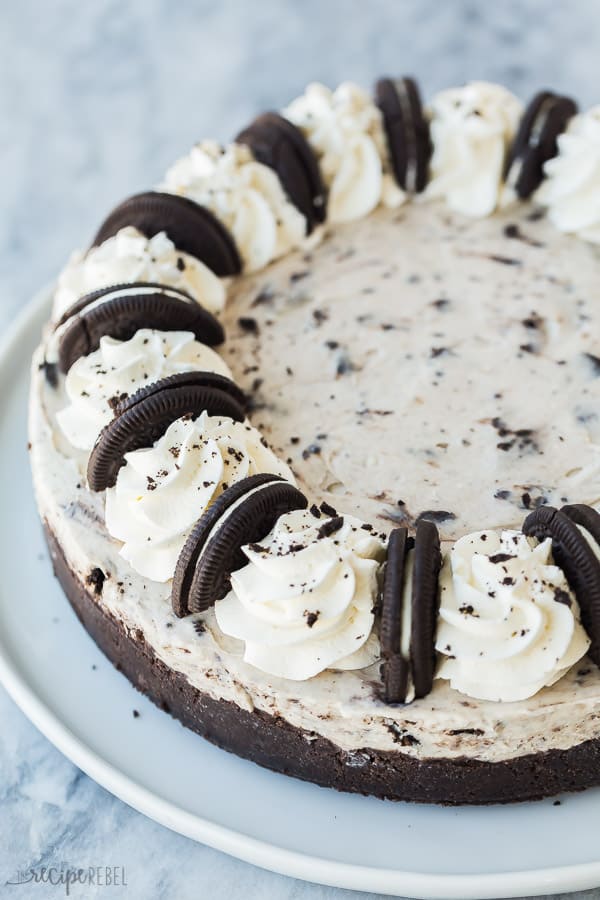 I'm back again with another easy no bake cheesecake to add to the family!
This time, it's this silky smooth, ridiculously easy No Bake Oreo Cheesecake made with just a few simple ingredients and no oven.
It's joining No Bake Chocolate Cheesecake, No Bake White Chocolate Raspberry Cheesecake Recipe, No Bake Peanut Butter Marshmallow Square Cheesecake and this collection of No Bake Cheesecake Recipes and no one is mad about it.
I have been a cookies 'n' cream everything fanatic for a long time now, so I'm not sure why it's taken me so long to come up with this version of my favorite dessert.
I should really be ashamed of myself.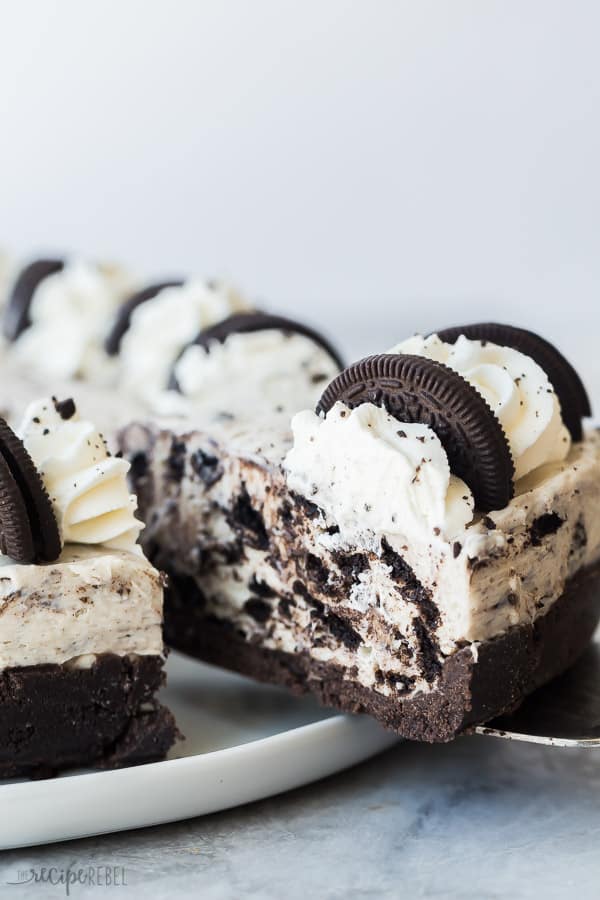 But I'm sharing it now, and you need to immediately add it to your Memorial Day cookout menu, and then watch it disappear in record time 😉
How to make a No Bake Oreo Cheesecake:
Start with the crust: we're using Oreo cookie crumbs (obviously) and butter — that's it! The butter is the glue that holds our crust together and makes it easy to slice.
Next is the filling: we whip up some cream cheese, sugar, vanilla, and whipping cream and then add in some crushed Oreos.
Spread it into the crust and chill until it is completely firm — there is no cheating here, unless you want no bake Oreo cheesecake pudding 😉
Garnish and devour!
I obviously don't have to tell you what to do with the leftovers, because there won't be any! (But just in case, you can easily refrigerate them).
Tips for making no bake cheesecake:
You will need two whole regular sized (300g) packages of oreos or other chocolate sandwich cookies for this recipe.
Start with room temperature cream cheese — this ensures it will whip up smoothly with no lumps.
Beat everything together until it's smooth before adding the cream. Add the cream cold, then whip it good (on high speed with an electric mixer) until it's totally thick and fluffy. Don't give up! Let it go for a few minutes until the cream is good and whipped.
Chill well. I mentioned this above, but a good chill session in the fridge is really the key to slicing a no bake cheesecake and not having it run all over the place when you try to serve. Give yourself extra time for chilling to ensure success.
Variations on this No Bake Oreo Cheesecake:
Add some mint extract and some green food coloring for a mint oreo twist.
Add some strawberry Jello powder for a strawberry oreo cheesecake.
Add in some melted chocolate for a no bake chocolate oreo cheesecake.
Try some of the other Oreo flavours to really mix things up — the options are endless!
Tools for making no bake cheesecake:
You will need an electric mixer, but you don't need a super jumbo stand mixer. I use the Kitchenaid hand mixer and it works perfectly!
You could definitely put this No Bake Oreo Cheesecake in a 9×13″ pan if you prefer, but a traditional 9″ Springform pan is the way I usually go. It dresses up a simple dessert and you get those perfectly straight edges!