Homemade Chicken Gnocchi Soup is made for chilly evenings! This easy soup recipe tastes as though it comes from a restaurant kitchen, but only takes one pot and 30 minutes to make on the stove. It's full of tender chicken, veggies, and soft gnocchi dumplings in the silkiest cream broth. 
If you love comforting one-pot soup recipes like this easy gnocchi soup, try my One Pot Lasagna Soup, too!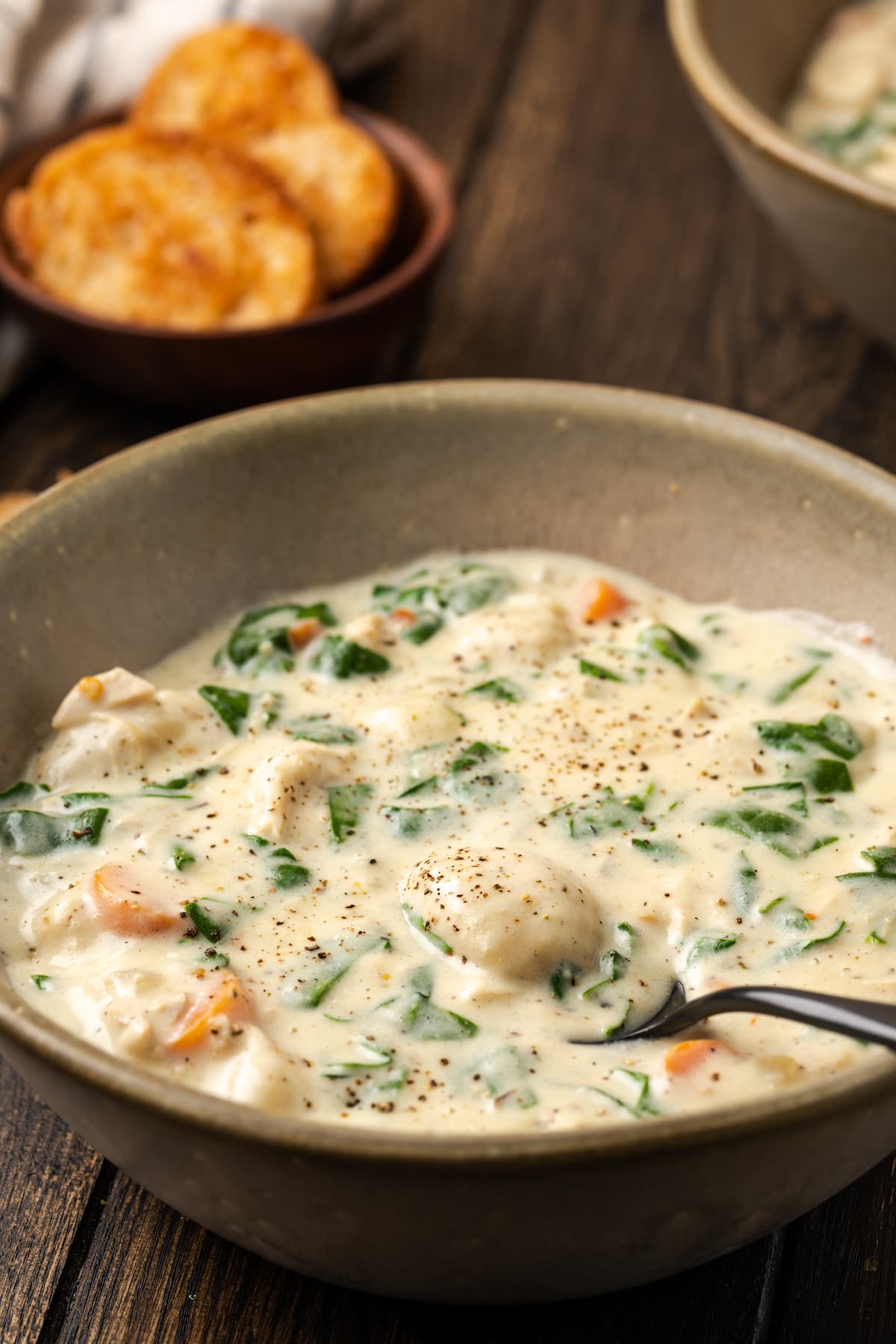 Creamy Gnocchi Soup (Better Than Olive Garden!)
Who else isn't quite ready to give up sweater weather? It's been a long winter, and while I can feel spring peeking around the corner, I'm still clinging to my cashmere and cozy dinners until further notice.
On a recent chilly weeknight, I made a pot of the most life-changing chicken gnocchi soup. So, obviously, I'm sharing it with you!
This homemade chicken gnocchi soup tastes just like the rich and creamy soup from Olive Garden (IYKYK). It's filled with juicy chunks of chicken and little pillows of tender gnocchi, soaked in the silkiest, creamiest chicken broth ever. And the best part is, you can make it on your own stovetop in less than 30 minutes!
What is Gnocchi?
Gnocchi is a traditional Italian dumpling recipe, made from potatoes, eggs, and flour. You'll usually find gnocchi in the pasta aisle, or frozen or refrigerated with other fresh pasta at most grocery stores. 
Gnocchi come in different shapes and sizes, but they're most commonly shaped like little lumps of dough, sometimes with small ridges.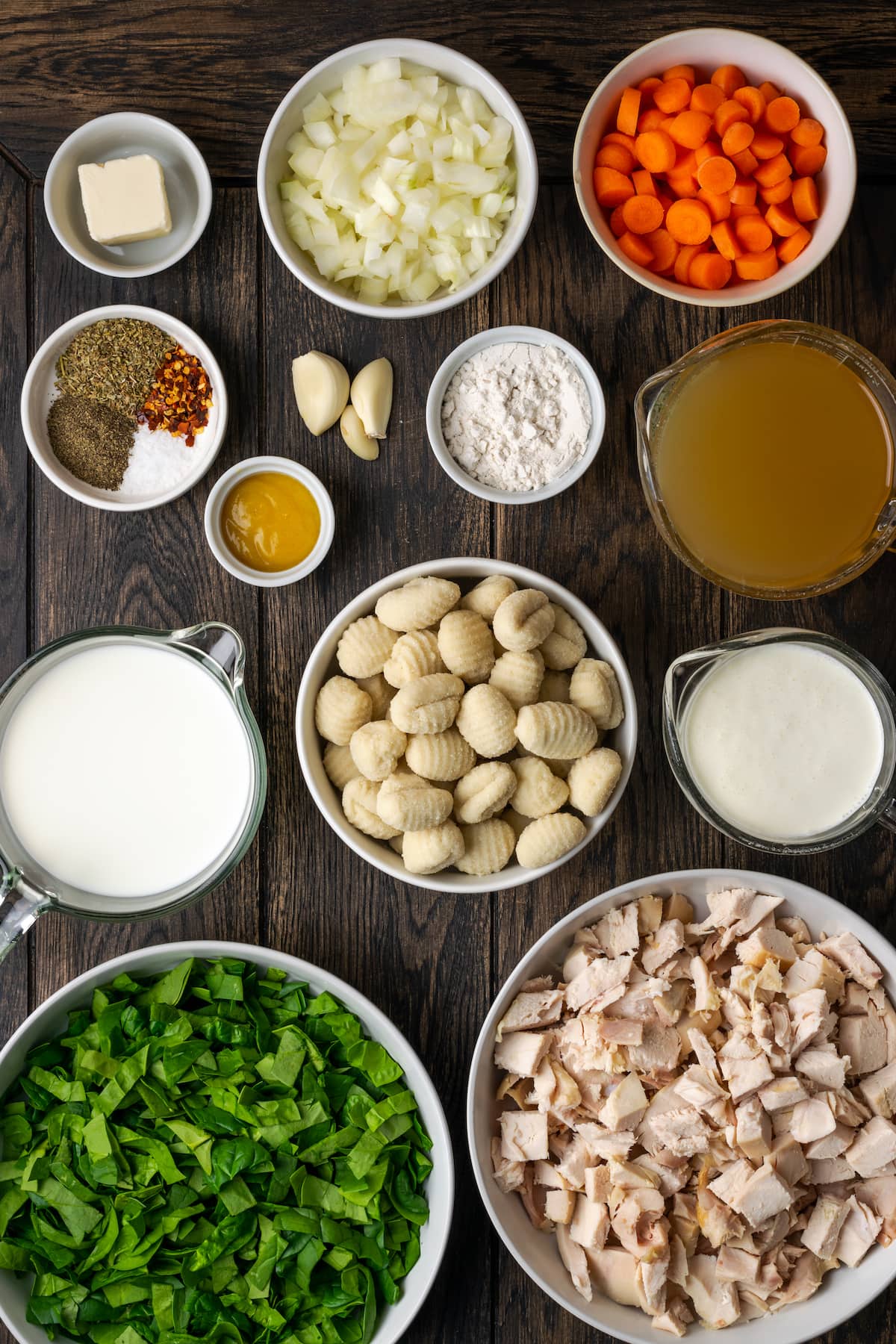 What You'll Need
Below is everything you'll need to make this homemade chicken gnocchi soup. Don't forget to scroll to the recipe card for the full quantities and recipe directions. 
Onion and Carrots: Diced and sauteed in butter, for aromatics.
Seasoning: I season this soup with Italian seasoning, salt, and pepper, plus crushed red pepper flakes for a bit of kick.
Garlic: Because everything is better with fresh garlic.
Flour: Cooking off the flour with the butter and veggies creates a "roux" that helps to thicken the soup.
Chicken Stock and Bouillon: I recommend using low-sodium chicken broth, or Homemade Chicken Stock. I also stir in bouillon paste to enhance the flavor (Better Than Bouillon is the one I always use). Cubes or vegetable bouillon will also work.
Milk: I add a bit of milk to the stock as it makes the broth creamy. 
Chicken: This soup is a wonderful way to use up a leftover rotisserie chicken. I had one in my fridge that I cubed up, but any cooked chicken will do.
Gnocchi: I use frozen gnocchi in this soup as it's less likely to overcook. It's fine to use fresh or dried gnocchi instead, just remember that it will cook more quickly.
Heavy Cream: If you'd prefer a lighter soup, use half-and-half.
Spinach: You can use fresh or frozen baby spinach. If you're using fresh, remember to remove the stems.
How to Make Chicken Gnocchi Soup
If you've ever had a crisis of being while deciding between Olive Garden's chicken gnocchi soup and their equally famous Zuppa Tuscana, same. The good news is, we now have one-half of the equation sorted at home! This delicious and creamy chicken gnocchi soup recipe comes together quickly in one pot on the stovetop: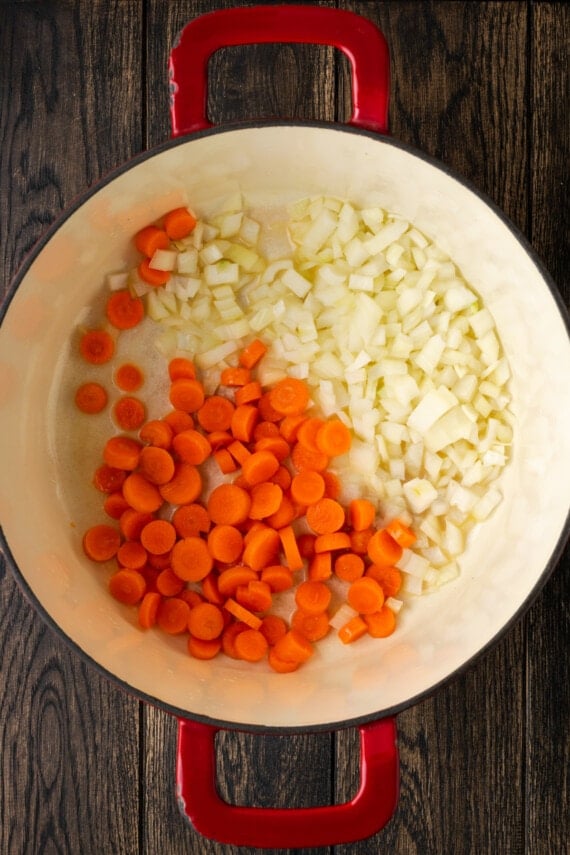 Saute: To start, you'll saute the carrots and onions in a bit of butter. Once softened, stir in your seasonings and garlic. After about a minute the garlic should be fragrant. Now, you'll sprinkle in some flour. Keep stirring for another minute while it cooks off and creates a roux with the veggies.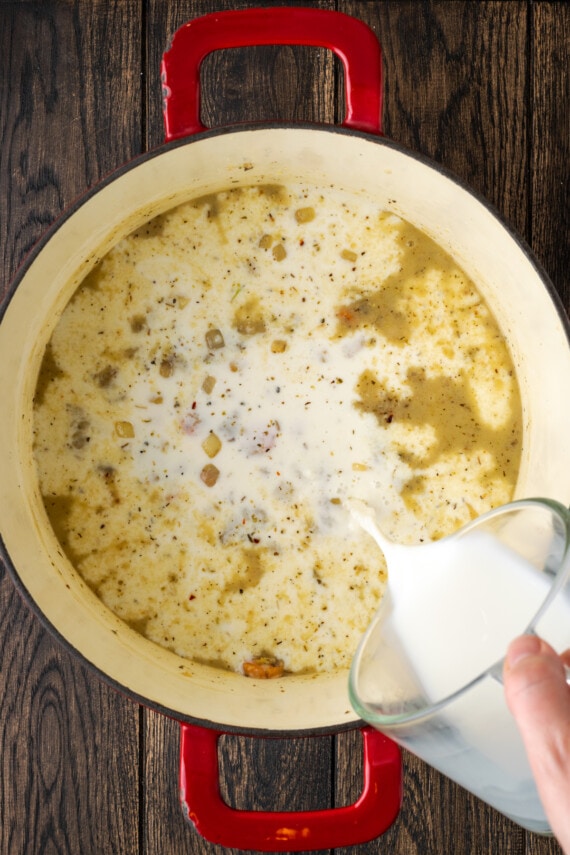 Combine: Next, pour in chicken stock and bouillon, along with some milk, and give everything a whisk to combine. Continue to whisk while the broth heats, and when it's barely at a boil, stir in your cubed chicken. Afterward, turn down the heat and let the soup simmer for a bit.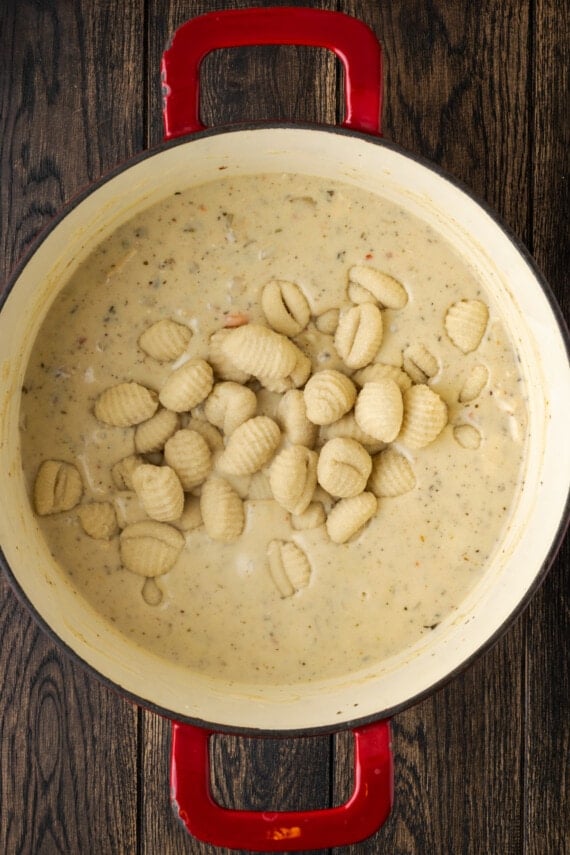 Add Gnocchi: After 10 minutes or so, dump in the frozen gnocchi and let it cook. It should take about 3 minutes (give or take) to become tender, but keep an eye so that it doesn't overcook.
Finish and Serve: Finally, add chopped spinach to the pot, and stir in the heavy cream. Take the pot off the heat and cover it while the spinach wilts. Right at the end, season your soup with salt and pepper to taste. Then, serve!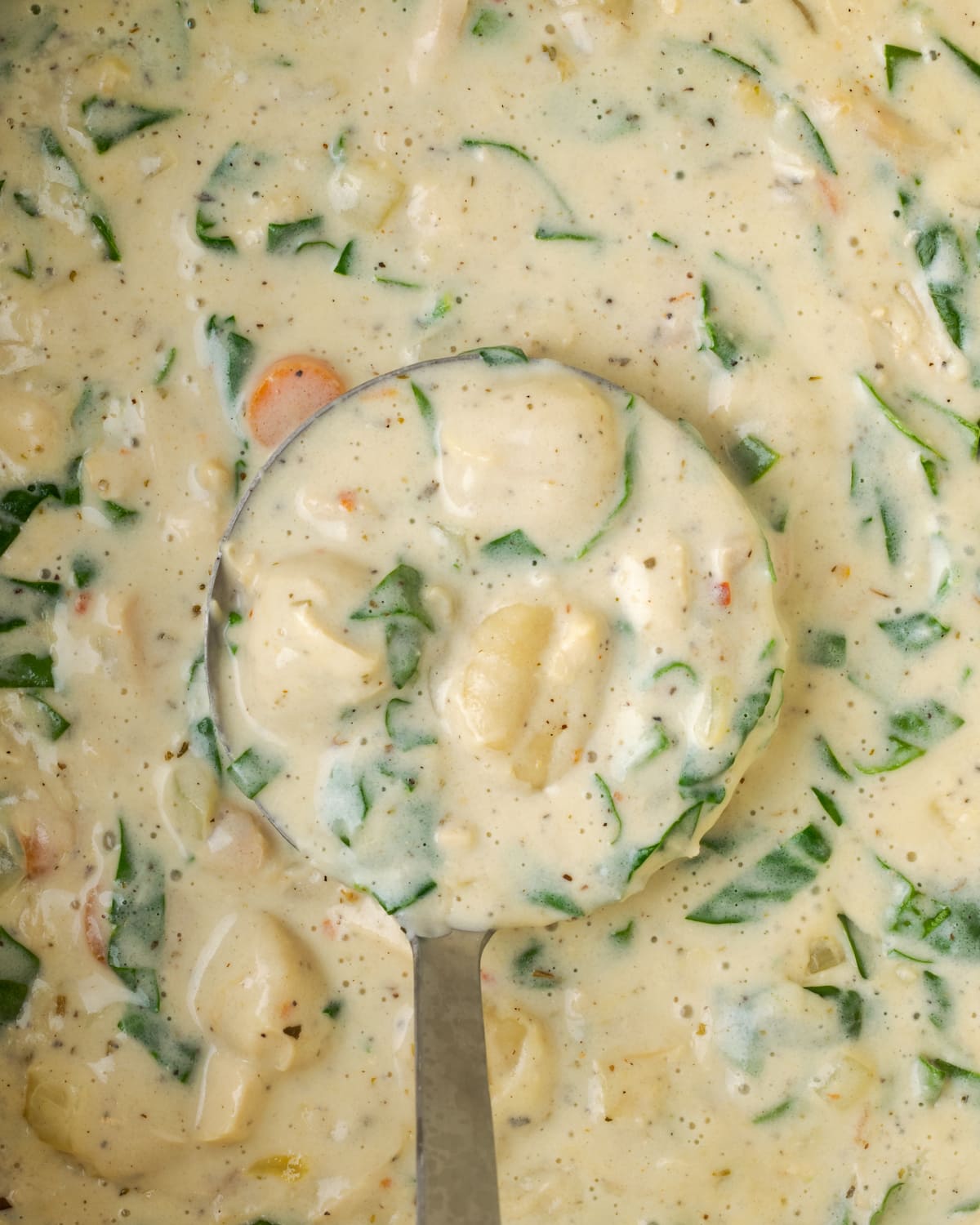 Tips for Success 
This soup recipe is very straightforward. Here are some additional tips to keep in mind:
Don't boil the soup. I say this for two reasons. The first is because boiling can cause the dairy in the soup to separate and curdle. Secondly, boiling the chicken pieces will make them tough and chewy. Make sure to turn down the heat once the soup begins to steam.
Serve the soup right away. The gnocchi tends to become gummy the longer it sits in the hot broth. For this reason, this soup is best enjoyed right after it's made. Otherwise, consider only adding in the gnocchi just before you're ready to serve.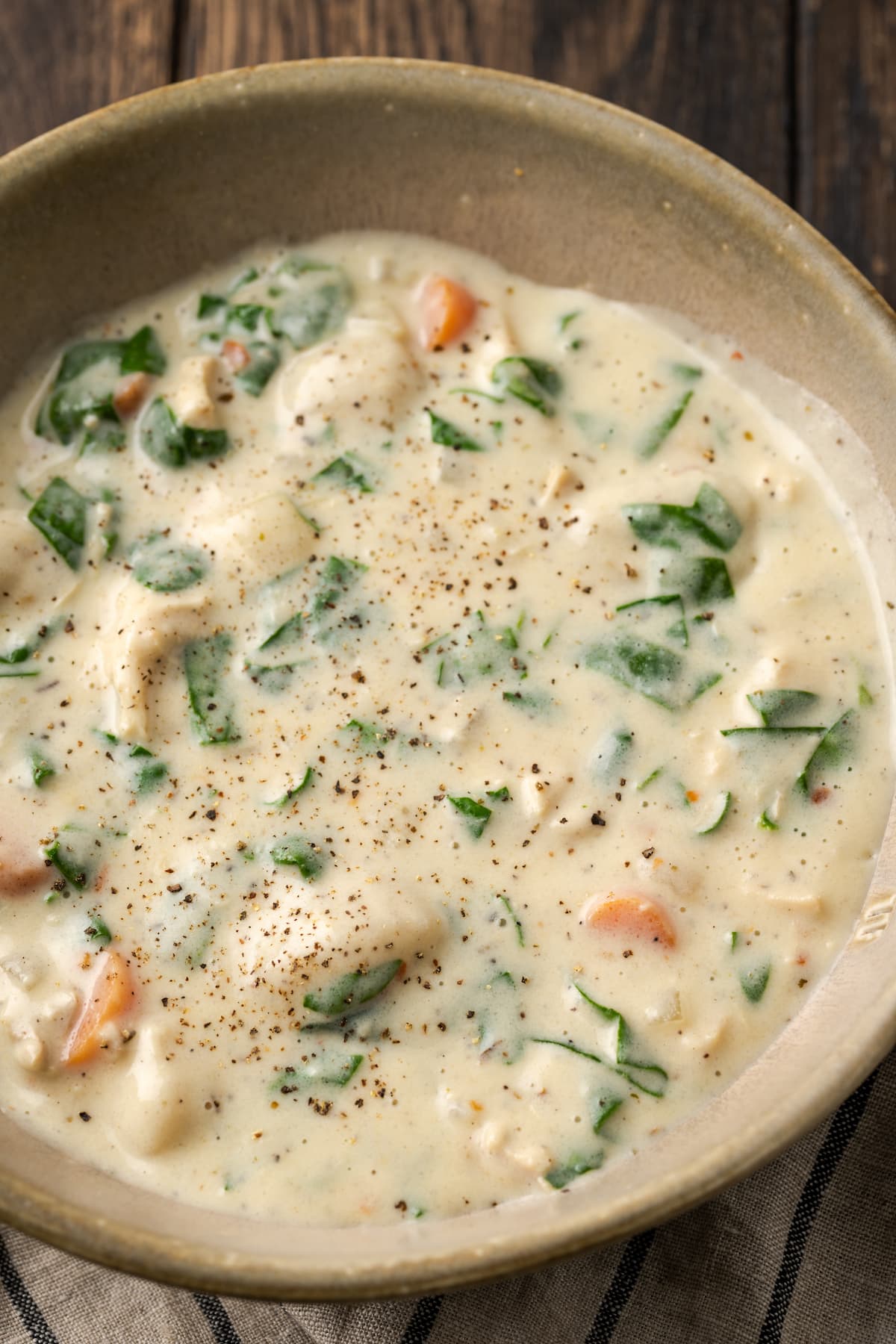 Add-Ins and Variations
Homemade soup is one thing I'll never run out of ways to customize. This chicken gnocchi soup is delicious as is, but you can always adapt the ingredients and test out different add-ins to suit. Here are some easy ideas:
Different Protein: Make this soup with sliced or ground sausage instead of chicken. You can brown the uncooked sausage while you saute your carrots and onions.
More Veggies: Add diced bell peppers, mushrooms, zucchini, celery, or cherry tomatoes. In place of spinach, try chopped kale.
Herbs: Play around with adding more fresh or dried herbs like thyme, rosemary, parsley, and basil.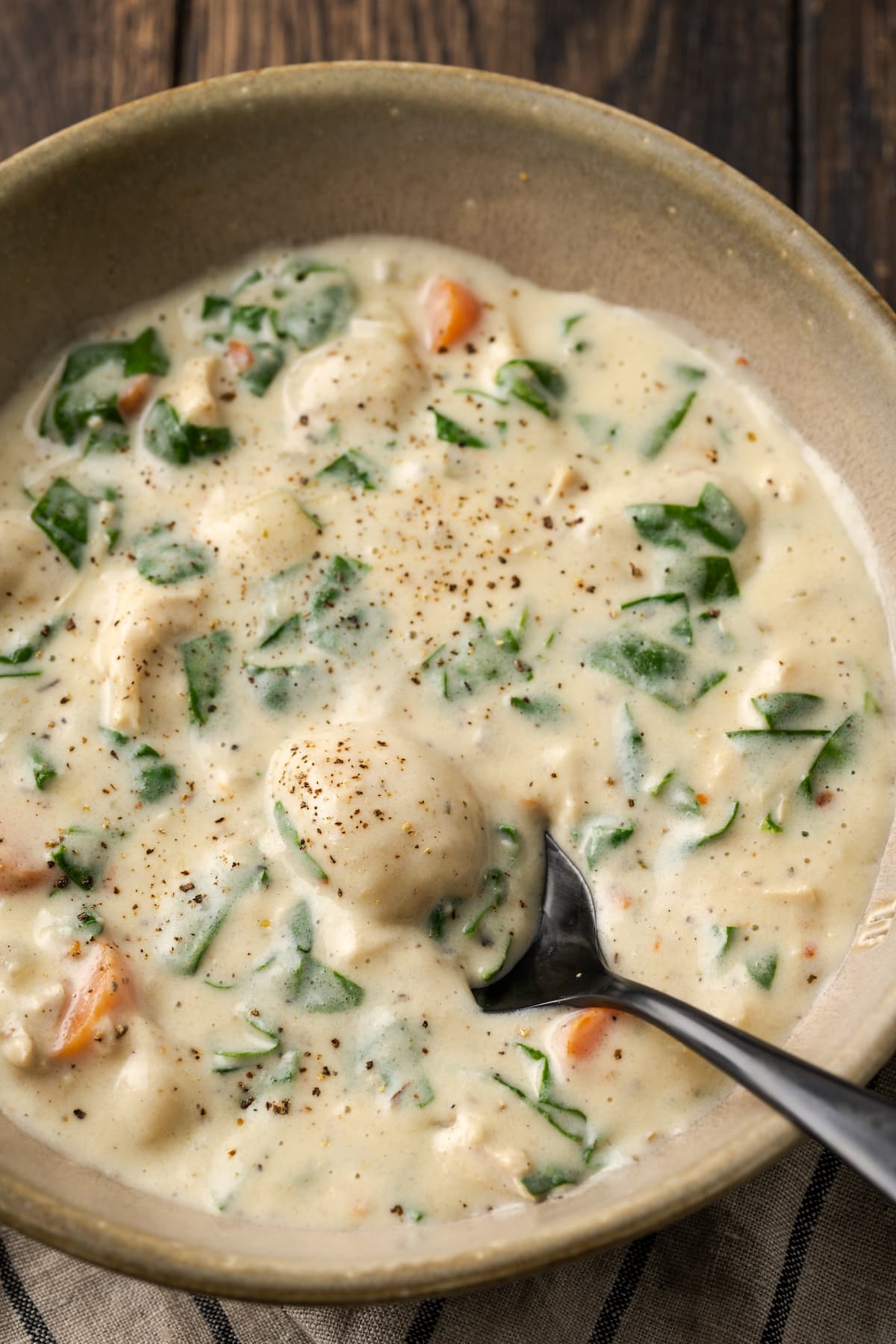 Serving Suggestions
We love cozying up with bowls of chicken soup on cool evenings. Sometimes we'll go all out, Olive Garden-style, and enjoy this chicken gnocchi soup with homemade Cheesy Breadsticks and a side of green salad. 
Sometimes I'll grate fresh parmesan over the soup or sprinkle in some croutons to really kick the comfort factor up a notch. Gnocchi soup makes a great entree or side with roasted veggies or Air Fryer Asparagus. Or, serve this soup with heartier sides like Stuffed Garlic Bread or Cheesy French Bread Pizza.
Storing and Reheating Leftover Gnocchi Soup
While this chicken and gnocchi soup is best enjoyed right away, any leftover soup can be refrigerated airtight for up to 3 days. Note that the gnocchi may become a bit mushy the longer it's stored. Reheat your chicken gnocchi soup either in the microwave or on the stovetop.
If you're making this recipe ahead, I recommend preparing the soup as directed and leaving out the gnocchi. Store the chicken soup and then add the gnocchi when you reheat it.
Can I Freeze Chicken Gnocchi Soup?
Technically, this soup can be frozen, though I don't recommend it. Dairy-based soups generally don't hold up well when frozen, and the gnocchi will become soggy. 
Luckily, it's quick to make and it disappears from the pot so fast, we hardly ever have leftovers!
---
Description
Homemade Chicken Gnocchi Soup is a rich and hearty one-pot soup recipe filled with tender chunks of chicken, spinach, and fluffy gnocchi in the creamiest broth.
---
2 tablespoons

butter

1 cup

diced yellow onion

1 cup

diced carrots

1/2 teaspoon

kosher salt

1 teaspoon

fresh black pepper

2 teaspoons

Italian seasoning

1/2 teaspoon

crushed red pepper

3

cloves garlic, minced

1/3 cup

all-purpose flour

2 cups

chicken stock

1 tablespoon

chicken bouillon paste (I use Better Than Bouillon)

3 cups

milk

3 cups

cooked chicken, cubed (I use a 12-ounce rotisserie chicken)

16 ounces

frozen gnocchi

1 cup

heavy cream

3 cups

baby spinach roughly chopped, and large stems removed
---
Melt the butter in a 5- quart Dutch oven over medium heat. Add in the onion and carrots and cook until soft, 5-6 minutes. Season the vegetables with salt, pepper, Italian seasoning, and crushed red pepper.
Add in the garlic and cook for 1 minute.
Sprinkle the flour over the vegetables and cook for an additional minute, stirring constantly.
Whisk in chicken stock, bouillon paste, and milk. Bring the mixture up until almost boiling (should be steaming), whisking frequently, and stir in the chicken. Reduce heat to a simmer and cook for 10 minutes, stirring occasionally.
Add in gnocchi and cook for 3 minutes or until the gnocchi is tender.
Stir in the heavy cream and chopped spinach. Remove the soup from the heat and cover for 5 minutes, until the spinach is wilted.
Adjust seasoning with more salt and pepper as desired.
Serve immediately.
---
Notes
Store airtight in the refrigerator for up to 3 days.
Keywords: gnocchi soup, recipes for chicken gnocchi soup, creamy chicken soup recipe
Want To Save This Recipe?
Find more recipes like this:
More Cozy Homemade Soups