This One Pot Teriyaki Chicken, Rice and Vegetables is an easy, family friendly meal that's made in just 3o minutes or less! It healthy and hearty and perfect for weeknights.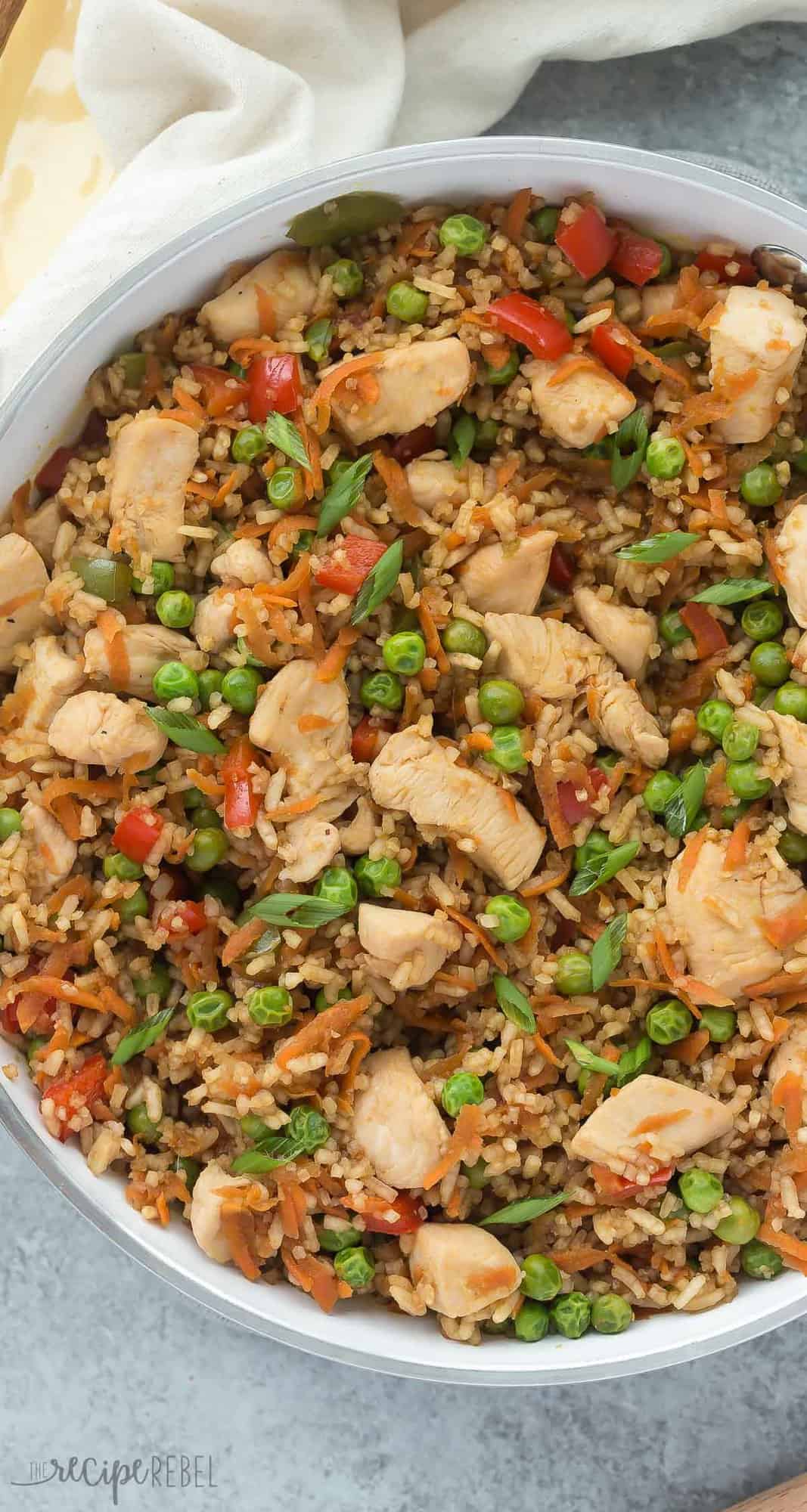 Soooo….. if you've been around here much, you might think this is a rip off of my One Pan Teriyaki Chicken and Noodles.
You'd be correct.
Because I spend a lot of time looking at the things you guys like, and thinking, "I wonder what else they might like?" And I'll make a recipe with similar flavors or cooking methods, just to see. Do they prefer rice or noodles? Chicken or beef? BBQ or Teriyaki? And every now and then I strike gold, and you love it.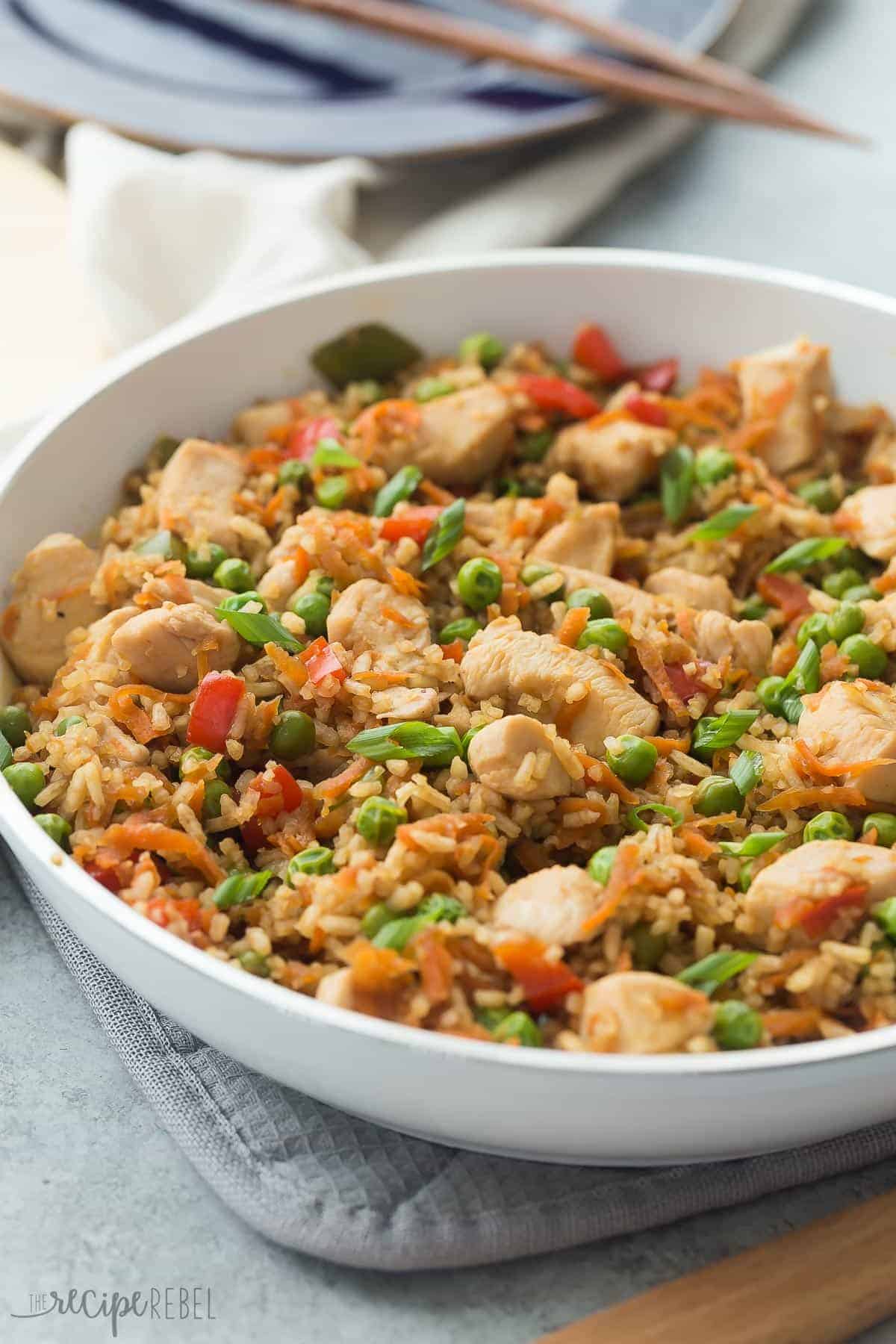 But, as I've mentioned before, I really want to turn The Recipe Rebel into a one-stop shop where you can get a good variety of meals, desserts, snacks and breakfast ideas. Mostly healthy, some indulgent. And so I am going to keep adding different variations of the meals you obviously already love. I hope you're not mad about it! Because some of your favorites are some of our favorites as well.
Now: I'm going to be completely honest here.
I so rarely cook long grain rice. I am an instant rice lover 100%. It is still a healthy choice, and is just so easy and manageable when you have a 2 year old who woke up from her afternoon nap on the wrong side of the bed. This is the stage of life we're in here.
It also makes recipes like this totally doable in 30 minutes (or even 20 minutes!), with minimal dishes, maximum flavor, and a good dose of protein and veggies.
For me? That's a win (x4!) right there. I hope you'll agree!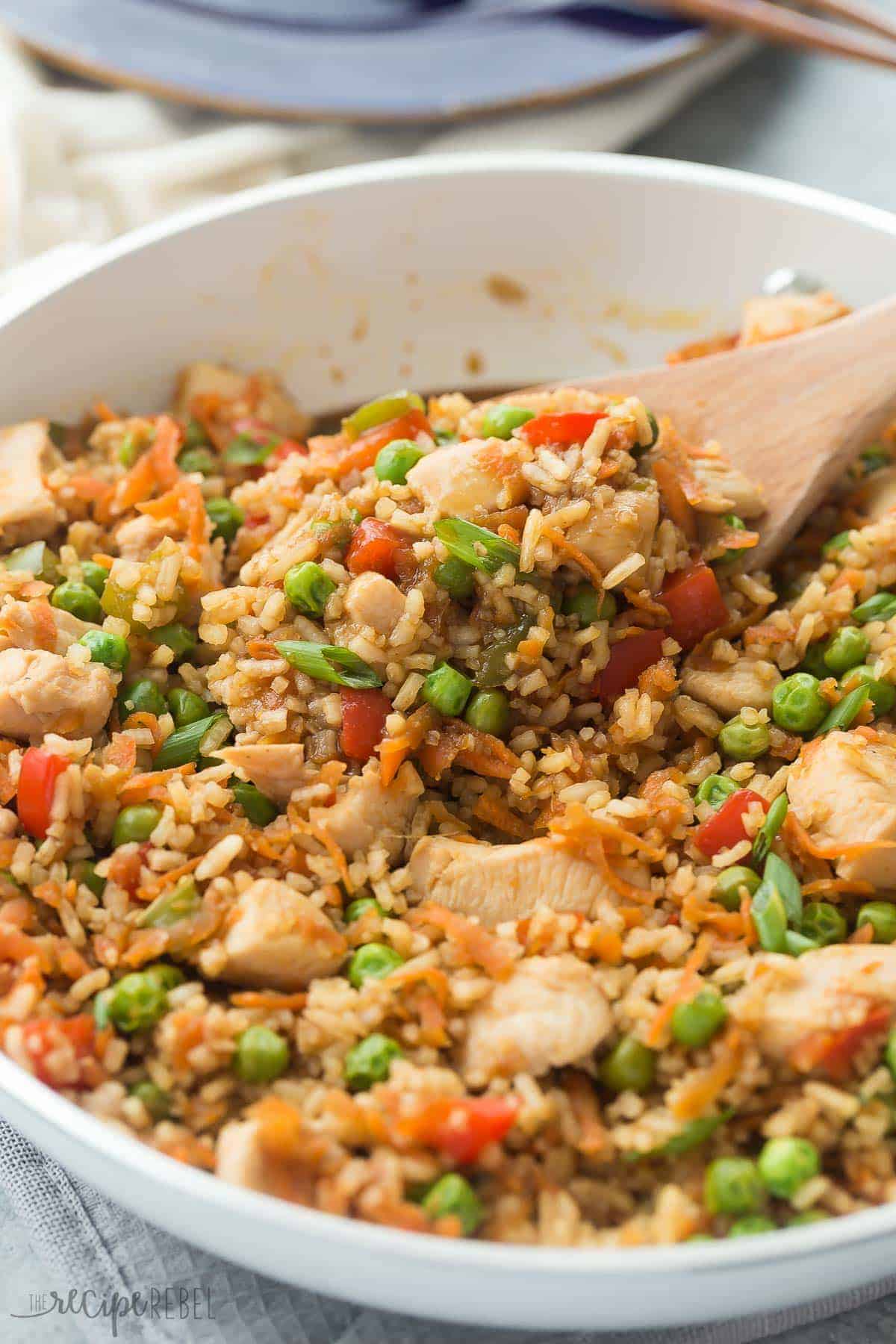 Substitutions:
This recipe can easily be made vegetarian, though you might want to add in extra veggies to replace the chicken.
This recipe is naturally dairy free and gluten free, but be sure to check the ingredients on each and every one of your products to be 100% sure.
This recipe is totally freezer friendly — simply freeze your leftovers (or make a double batch), then thaw and reheat (I recommend on the stove top) when you need a quick meal!
One Pot Teriyaki Chicken, Rice and Vegetables
This One Pot Teriyaki Chicken, Rice and Vegetables is an easy, family friendly meal that's made in just 30 minutes or less! It healthy and hearty and perfect for weeknights.
Ingredients
1 tablespoon canola oil
2 boneless skinless chicken breasts, cubed
½ red bell pepper, diced
½ green bell pepper, diced
1 large carrots, peeled and shredded
1 teaspoon fresh minced ginger
2 teaspoons fresh minced garlic
1½ cups instant rice
1½ cups low sodium chicken broth
¼ cup honey
½ cup low sodium soy sauce
1 tablespoon vinegar
1 cup frozen peas
Instructions
In a large skillet, heat oil over medium high heat. Add chicken and cook until browned on the outside, about 2 minutes.
Add peppers and cook 3-4 minutes until crisp-tender. Add carrots, ginger and garlic and cook 1 more minute, stirring.
Add rice, broth, honey, soy sauce, vinegar and peas and bring to a simmer over medium high heat. Cover, reduce the heat and cook for 3-4 minutes until rice is tender. Let sit, covered for 3-4 minutes before serving.
Notes
*Nutrition information is estimated and will vary depending on exact serving size, types and brands of products used.
Nutrition Information
Calories: 363 Fat: 6g Carbohydrates: 57g Sugar: 20g Protein: 24g
3.2.2925
And since it's 30 Minute Thursday today, here are some other 30 Minute Meals you might enjoy!
30 Minute Pad Thai from Bake.Eat.Repeat.
Arugula and Prosciutto Puff Pastry Pizza from Pumpkin 'N Spice
30 Minute Shrimp Scampi from My Kitchen Craze
Savory Waffles with Roasted Broccoli and Cauliflower from Floating Kitchen
Crispy Black Bean and Sweet Potato Tacos from She Likes Food
20 Minute Healthy Taco Salad from Kristine's Kitchen
30 Minute Skillet Pasta Primavera from Flavor the Moments
It's totally FREE, and you can unsubscribe anytime.