Orange Cream Fruit Salad is a delicious fruit salad with oranges and pineapple. It's like a creamsicle version of classic ambrosia! It's the perfect sweet side dish for all occasions from a summer BBQ to a holiday event.
Looking for another fruity salad? Make sure to try my Berry Ambrosia!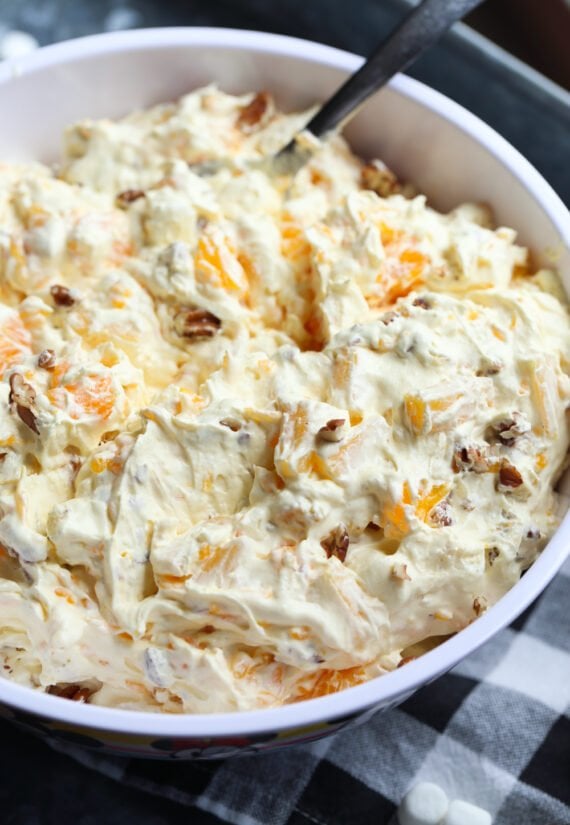 Orange Cream Salad Is the Creamiest Fruit Salad Recipe Ever!
We can all agree that fruit salad is the most versatile summer dish, right? Have it for breakfast, or with lunch, maybe as a side at dinner, snack on it in the morning or afternoon, serve it with dessert – you get the idea. Once summer hits, it's cool to do fruit salad allllll day!
But, do you ever get tired of the same old recipe? Hand up – guilty over here! I like to play around and figure out different fruit salads to mix up. But ambrosia-style salads were something I grew up eating, and hold a special place in my heart, 
Plus, creamsicles have long been a summertime favorite of mine so I dreamed up with super creamy, decadent orange cream fruit salad! It's kind of like a classic ambrosia salad recipe, but with a few tweaks!
What Kinds of Fruit Are in this Salad?
For this salad, I use mandarin oranges and pineapple tidbits. They're both canned, so it makes it easy to whip up this recipe any time of year you're craving it. If they're in season and available near you, you can use fresh. 
Here's everything else you need:
cream cheese
vanilla pudding mix
milk
orange juice concentrate
Cool Whip
mini marshmallows
flaked sweetened coconut
chopped pecans (optional)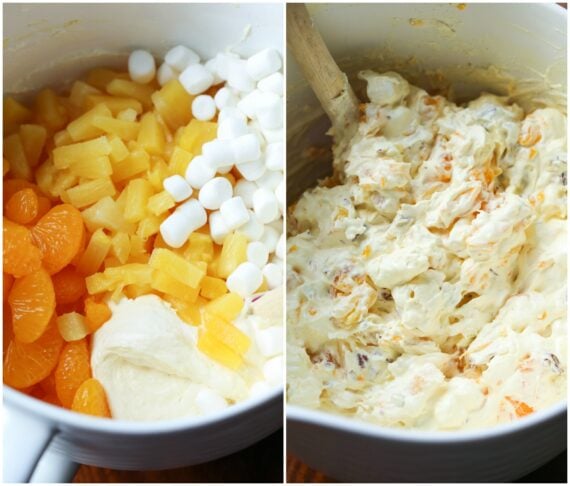 How to Make Orange Cream Salad
Mix: In the bowl of your stand mixer fitted with the paddle attachment mix the cream cheese and pudding together until combined. 
Add: Add in the milk and orange juice and mix until it's smooth, scraping the sides of the bowl as necessary. 
Fold in: Fold in the Cool Whip until creamy and evenly incorporated. 
Combine: Mix in the oranges, pineapple, marshmallows, coconut, and pecans (if desired).
Chill: Cover and chill for at least 1 hour.
Serve: Serve chilled.
Tips for the Best Fruit Salad
Remember these simple tips to make sure you have the sweetest, creamiest orange cream fruit salad:
Make sure you drain your mandarins and pineapple VERY well. Any extra liquid will make the salad runny. 
You can't swap Cool Whip for regular whipped cream. Whipped cream will become too thin and won't stay fluffy. 
Don't forget to chill the fruit salad before serving. This dish is not yummy served warm or even room temperature. 
If you bring this to a potluck or cook out, make sure it isn't sitting out in the sun. 
Variation Ideas
There are loads of ways to make this creamy orange and pineapple fruit salad your own! Try these variations for a different sweet fruit salad treat every night of the week!
For a lighter variation, you can sub the cream cheese and Cool Whip for low-fat Greek yogurt.
You can make it a berry blend with blueberries, strawberries, blackberries, and raspberries
You can add bananas to the recipe.
Try adding diced apples and halved grapes for some crunch.
Throw in some maraschino cherries for a pop of color and flavor. 
Adding diced kiwis gives a nice pop of color but maintains the tropical vibe. 
Add a different nut from pecans, like walnuts or pistachios!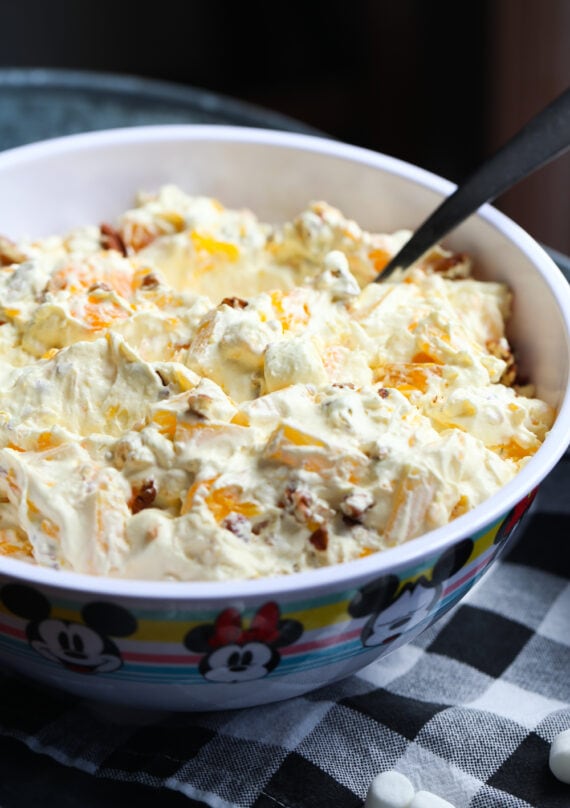 What to Serve with Orange Cream Salad
Seriously,  this orange cream fruit salad will go with ANYTHING! I've eaten it for breakfast, as a snack, as a lunch or dinner side, or for dessert. Anything goes!
If I'm serving this as a side dish, it goes great with anything BBQ, like cheeseburger sliders, hotdogs, or ribs. It also pairs well with other potluck salads, like potato salad, pasta salad, or coleslaw. Don't forget the corn on the cob, too!
You can even serve it as part of a holiday brunch spread!
How to Store Fruit Salad
You can store this creamy fruit salad in an airtight container in the refrigerator for up to 3 days. You won't want to store it for much longer than that because of all of the dairy. When you're ready to eat it, serve it chilled – right out of the fridge. If your orange cream fruit salad has sat out for longer than 2 hours, you won't want to save it.