The classic flavors of buffalo chicken come together with meltingly delicious cheddar and cream cheese, plus ranch dressing and fresh garlic. Give this Quick and Easy Stovetop Buffalo Chicken Dip a try – you're going to love it!
Don't forget to grab these Air Fryer Buffalo Cauliflower Bites, too!
The Best Buffalo Chicken Dip – Only One Pot!
Looking for a knock-your-socks-off weekend appetizer that's super-simple, but also packed with flavor? Something everyone will absolutely love, without a lot of tedious prep? Look no further! This easy Buffalo Chicken Dip is made with a basic set of easy to find, easy to prepare ingredients. It's made on the stovetop, and comes together very quickly!
This dish is special enough to serve for football night, family night, or even a festive birthday meal. But, it's so darn easy to make that it's hard not to whip up a batch multiple times a week. Especially if you're following a low-carb diet…what a treat!
And, you can serve it with just about anything. I like mine with celery, but crackers and tortilla chips are also good, and so are tons of other dippers you've got on hand.
I really hope you make this spicy, flavorful dip soon—it'll definitely bring a smile to your low-carbin' keto-lovin' face! 
Recipe Ingredients
To make this recipe, we have all the usual suspects: cream cheese, buffalo sauce, cheddar cheese, and ranch. Yum, yum, yum, and yum! There's also cooked, shredded chicken, which can be homemade, rotisserie, or even from a can. Your call!
Olive Oil: For sauteing the garlic.
Fresh Garlic: You'll need 3 cloves, minced or put through a garlic press.
Cream Cheese: To make this dip, you'll need two 8-ounce packages of cream cheese, softened and cut into pieces. Softened cream cheese will melt easier and make the dip creamier.
Buffalo Sauce: You'll need 1-1/2 cups buffalo sauce.
Ranch Dressing: A cup of your favorite ranch dressing adds a cool, creamy flavor.
Chicken: Cooked, shredded chicken breasts make this dip even better. You'll need 2 to 3 cups.
Cheddar Cheese: I use two cups of shredded cheddar cheese.
Blue Cheese: For topping; about 1/2 cup.
Chopped Fresh Parsley: For garnish.
Celery Sticks and Tortilla Chips: For serving.
How to Make Buffalo Chicken Dip
Okay, get ready. This awesome dip is crazy easy to make! All you have to do is saute the garlic, and then melt everything all together. Don't you just love it when something so delicious is also so easy? A total FRIDAY recipe. 
Saute the Garlic. To saute the garlic, heat your olive oil in a large saucepan OR cast iron skillet set over medium heat. Mince the garlic and add it to the hot oil. You only want to cook it for about 15 seconds, or until it becomes fragrant.
Melt the Cream Cheese, Buffalo Sauce, and Ranch. Add the cubed cream cheese, buffalo sauce, and ranch dressing to the skillet with the garlic. Decrease the heat to medium-low, and cook for about 10 minutes, stirring frequently, until the cream cheese has completely melted. I use a whisk to stir it around; that makes it creamier and smoother.
Mix in the Chicken and Cheddar. Add shredded chicken and cheddar cheese to the saucepan; mix and stir until well blended. Continue to cook until heated through and cheese is melted.
Serve. Pour the finished dip into a serving bowl. Garnish it with blue cheese crumbles and parsley, and serve with celery sticks and tortilla chips.
Tips for Success
Here are a few more easy tips for creating this delightful appetizer. Enjoy, happy cooking, and bon appetit!
Watch the Garlic. Be extra careful as you saute the garlic. Minced garlic is a bit delicate, and can easily overcook. At that point, it's necessary to wipe out the pan and start again, and depending on how badly it scorches, you may even have to wash the pan! Not fun! Thus, don't cook the garlic for too long. 😊 
Substitute Neufchatel. If you want to make this savory dip a little lighter, feel free to substitute Neufchatel cheese, which is very similar to cream cheese, but has a lower fat content.
Use a Cast Iron Skillet: This dip is easy to make in a cast iron skillet, instead of a saucepan, and the skillet makes a great presentation as well! As you can see. 😉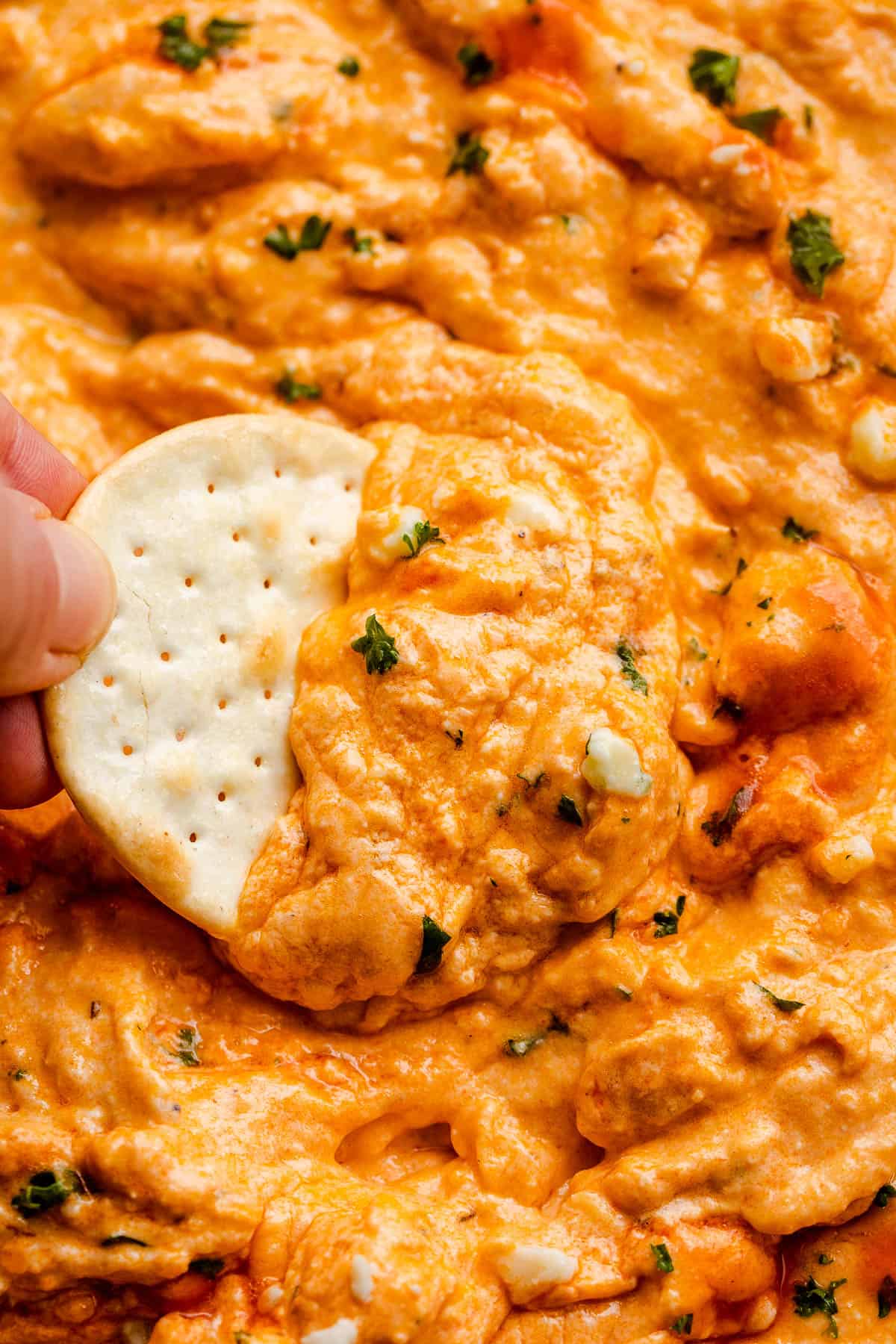 How to Serve Buffalo Chicken Dip
When it comes to serving dip, I'm a major fan of all kinds of dippers! Celery sticks and tortilla chips are just the beginning! There are truly tons of great options. Here are a few to get you started!
Homemade Potato Chips: I love these crispy Chili Lime Baked Potato Chips! They're so flavorful, crunchy, and perfect for hot dips!
Sweet Potato Wedges: Oh, my goodness. These easy, Crispy Sweet Potato Wedges are so good with buffalo chicken dip! And in fact, you could serve this dip over whole baked sweet potatoes, for a mouthwatering dinner!
Pretzel Bites: Delicious fresh Pretzel Bites are a hearty, bread-y dipper that go perfectly with this cheesy dip. Yum!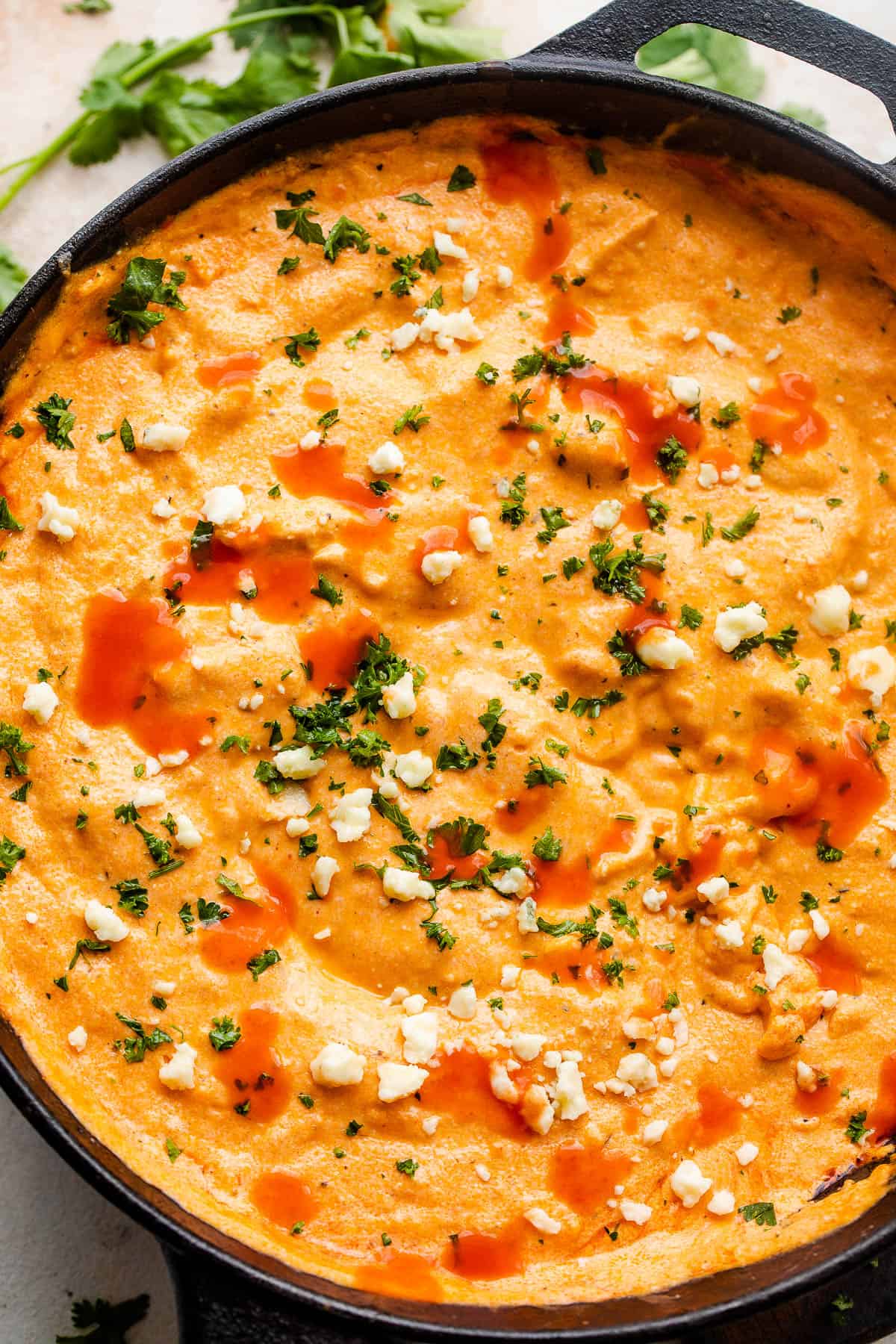 Make it in Advance
Buffalo Chicken Dip can be made ahead and kept in the fridge for up to 4 days. 
Reheat before you're ready to serve it. 
ENJOY!
BUFFALO CHICKEN DIP
A creamy and cheesy warm dip prepared with cream cheese, shredded chicken, buffalo sauce, and ranch dressing.
Instructions 
Heat oil in a 10-inch cast iron skillet OR a large saucepan set over medium heat.

Add garlic to the hot oil and cook for 15 seconds, or until fragrant.

To the saucepan add the cubed cream cheese, buffalo sauce, and ranch dressing; decrease heat to medium-low and cook for 8 to 10 minutes, or until mixture is smooth and cream cheese is completely melted and creamy. Whisk frequently.

Add shredded chicken and cheddar cheese to the saucepan; mix and stir until well combined. Continue to cook until heated through and cheese is melted.

Remove from heat. Garnish the dip with blue cheese crumbles and parsley.

Serve with celery sticks, crackers, tortilla chips, veggies, etc…
Notes
WW POINTS calculated with Low Fat Cream Cheese, Lite Ranch Dressing, and Fat Free Shredded Cheddar Cheese.
NET CARBS: 2 g
Nutrition Facts
BUFFALO CHICKEN DIP
Amount Per Serving (0.25 cup)
Calories 312
Calories from Fat 252
% Daily Value*
Fat 28g43%
Saturated Fat 12g60%
Cholesterol 79mg26%
Sodium 1262mg53%
Potassium 137mg4%
Carbohydrates 3g1%
Fiber 1g4%
Sugar 2g2%
Protein 13g26%
Vitamin A 644IU13%
Vitamin C 1mg1%
Calcium 183mg18%
Iron 1mg6%
* Percent Daily Values are based on a 2000 calorie diet.
Keywords: buffalo chicken dip, easy appetizer recipe, easy dip recipes, keto appetizers, low carb chicken, low carb sides
Want To Save This Recipe?
More Appetizer Ideas to Try