Pasta with Italian Sausage, Kale and Mushrooms
Easy30 minsVegetarian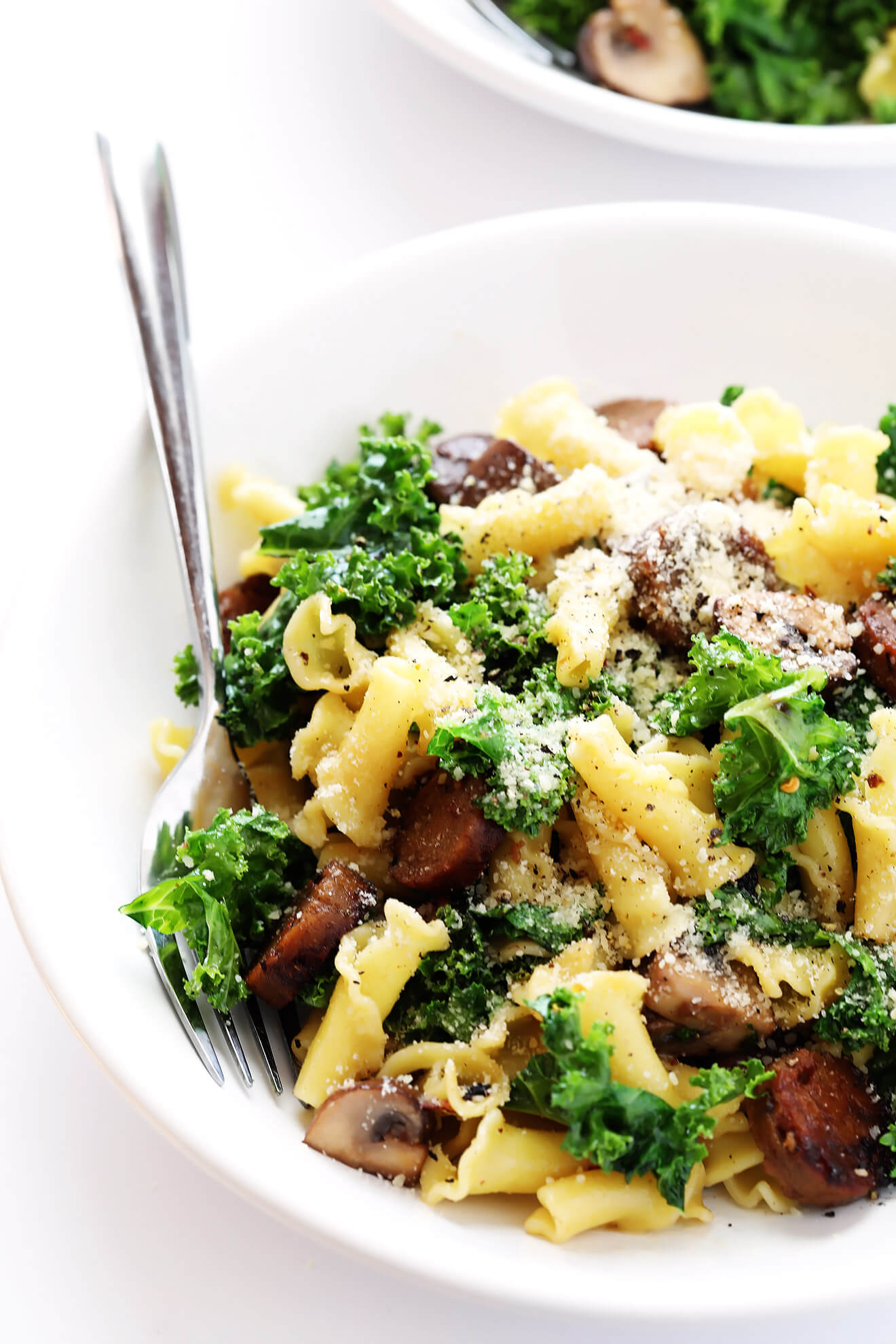 Pssssst psssst.
I have a fun little secret for you guys. This amazing pasta is actually…vegetarian! ?
Ok, well actually, it can be or it doesn't have to be. If you're a fan of traditional Italian sausage or chicken sausage, you can totally stick with that. But…as a new member of the My-Fiancé-Is-A-Vegetarian Club, I thought I'd let you guys in today on one of my favorite ingredients for plant-based cooking that my vegetarian and non-vegetarian friends alike all rave about. Like, truly. I've been swapping this stuff into recipes in place of traditional Italian sausage for years and years — especially when I know that we have vegetarians or vegans at a gathering — and everyone not only comments on the amazing flavor, but almost always asks for the brand and where they can find it. (Oh, and they rarely guess that it's meat-free.)
So if you're a vegetarian or vegan looking for a hearty, delicious, Italian sausage alternative — or, like me, just trying to eat less meat in general, or cooking for a vegetarian — I genuinely recommend tracking down a package to try.
It's called…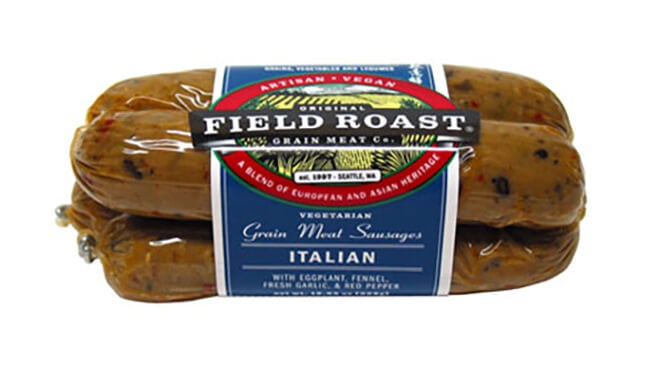 Have any of you guys tried it before?
I'll be the first to admit that I haven't been a fan of 95% of the meatless Italian "sausages" that I've tried over the years. (And believe me, I've tried quite a few, since I tend to get a little iffy about everything that goes into traditional sausages.) But some of my vegan friends in Kansas City introduced me to this brand about five years ago, back when they were available at Costco. And I immediately got hooked…and haven't looked back since. And now Barclay is totally hooked on them as well.
We love them because…
They're seriously tasty. Truly. The seasonings that they use are bold and savory and make just about any meal more delicious. Pro tip: Be sure to saute them until they're extra browned around the edges. Then the flavor will intensify, and you'll get that awesome crispy texture on the outsides.
They're made with ingredients I feel good about: Vital wheat gluten, filtered water, expeller pressed safflower oil, red wine, eggplant, onions, naturally flavored yeast extract, garlic, barley malt, dried red bell pepper, fennel seed, granulated garlic, spices and sea salt…to be exact. (Eggplant for the win!)
They're easy to store in the freezer for weeks and weeks. I always keep a batch on hand.
They're available at most grocery stores now. You can check here for stores that carry it in your area, or order in bulk on Amazon.
They're 100% meat-free! Perfect for meals with this vegetarian fiancé of mine, who actually loves and misses the taste of meat, but chooses to eat vegetarian for personal ethical reasons.
(Oh, and just to be clear, this isn't a sponsored post at all. Just a friendly PSA from your food blogger, who genuinely recommends the stuff. ?)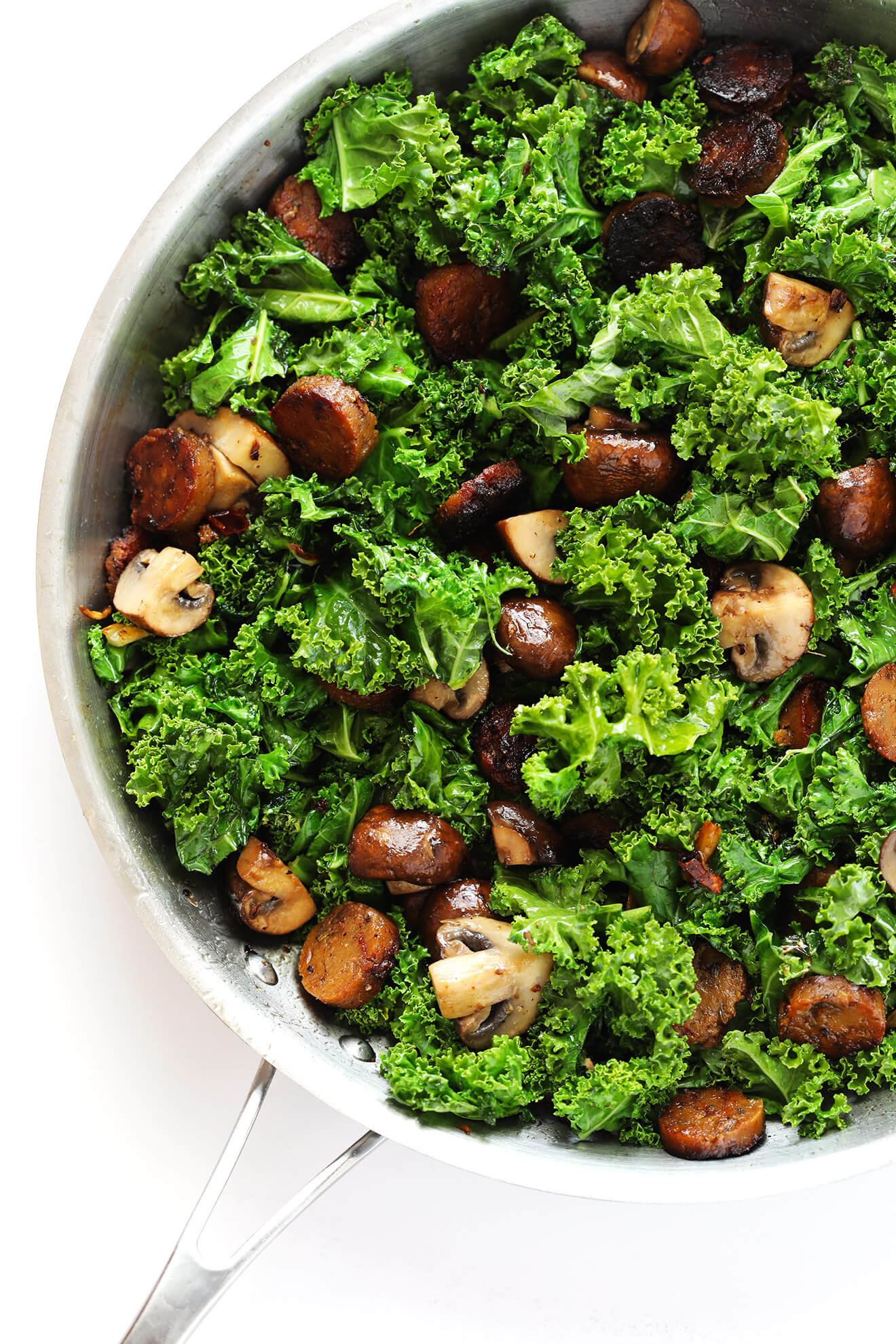 Anyway, we use Field Roast to make a simple pasta or stir-fry at least once or twice a month, usually just adding in whatever leftover ingredients I have on hand. But today's recipe is one of our favorites — Pasta with Italian Sausage, Kale (or some sort of greens), Mushrooms (or whatever other veggies are around), with lots and lots of garlic and Parmesan.
Just cook the pasta according to package instructions. Meanwhile, sauté the Italian sausage until it's nice and browned and crispy. Then transfer it to a separate plate, and sauté the mushrooms and kale until they're softened and cooked through. Add lots and lots of fragrant garlic. Maybe a splash of white wine. And then…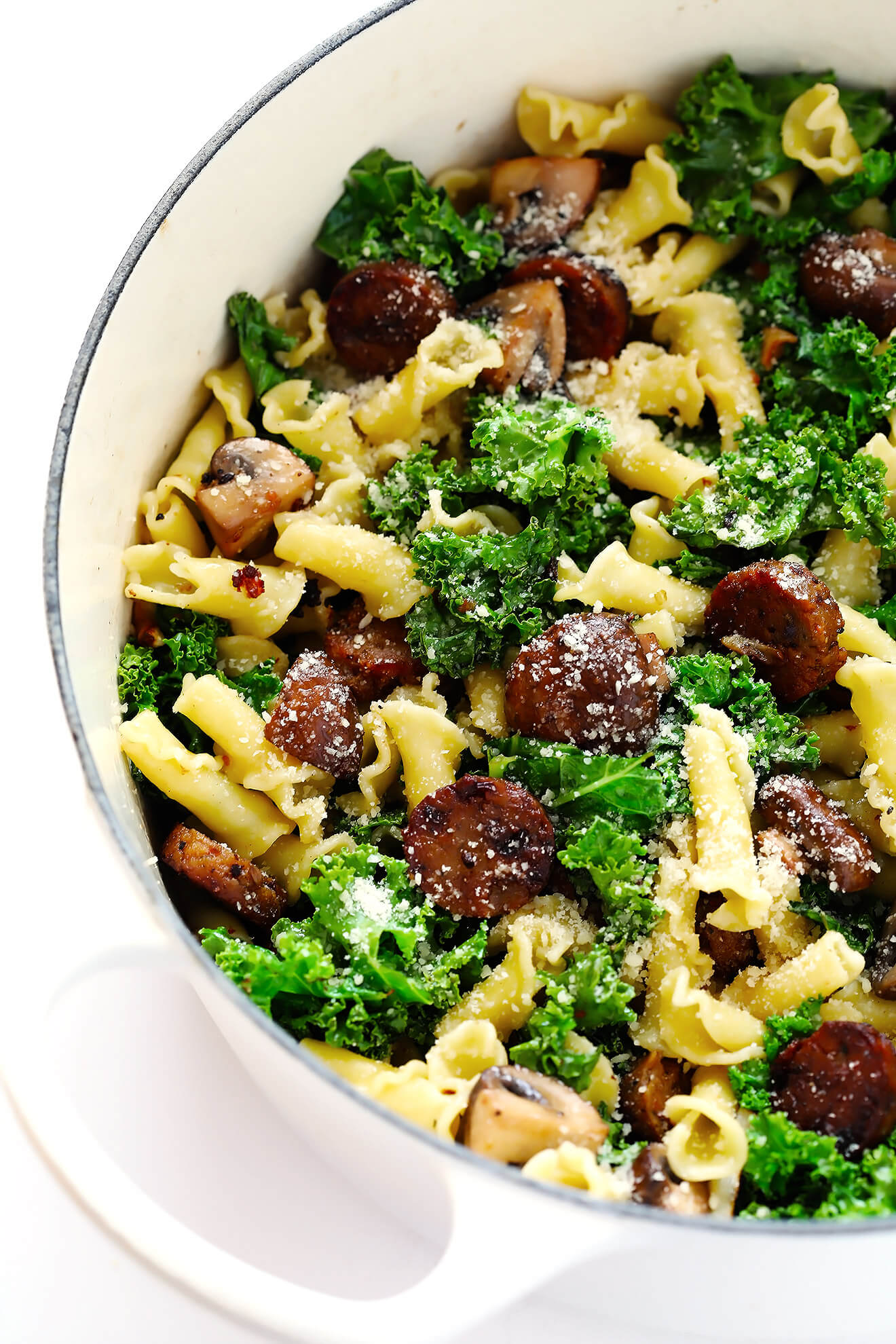 …voila! A huge and delicious pot of pasta will be yours to enjoy!!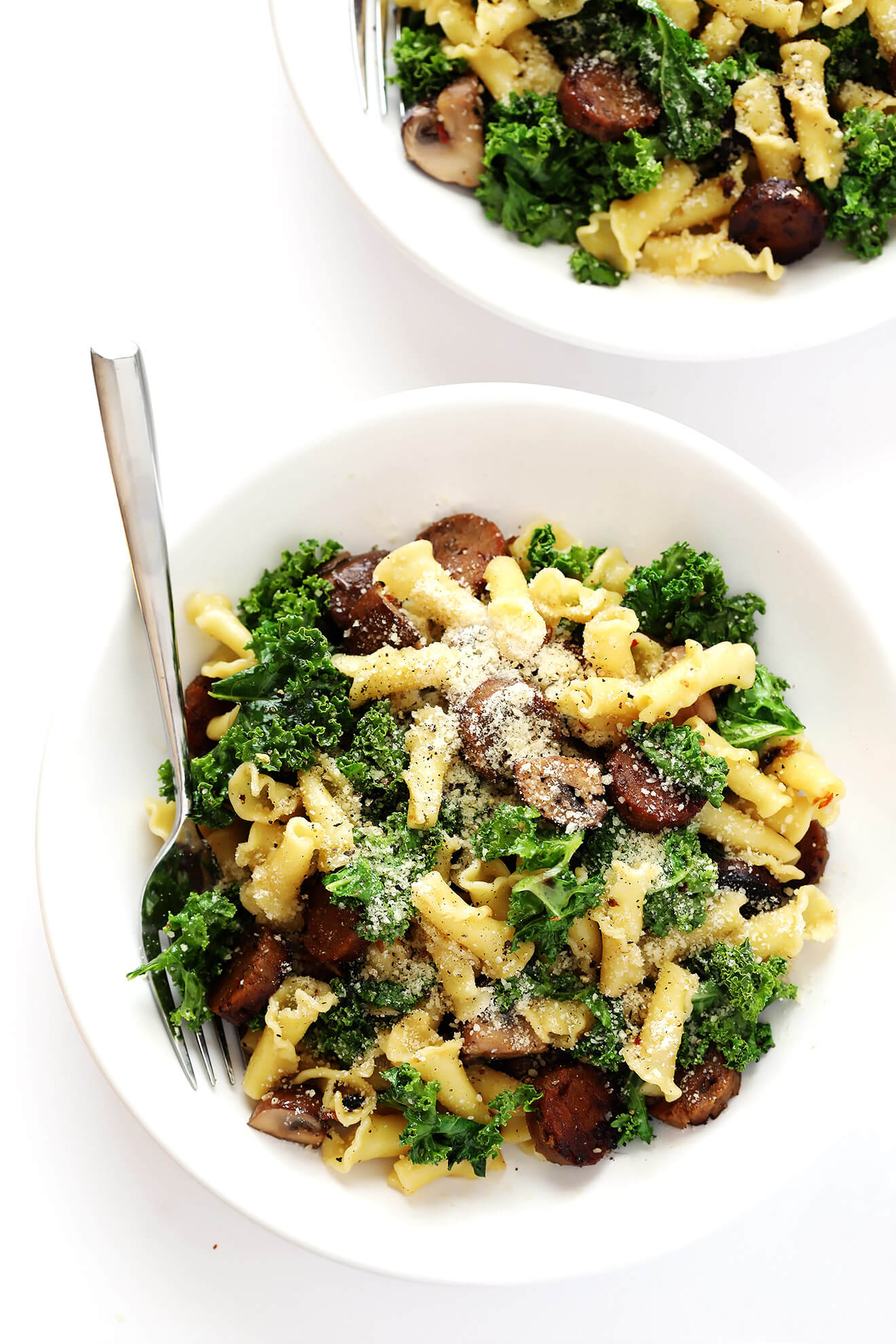 Again, feel totally free to stick with traditional Italian sausage if that's your thing. But as someone who's trying to eat less and less meat — and now has extra motivation to do so cooking for this handsome vegetarian all of the time — I just wanted you to know about this product! And this awesome pasta recipe. 😉
Enjoy, friends!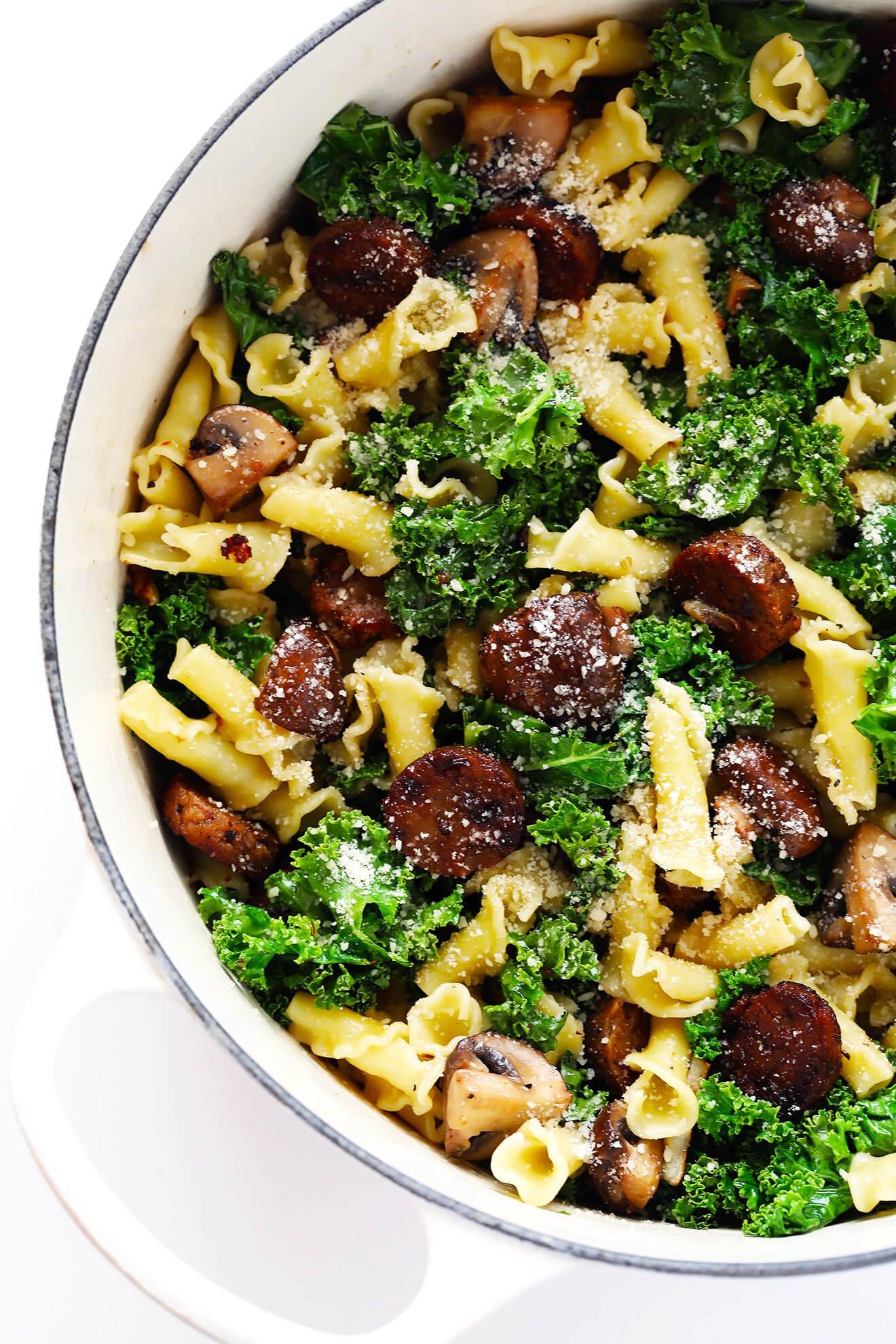 Yield: 6-8 servings
Pasta with Italian Sausage, Kale and Mushrooms
This delicious Pasta with Italian Sausage, Kale and Mushrooms is full of big savory flavors, it's easy to prepare, and can be made vegetarian if you'd like!
Ingredients:
1 pound uncooked pasta (I used campanelle)
3 tablespoons extra-virgin olive oil, divided
1 pound Italian sausage (traditional, chicken or Field Roast*), sliced into rounds or crumbled
salt and pepper
1 pound (16 ounces) baby bella or white button mushrooms, quartered
1 bunch fresh kale, roughly chopped (coarse stems removed)
8 cloves garlic, peeled and thinly-sliced (or minced)
1/3 cup dry white wine**
pinch of crushed red pepper flakes
lots and lots of Parmesan cheese
Directions:
Cook pasta in a large stock pot of generously-salted boiling water al dente according to package instructions. Then reserve about 1/4 cup of pasta water on the side for later. Drain the pasta, and set it aside.
Meanwhile, as the pasta water is heating and the pasta is cooking, heat

1 tablespoon

oil in a large sauté pan over medium-high heat. Add the Italian sausage and sauté, flipping and stirring occasionally, until the sausage is browned and crispy on both sides. Transfer the sausage to a separate plate with a slotted spoon, and set aside.
Add the remaining

2 tablespoons

oil to the pan (or add less oil if you're using traditional sausage that left behind grease after cooking), and add the mushrooms. Sauté for 3 minutes, stirring occasionally, until browned. Then add in the kale and garlic, and sauté for 3-4 minutes more, stirring occasionally, until the garlic is fragrant and the kale is softened. Add in the white wine and crushed red pepper flakes, and stir to combine. Simmer for 1 minute.
Combine the cooked pasta with the mushroom mixture and sausage, and toss to combine. Stir in some of the reserved pasta water if you'd like a slightly more saucy pasta.
Serve immediately, garnished with lots of Parmesan cheese.

Difficulty: Easy
Category: Vegetarian

If you make this recipe, be sure to snap a photo and hashtag it #gimmesomeoven. I'd love to see what you cook!