You only need 3 ingredients and a few minutes to make these delicious Rolo Pretzels, a favorite sweet and salty holiday treat!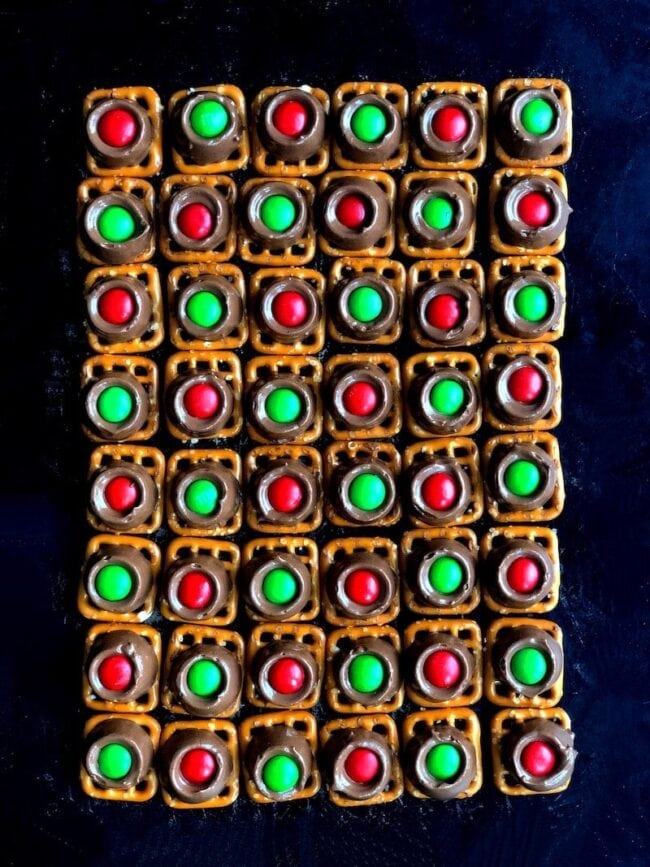 Rolo Pretzels
If you are looking for an EASY treat, you are in the right place because these Rolo Pretzels are beyond easy! I think the hardest part is unwrapping all of the Rolo candies, ha!
We have a few family Christmas traditions: cinnamon rolls, lots of cookies, and Rolo Pretzels. They are a MUST make for Christmas. They are a great addition to any cookie platter or plate and everyone loves them!
The chocolate caramel candy melts onto a salty pretzel, creating a fun sweet and salty treat! Top with a M&M and you have a festive treat in a matter of minutes.
Rolo Pretzel Ingredients
You only need three ingredients to make Rolo Pretzels. I told you this recipe was easy! I like to make 40 Rolo pretzels but you can make fewer or more! Just make sure you have enough ingredients!
Rolos-chocolate candies filled with caramel. You can find Rolos at almost any grocery store. Look in the candy aisle.
Pretzels-you can use mini pretzels or small square pretzels. Both work well. If you need the recipe to be gluten-free, you can even use gluten-free pretzels.
M&M's-colorful M&M's are the perfect topping for the Rolo pretzels.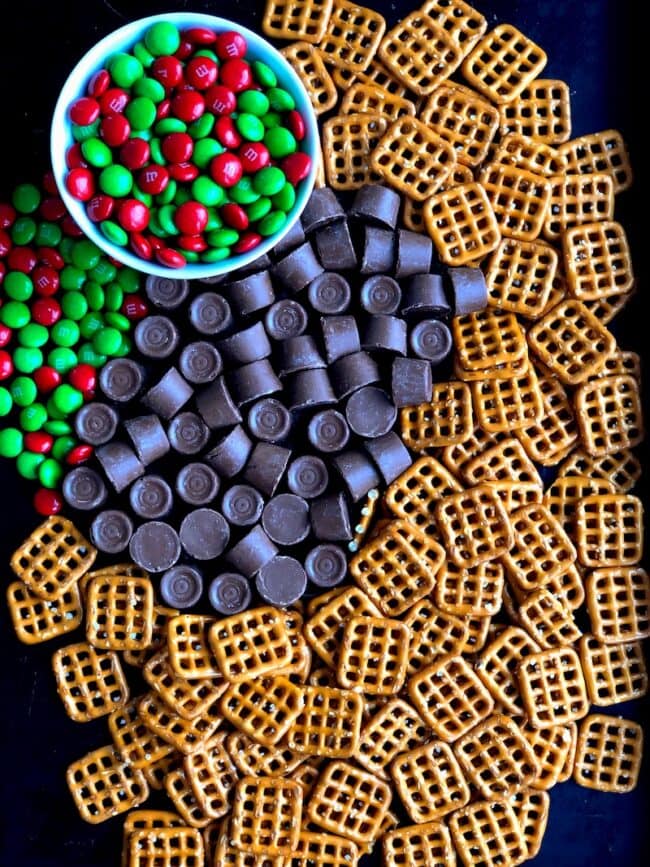 How to Make Rolo Pretzels
Preheat oven to 350 degrees F.
Unwrap the foil paper from the Rolos. This is a good job for the kids!
Place the pretzels in a single layer on a large baking sheet. Place one Rolo on top of each pretzel.
Carefully transfer the baking sheet to the oven and bake for 3 minutes or until the Rolo candies have just started to melt. Don't go far! It doesn't take the chocolate long to melt.
Remove the baking sheet from the oven and gently press one M&M on top of each Rolo. If you want to make Rolo pretzel turtles, you can use a pecan.
Let the Rolo pretzels set up until the chocolate is firm. If you want to hurry the process along you can put the baking sheet in the freezer.
The Rolo pretzels will keep in an airtight container on the counter for one week.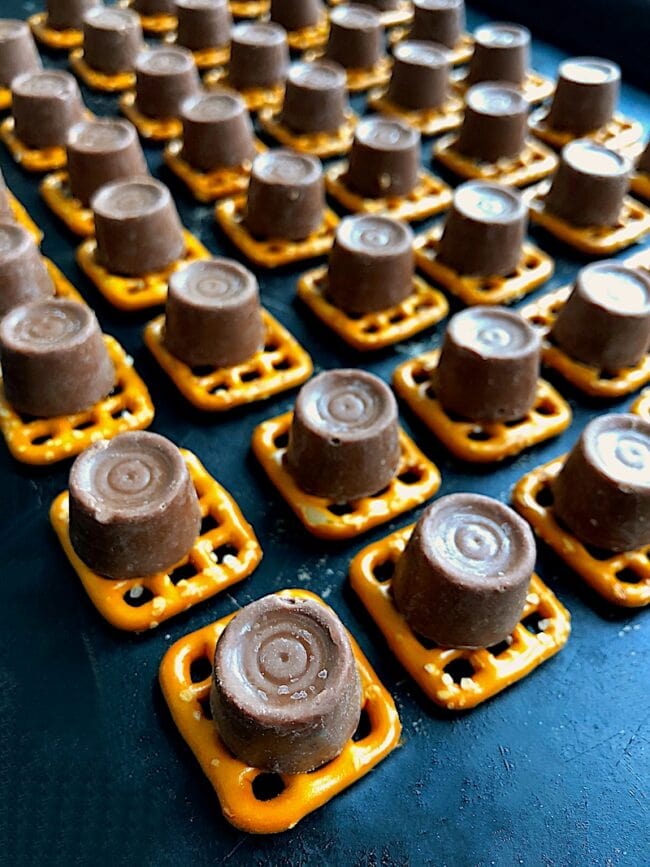 Rolo Pretzel Variations
I like to top Rolo Pretzels with M&M's. At Christmas time, I reach for red and green M&M's, but feel free to mix up the colors for any holiday or celebration. You can also mix up the M&M flavors. Rolo pretzels are great with the following M&M's candies:
Plain
Peanut
Peanut Butter
Caramel
Pretzel
Peppermint
Dark chocolate
If you don't want to use M&M's, you can top the Rolo pretzels with pecan halves. The Rolo pretzels will look like the classic turtle candy.
Rolo Pretzels are fun to make and eat. Kids and adults will go crazy for this sweet and salty treat. Add them to your holiday treat list NOW!
More Easy Christmas Treat Recipes:
40

Mini Pretzels or Square Pretzels

40

Rolo candies

40

M&M's or pecans
Store Rolo Pretzels in an airtight container on the counter for up to one week.
Nutrition Facts
Rolo Pretzels
Amount Per Serving
Calories 37 Calories from Fat 18
% Daily Value*
Fat 2g3%
Saturated Fat 1g5%
Cholesterol 1mg0%
Sodium 25mg1%
Potassium 13mg0%
Carbohydrates 6g2%
Fiber 1g4%
Sugar 4g4%
Protein 1g2%
Vitamin A 10IU0%
Vitamin C 1mg1%
Calcium 10mg1%
Iron 1mg6%
* Percent Daily Values are based on a 2000 calorie diet.