Big, chewy monster cookies full of peanut butter, oats, chocolate chips and colorful candies with a surprise stuffed inside!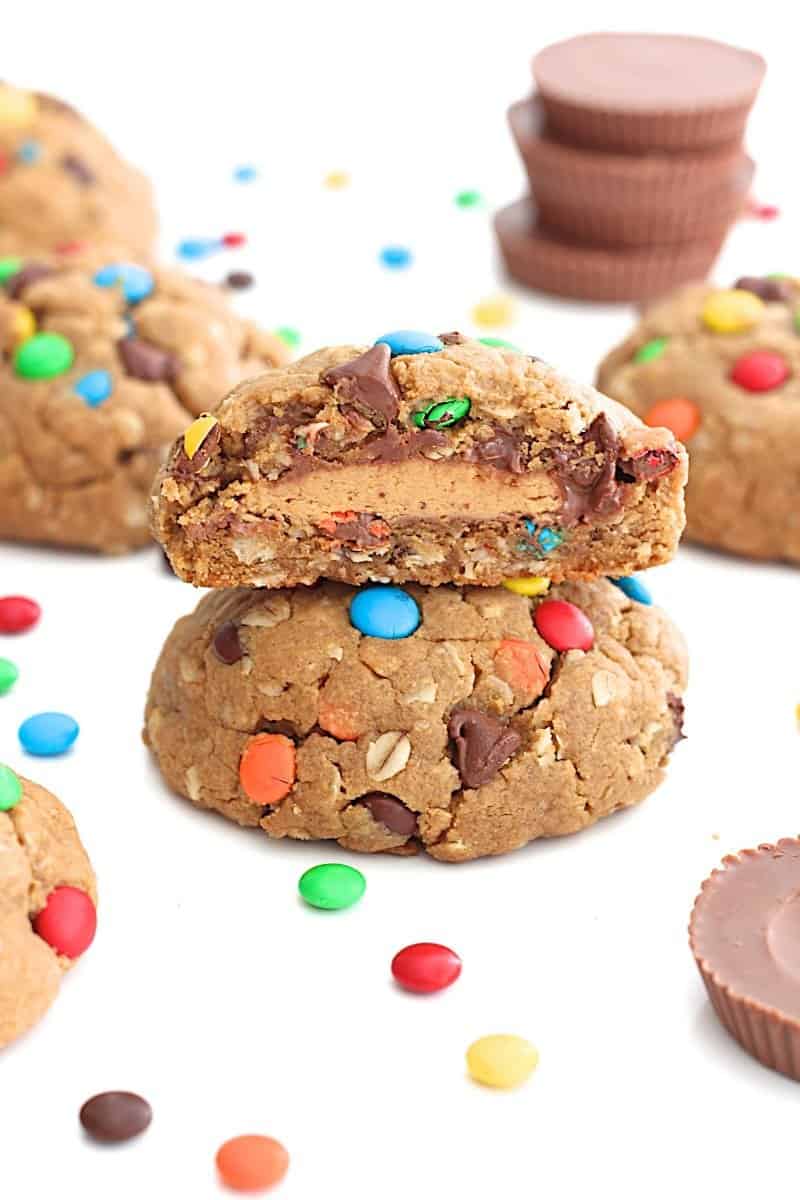 I was going to start by saying how Halloween is around the corner and these cookies would be so great to make with all that yummy candy you and your kiddos are soon to collect, but let's be real, these cookies have the kind of candy in them that we collect (from the store, that is!) year round. No need to wait for trick-or-treating to enjoy peanut butter cups and colorful chocolate candies in this house!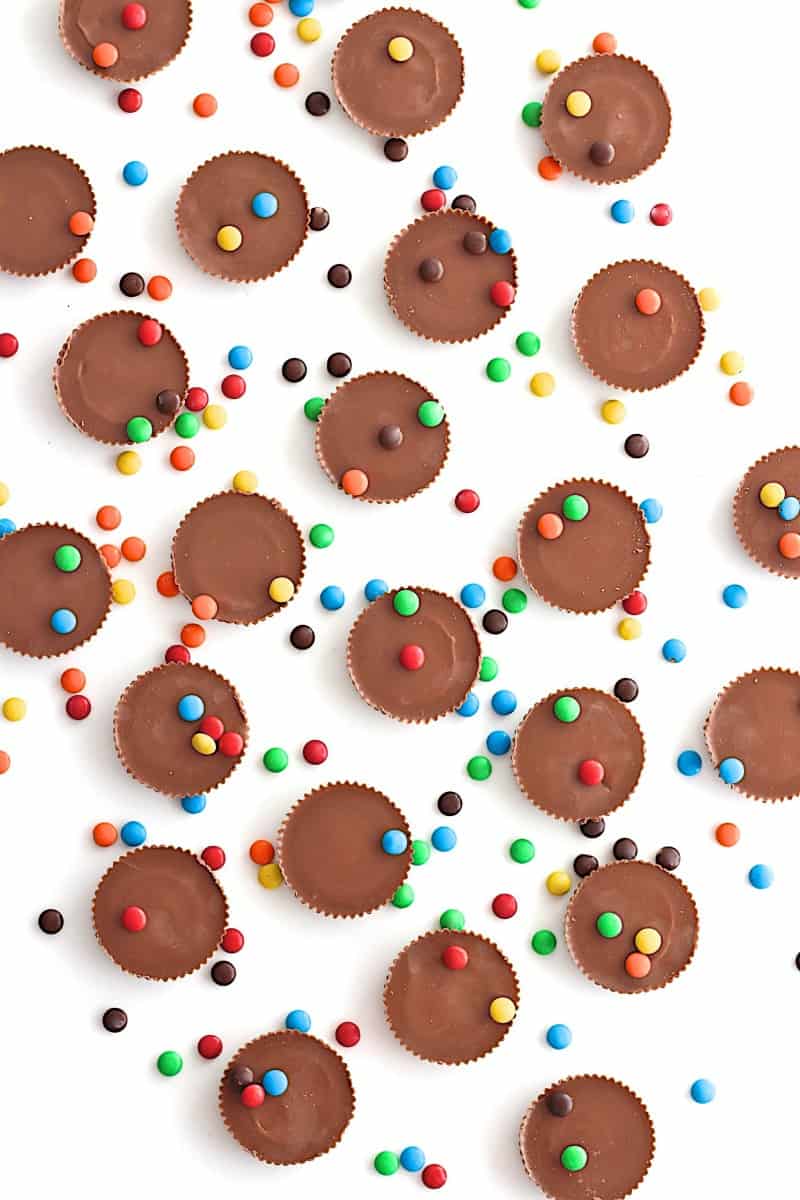 We always have a stash of peanut butter cups and colorful chocolate candies in the pantry to satisfy those chocolate candy cravings. And I love baking with them too!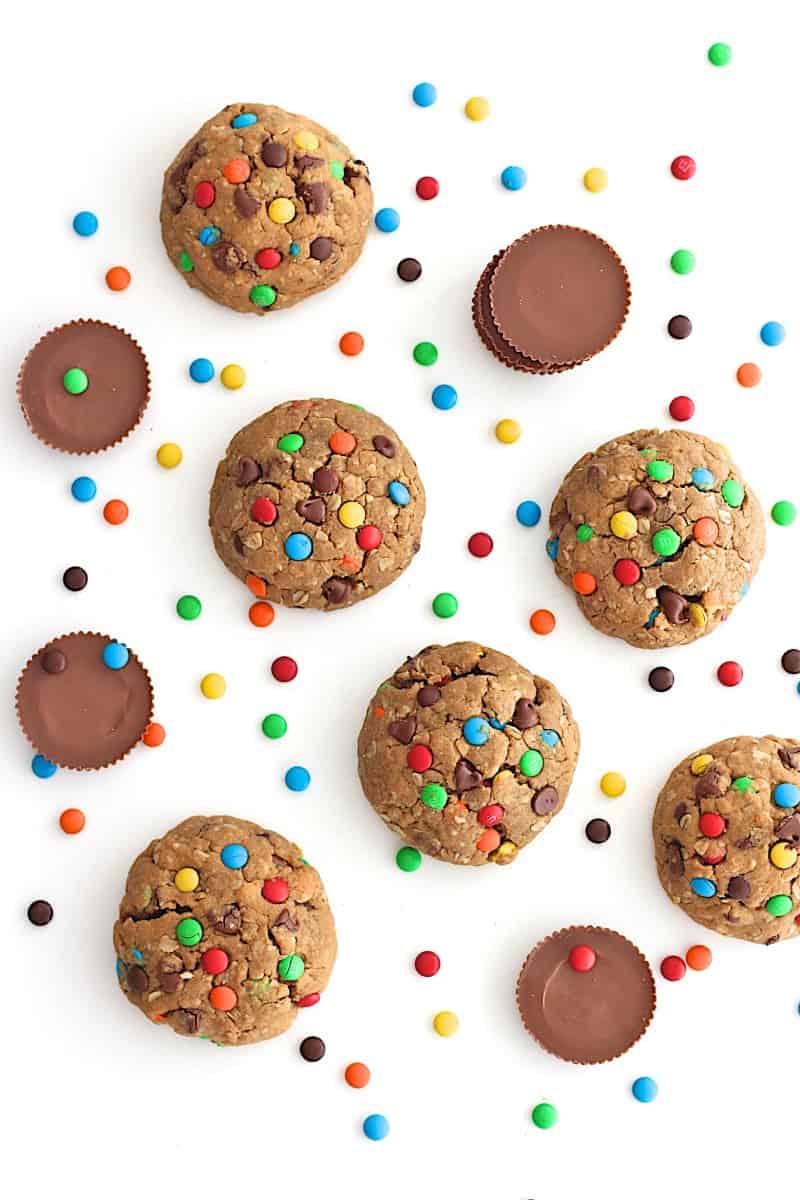 Monster cookies are our favorite so when I got the idea to stuff them with peanut butter cups, there was no going back. I was going to make these cookies happen or else and "OH MY YUM, Y'ALL!" they turned out "AMAZING!".
I'm not surprised…we're talking a loaded peanut butter oatmeal cookie stuffed with a peanut butter cup. An idea that was destined to be delicious!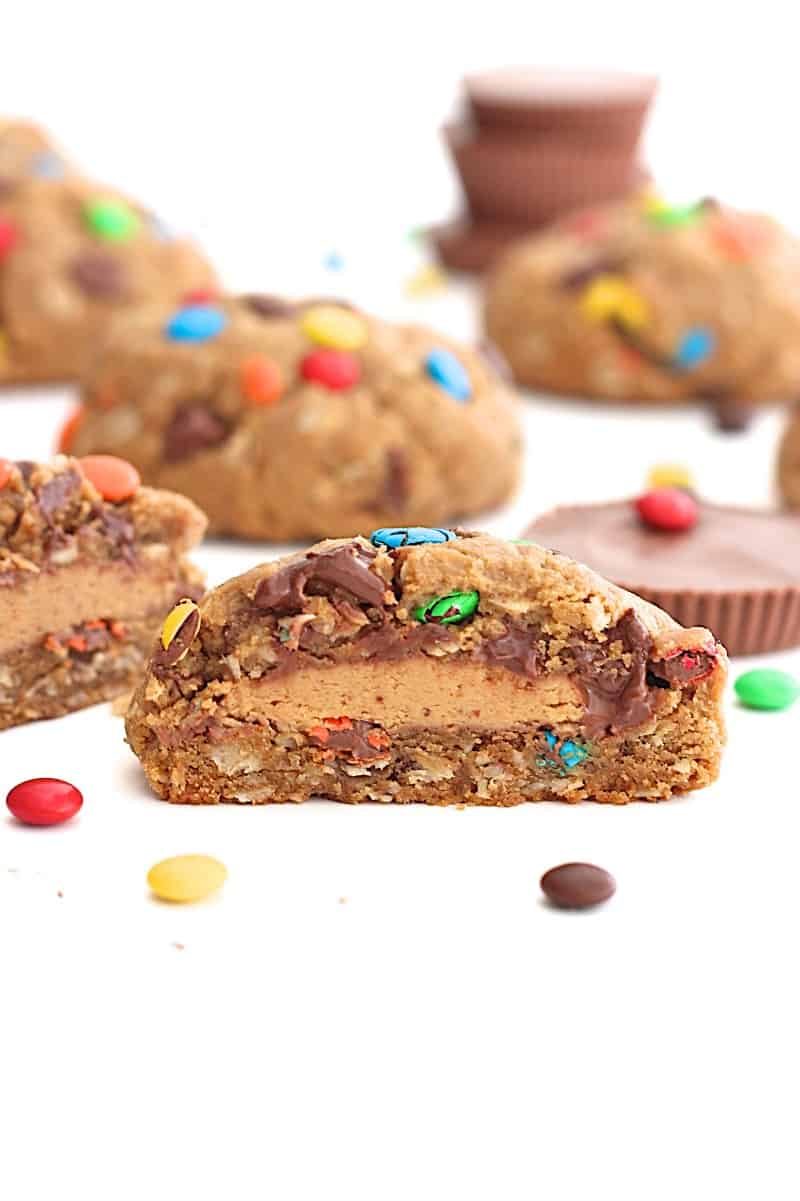 The boys crack me up every time we bake monster cookies because they want to know why the cookies don't look like monsters?! Haha! Great question, guys! I have to explain to them that they're called monster cookies because they're a monster of a cookie. They're big and they're loaded with lots of yummy ingredients.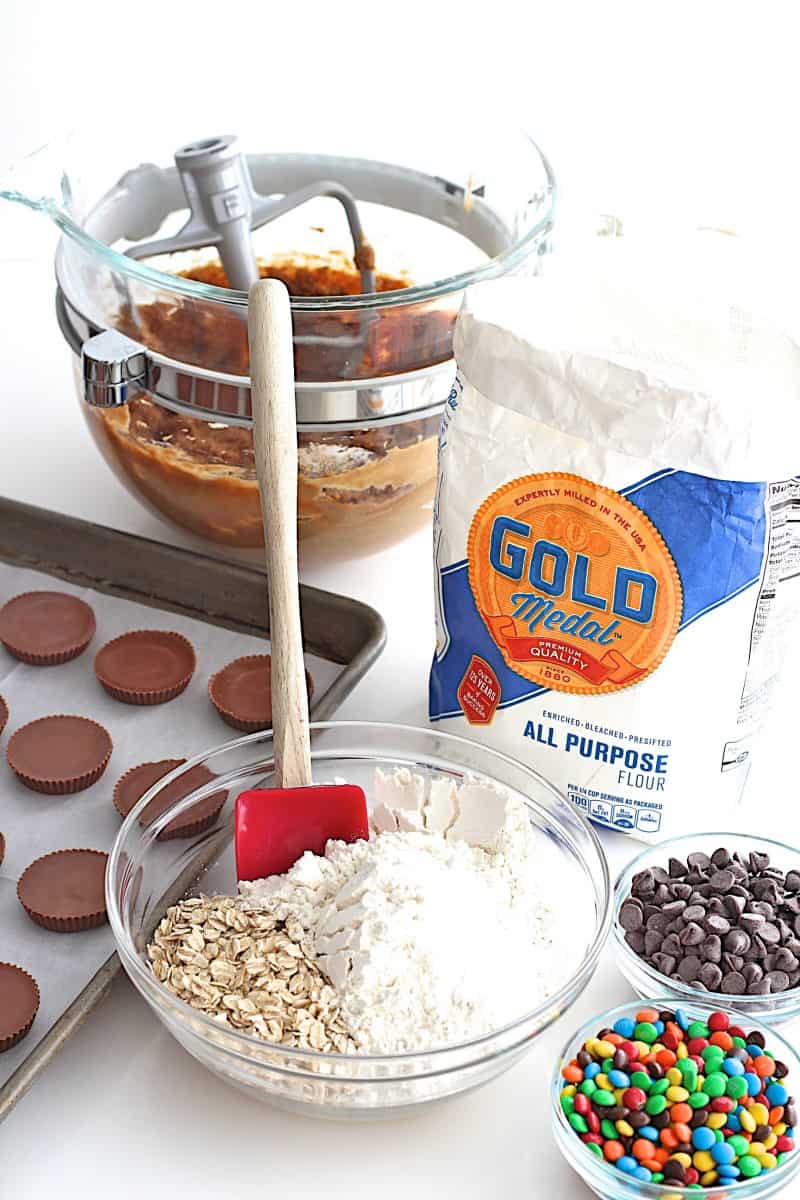 The dough comes together quickly and then it's just the process of filling it with a peanut butter cup before baking. All you have to do is flatten out two pieces of dough, place a peanut butter cup in the middle of one disc, top with the other disc and then mold the dough around the peanut butter cup until the edges are sealed and the peanut butter cup is completely enclosed in the dough.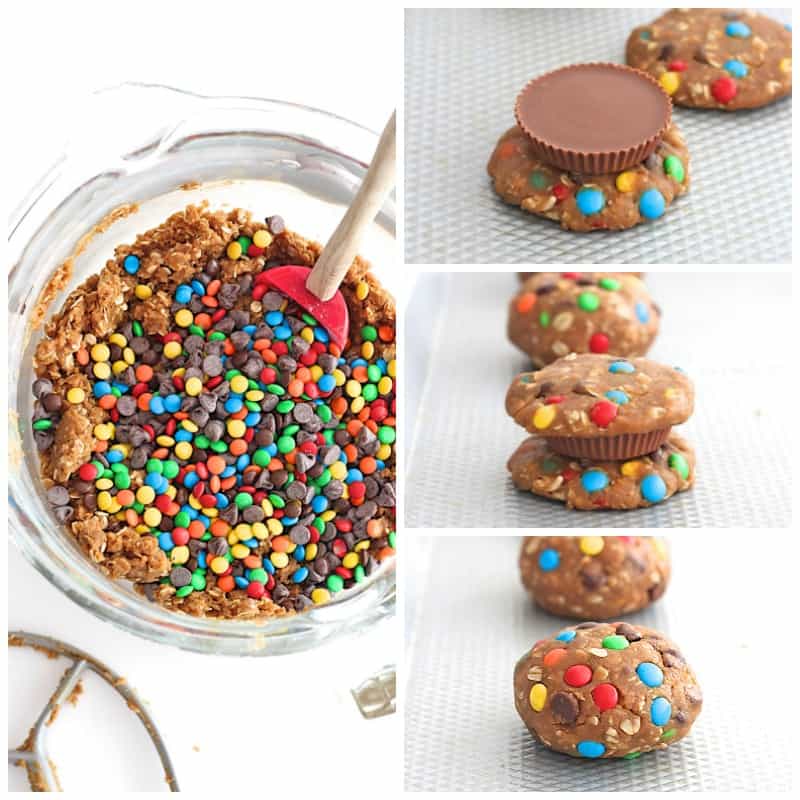 They're quick to bake and then it's best to let them cool on the pan for about 15 minutes before biting in!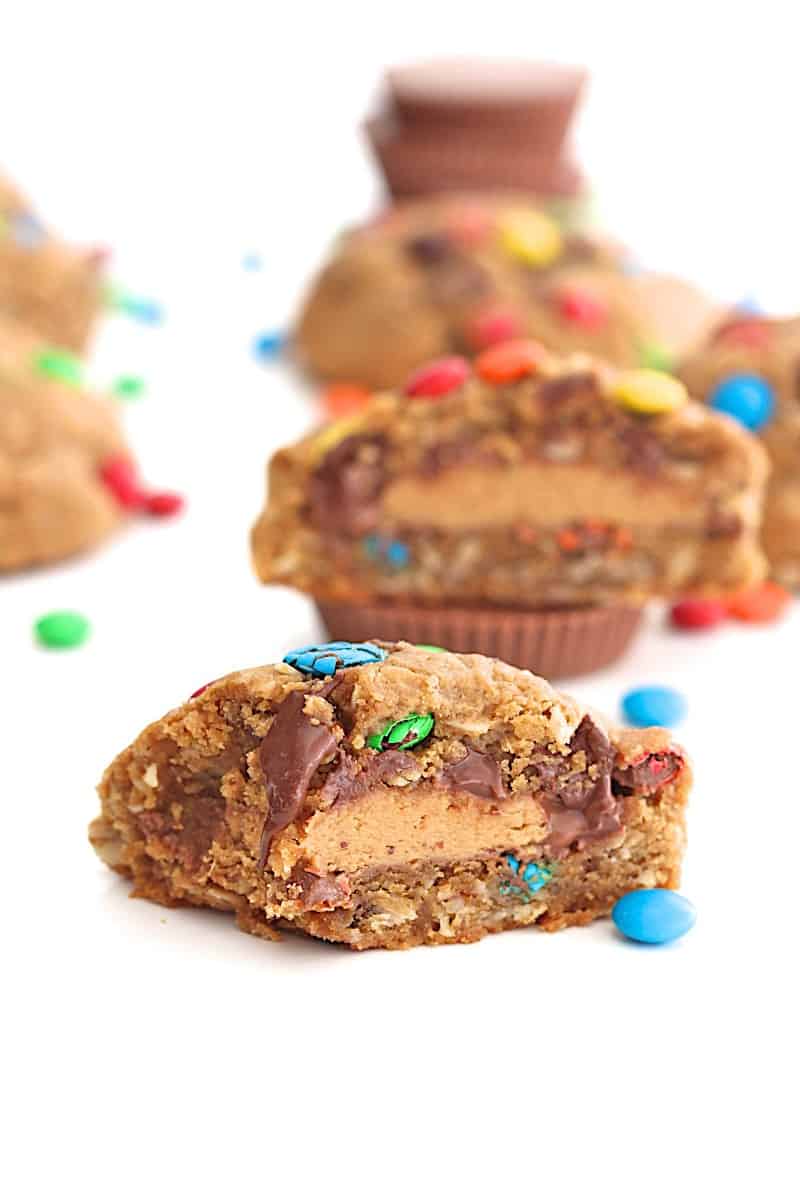 A dream cookie indeed for any chocolate and peanut butter combo lover out there!
The enjoyment of these cookies is off the charts. You see these big monster cookies and are already super excited to get your hands on one. Then you bite into the chewy, peanut butter packed, oat-ful, candy & chocolate chip loaded cookie only to sink your teeth into a soft chocolate peanut butter cup. A cookie experience like none other!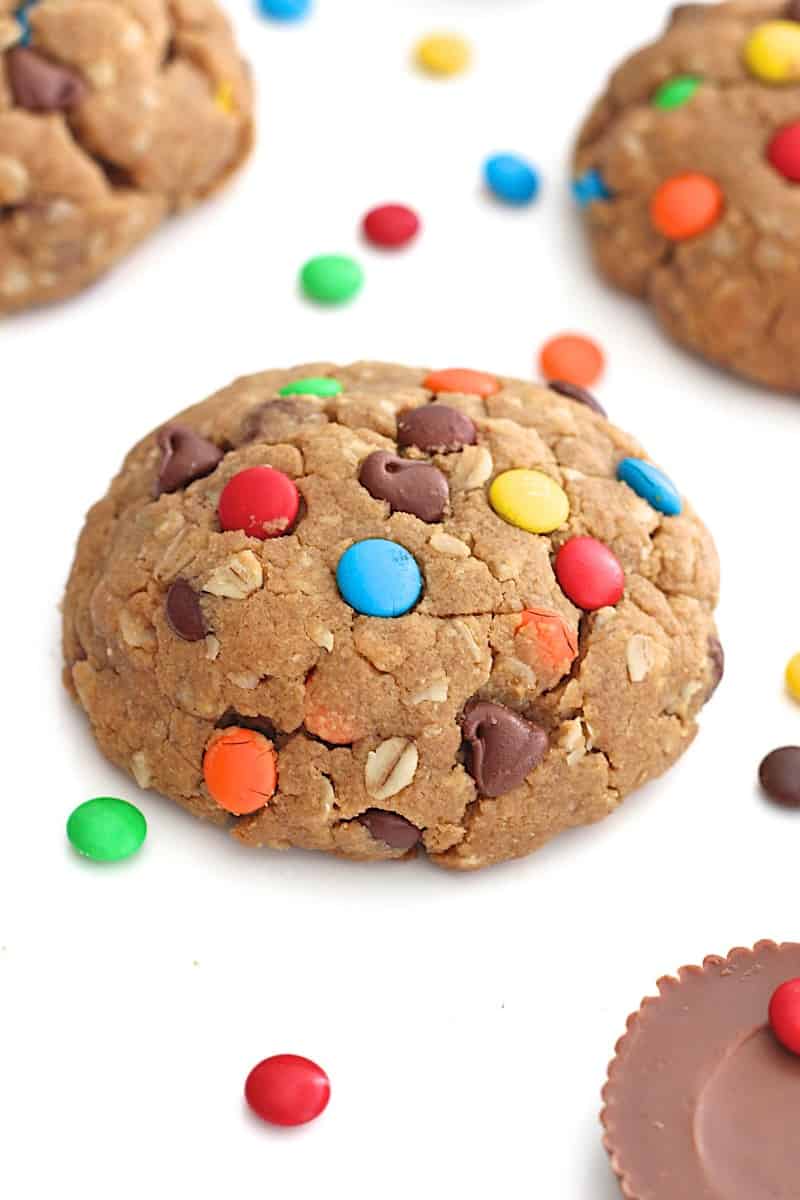 You're welcome! ;)) Happy baking and cookie enjoying!
xoxo,
Maegan
This recipe was created as part of my partnership with Gold Medal Flour however thoughts and opinions are certainly my own!
Peanut Butter Cup Stuffed Monster Cookies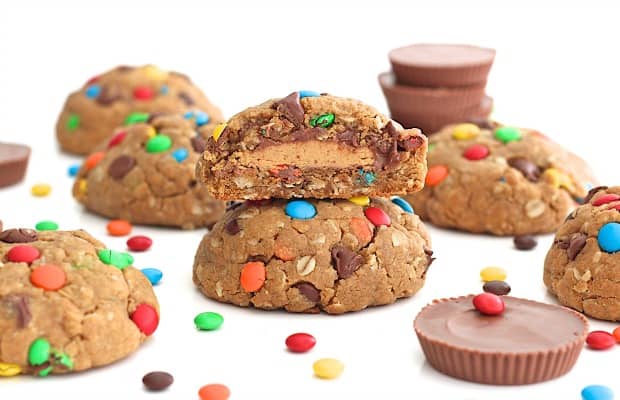 Author: Maegan – The BakerMama
Recipe type: Dessert
1 cup Gold Medal™ all-purpose flour
1-1/4 cups old-fashioned rolled oats
2 teaspoons baking soda
¼ teaspoon kosher salt
½ cup (1 stick) unsalted butter, softened
1-1/2 cups creamy peanut butter
1 cup light brown sugar
2 large eggs
1 teaspoon vanilla
¾ cup chocolate chips
1 cup mini colorful button-shaped chocolate candies
18 snack-size milk chocolate peanut butter cups
Preheat oven to 350°F. Line baking sheets with parchment paper or spray with non-stick cooking spray.
In a medium bowl, whisk together the flour, oats, baking soda and salt. In the bowl of an electric mixer, beat the butter, peanut butter and brown sugar until smooth. Add the eggs, one at a time, and beat until well combined. Beat in the vanilla. Add the dry ingredients to the mixer and beat until just combined. Stir in the chocolate chips and mini colorful candies.
Using a two-tablespoon cookie scoop to measure out dough, flatten out two equal scoops of cookie dough into round discs. Place a peanut butter cup in the middle of one disc and top with the other disc. Use your hands to mold the dough around the peanut butter cup until edges are sealed and peanut butter cup is completely enclosed in dough. Repeat with each cookie until all dough is used.
Place a few inches apart on prepared baking sheets. Press a few additional colorful candies and chocolate chips into the top of each cookie, if desired. Flatten each cookie slightly with the palm of your hand.
Bake for 8-10 minutes or until golden brown. Let cookies cool on baking sheets for at least 15 minutes before transferring to a wire rack to cool completely.
3.5.3208