These flavor-packed, pull-apart Philly Cheesesteak Sliders are the best finger food for parties! Juicy beef slices mingle with tender sautéed peppers and onions, topped with two types of melty cheese on a soft and fluffy bun. You can't beat this easy dinner idea or appetizer!
Make sure to try my Cheeseburger Sliders too! They are a HUGE reader favorite!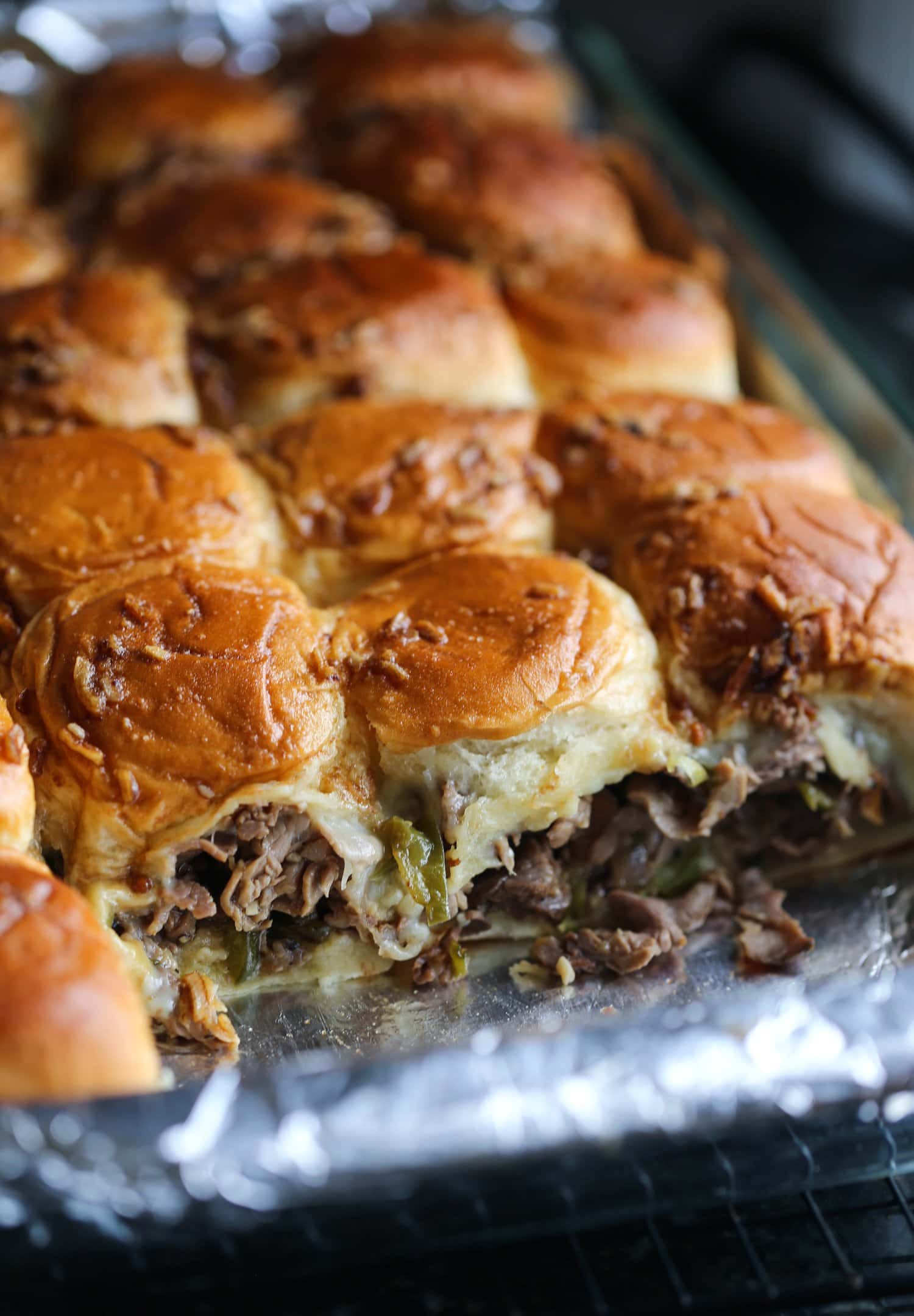 The Best Philly Cheesesteak Recipe
Today's recipe is one of my favorite recipes to make for parties, or even as an easy dinner idea! From game day to potlucks, even family get-togethers. I struggle to find an occasion that doesn't warrant these easy, cheesy Philly Cheesesteak sliders! I keep it easy using deli roast beef and add it to some tender-crisp peppers, sweet caramelized onions, and two types of cheese come together in this flavor packed sliders recipe.
To top it all off, this Philly cheesesteak recipe is made all together, pull-apart-style on slider rolls in a baking dish. That's two dozen awesome sandwiches in the time it would take to make one! Also are they "Philly cheesesteaks" or just "cheesesteaks"? It's a running debate in our house!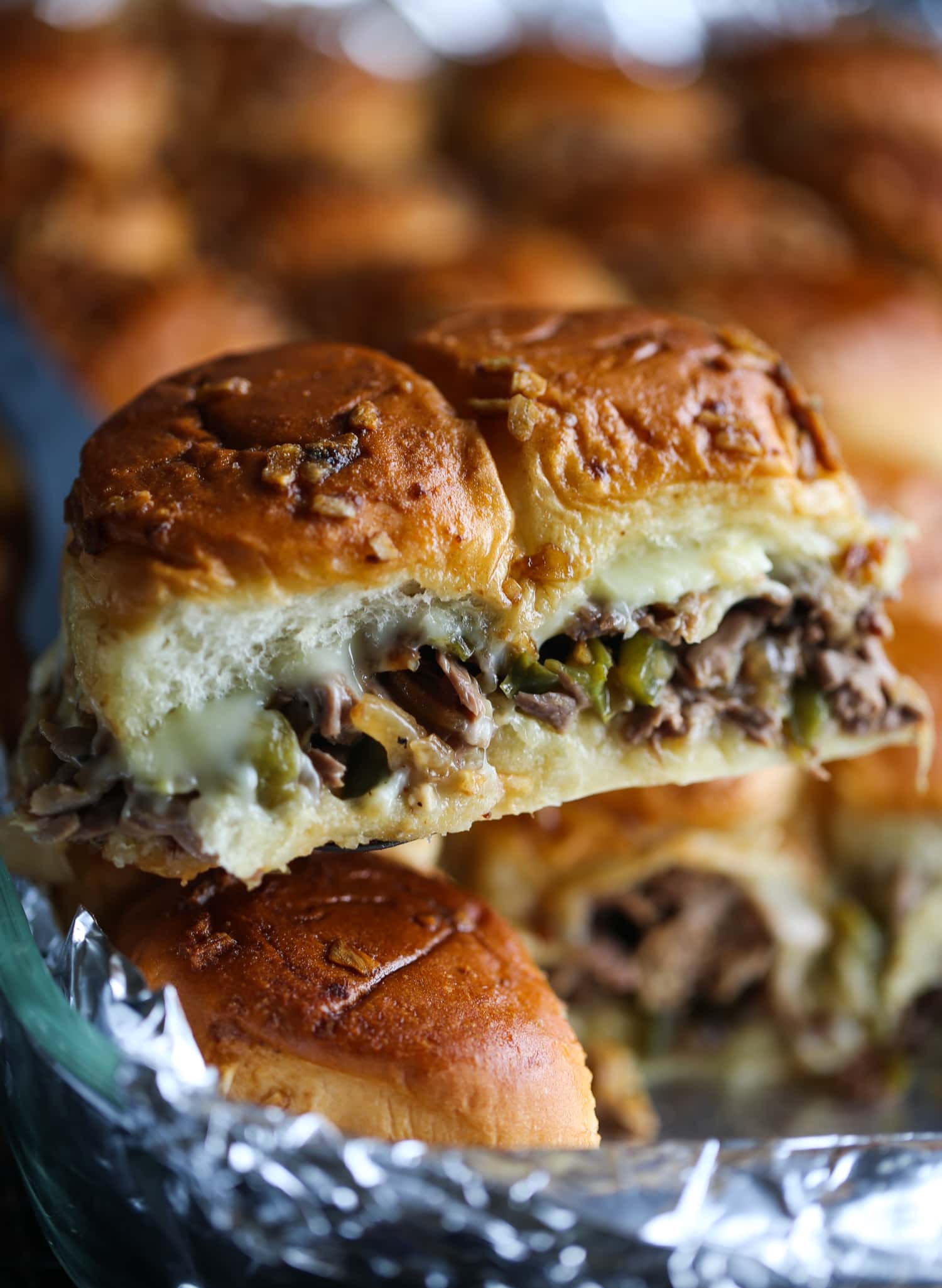 What is a Philly Cheesesteak?
If you're from the States (and even if you've never visited Philadelphia), chances are you've at least heard of a Philly cheesesteak. But in case you missed it, a Philly cheesesteak is a famous sandwich made with tender-cooked ribeye topped with American cheese, and served on a roll. Variations include caramelized onions and peppers, and provolone cheese. This iconic sandwich is a staple of Philly eateries. If you're not one for missing out, these easy homemade cheesesteak sliders are just what you need at your next get-together!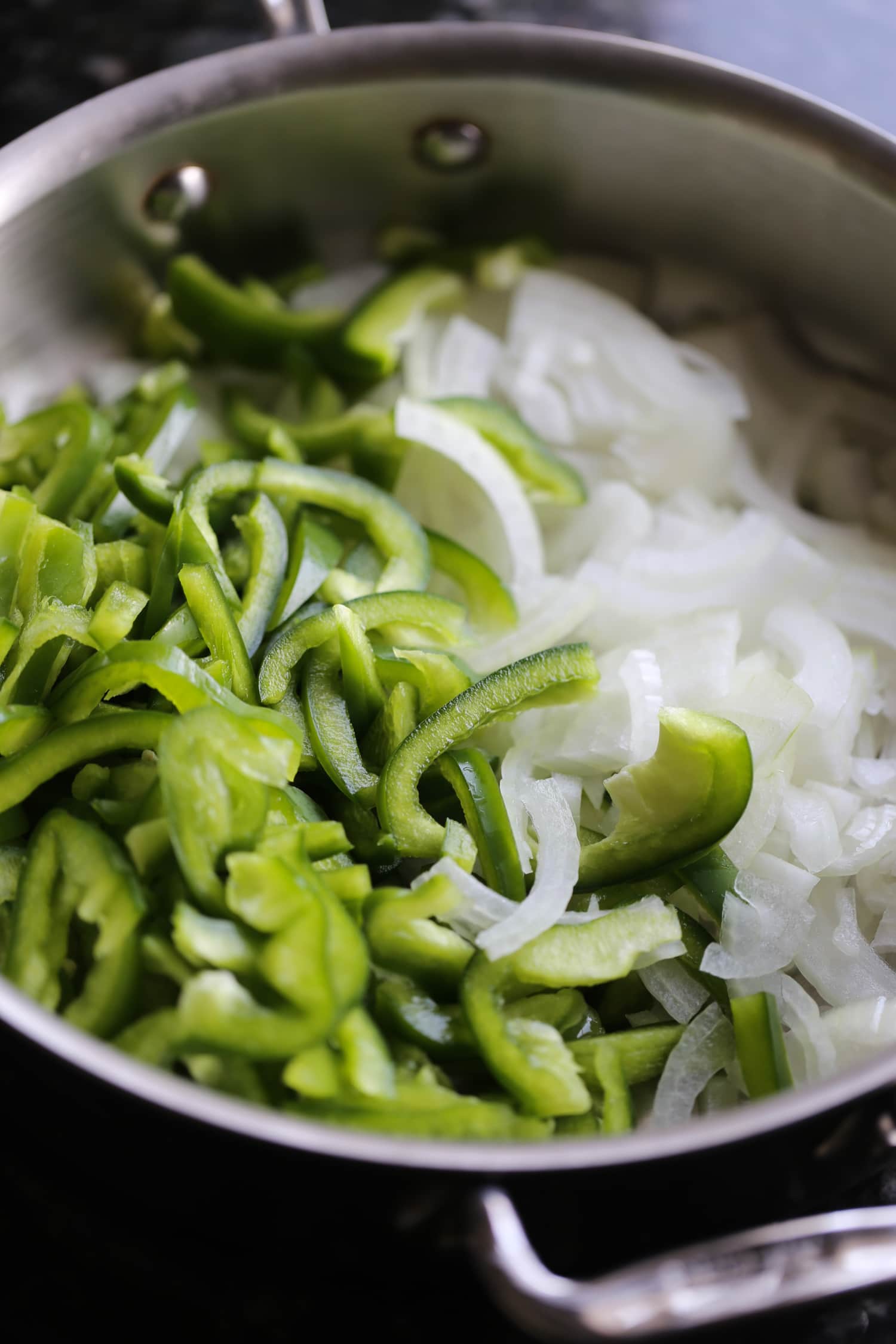 Ingredients You'll Need
Slider Rolls: Regular slider buns or Hawaiian rolls.
Sweet Onion: I use Vidalia onion. Another sweet and mild onion, like white onion, will also work.
Green Bell Peppers: I love the slight crispiness of sauteed green peppers in my sliders. If you're not a pepper fan, feel free to leave it out.
Garlic: Fresh cloves, minced.
Onion Soup Mix: A shortcut to loads of flavor! All you need is a couple of packages of your favorite dry soup mix.
Roast Beef: I'm all about food hacks when it comes to party food, so I make these cheesesteaks with deli roast beef, sliced into strips. See more suggestions for what beef to use below!
Cheese: I use a combination of white American cheese and deli provolone slices. The melt factor is just next level!
Worcestershire Sauce: For a hint of umami flavor. It really makes a difference!
Olive Oil
Butter
Salt & Pepper
What Kind of Steak Should I Use?
If you're going the traditional route, a Philly cheesesteak is made with shaved or thinly sliced ribeye steak, or a similar option like NY strip or skirt steak. Some grocery stores will carry steak that's pre-cut into thin slices, which is helpful. I take a bit of a shortcut and use roast beef from the deli section! The flavor is still amazing, and it's easy to come by.