This Pineapple Banana Bread is a fun twist on a classic! It's ultra moist and the pineapple and banana flavors mix perfectly together for a tropical spin on a classic banana bread recipe with no mixer needed!

You all know how much I love banana bread. It's just one of those great recipes that is easy, that everyone loves, and can be transformed into so many different flavor versions the possibilities seem endless! I'll tell you, I've made quite a few recipes here on my site, and they are all different, unique, and most importantly delicious! I actually am not a huge banana fan…I don't eat them raw at all, and don't even get me started on banana flavored candy. There is a special place in the depths of purgatory for the inventor of that tragic trend. But in bread? Yes please sign me up times 100.
Looking for More Banana Bread Recipes? Try These: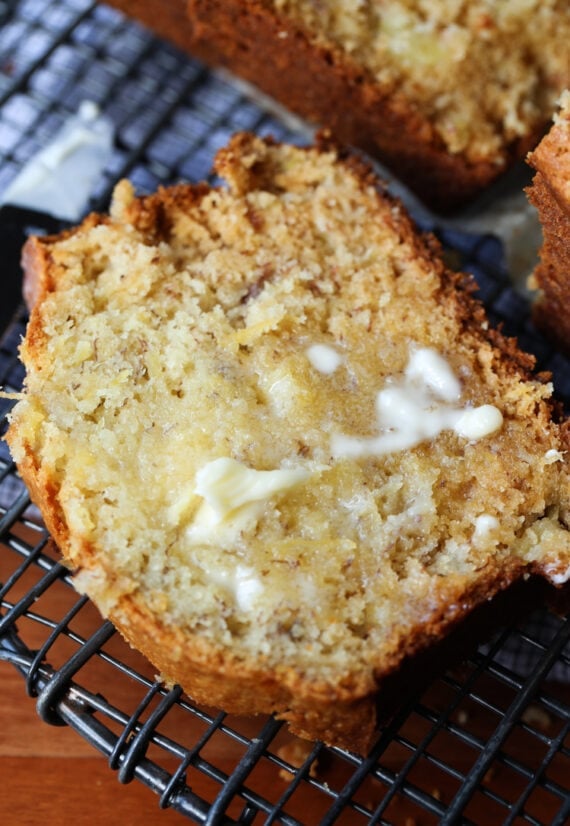 Pineapple Banana Bread Is A Flavor Packed Twist On A Classic!
Today's version of the classic takes a little bit of a tropical turn. I've added in crushed pineapple, and it adds the most perfect subtle sweetness and moisture! Even for those who don't love pineapple (myself included) this is still a winner of a recipe. The pineapple flavor isn't overpowering at all, it's mild and subdued and pairs beautifully with the ripe bananas.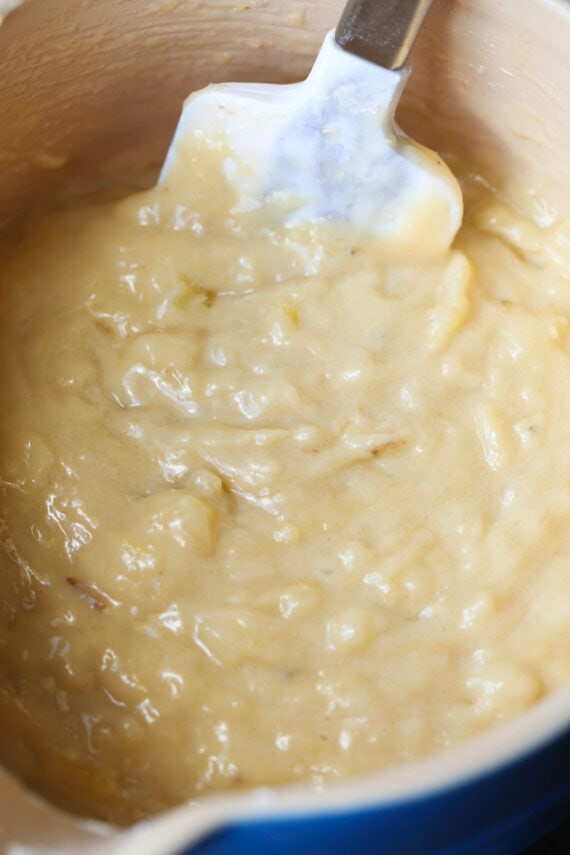 Tips On Making Perfect Banana Bread:
Ripe Bananas. This is essential! As bananas ripen they become sweeter. The bananas you wouldn't dare eat because they are so brown and ugly are the ones you should be using!
Oil. You can absolutely use butter, or even a combo of butter and oil, but I find the moistest, fluffiest recipes are those that use only vegetable oil (or canola oil…really any light colored oil).
Sugar. You want your recipe to be sweet, but not too sweet, because the bananas add so much natural sweetness, so this recipe calls for 1 cup of granulated sugar. You can absolutely sub in brown sugar if you would prefer!
Don't Over Mix. Once you have mixed in the flour, just mix it enough that you don't see any of the dry ingredients. The more you mix the batter the more gluten will form, creating a more dense loaf.
What Else Can I Add To This Pineapple Banana Bread?
Coconut – Try adding 1/2 cup sweetened flaked coconut to amp up the tropical vibes!
Nuts – Walnuts, Pecans, or even Macadamia Nuts would be great in this recipe!
Extracts – You can add in almond extract, coconut extract, or even a rum extract would be great in this recipe!
Roasted Bananas – Of you want to take the banana flavor one step further, try roasting your bananas for a more intense flavor. Sprinkle them with a little brown sugar, and roast for about 20 minutes. You will need to use more "freckled" bananas to do this step, as opposed to brown, mushy bananas, as they will get plenty soft in the roasting process.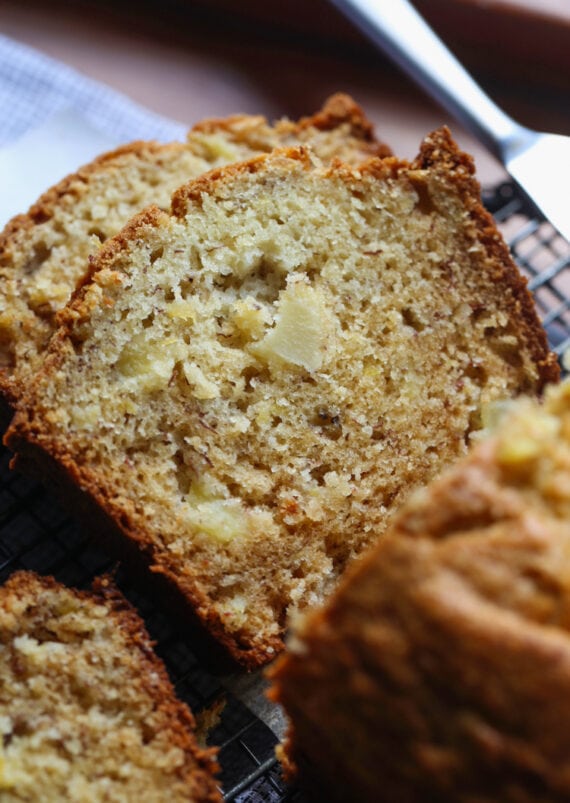 Enjoy this extra special banana bread recipe anytime of the year, but I especially love it during the summer months! It somehow seems ok to eat by the pool if you throw in pineapple. I mean, I'm not even opposed to serving this with a frosty Pina Coloda with a little straw umbrella!
And now for even MORE Banana Bread Recipes: