Pineapple Ginger Chicken Stir-Fry
Easy20 minsQuick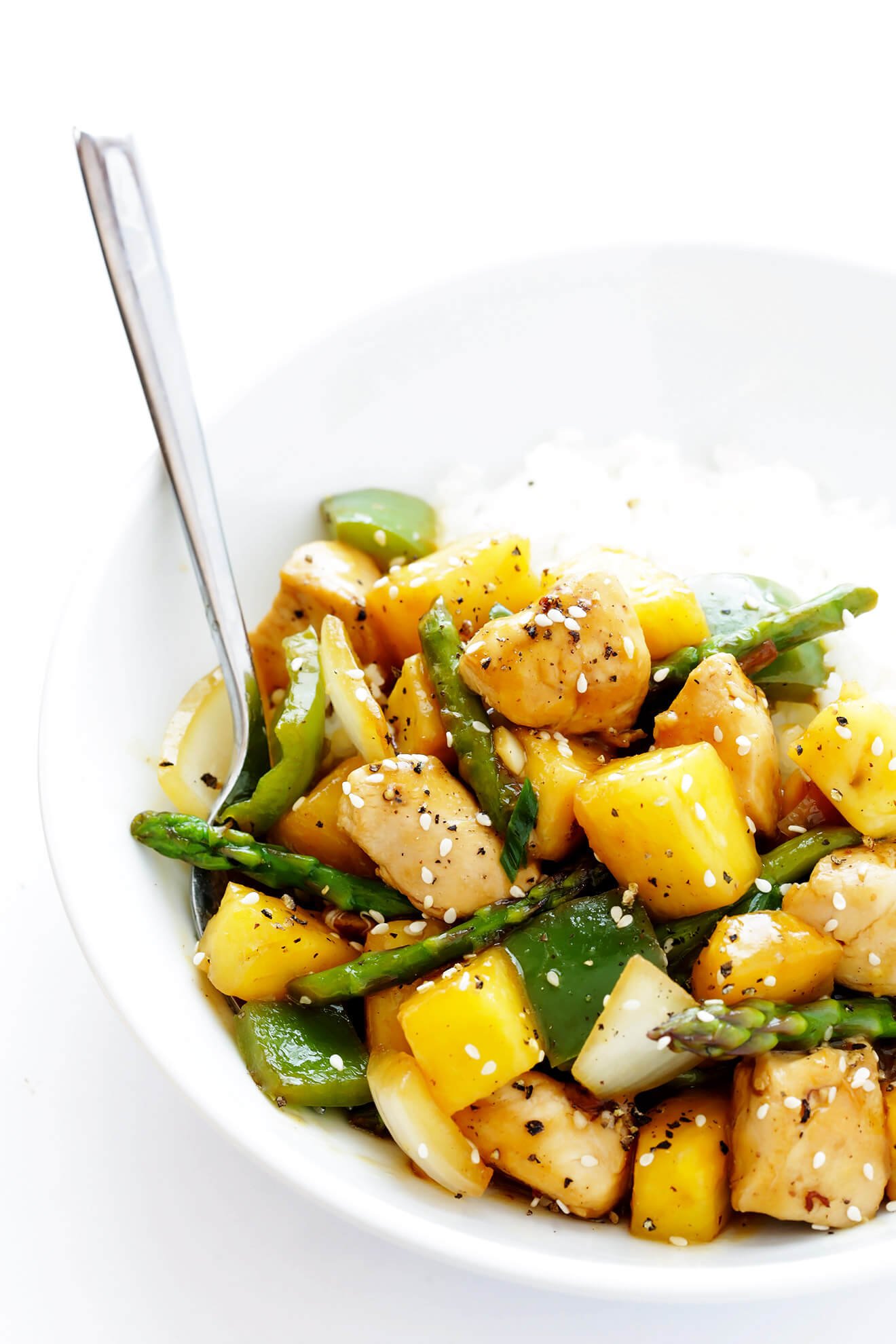 Lately, I seem to have developed a random obsession with asking everyone I know to tell me their go-to favorite meal that they make most often for dinner at home. Not the kind of dinner that they maybe aspire to make all of the time (you know, the 100% local, organic, everything-from-scratch, three-course meals of our dreams). I'm talking what the meals that we all actually make regularly…and love.
Oh my goodness, it's been fascinating!
Some trends I've noticed?!
It seems like just about all of my friends' favorite meals can all be made in 30 minutes or less. (Not surprising…and awesome.) More of my friends are cooking vegetarian or mostly-meatless than ever before. (Also how I roll, especially now being engaged to a vegetarian.) So many friends gave a shout-out to their favorite store-bought chopped salads, which they tend to eat on their own or gussy up with a few extra ingredients. (Holla to my current fave — the kale caesar from Costco!) There's lots and lots of roasting going on…and avocado toasting. (Yum and yum.) And interestingly, quite a few people have mentioned that their go-to recipes tend to fall in the same category as mine:
Stir-fry.
Oh my goodness, it's no secret on here that I love a good stir-fry. But what people may not know is that I tend to love a good stir-fry — oh — at least two or three times a week. ? Stir fries are without a doubt my favorite go-to meal when I need to whip up something quick. They're quick. They're healthy. They're delicious. And best of all, they're super easy to customize to whatever kind of seasonings I'm craving that moment, be it Mexican, Thai, Italian, Indian, Moroccan, you name it. I just round up whatever random veggies I have in the fridge (or the freezer), maybe add in a protein (which in my house, more often than not, is usually frozen shrimp), add some sort of seasoning or sauce that sounds good, and — ba da bing, ba da boom — a satisfying stir-fry is usually sizzling in the skillet and ready to go in just 15 or 20 minutes.
One of my recent faves? This delicious little pineapple ginger chicken number. ?✨?✨?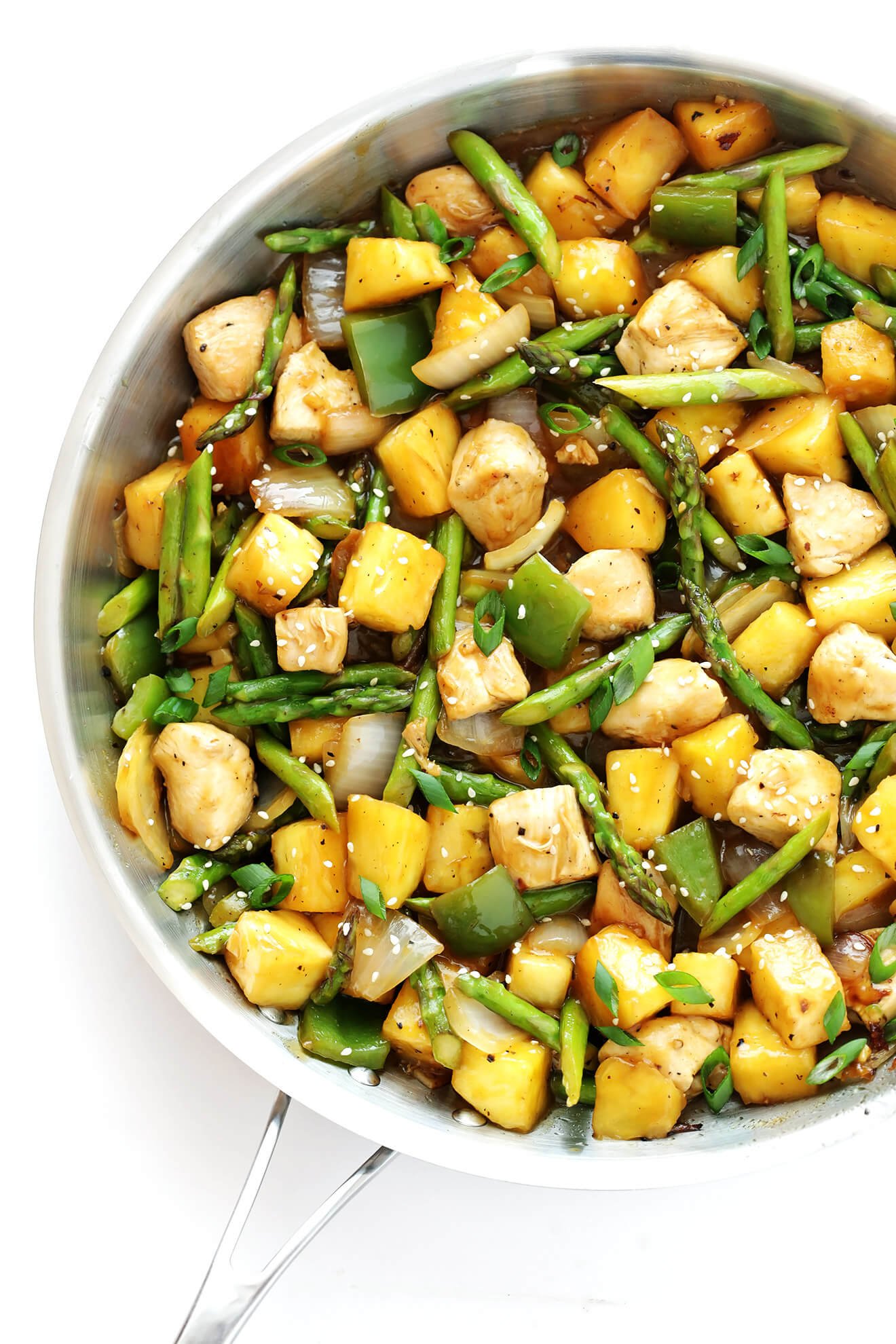 Many of you have probably heard me mention before that I have an ongoing little obsession with picking up a fresh pineapple every time I go to ALDI, which is usually at least a few times a month, so it's not unusual for pineapple to make an appearance in a stir-fry. But this particular version that I made for lunch last week — and then promptly ate for leftovers the rest of the week — ended up being so delicious that I had to share it with you.
It's made with a super quick and easy stir-fry sauce and tender chicken. (<– Or you could easily sub in shrimp, tofu, beef, you name it!)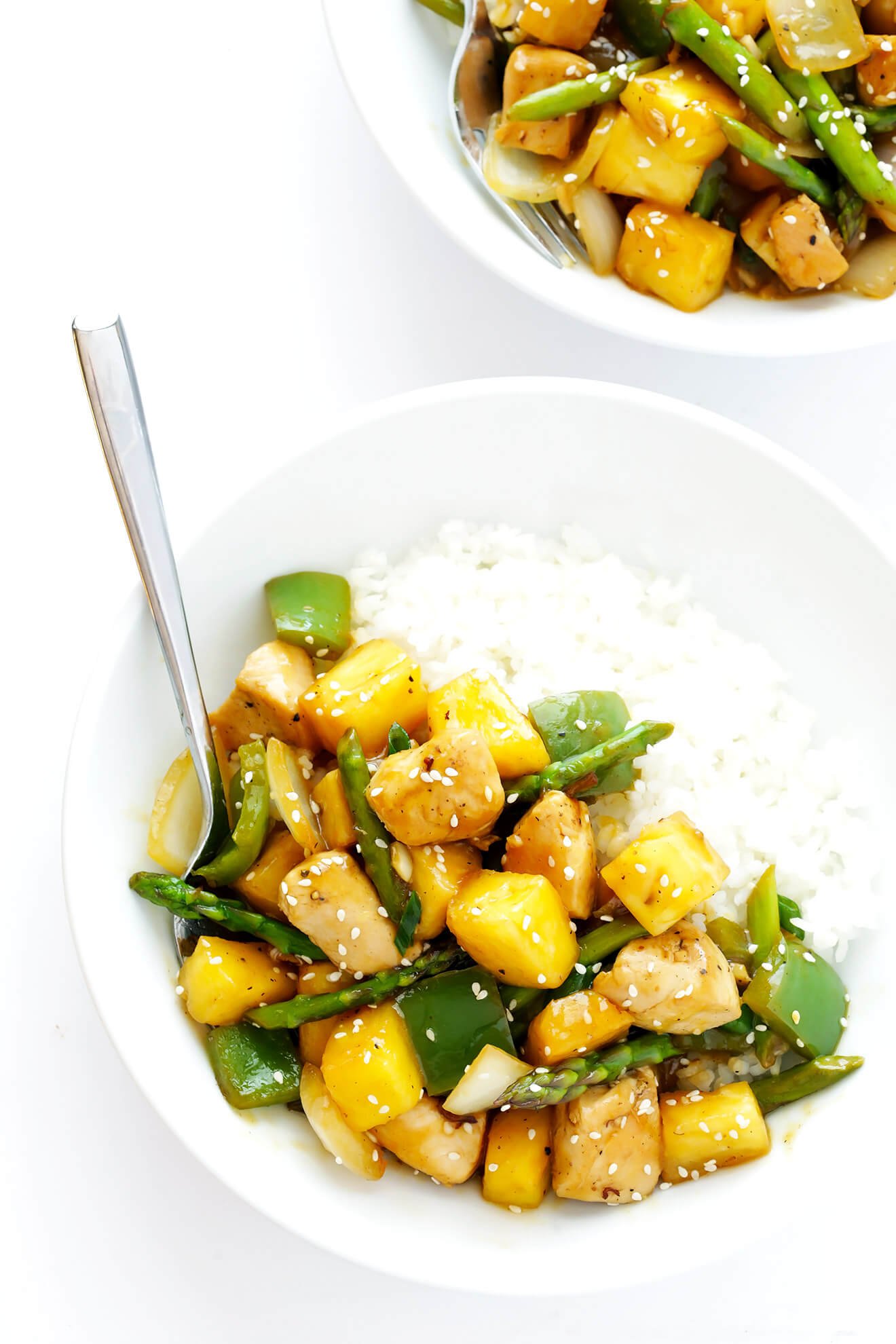 I also added in some fresh asparagus, bell pepper, onions and green onions that I had on hand. But really, just about any stir-fry-friendly veggies would work here.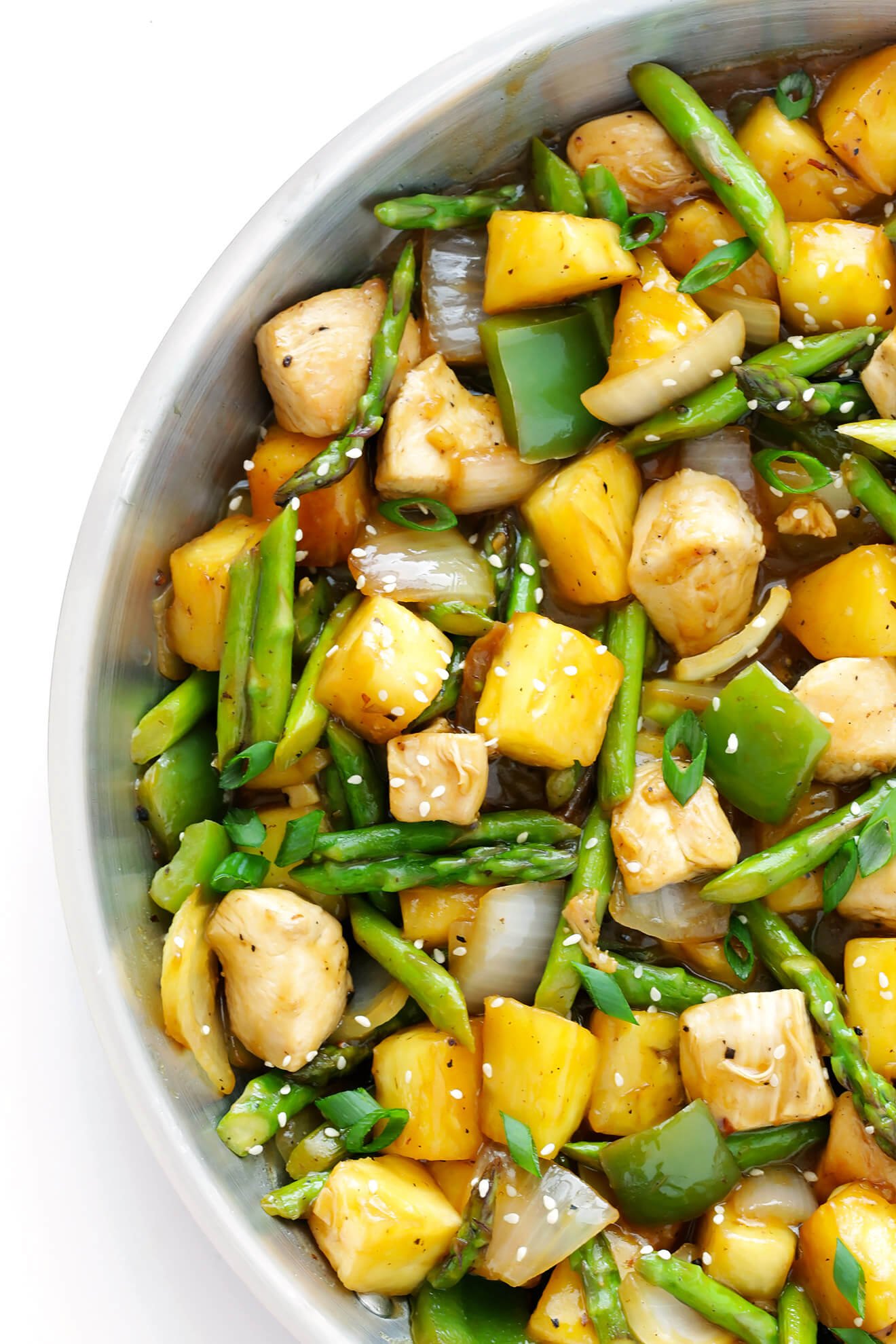 And best of all? The entire thing was ready to from start to finish in just 20 minutes.
My kind of meal. ?
So cheers to the recipes that we all actually make and love IRL. And also, a big cheers to all of you out there making them happen. I wish you all a delicious week of good, real food ahead!

Yield: 4
Pineapple Ginger Chicken Stir-Fry
This delicious Pineapple Ginger Chicken Stir-Fry is quick and easy to make, and full of the best sweet and savory fresh flavors!
Ingredients:
Stir-Fry Ingredients:
1 pound boneless skinless chicken breasts, cut into 1-inch pieces
salt and freshly-cracked black pepper
2 tablespoons peanut oil or olive oil, divided
1 green bell pepper, cored and diced into 1-inch pieces
1 small white onion, peeled and diced into 1-inch pieces
1/2 pound fresh asparagus, cut into 1-inch pieces (with ends trimmed off)
2 tablespoons minced fresh ginger
3 cloves garlic, peeled and minced
2 cups fresh or frozen pineapple chunks
1 batch stir-fry sauce (see below)
toppings: thinly-sliced green onions, toasted sesame seeds
Stir-Fry Sauce Ingredients:
3/4 cup chicken or vegetable stock
3 tablespoons soy sauce
2 tablespoons rice vinegar
1 1/2 tablespoons cornstarch
1 teaspoon toasted sesame oil
optional: 1-2 tablespoons sriracha (if you'd like a spicier sauce)
Directions:
To Make The Stir-Fry:
Season the chicken with a few pinches of salt and freshly-cracked black pepper.
Heat

1 tablespoon

oil in a large saute pan or wok over medium-high heat. Add chicken and saute for 4-5 minutes, stirring occasionally, until the chicken is cooked through and no longer pink on the inside. Transfer chicken with a slotted spoon to a separate plate, and set aside.
Add the remaining 1 tablespoon oil to the pan, and add the bell pepper, onion and asparagus. Saute for 4-5 minutes, stirring occasionally, or until the veggies reach your desired level of doneness. (I saute until the onion is almost completely soft; I like it just a little bit crispy in a stir-fry.) Then add in the ginger, garlic and pineapple, and toss to combine. Saute for 1-2 more minutes, or until the garlic is fragrant. Add the chicken back in, then stir in the sauce and let it cook for 1-2 minutes or until it has thickened, stirring occasionally.
Serve warm, garnished with your desired toppings. Or transfer to a sealed container and refrigerate for up to 3 days.
To Make The Stir-Fry Sauce:
Whisk all ingredients together in a small bowl until combined.

Difficulty: Easy
Category: Quick

If you make this recipe, be sure to snap a photo and hashtag it #gimmesomeoven. I'd love to see what you cook!
This post contains affiliate links.