Quick and easy pizza toast is one of our favorite recipes to make for a busy weeknight dinner or a satisfying after-school snack. Everyone loves them!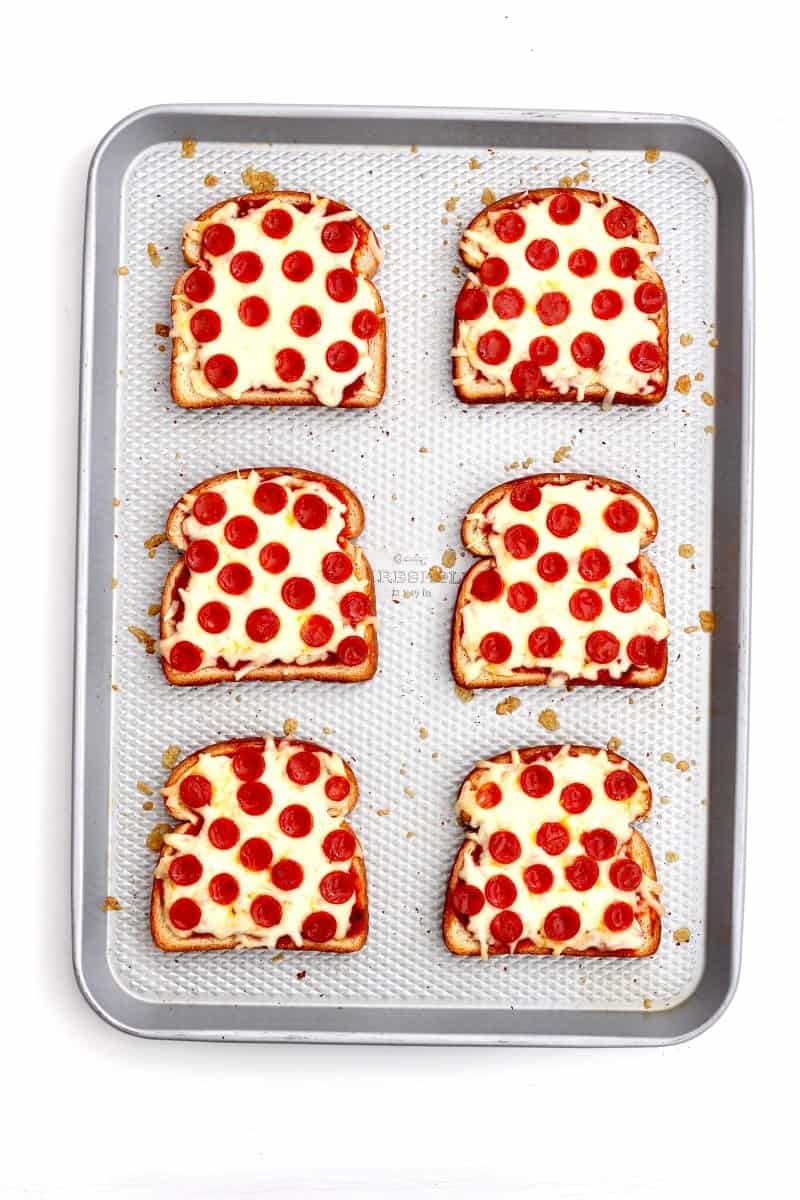 If you follow me on Instagram, you know that I make pizza toast several times a week. We all love pizza, but sometimes I just don't have the time to make and bake a pizza dough or order and wait on pizza delivery. This pizza toast can be made in 20 minutes and we all love it!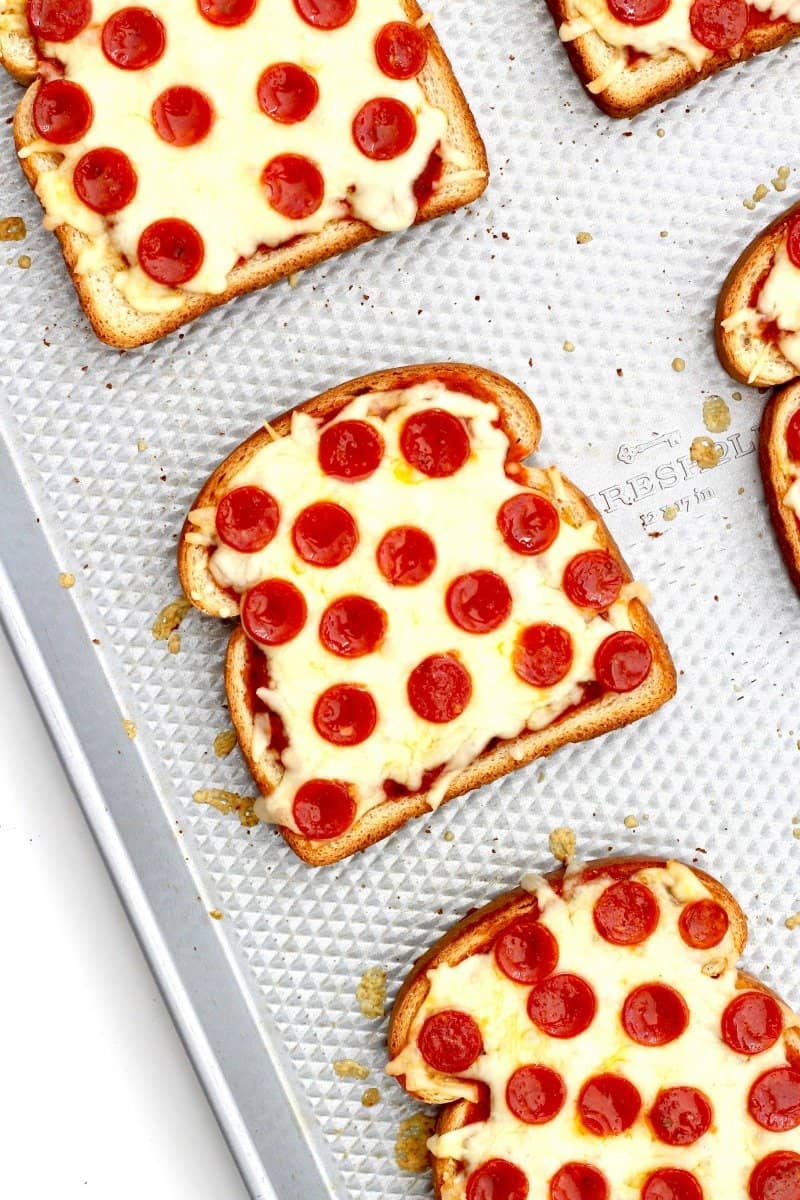 For dinner, I'll serve it alongside a big salad. For lunch, I usually put out veggies and hummus to go with it. And for an after-school snack, I cut each toast into fourths and serve it with fruit. They're easy to make, easy to eat and easy to clean up after. YES!!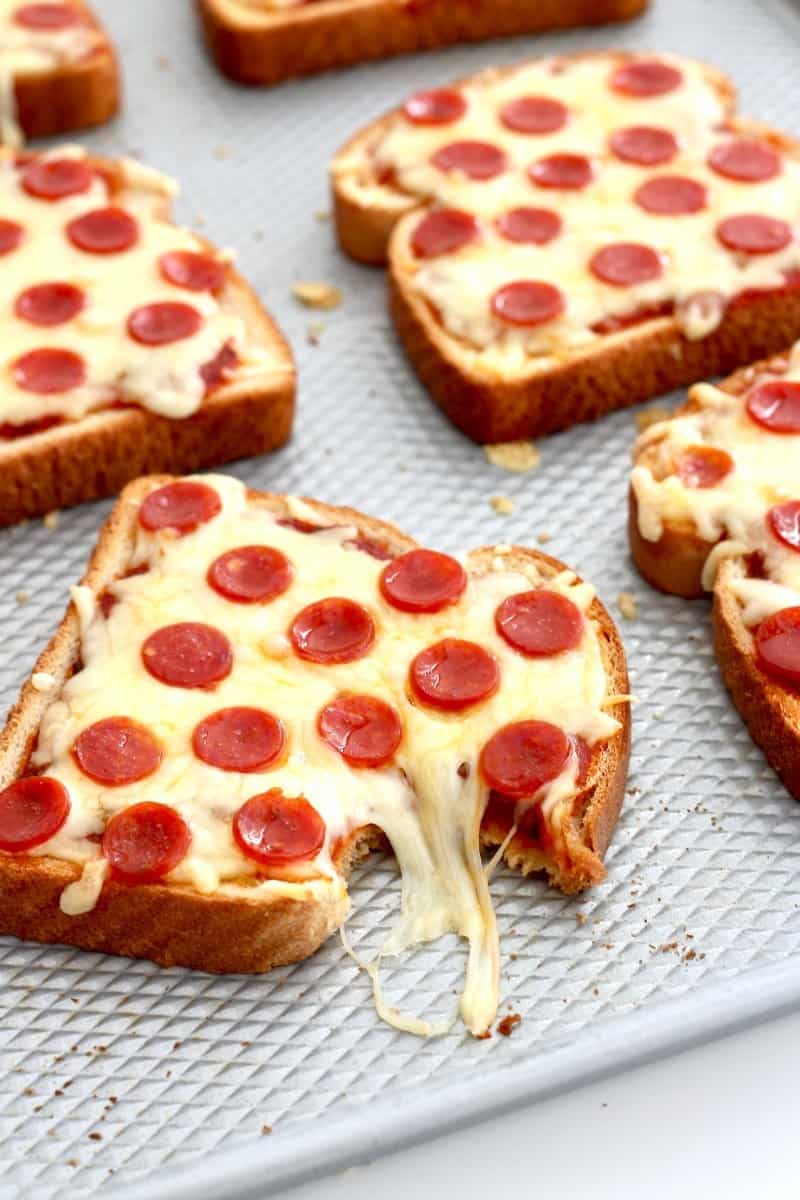 I try to always have bread, pizza sauce, mozzarella cheese and mini pepperoni on hand so I can make these anytime we want them. I love that I can make just one or a dozen of them depending on how many I want to serve. And you can adjust the toppings however you'd like, although we usually keep it pretty simple with cheese and pepperoni. A fun and flexible recipe you're sure to make over and over again!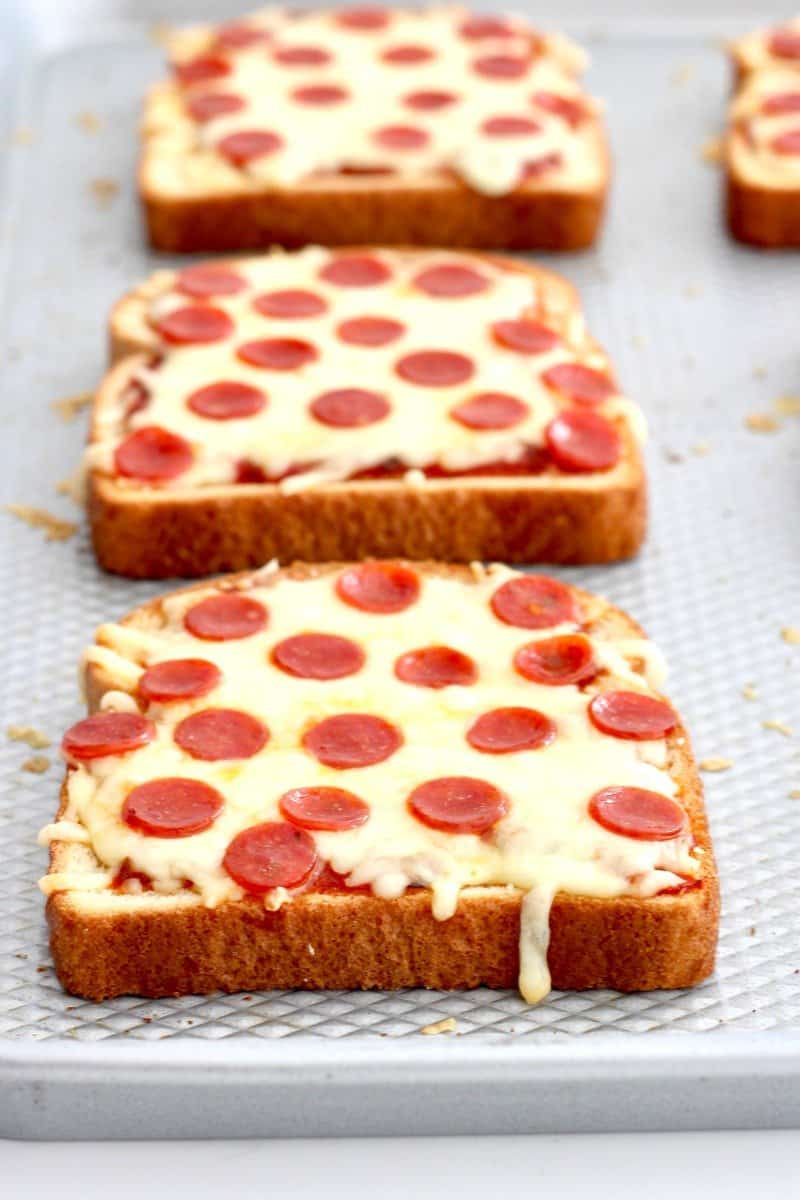 There are a few tricks to making this pizza toast taste its best. First, you'll want to toast the bread for about 5 minutes by itself to crisp it up a bit. Then you'll add the pizza sauce (I usually use store-bought sauce from a jar), cheese (a good melty mozzarella) and mini pepperoni (I find them at Target, but you can use regular sized pepperoni too) before returning it to the oven to get the cheese melty and the pepperoni glistening.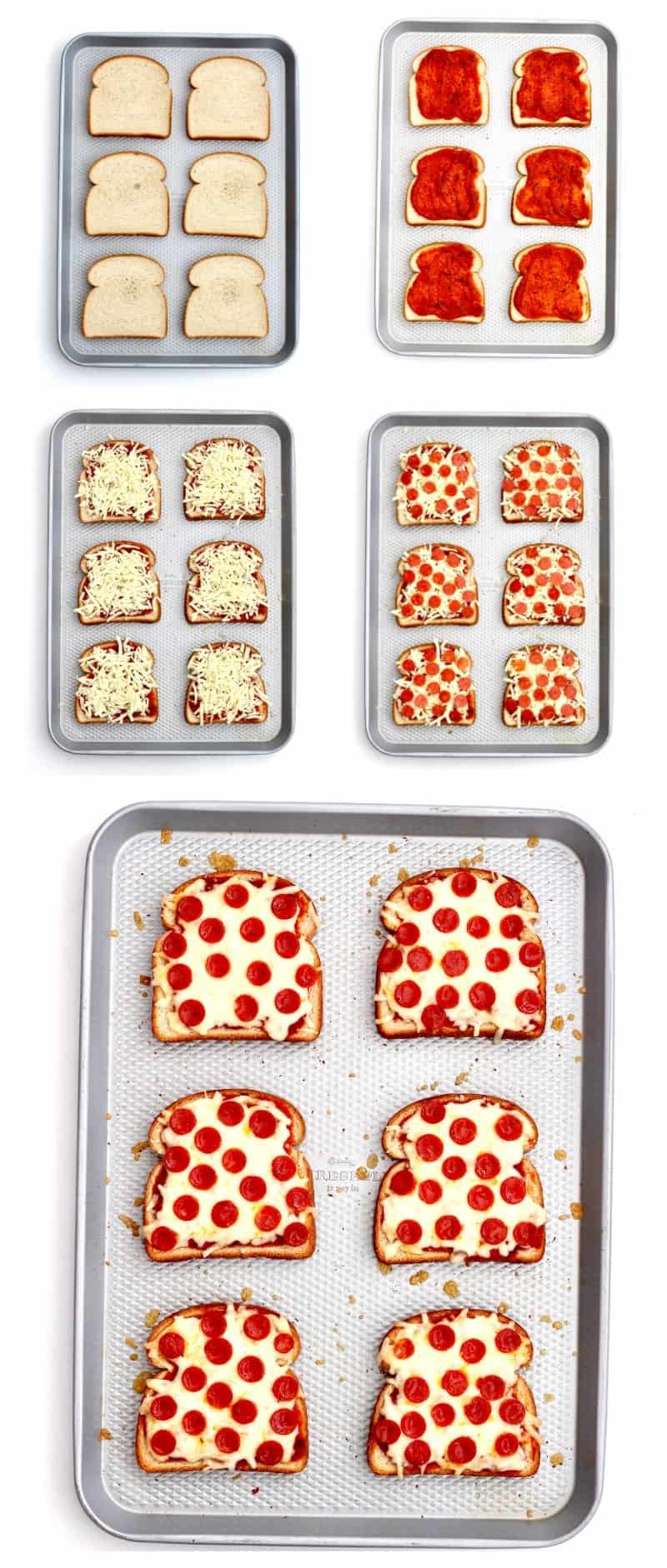 And that's all there is to it! This is great recipe to make with your kids or better yet, let your kids make themselves.
So so yummy!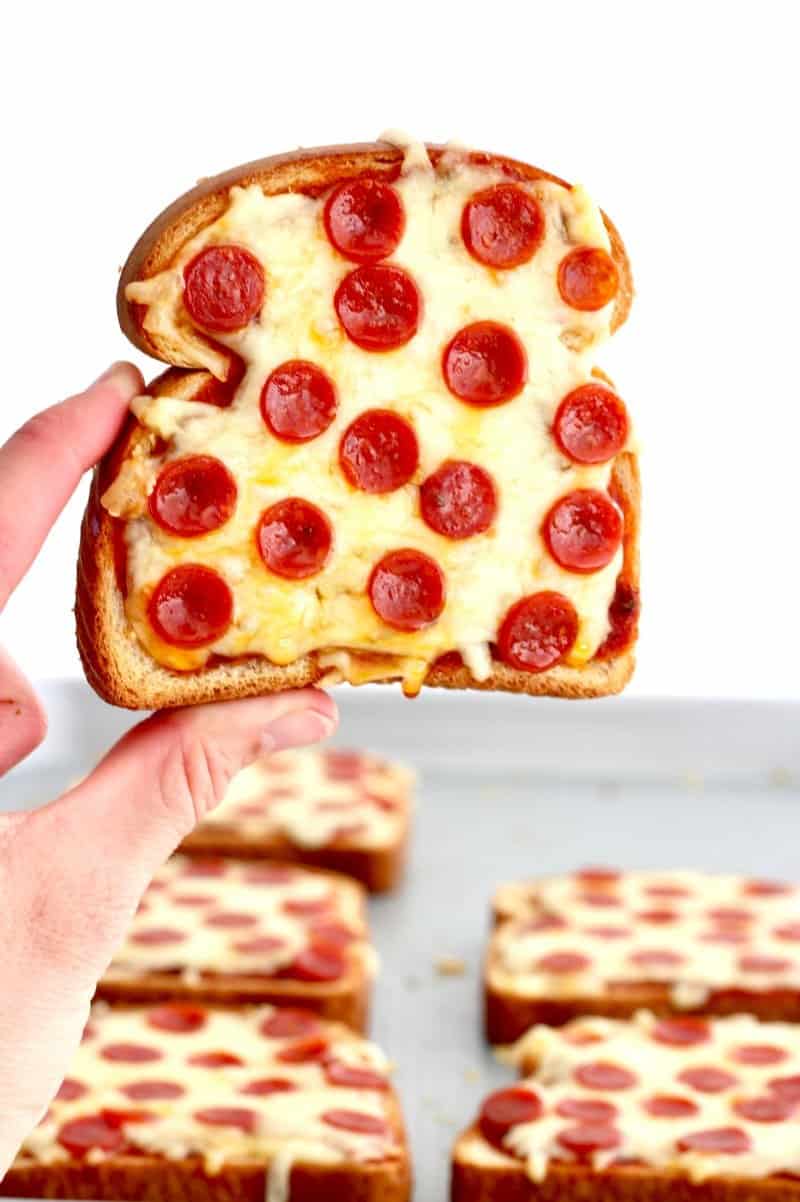 Enjoy!
xoxo,
Maegan
Pizza Toast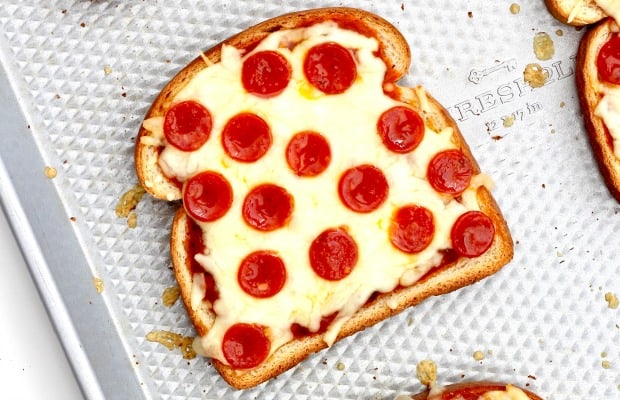 Author: Maegan – The BakerMama
Recipe type: Main
6 slices soft bread
6 tablespoons prepared pizza sauce (1 tablespoon sauce per toast)
1½ cups shredded mozzarella cheese (1/4 cup cheese per toast)
1 (5 ounce) package mini pepperonis (about 16 mini pepperonis per toast)
Preheat oven to 400°F.
Spray a baking sheet with non-stick cooking spray and space the bread slices out on it. Bake the bread slices for 5 minutes until just starting to toast.
Remove toasted bread from oven and spread each slice with 1 tablespoon pizza sauce, sprinkle with ¼ cup shredded mozzarella cheese and garnish with about 16 mini pepperonis. Return to oven for 8-10 minutes or until cheese is melted.
3.5.3226