Poke fans, rejoice! It's super easy to make your favorite sushi-style Poke Bowl at home, chock-full of fresh tuna and salmon, vibrant veggies, steamed rice, and mouthwatering sauces.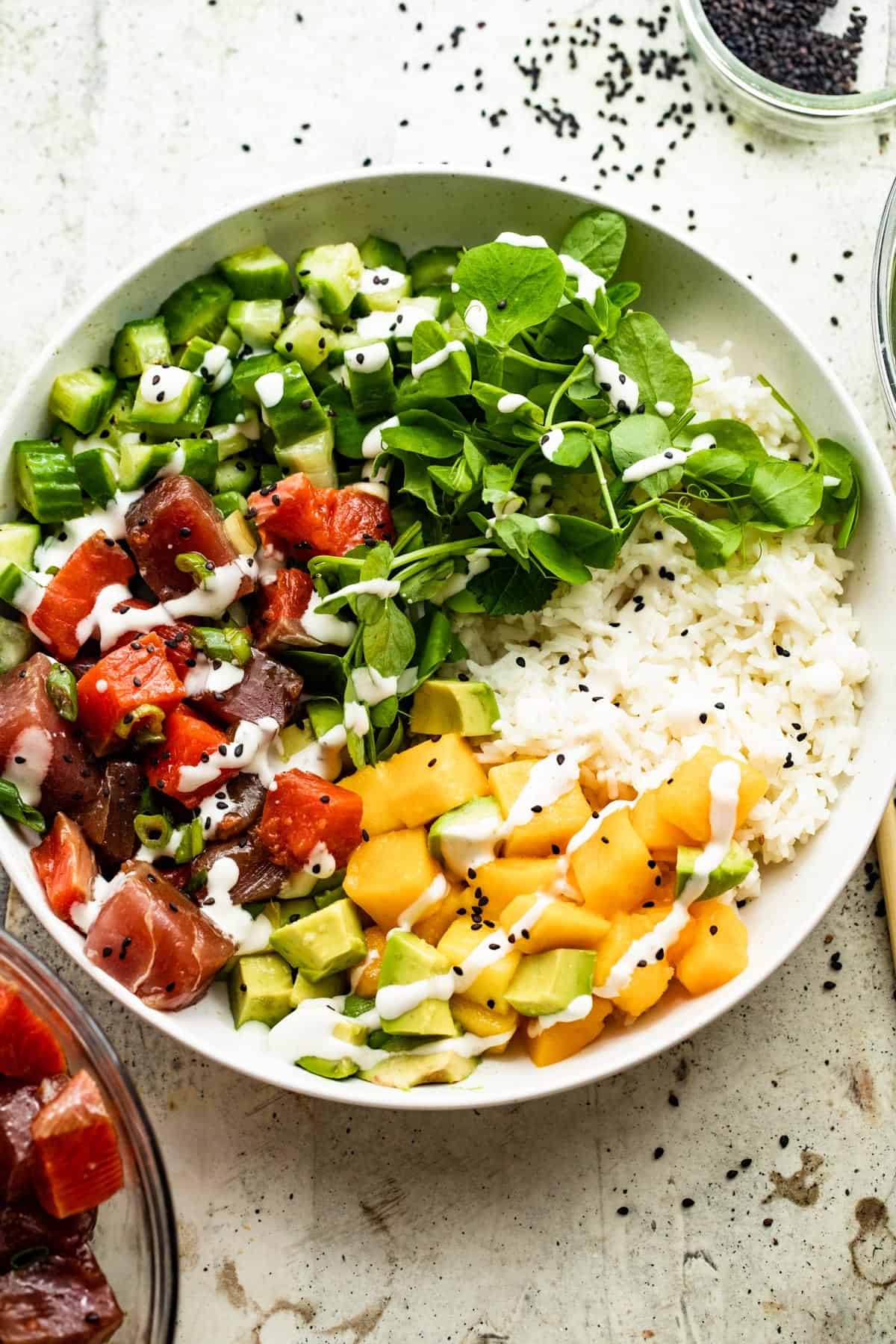 Gorgeous Restaurant-Style Poke Bowls at Home!
Poke bowls have taken the world by storm, and there are a ton of reasons why! It's easy to love – and become totally addicted to – these flavorful bowls of colorful, fresh ingredients, including sushi-grade fish and mouthwatering pan-Asian sauces.
Poke is typically a restaurant dish, but it's actually easy to make at home – even easier than your favorite sushi roll. 
You will need a little time to prep the various components in the dish, but the results are totally worth it. And most of the prep is very easy. No special cooking techniques or knife skills are needed! Just basic slicing, dicing, and stirring. 
Is a Poke Bowl Like Sushi?
Yes, it is very similar! The word "poke" (pronounced poh-keh) means "to slice" in the Hawaiian language. The original poke bowls were mostly tuna, but over time, the Chinese and Japanese immigrant populations in Hawaii introduced new ingredients, like rice and soy sauce. Gradually, the simple dish of tuna evolved into the rainbow-like bowls we know today, with all kinds of tasty items piled on and stirred in. 
Most poke bowls, especially in the mainland states, have an array of sushi-like options to choose from: raw fish, pickled veggies, steamed rice or satisfying noodles, leafy greens, sesame seeds, avocado, and more. Best of all, you don't need to do any rolling or shaping, and you don't need any special equipment. Just a knife, a cutting board (ideally one for seafood and a separate one for produce), and of course, a bowl!
What You'll Need
For this version of poke, you'll need sushi-grade ahi tuna, sushi-grade salmon, some condiments, and some toppings. You can definitely customize these ingredients to your taste, though, so consider this a template!
For the Fish
Fish: Sushi-grade ahi tuna and salmon are standard poke bowl choices. Make sure to use the best-quality sashimi fish you can find. For those of us in the midwest, this is often frozen fish, because not many of us have access to a fresh tuna right off the fishing boat! Frozen fish can be great quality, so don't be shy about using it.
Salt: Alaea salt is said to be the most authentic salt to use, but if you don't have that, you can use regular sea salt or kosher salt and still get a great poke bowl.
Green Onions: Thinly slice the green onions. 
Soy Sauce: I like to use low sodium soy sauce, but you can definitely use regular soy sauce or substitute tamari or coconut aminos.
Sesame Oil: Toasted sesame oil adds loads of flavor. 
Rice Vinegar: This light and delicate vinegar is perfect with seafood.
Rice: Sushi rice is a common ingredient, but regular long-grain rice is also fine. You can even use brown rice if you prefer!
For the Cucumber Salad
Cucumber: Dice up half an English cucumber. If the cucumber seems waxy on the outside, I recommend peeling it, but this is usually not the case with English cucumbers.
Rice Vinegar: Same as with the fish.
Toasted Sesame Oil: Again, this is an amazing ingredient that adds an irresistible flavor to the recipe. Don't skip it!
Sugar: Just a bit, to balance the vinegar.
Salt and Pepper: To taste.
Optional Toppings
Diced Mango
Diced Avocado
Edamame
Crab Salad
Seaweed Salad
Wasabi
Sriracha
Toasted Black Sesame Seeds
And any other toppings you love!
What Is Sushi (or Sashimi) Grade Fish?
Many fishmongers and meat sellers label certain fish "sushi-grade" or "sashimi grade." This usually means that it's safe to eat raw. The fish has been caught, cleaned, and frozen in a certain way for the highest quality, and in order to kill any possible parasites.
However, this may not always be the case, so be sure to buy from a reputable dealer! Sometimes, shady fish markets will label it as such just to sell their fish. Full transparency, I always buy my sushi-fish from Whole Foods. I trust them and love their fresh seafood varieties.
Let's Make a Poke Bowl!
Okay, time to assemble your poke bowl. This part is super easy, honestly – you hardly even need instructions. All you have to do is prep the ingredients, and then divide them up between four bowls. Here's the skinny:
Prep the Tuna and Salmon. To prep the fish, just use a clean cutting board meant for seafood or raw meats, and cut the tuna and salmon into bite-sized pieces. Place them in a bowl and add the salt, sliced green onions, and condiments. Toss gently to coat the tuna in the other ingredients, and then set it aside while you work on the other items.
Make the Cucumber Salad. Next, use a cutting board meant for produce, and dice up your cucumber. Place it in a separate bowl with the condiments and seasonings, and give it a gentle stir to combine. Set this aside as well.
Assemble the Bowls. Divide the cooked rice evenly between four bowls. Top the rice with salmon, tuna, cucumber salad, and any of the other toppings that you like.
Tips and Tricks for the Best Poke
This recipe is as easy as can be, especially when you know a few helpful tips. Read on for my best poke bowl tips and hacks, and bon appetite!
Source Your Proteins: If you are having trouble locating sushi-grade fish near you, consider ordering online. There are a number of reputable companies you can order from and have the tuna and/or salmon shipped to your door.
Preparing the Tuna and Salmon: For the best texture, make sure to remove any streaks of tough, white tissue in the fish. This connective tissue can make raw fish chewy and difficult to eat, but it's fairly easy to cut away with a sharp knife.
Spice Things Up: It's easy to add a little spicy kick to your bowl – all you need is a sprinkling of crushed red pepper or a tiny bit of sriracha sauce. If you don't want it too hot, try mixing sriracha and mayonnaise to make a creamy, satisfying, spicy drizzle. You'll want to put it on everything!
Make a Buffet: If you'd like to serve poke buffet-style, just prepare about ¼-pound of seafood per person, along with a variety of toppings and plenty of rice. Set everything out in serving dishes, along with a few sauces, and let everyone help themselves!
Yummy Variations
The possibilities are almost endless when it comes to making poke bowls, so I've collected a few scrumptious ideas to change things up and tweak the recipe to your taste. Here are some great options for carbs (or no carbs!), veggies, fruits, and more:
Rice Options: You don't have to stick with plain rice here. Feel free to use seasoned and flavored rice, such as jasmine rice with coconut milk. You can also use noodles, like soba noodles or rice noodles, or skip the carbs entirely and go with a bowl of salad greens instead.
Protein Options: In addition to tuna and salmon, you can make poke bowls using cooked shrimp, smoked salmon, fried calamari, crab, or even tofu! Make this bowl your own, and use what you love. Fish roe is also great!
Sauces: For sauces, you can use basically anything. Yum yum sauce, ponzu, shoyu, sriracha mayo, sesame vinaigrette, gochujang, ginger dressing, miso dressing – it's all good! ?
Produce: Seaweed, radish, grated carrot, sliced bell pepper, Korean cooked spinach, mandarin orange segments, kiwi, pineapple, and more are all welcome additions to a poke bowl. ? ? ?
More: Crispy fried onions, chopped red onion, sauteed leeks, fresh chives… all of those fragrant, onion-y ingredients work great with poke. You can also sprinkle in nuts, like chopped macadamia nuts or roasted peanuts. For a little tangy flavor, try pickled items like pickled ginger or pickled red onion.
Is Leftover Poke Safe to Eat?
Yes. Poke can be refrigerated and stored in an airtight container for up to two days. Make sure to get it in the fridge quickly; poke should not sit at room temperature for longer than two hours.
Keep in mind that leftover stored poke will lose a lot of its freshness and texture as it sits, because many of the ingredients, including the fish, are delicate and can become unpleasantly slimy when stored.
Can I Freeze This?
Not recommended. Ultimately, poke is best enjoyed the day it is made, or the next day at the latest!
ENJOY!
Poke Bowls
It's easy to make a gourmet Poke Bowl at home, chock-full of fresh tuna and salmon, vibrant veggies, steamed rice, and flavorful sauces!
Instructions 
Cut the tuna and salmon into bite-sized pieces and place them in a bowl; sprinkle with salt.

Stir in the sliced green onions.

To the fish, add soy sauce, sesame oil, and rice vinegar; toss to combine. Set aside.

Next, make the cucumber salad;

Place diced cucumbers in a bowl, and to the cucumbers add the rice vinegar, sesame seed oil, sugar, salt, and pepper. Toss to combine.

Assemble: divide the cooked rice between 4 bowls.

Top the rice with the salmon, tuna, cucumber salad, mango, avocado, and/or any of the other desired toppings.

Serve.
Notes
The nutrition facts are approximate, provided as a courtesy, and do not include all of the possible ingredients (such as all the possible toppings and sauces) in this recipe.
Nutrition Facts
Poke Bowls
Amount Per Serving
Calories 424
Calories from Fat 135
% Daily Value*
Fat 15g23%
Saturated Fat 3g15%
Polyunsaturated Fat 6g
Monounsaturated Fat 5g
Cholesterol 53mg18%
Sodium 770mg32%
Potassium 602mg17%
Carbohydrates 41g14%
Fiber 1g4%
Sugar 2g2%
Protein 30g60%
Vitamin A 1360IU27%
Vitamin C 2mg2%
Calcium 40mg4%
Iron 2mg11%
* Percent Daily Values are based on a 2000 calorie diet.
Nutritional info is an estimate and provided as courtesy. Values may vary according to the ingredients and tools used. Please use your preferred nutritional calculator for more detailed info.
Keywords: ahi poke, hawaiian poke bowl, salmon poke
Want To Save This Recipe?
More Easy Seafood Recipes