Insanely delicious and simple Pork Lettuce Wraps ready in just 20 minutes! Boldly-flavored pork and vegetable filling wrapped in a crisp lettuce cup and drizzled with a rich Asian glaze – better than any restaurant version you've tasted!
For more better-than-takeout Asian recipes, head on over to my popular posts for Pork Fried Rice, Chicken and Broccoli Stir Fry, and Slow Cooker Broccoli Beef.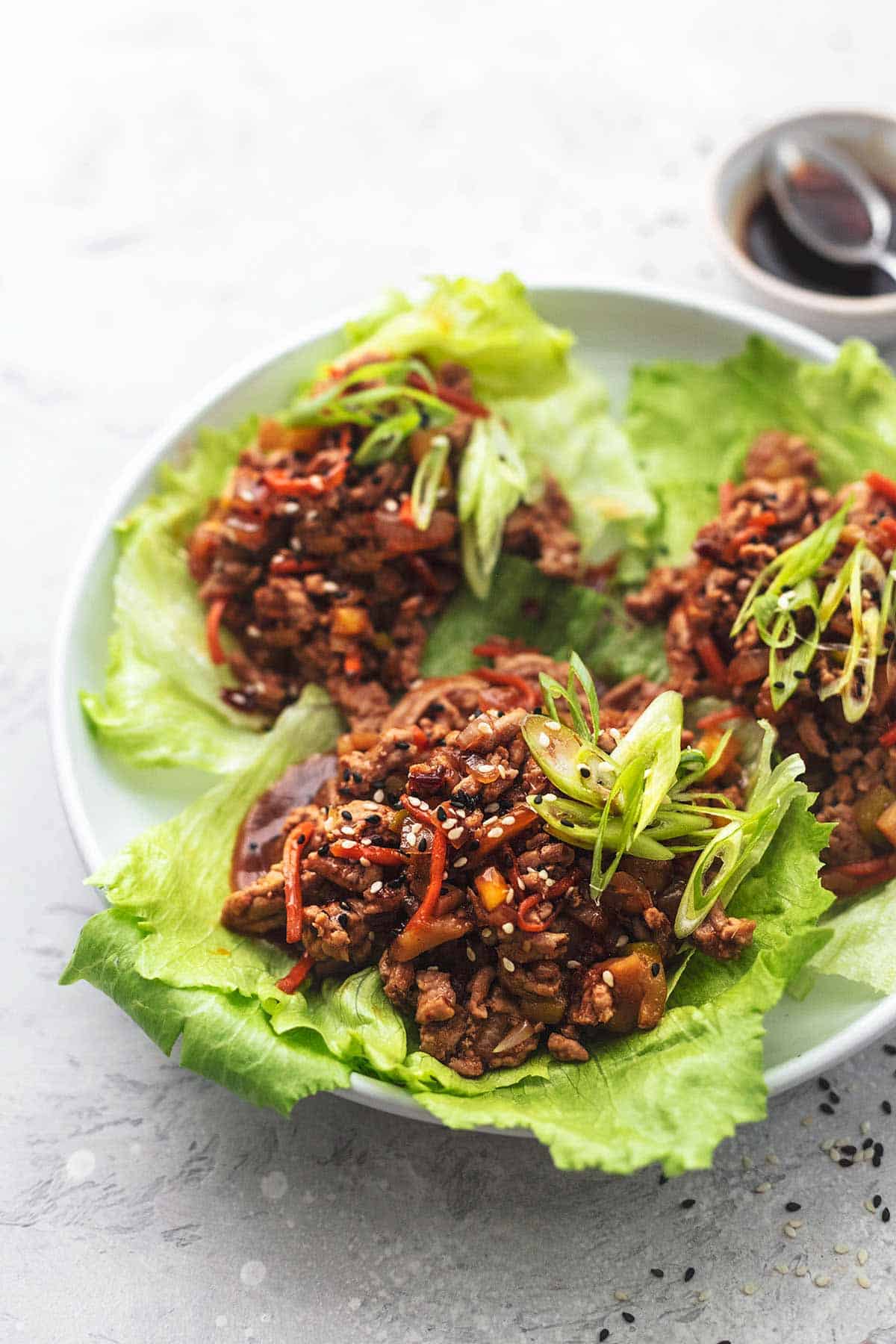 Just call me the "ruiner." I'm fine with it, actually! While you might think that sounds like a really bad thing to be called, in my house it's a compliment? Why? Well because when someone refers to me as that, it just means I've ruined yet another restaurant meal for them by making my own version taste even better. I definitely can't be mad at that! 
My family swears these lettuce wraps blow PF Changs lettuce wraps away and they don't use that term lightly because they used to be obsessed with their lettuce wraps! If I end up ruining them for you too, well, sorrynotsorry! 
Why This Recipe Works 
Lean ground pork — Did you know pork is actually a pretty lean meat (all bacon aside)? I've found that cooking with leaner ground meat is good for these lettuce wraps, as you end up adding a lot of sauces, veggies, and other fun ingredients and I prefer those flavors of that of residual fats and oils. 
Pantry ingredients — For serious! You might think something like "fish sauce" isn't a pantry staple, and, while it might not be in YOUR pantry right now, I'm telling you, buy it once (really easy to find in the International aisle of your grocery store), and you'll never have a pantry without it, I promise. 
Loads of veggies — I like to pile in lots of finely diced veggies like zucchini, onion, carrot, and water chestnuts to give these wraps tons of flavor, lots of crunch, and plenty of vitamins and nutrients too. 
The perfect pork recipe — The pork in the lettuce wraps isn't just amazing in the lettuce, it's amazing as a main component for so many other things. I add this pork on top of rice, noodles, in slider buns, in tortillas and other wraps…you get the picture.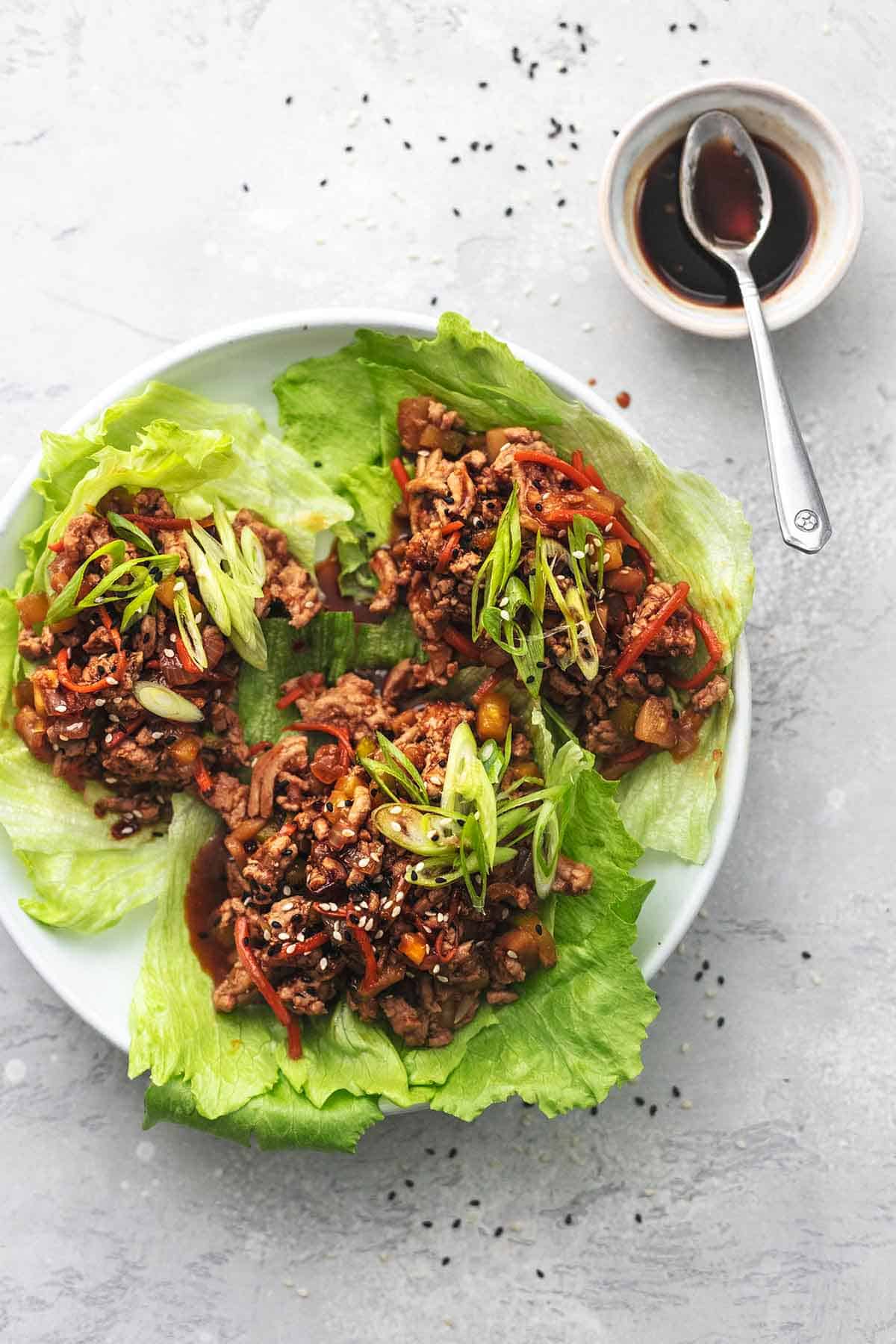 Here's How You Make It
First, you'll make the sauce. In a small bowl, whisk together the soy sauce, hoisin sauce, fish sauce, garlic, lemongrass, ginger, sriracha, and red pepper flakes. 
Next, in a skillet over medium-high heat, drizzle oil and let it heat up a minute. 
Add the ground pork to the oil and break it up as it cooks, until it's all nice and browned. 
Now add in the veggies, and saute them for about 5-7 minutes, or until they are tender, but not overdone. 
Finally, pour over the sauce, reduce the heat, and let all that fabulousness simmer for about 5-10 minutes 
Scoop into lettuce cups and sprinkle with green onions, and dive in!  
What Kind of Lettuce Is Used for Lettuce Wraps?
I prefer to use iceberg lettuce because it has large leaves and holds a lot of delicious pork. Other lettuce that works just great though is romaine, bibb, butter, or another larger leaf lettuce. 
How Do you Prepare Lettuce for Wraps? 
Okay here's what I do to prepare the lettuce for wrapping around these pork lettuce wraps. I'm going to use iceberg as my example. 
First, pull off any outer leaves that are thin, wilty, brown, etc. to get to the better lettuce underneath. 
Then, I remove the core by slamming the head of lettuce, core-side-down into the counter. The core should break free from the rest of the head so that you can wiggle it out. 
Next, I carefully peel off the leaves one by one. I gently rinse them in the sink, then pat them dry with paper towels before serving them just like PF Changs lettuce wraps. Be sure to not do this too far away from eating or the leaves will start to wilt. Or you can prepare them and keep them in the fridge until you're ready to eat. 
Expert Tips 
Want some

sauce on the side for dipping

? Here's an easy and delicious option:

Simply whisk together 1/4 cup sweet chili sauce and 1/4 cup soy sauce. Serve on the side with the pork lettuce wraps. 

I mention some

optional ingredients

in my ingredients list. Why? Well, I add lemongrass paste and fish sauce almost every time I make this dish but I also have made this without them when I had run out. Still very, very tasty. Don't think this won't work if you are missing those two ingredients is what I'm saying — still totally worth it! 

If you have any

leftovers

, this pork will keep in the fridge (minus the lettuce) for up to 3 days or in the freezer for up to 6 months. 

I suggest making/peeling off/preparing

fresh lettuce cups

each time you serve this for the crispiest, tastiest lettuce.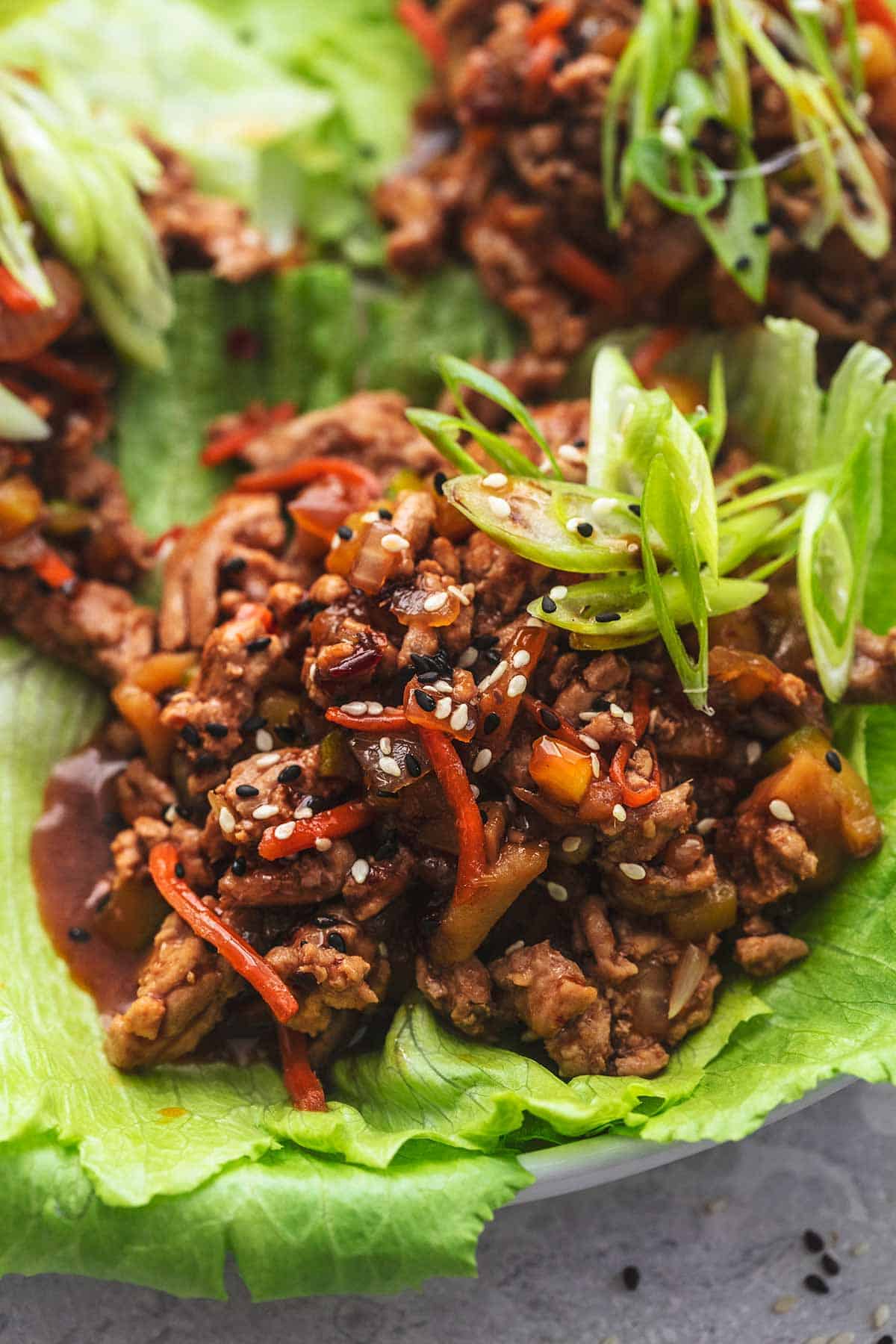 More Tasty Asian Recipes
Did you make this Pork Lettuce Wraps recipe? YAY! Please rate the recipe below! 
Whisk together soy sauce, hoisin sauce, fish sauce, garlic, lemongrass, ginger, sriracha, and red pepper flakes. Set aside.

Drizzle oil into a large skillet over medium-high heat.

Add pork and brown, breaking apart with a spoon or spatula as it cooks, for about 5 minutes.

Add zucchini, water chestnuts, onions, and carrots. Sauté about 5-7 minutes until veggies are tender.

Stir in sauce. Reduce heat to medium-low. Simmer for 5-10 minutes.

Serve in lettuce cups and garnish with green onions if desired.
Optional sauce: Whisk together 1/4 cup sweet chili sauce and 1/4 cup soy sauce. Serve with lettuce wraps. 
About those optional ingredients: I listed lemongrass and fish sauce as "optional but HIGHLY recommended". I add them every time I make this dish BUT, I have made this without them when I had run out and didn't have a chance to get to the grocery store and it is still so, SO delicious. So if those two ingredients intimidate you, or you simply don't have them on hand, I want you to know this dish is worth making even without them!
Make it a meal: This pork lettuce wrap filling is SO good I often serve it as our main dish – either in the lettuce cups, OR I serve it over rice and call it dinner. Highly recommend!
Calories: 607kcal | Carbohydrates: 19g | Protein: 34g | Fat: 44g | Saturated Fat: 15g | Cholesterol: 123mg | Sodium: 1891mg | Potassium: 977mg | Fiber: 4g | Sugar: 11g | Vitamin A: 3502IU | Vitamin C: 18mg | Calcium: 81mg | Iron: 3mg