Easy35 minsQuick
This Prosciutto-Wrapped Baked Chicken recipe is a quick and easy spin on traditional Chicken Saltimbocca. It's served with a delicious buttery sage sauce, and tastes absolutely delicious!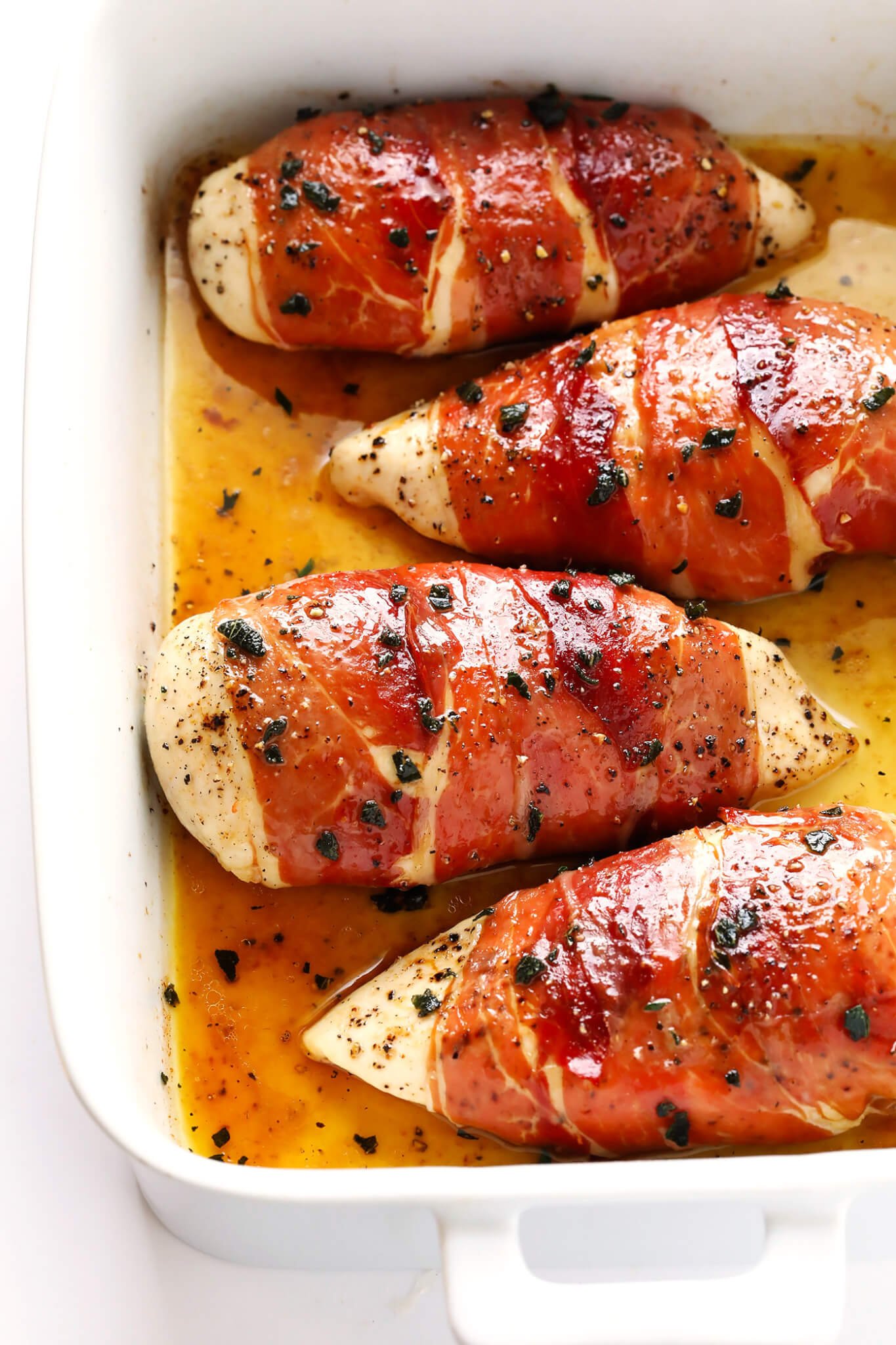 Hey friends! This is the time of year that we always start hearing more and more requests for next chicken recipes here on the blog. So today, I thought I'd share with you a super-simplified version of an Italian classic I've always loved…
…chicken saltimbocca!
Turns out that word saltimbocca literally means "jumps in the mouth" in Italian, which I'd say is pretty fitting for this dish filled with so many of my favorite flavors. ? The traditional version is usually made with veal, which is pounded thin and rolled up with prosciutto and sage, and cooked in a buttery white wine sauce. Since I'm not into veal, and didn't feel like making some fancy-shmancy rolls, I went with a simplified version of this recipe with chicken and wrapped in prosciutto and cooked with a buttery white wine sage sauce. Same great flavors, and so much easier to make.
I served mine with roasted veggies (which I baked side-by-side with the pan of chicken) and a big green salad and some crusty bread and a chilly sauvignon blanc. And oh my goodness, this simple meal tasted like a downright Italian feast.
Here's how to make it!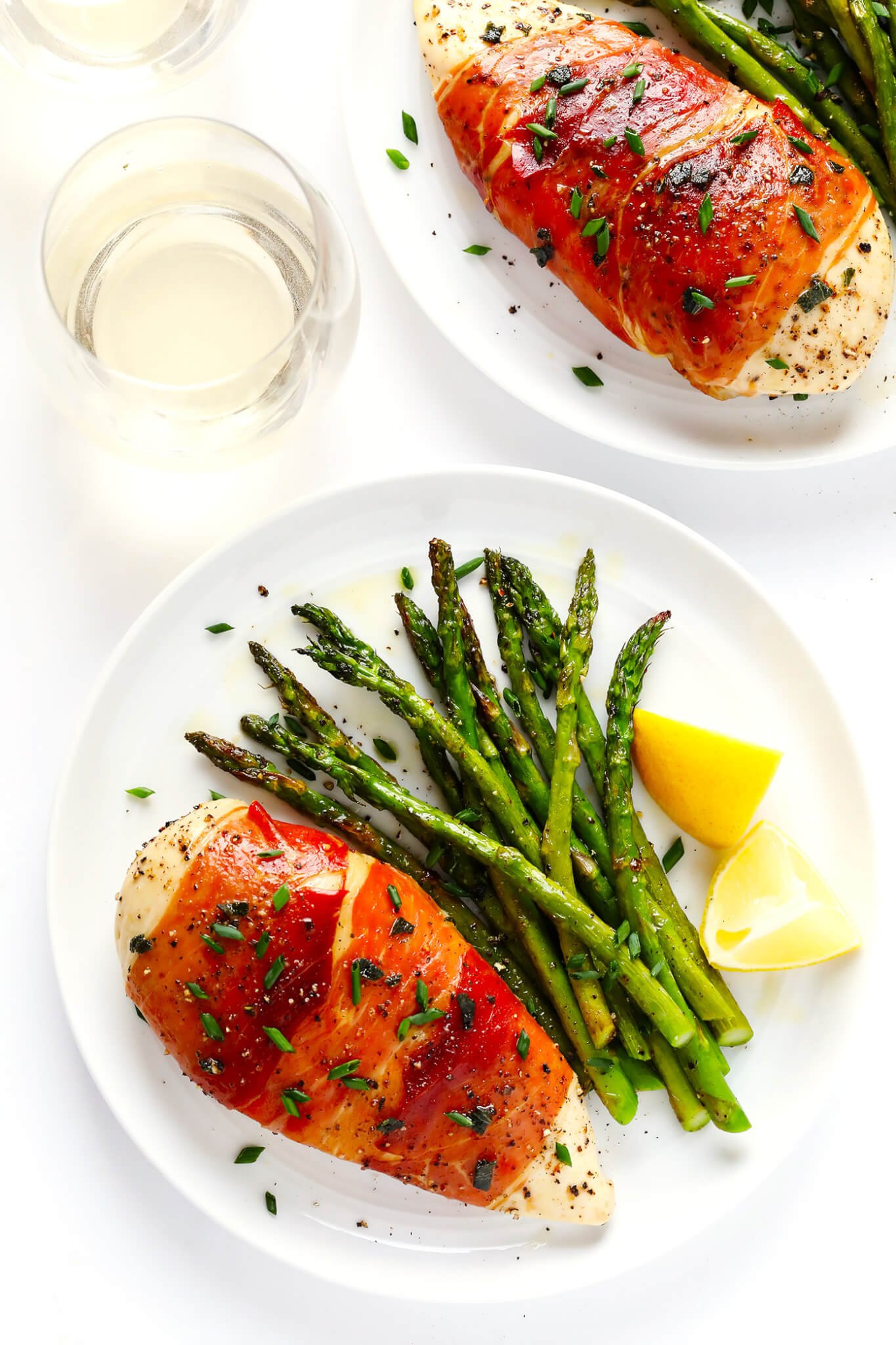 To begin, I highly recommend taking the extra 15 minutes (if you have the time) to brine your chicken, as I recommend in my post on How To Bake Perfect Chicken Breasts. It's a small step that will go a long way in helping your chicken stay extra moist and juicy, and not dry out. (If your chicken is sold pre-brined, though, just skip this step!)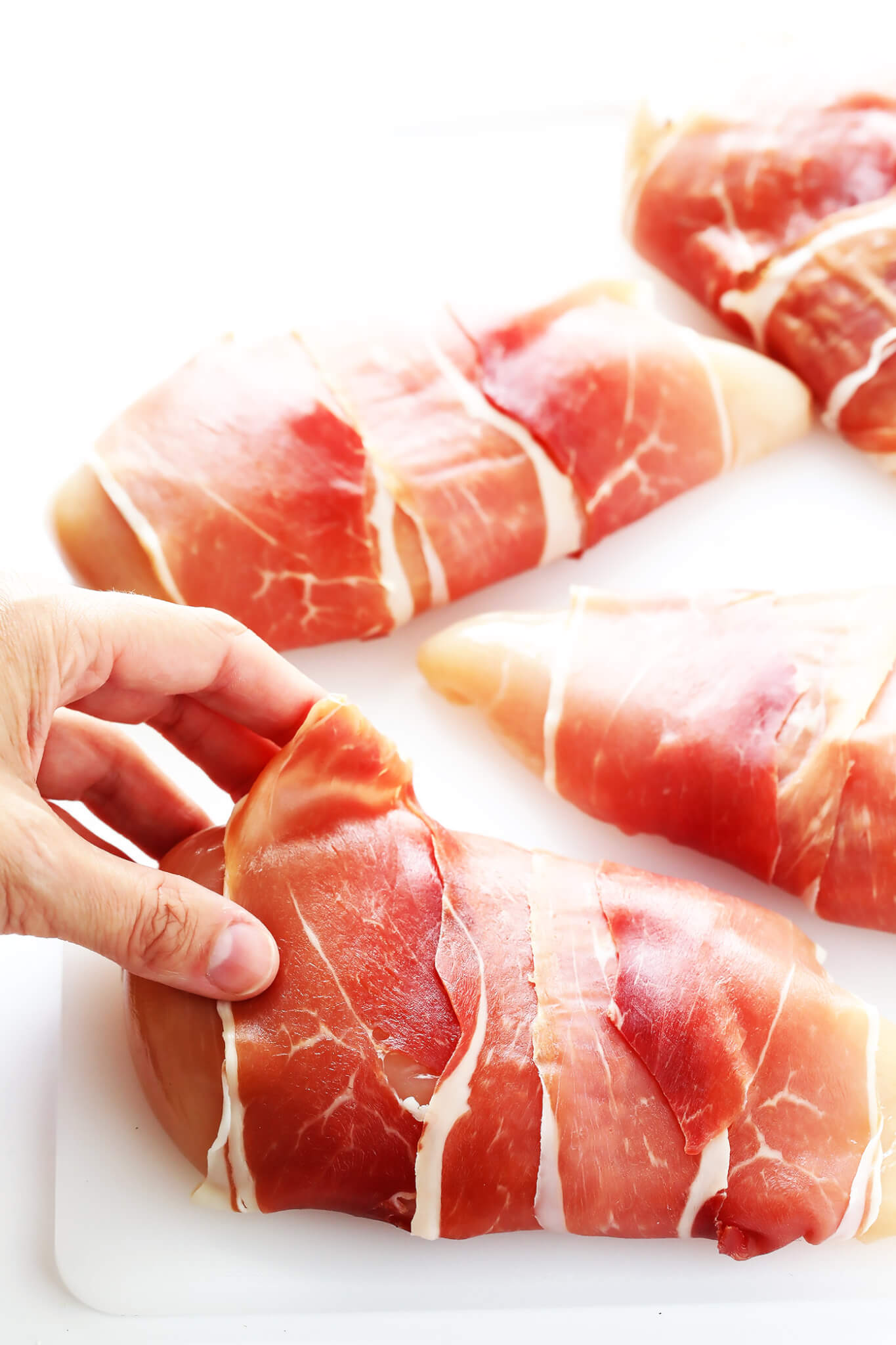 Once your chicken breasts are ready to go, simply wrap each one with a few pieces of prosciutto. Then brush each side of the chicken with some melted butter (or olive oil), season with salt and pepper, and place them in a single layer in a large baking dish or on a sheet pan. Bake until cooked through.
Then meanwhile, make that heavenly buttery-sage sauce. Just melt some butter and sauté some garlic, sage and crushed red pepper flakes. Add in a good splash of white wine.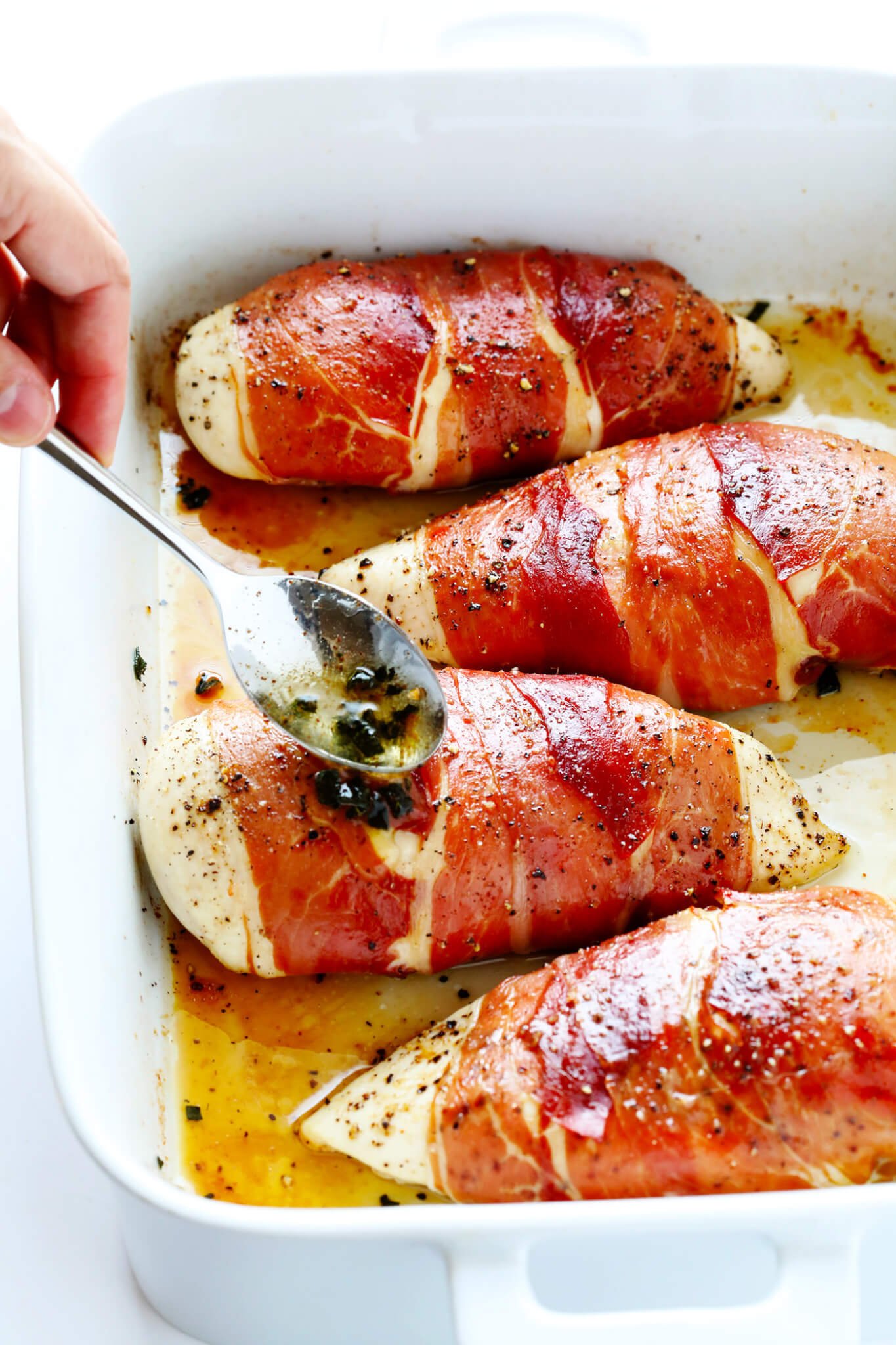 Then once your chicken is ready to go, sauce it up!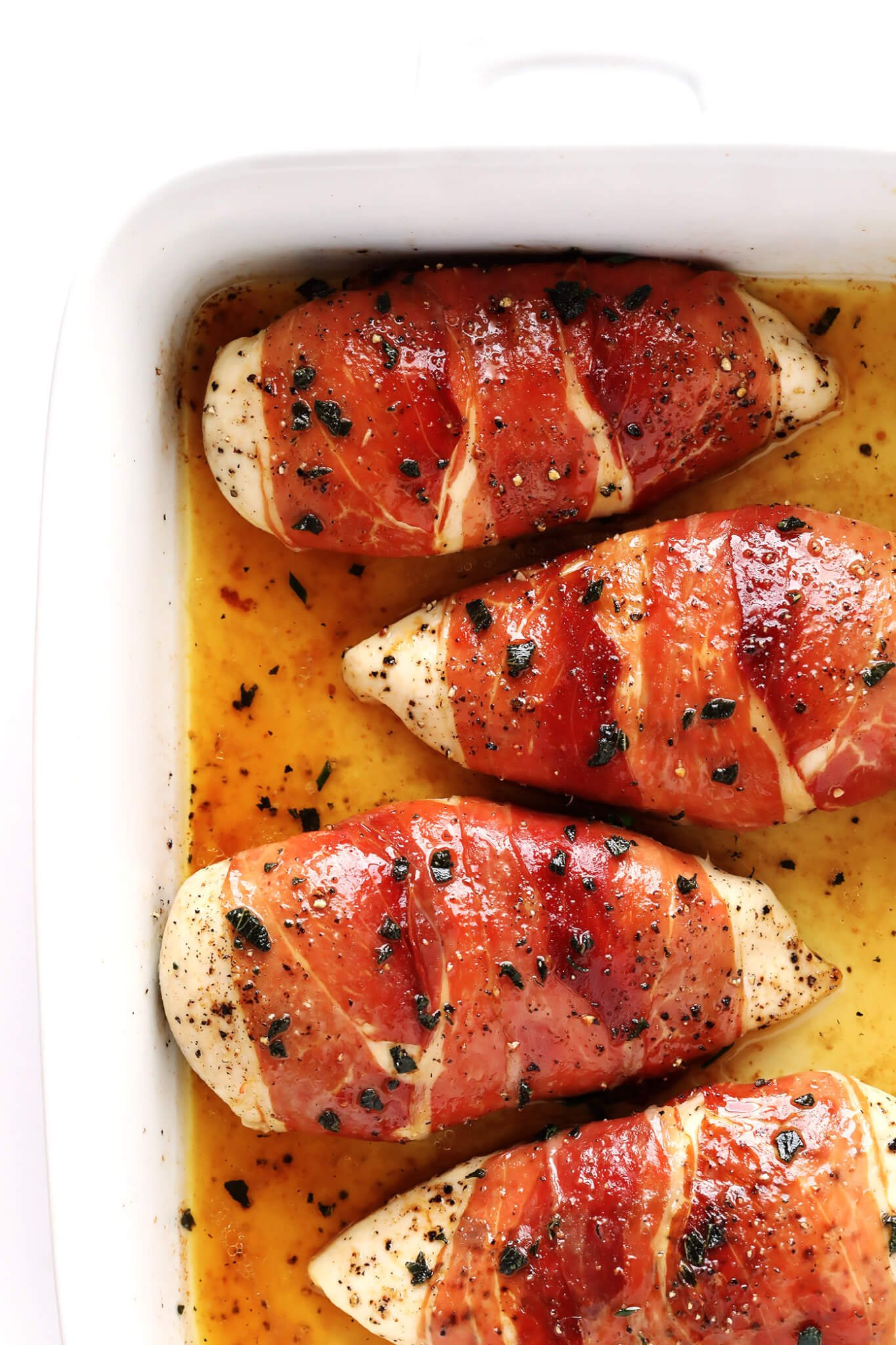 As probably comes as no surprise with these ingredients, the result is a decadent, savory, delicious pan of chicken ready to be served.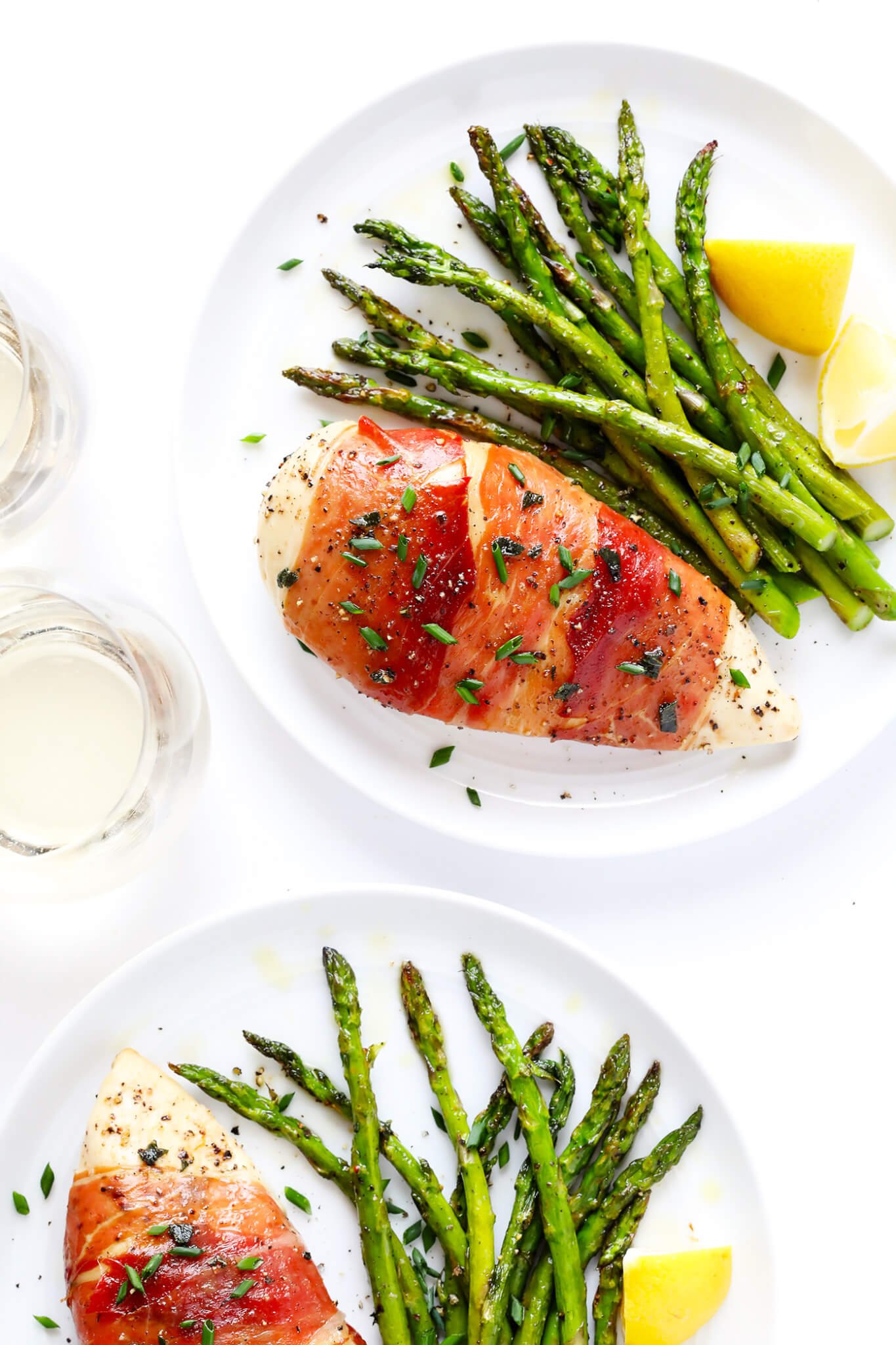 Hope you all enjoy this one!
(This post contains affiliate links.)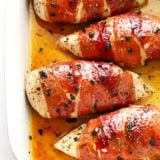 Yield: 4 servings
Prosciutto-Wrapped Baked Chicken
This Prosciutto-Wrapped Baked Chicken recipe is a simplified version of traditional "saltimbocca", made with a heavenly buttery-garlic-sage-white-wine sauce.
Ingredients:
4 boneless skinless chicken breasts
Kosher salt and freshly-cracked black pepper
8-12 slices prosciutto
4 tablespoons melted butter, divided
1 clove garlic, pressed or minced
1 tablespoon finely-chopped fresh sage*
pinch of crushed red pepper flakes
1/4 cup dry white wine
fresh lemon wedges
(optional garnishes: chopped fresh chives, grated Parmesan cheese, and/or extra crushed red pepper flakes)
Directions:
To brine the chicken: Simply fill a large bowl with 1 quart of warm water and 1/4 cup kosher salt. Stir to combine until most of the salt is absorbed. Add the chicken breasts and let them sit in the mixture to brine for 15 minutes. Or you can also also cover the bowl and refrigerate for up to 6 hours. Remove the chicken breasts from the brine, rinse them with cold water, then pat them dry with some paper towels. (Again, though, if your chicken breasts are sold pre-brined in a sodium solution, skip this step.)
To cook the chicken: Heat oven to 450°F.
Wrap each chicken breast with 2-3 slices of prosciutto, so that the prosciutto covers most of the chicken.
Place the chicken breasts in a single layer in a large baking dish. Brush the chicken breasts evenly with

1 tablespoon

of the melted butter. Then season both sides of the chicken breasts with a quick pinch of salt and pepper, then lay the chicken back in a single layer in the baking dish.
Bake for 18-20* minutes, or until the chicken is cooked through and no longer pink. If you use a cooking thermometer to measure the temperature thickest part of the breast, it should be between 160-170°F. (The FDA recommends 165°F.)
Once the chicken is cooked, remove the pan from the oven and loosely cover the pan with aluminum foil. Let the chicken rest for at least 5-10 minutes.
Meanwhile, as the chicken is cooking, add the remaining

3 tablespoons

butter to a small sauté pan, along with the garlic, sage and crushed red pepper flakes. Sauté over medium-low for 6-8 minutes, or until the sage starts to get slightly crispy. Slowly add in the white wine, and simmer for 5 more minutes. Remove from heat.
Once the chicken and sauce are ready to go, spoon the sage-butter sauce evenly over the baked chicken breasts. Then serve immediately with fresh lemon wedges, sprinkled with optional garnishes if you'd like. (Feel free to make your serving as lemony as you'd like!)
*Feel free to substitute any of your favorite Italian fresh herbs here.
Difficulty: EasyCategory: Quick


All images and text ©Gimme Some Oven
If you make this recipe, be sure to snap a photo and hashtag it #gimmesomeoven. I'd love to see what you cook!