This Quick and Easy Pizza Dough requires just 5 minutes of prep! Top with your favorite toppings, bake and you can have homemade pizza in 30 minutes!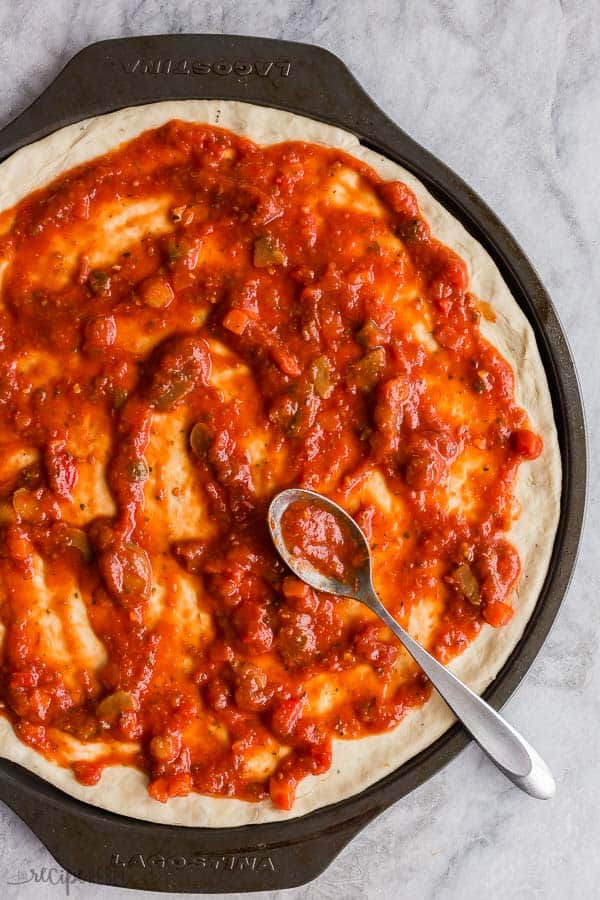 You guys.
I am getting so hangry for pizza just writing this post.
There is a super quick, incredibly easy pizza dough recipe that I have been using for the last year or two, and it's just time to share.
I'll admit, I have another whole wheat pizza dough recipe on The Recipe Rebel that uses active dry yeast, and requires rising (though I supposed you could bake without), and I just don't use that one anymore because this recipe is so easy.
I'm telling you, being a mom of 3 kids 6 and under changes you.
It makes you appreciate a homemade pizza you can have on the table in 30 minutes (provided your toppings are mostly prepped).
Because let's face it — pizza is everyone's favorite.
It's mom's favorite.
Dad's favorite.
Baby's favorite (the girl loves any type of bread with cheese — quesadilla, grilled cheese, pizza…).
And our older girls' favorite.
And when this easy pizza dough recipe takes just 10 minutes to throw together, no rising, no mixer, no nonsense?
There's really no reason not to make pizza a regular event.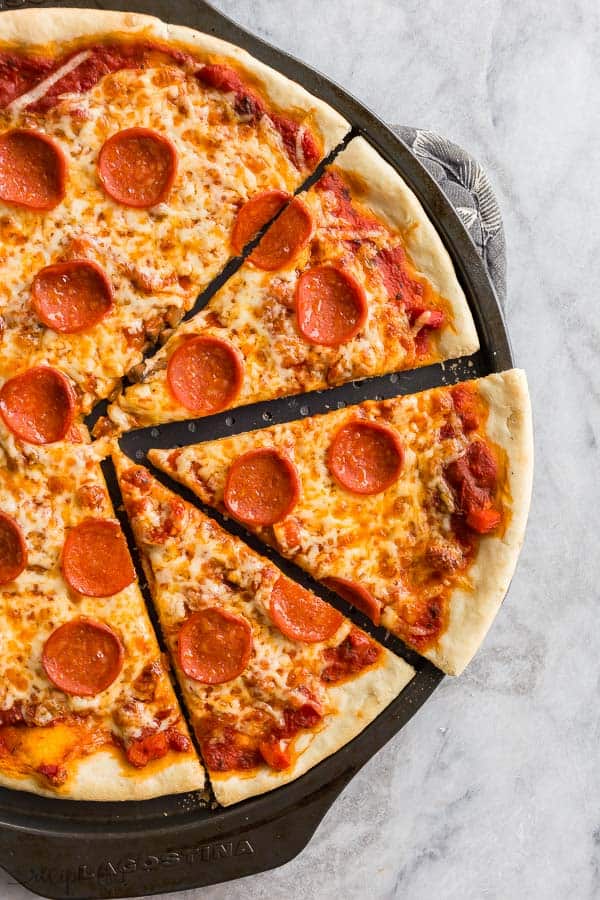 And one of the other best things about this easy pizza dough? It's a dinnertime hit year round.
Cold outside? Throw a pizza in the oven.
Warm outside? Throw a pizza on the grill (check out my post on grilled pizza here).
Hot outside? Check out my frozen dessert pizzas down below 😉
How to make easy pizza dough:
Stir together some of the flour, yeast, garlic powder, oregano, salt and sugar.
Add the wet ingredients: warm water and oil, and stir until a wet dough forms
Add in just enough flour until a soft but not sticky dough forms — your dough is done!
Either let it rise (thick crust pizza) or roll it out immediately and bake (thin crust pizza)

How to make easy whole wheat pizza dough:
This one is simple, friends:
Swap the all purpose flour for whole wheat flour, or part of the all purpose flour for part whole wheat flour.
You don't need to change anything else, as you're adding the flour gradually until it reaches just the right tackiness anyways.
I timed myself making this pizza dough when I was testing it, and I did it in 5 MINUTES. How awesome is that?!?
That being said, if this is your first time making pizza dough, or you have some other distractions, it might be closer to 10.
How to make thin crust pizza:
You can make this pizza crust and roll it out immediately, top and bake — this will give you a relatively thin pizza crust. This is the way we normally do it!
If you want a super thin crust, you can use a slightly larger pan and roll it out into a slightly larger circle.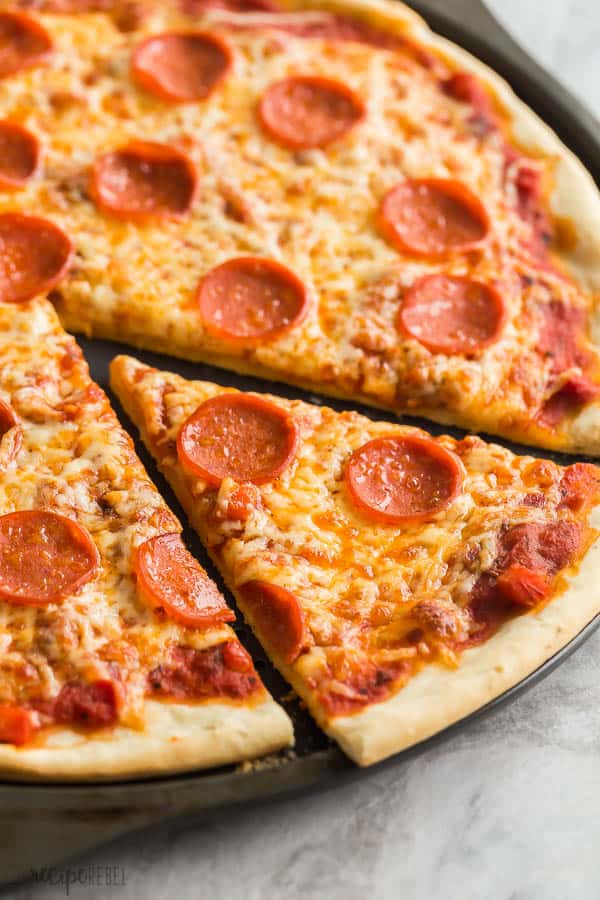 How to make thick crust pizza:
If you prefer thick crust pizza, you have a couple of options — do one or both for a thicker crust!
If you like the bottom thin and crispy (I do!), roll out the pizza dough immediately after preparing it, but roll it out about 1-1.5″ larger in diameter than your pizza pan. Place your circle of dough on your pan. Bring the excess dough around the edges in to the pan and pinch to make a thicker crust just around the edge of the pan. Keep going around the pan until you have a higher border of dough all around. Bake as directed.
You can let the dough rise for 1-2 hours (or even more!), then roll it out in a thicker layer to fit your pan. It will become fluffier as it rises and will give a fluffier, thicker crust.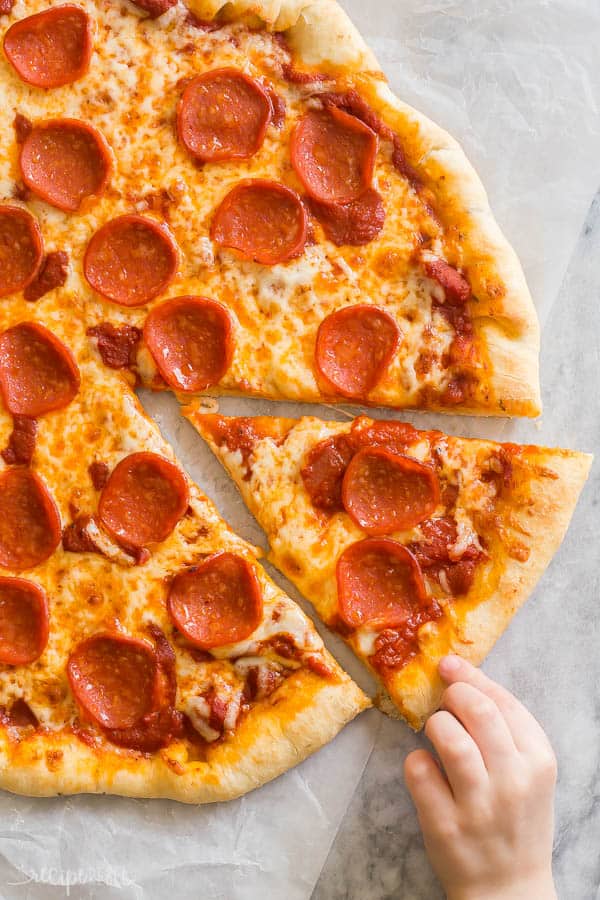 How to store pizza dough:
Can you refrigerate pizza dough?
I love pizza night because I can whip up the dough anytime I have 10 minutes, then either let it rest on the counter (I'll leave it up to 3-4 hours and it will rise and become nice and fluffy, but this recipe makes incredible pizza without any rise time at all), or stash it in the refrigerator.
The yeast will keep working in the refrigerator, but it will work very slowly, so you won't see much rise at all.
This is handy if you want to make your pizza dough, say, 4-24 hours in advance and you don't want your dough ball to grow into a yeasty monster, spilling out of your bowl and all over your counters 😉
Can you freeze pizza dough?
You can absolutely freeze pizza dough!
Simply wrap in plastic wrap then place in a large freezer bag for up to 3 months.
Let thaw at room temperature, then place in a greased bowl, cover and place in a warm spot to rise.
Although if I'm honest this isn't my favorite way to freeze pizza dough (hear me out).
If I'm making extra pizza dough, I will roll it out onto a pan and parbake it (which means I bake about half way, usually about 5-7 minutes).
This way, I can just grab a pan of parbaked pizza dough from the freezer, top it with whatever I have on hand, and toss it in the oven like any other frozen pizza (except 100 times better).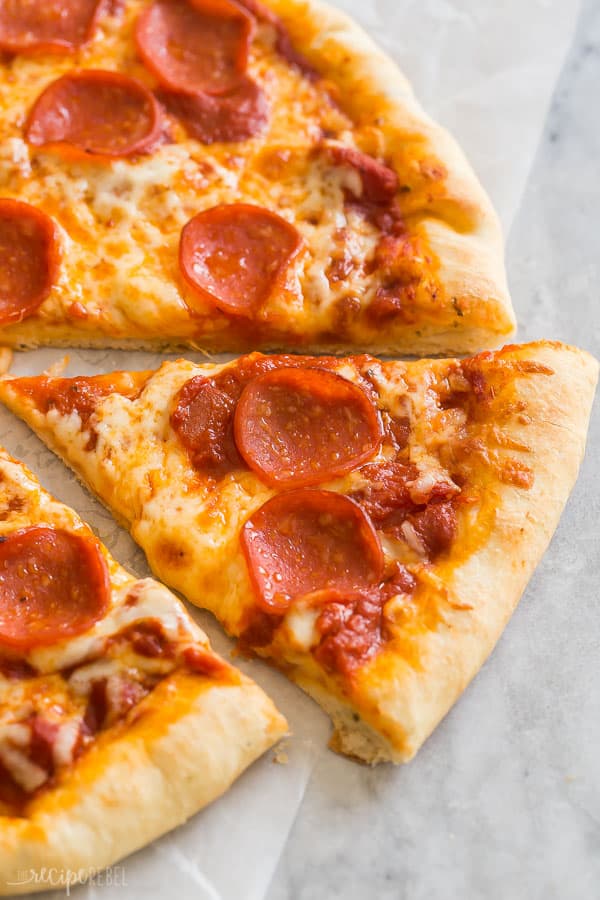 Our favorite pizza toppings:
Looking for some dessert ideas? Try a dessert pizza!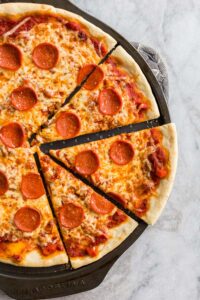 Easy Pizza Dough
This Quick and Easy Pizza Dough requires just 10 minutes of work! Top with your favorite toppings, bake and you can have homemade pizza in 30 minutes! 
Prep Time 10 minutes
Cook Time 15 minutes
Total Time 25 minutes
Servings 8 servings
Calories 125kcal
Author Ashley Fehr
Ingredients
1 1/2 – 2

cups

all purpose flour

195g (plus more for rolling)

1

package

instant or quick yeast

(2 1/4 teaspoons)

3/4

teaspoon

salt

1

teaspoon

granulated sugar

1/2

teaspoon

dried oregano

1/4

teaspoon

garlic powder

2/3

cup

warm water

2

tablespoons

oil
Instructions
In a medium bowl, stir together 1 cup of flour, yeast, salt, sugar, oregano and garlic. 

Add water and oil and stir until combined — it will be a very wet dough.

Add just enough of the remaining flour so that a soft but not sticky dough forms. Add the flour gradually and knead briefly until combined so that you can feel when it is ready — it will still be soft (not feel firm or tough) but won't stick to your hands. To knead, simply press the flour into the dough, fold the dough and press, fold and press.

Set covered in a warm, draft-free place to rise or bake immediately for thin crust pizza.

To bake: roll dough out to fit a 12-15″ pizza pan. Place dough circle on pan and stretch with your hands to reach the edges. Top with sauce, cheese and toppings.

Bake at 425 degrees F for 12-15 minutes until desired crispness is reached. Broil for 1-2 minutes to brown the cheese if desired.
Notes
*Because we are using instant yeast instead of active dry yeast, the temperature of the water matters less, because it does not need to be proofed. Warm water still works best (never hot), but instant yeast is not fussy.
Nutrition (this is an estimate)
Nutrition Facts
Easy Pizza Dough
Amount Per Serving
Calories 125 Calories from Fat 27
% Daily Value*
Total Fat 3g 5%
Sodium 220mg 9%
Potassium 34mg 1%
Total Carbohydrates 19g 6%
Protein 2g 4%
Calcium 0.6%
Iron 6.5%
* Percent Daily Values are based on a 2000 calorie diet.