This rice pilaf recipe will brighten up any fall or winter meal! Studded with pomegranates, pistachios & herbs, it's a stunning, fresh holiday side dish.
How pretty is this rice pilaf? If you're looking for an easy holiday side dish that doesn't skimp on flavor, this recipe is just the thing for you. It's simple, you can prep most of it ahead of time, and it's richly flavorful. A spiced citrus dressing coats the hearty rice, nuts add crunch, and herbs give it fresh, aromatic flavor. Last but not least, a sprinkle of pomegranate arils takes it over the top!
Today, we're partnering with POM Wonderful because Jack and I love pomegranates! He likes to snack on them (especially out of the convenient POM POMS Fresh Arils cups!), and I like to use them in salads, dips, and more. They're known for their antioxidant goodness, and they're a good source of fiber, but most importantly (for me), they add a brilliant ruby red pop of color and a sweet burst of flavor to holiday recipes like this one!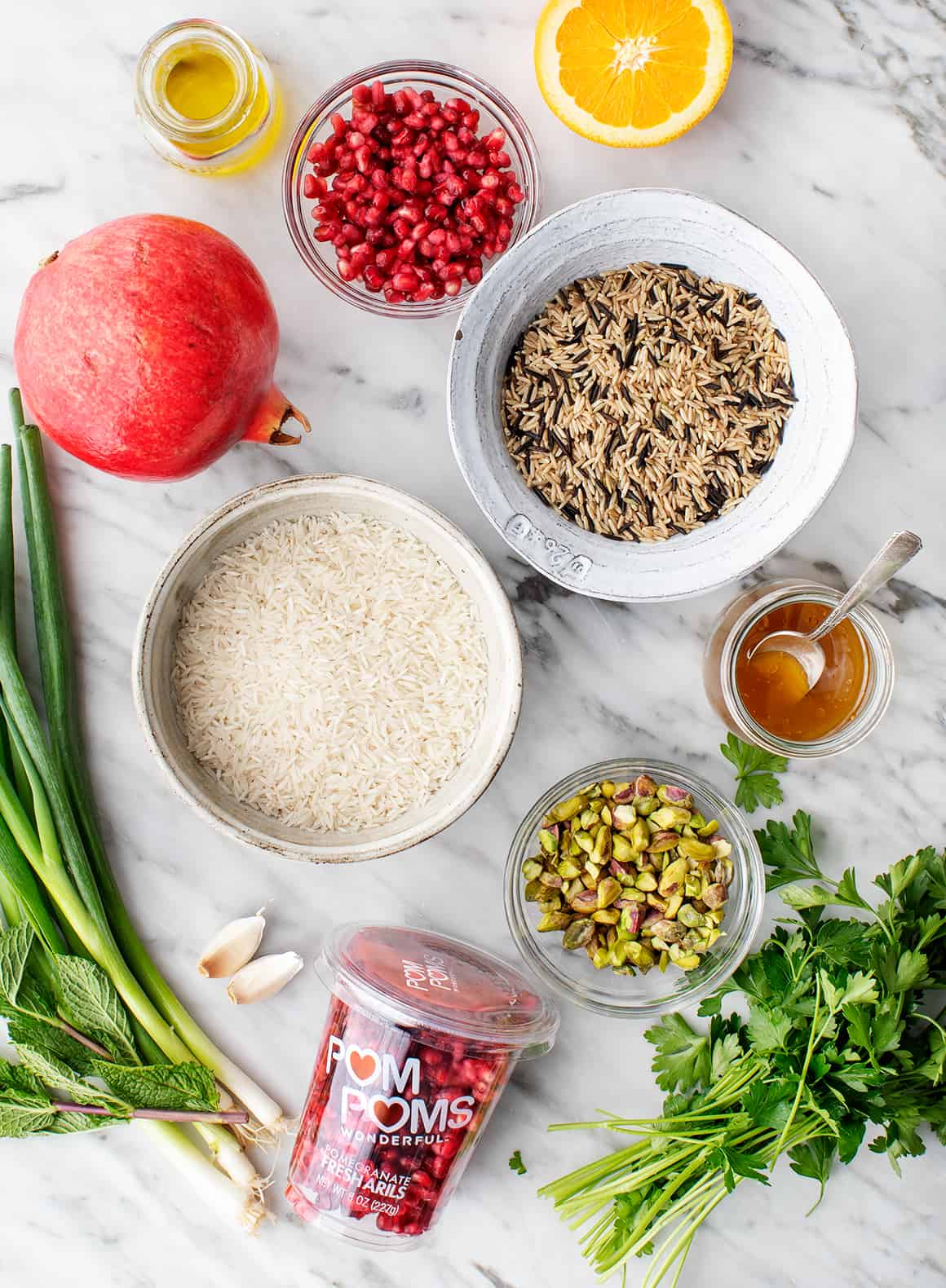 How to Make Rice Pilaf
Here's what you'll need to make this easy rice pilaf recipe:
Rice, of course! I used a mix of wild rice, brown rice, and basmati rice, but just one or two varieties of rice would work just as well. Steer clear of short grain rice – wild rice, long grain white rice, and long grain brown rice have the best texture for this recipe!
Pomegranates – They add the perfect pop of bright color and flavor.
Herbs – Mint leaves and chopped parsley fleck this rice pilaf with green, and they add lovely fresh flavor.
Scallions and garlic – They add savory depth of flavor to contrast with the fruity and herbal notes in this rice pilaf.
Nuts, for crunch! I love the bright green color of pistachios in this recipe, but walnuts would be great too.
To tie it all together, I make a warm-spiced citrus dressing with cinnamon, cumin, coriander, fresh orange juice, maple, white wine vinegar, and olive oil.
To make this recipe, start by cooking the rice. As it cools, whisk together the dressing. Then, lightly sauté the scallions and garlic. Stir the cooked rice into the pan, along with the nuts, half the dressing, and some parsley. Transfer the rice pilaf to a serving dish, drizzle it with more dressing, and top it with more parsley, mint, and POM POMS Fresh Pomegranate Arils. Enjoy!

Easy Rice Pilaf Recipe Tips
Prepare it in advance. If you cook the rice and make the dressing in advance, this dish comes together in minutes.
Lighten it up. If you'd prefer to serve this recipe as a lighter veggie side dish, substitute cauliflower rice for some or all of the regular rice.
Make it a meal. I love to enjoy this rice pilaf is as a meal on its own! I top it with roasted chickpeas for protein and serve it with a roasted veggie like Brussels sprouts, cauliflower, or butternut squash with a drizzle of tahini sauce. It holds up well on the go, so pack it for a healthy lunch (see this post for my best lunch-packing tips and ideas!).

More Healthy Grain Recipes
If you love this festive rice pilaf recipe, try one of these simple grain recipes next:

POM POMS (POM Wonderful's brand of pomegranate arils, or seeds, which derive from fresh pomegranates), are available now through January in convenient 4.3 and 8-ounce packs. Find them in the cut fruit produce section of most grocery stores.
If you have extra pomegranates after making this recipe, add them to cookies, top them onto salads, sprinkle them over hummus, stuff them into squash, or enjoy them as a snack!
Rice Pilaf with Pomegranates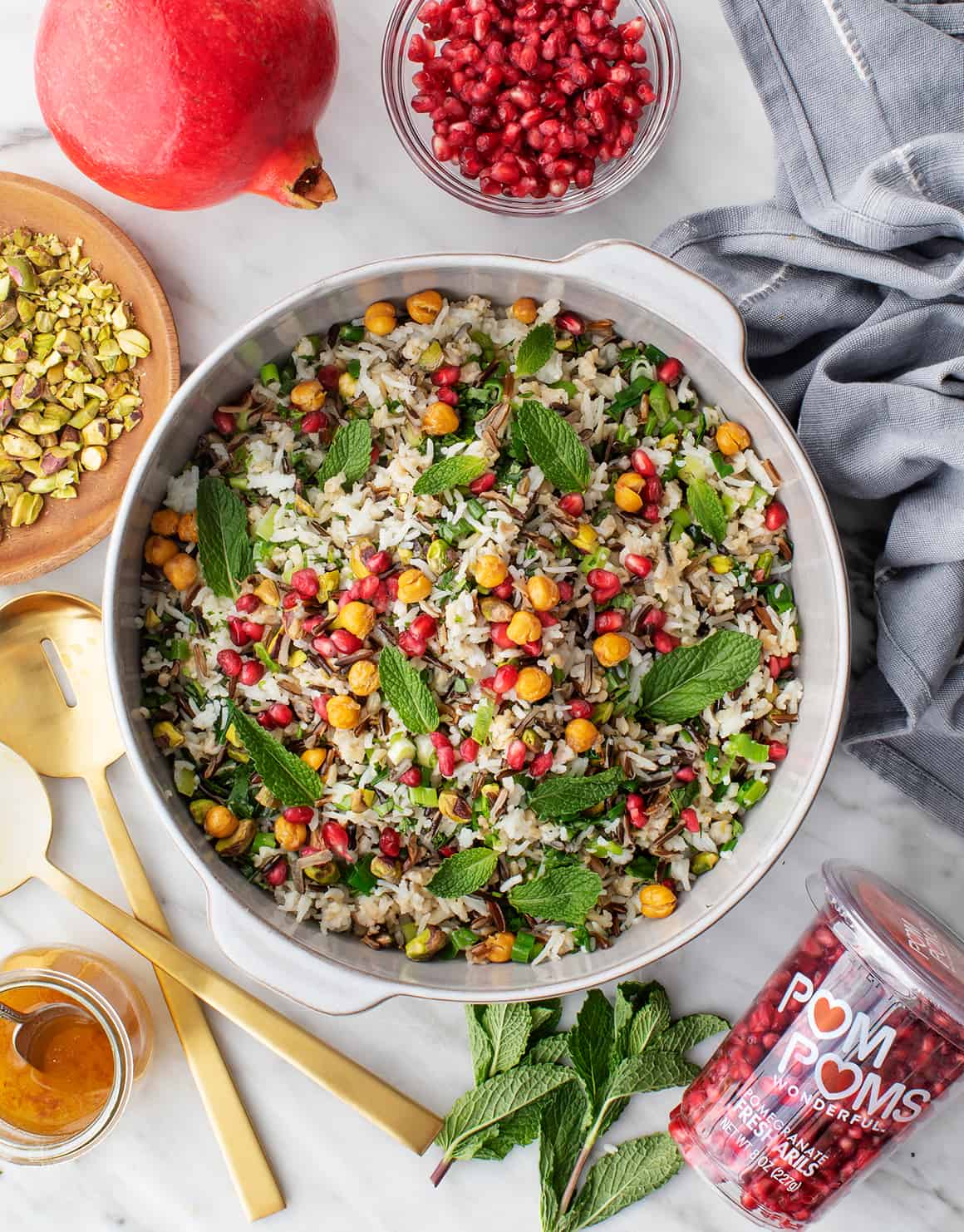 Author: Jeanine Donofrio
Recipe type: Side dish
4 cups cooked long grain rice (any kind – see options below)
2 teaspoons extra-virgin olive oil
1 bunch scallions, white and green parts, chopped
3 cloves garlic, minced
⅓ cup toasted, chopped pistachios
½ cup chopped parsley
½ cup pomegranate arils
⅓ cup fresh mint leaves
Sea salt and freshly ground black pepper
Roasted Chickpeas, optional
2 tablespoons extra-virgin olive oil
2 tablespoons white wine vinegar
1 tablespoon fresh orange juice, plus 1 teaspoon zest
1 tablespoon fresh lemon juice
½ teaspoon maple syrup
½ teaspoon ground cumin
½ teaspoon ground coriander
¼ teaspoon cinnamon
½ teaspoon sea salt
Freshly ground black pepper
Make the dressing: In a small bowl, whisk together the olive oil, vinegar, orange juice, zest, lemon juice, maple syrup, cumin, coriander, cinnamon, salt, and a pinch of pepper. Set aside.
Heat the oil in a large skillet over medium heat. Add the scallions, garlic, pinches of salt, and pepper and cook for 1 minute until soft. Reduce heat to low and add the cooked rice, using the back of a wooden spoon to break up any clumps. Heat until warmed through. Turn off the heat and stir in the dressing, parsley, and pomegranates. Top with mint leaves and roasted chickpeas, if using. Season to taste and serve.
To cook brown/wild rice mix:
Combine 1 cup rinsed rice, 2 cups water, and 1 teaspoon olive oil in a pot and bring to a boil. Cover, reduce the heat, and simmer for 45 minutes. Remove from the heat and let it sit, covered for 10 minutes. Fluff with a fork. Makes 3 cups cooked rice.
To cook white basmati rice: Combine 1 cup rinsed rice, 1½ cups water, and 1 teaspoon olive oil in a pot and bring to a boil. Cover, reduce the heat, and simmer for 15 minutes. Remove from the heat and let it sit, covered, for 10 more minutes. Fluff with a fork. Makes 3 cups cooked rice.
3.4.3177
Special thanks to POM Wonderful for partnering on this post!