Red Velvet Thumbprint Cookies are delicious spin on classic thumbprint cookies and red velvet cake! Little bites of red velvet and frosting will gorgeous on your cookie platter!
If you love red velvet make sure to try my Red Velvet Cake recipe! It's the BEST!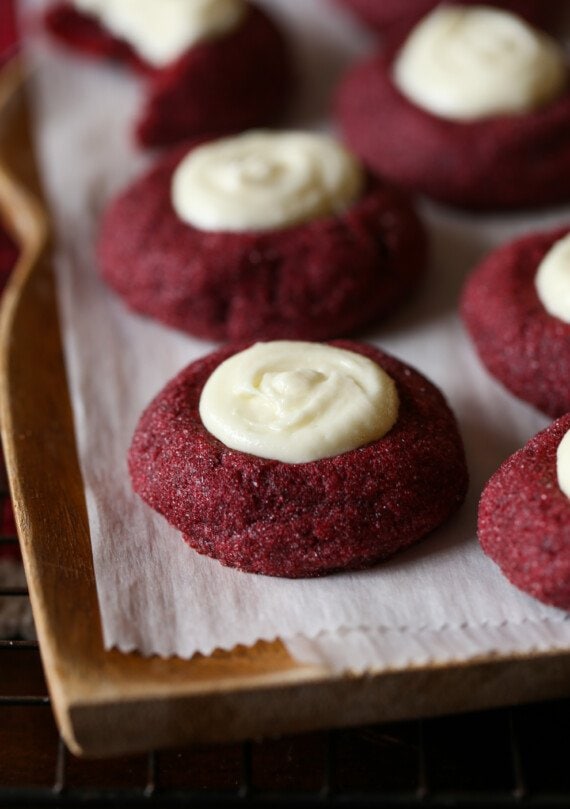 This recipe is in partnership with Imperial Sugar. I develop recipes for them every month, so make sure to hop over there for the FULL RECIPE.
Red Velvet Thumbprint Cookies Are Little Bits Of Your Favorite Cake!
These thumbprint cookies are super sweet! They are the perfect addition to a holiday cookie platter, for Valentine's Day, or for any red velvet lover all year long! The cookie is soft, with that subtle chocolate/red velvet flavor and is topped with creamy white chocolate buttercream!
What Is Red Velvet?
Red Velvet cake includes cocoa powder, buttermilk, and vinegar. The combination of these three causes a chemical reaction making it appear red in color. This is usually enhanced with extra red food coloring for effect. The idea for these cookies is similar, but since they are a cookie I omitted the buttermilk and vinegar, relying on the cocoa powder, baking powder, and red food coloring for the pretty red color!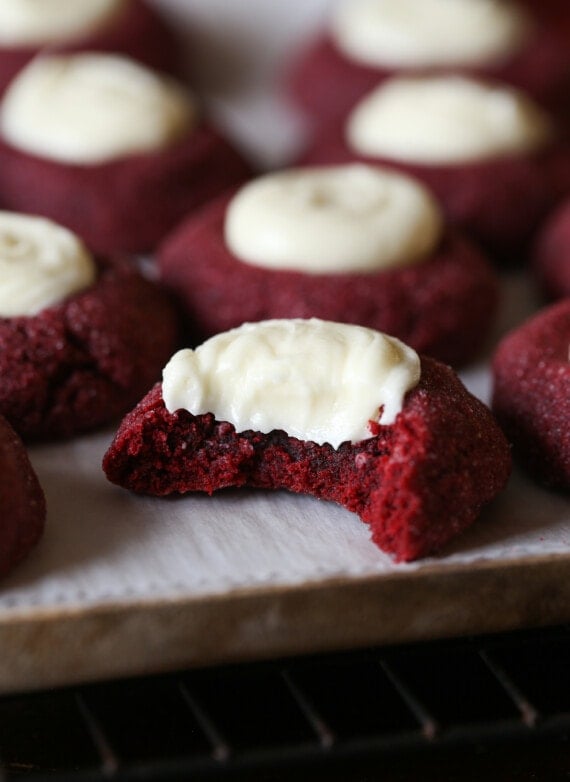 Ingredients:
butter
granulated sugar
egg
vanilla extract
red food coloring
unsweetened cocoa powder
baking powder
kosher salt
all purpose flour
Hop over to Imperial Sugar for the FULL and PRINTABLE RECIPE!
What Can You Use In Place of Red Food Coloring?
The red food coloring in this recipe is hard to substitute to get a true red color. I have heard that beet powder will work, but I've never tried it! They also sell natural food coloring in bake shops and on amazon, which would be a good alternate!
How Do You Make The Indent in Thumbprint Cookies?
Press the dough down before you bake these. They don't spread a lot while they bake and puff up sightly, so if you don't press them down beforehand you will crack your cookies when you press them when they come out.
You might even need to press them a little bit more when they come out of the oven just to make the "well" a little more defined, but this is totally fine! Since you press them beforehand, this will only be minimal and won't lead to cracking.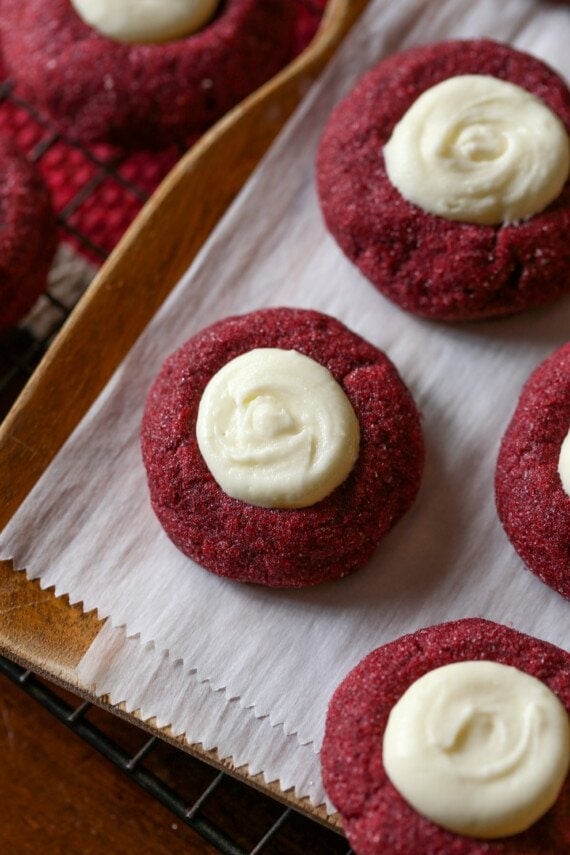 What Is the Filling?
The filling I use for these cookies is a White Chocolate Buttercream. Here's what you will need:
butter
powdered sugar
white chocolate
heavy cream
But don't feel like you have to use this frosting in these cookies. You can simply melt some white chocolate and fill the indentation with melted chocolate! OR you could use cream cheese frosting or regular buttercream!
How To Store:
I store these airtight at room temperature for up to 2 days. If you need to keep these longer than 2 days pop them in the refrigerator for up to 5 days, OR freeze them for up to 30 days!
Visit Imperial Sugar for the FULL RECIPE.
PIN for later: