Roasted Breakfast Potatoes-these easy and crispy breakfast potatoes are roasted in the oven and go great with any meal.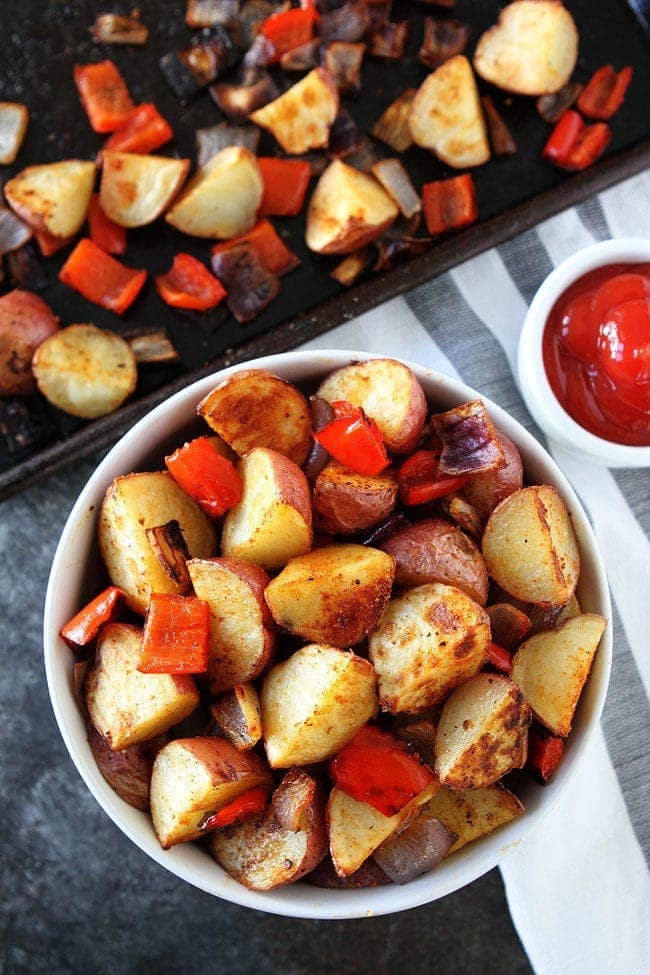 Easter is right around the corner and we are gearing up for an epic Easter brunch. Easter brunch is my favorite. The only problem…I want to make too many things. Right now our menu looks like this: Spinach Artichoke Egg Casserole, Raspberry Sweet Rolls, Fruit Salad, bacon for the boys, and our favorite Roasted Breakfast Potatoes. What is on your Easter brunch menu? You FOR SURE need to make room for these breakfast potatoes. They are the best!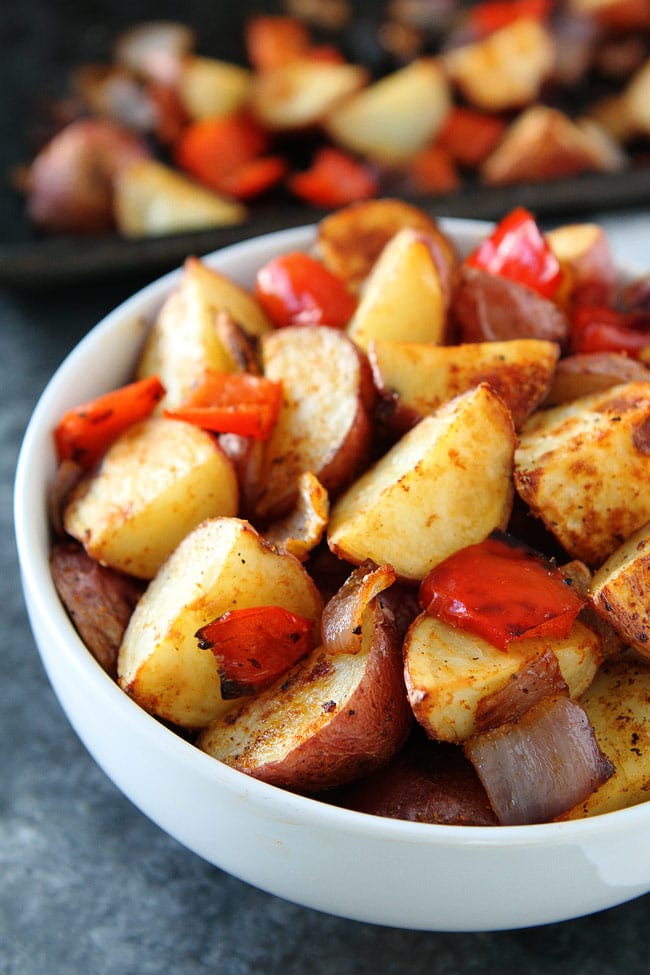 We are a breakfast potato family and these oven roasted breakfast potatoes are our favorite. They are SO easy to make and are on the healthier side since they are roasted and not fried. Another big bonus, you can make them on ONE pan.
I like to line the baking sheet with aluminum foil because I am all about easy clean up. I toss the red potatoes, red bell pepper, and red onion with olive oil. I also season the veggies with garlic powder, paprika, salt, and pepper.
I roast the potatoes until they are nice and crispy. Crispy potatoes are a MUST. Sometimes, I even let the potatoes go a little longer so they are slightly burnt around the edges. The burnt potatoes are my favorite. You can cook them to whatever doneness you like, but trust me, you want them crispy!
The roasted red peppers and onions give the potatoes a ton of flavor. We like to serve the potatoes hot with ketchup. You can also spice them up with your favorite hot sauce or salsa. They go great with any breakfast…and sometimes we make them for dinner. They are SO good!
Make sure these Roasted Breakfast Potatoes are on your Easter brunch menu this year. They are super simple and will go great with whatever you are making. And let me know what you are making in the comments. I might want to try a new recipe this year! And if you need ideas, check out our Easter recipes! There are lots of good ones!
If you like these breakfast potatoes, you might also like: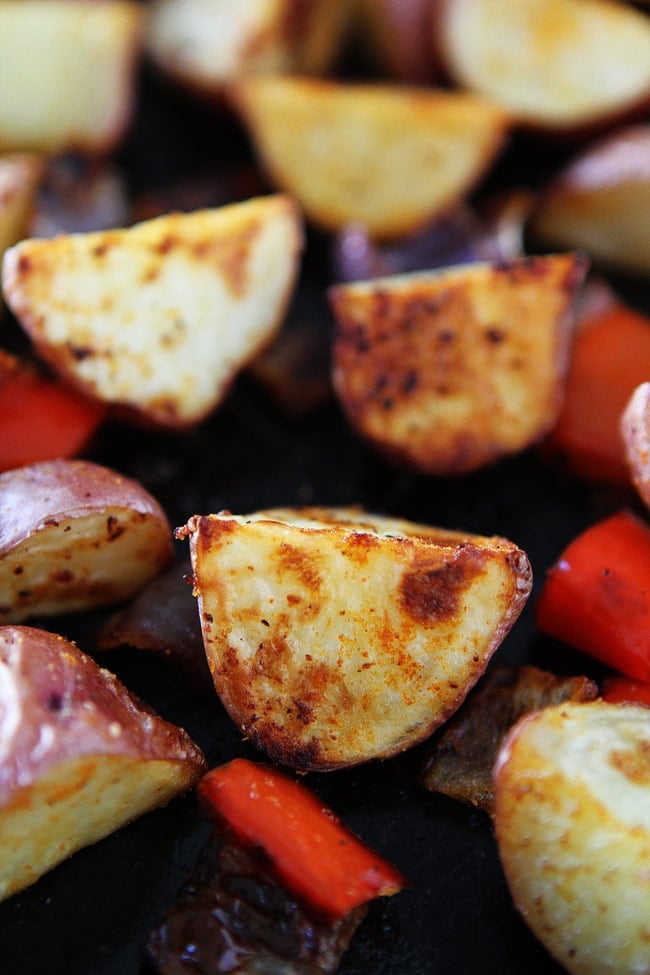 Roasted Breakfast Potatoes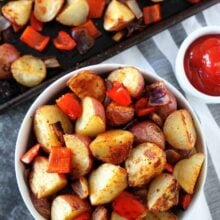 These easy and crispy breakfast potatoes are the BEST! They are roasted in the oven, made on one pan, and go great with any meal.
Yield: Serves 6-8
Prep Time:10 minutes
Cook Time:45 minutes
Total Time:55 minutes
Ingredients:
2 pounds red potatoes, quartered
1/2 small red onion, chopped
1 red bell pepper, chopped
2 tablespoons olive oil
1 teaspoon garlic powder
1 teaspoon kosher salt
1/2 teaspoon paprika
Freshly ground black pepper, to taste
Directions:
Preheat oven to 425 degrees F.
Place the potatoes, onion, and red pepper on a large baking sheet. Drizzle with olive oil and toss until vegetables are well coated.
In a small bowl, combine garlic powder, salt, and paprika. Sprinkle the seasonings over the vegetables and toss again until well coated. Season with freshly ground black pepper, to taste.
Place the pan in the preheated oven and roast until potatoes are crispy, about 45 minutes.
Remove from the oven and serve warm.


All images and text ©Two Peas & Their Pod.
Follow twopeasandpod on Instagram and show us what recipes you are making from our blog! Use the hashtag #twopeasandtheirpod! We want to see what you are making in your kitchen!