posted by Jaden on November 22, 2017
A modern twist to Brussels Sprouts. This Roasted Brussels Sprouts with Cranberry Pistachio Pesto recipe is from Chef Todd of Checkers Restaurant in the Los Angeles Hilton Hotel. Create a colorful pesto with pistachios, dried cranberries, roasted garlic, parsley, and olive oil in the food processor. Roast Brussels sprouts in the oven 375F for 20 minutes. Toss with pesto.
The pesto is amazing on sandwiches, using leftover Thanksgiving turkey!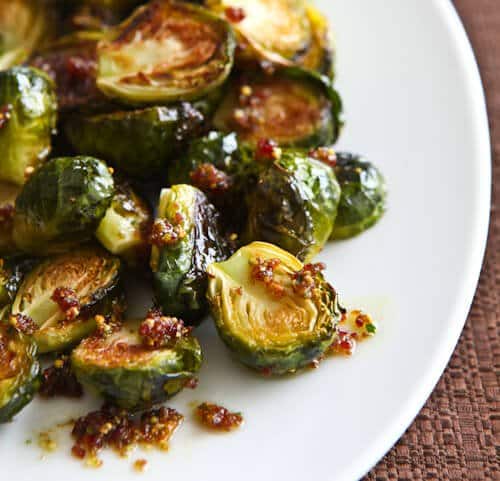 A festive take on roasted Brussels sprouts. This crunchy and tangy pesto is made with dried cranberries and pistachios, a delicious combination (and colorful too!)
The Cranberry Pistachio Pesto is a recipe from Chef Todd of Checkers Restaurant in Downtown Los Angeles, right inside the Hilton Hotel. NO…not the Checkers Hamburgers…I'm talking about the sleek Checker's Restaurant totally unrelated!
I asked Chef Todd about this recipe:
More ways to use the Cranberry Pistachio Pesto
In addition to serving this pesto with roasted brussels sprouts, Chef Todd also pairs this with an Open Faced Grilled Chicken Sandwich with Baby Arugula:
(For Thanksgiving, use leftover turkey!)
and a Cheese Plate Roasted Beets and Humboldt Fog Cheese (AMAZING!)
How to make the Cranberry-Pistachio Pesto
Ingredients:
Add all ingredients except for the olive oil into food processor and let that baby run until the ingredients are finely chopped. Keep the motor running and add in 2 tablespoons of the olive oil.
Here's the important part – stir in the remaining olive oil by hand. If you try to add all the olive oil into the food processor, it will become too thick and turn into a "paste" rather than a pesto.
Print
Recipe from Chef Todd Allison at Checkers Restaurant at the Los Angeles Hilton Hotel. This recipe makes double the amount of Cranberry Pistachio Pesto, so that you can reserve remaining to serve on sandwiches or on cheese plate. Alternatively, you can freeze the extra pesto.
Follow the instructions for the pesto carefully. Only 2 tablespoons of olive oil are added to the food processor…the remaining is STIRRED in.
Course: Side Dish
Cuisine: American
Servings: 6 people
Calories: 219 kcal
Author: Jaden
For Brussels Sprouts
1 1/2

pounds

brussels sprouts

3

tablespoons

olive oil
For Pesto
1/3

cup

unsalted, shelled pistachios

if you use salted pistachios, remember to taste pesto before salting at end.

1/3

cup

dried cranberries

2

cloves

garlic

or 3 cloves roasted garlic

1/2

cup

fresh parsley leaves

1/2

cups

olive oil

salt and freshly ground black pepper to taste
Preheat oven to 375F degrees.

Cut off the knobby end of the brussels sprouts and pull off any loose outer leaves. Cut the brussels sprouts in half, lengthwise. Toss with olive oil.

On a baking sheet, spread the brussels sprouts evenly and roast for 20-25 minutes, until you begin to see a bit of browning on the brussels sprouts. The interior should be fork tender.

Place the pistachios, cranberries, garlic and parsley into a food processor and process until very finely chopped. While the food processor is running, slowly drizzle in only 2 TABLESPOONS of the olive oil. Spoon out the pesto into a bowl and stir in remaining olive oil. Season with salt and black pepper to taste. The pesto should be slightly sweet and salty. If the pesto is too thick, you can stir in more olive oil. 

Lightly season the brussels sprouts with salt and pepper. Toss with just 1/4 cup of the Cranberry Pistachio Pesto on top. Reserve remaining pesto for other uses.
Nutrition Facts
Roasted Brussels Sprouts with Cranberry Pistachio Pesto Recipe
Amount Per Serving
Calories 219 Calories from Fat 153
% Daily Value*
Total Fat 17g 26%
Saturated Fat 2g 10%
Sodium 30mg 1%
Potassium 486mg 14%
Total Carbohydrates 13g 4%
Dietary Fiber 4g 16%
Sugars 4g
Protein 4g 8%
Vitamin A 21.3%
Vitamin C 121.1%
Calcium 5.4%
Iron 10.9%
* Percent Daily Values are based on a 2000 calorie diet.