Easy40 minsQuick
This Roasted Cauliflower Orzo Salad recipe is full of delicious Mediterranean flavors, quick and easy to make, and perfect for picnics or potlucks or easy make-ahead dinners.
One of the random challenges of this food blogging gig for me is actually committing to a final recipe.
I'm forever second-guessing myself at the last minute before photographing, wondering whether I should garnish a dish it with a little of this…or a little of that? Or made it with this vinaigrette…or that? Or whether I should have added in protein…or made it vegetarian? Or photographed it in this bowl…or that one? Or served it with these sides…or those?
Oh my goodness, the options with every recipe seem practically limitless. ?
Occasionally, I'll text my friend, Kathryne, in the middle of making a final recipe and have her bail me out with the day's garnish decision fatigue. Or far too often, the little lightbulb will click on when I'm editing photos afterwards and I suddenly get the "ah ha!" solution that I wish I had caught earlier. Or sometimes — like with this recipe — I figure out the perfect missing ingredient exactly halfway through photographing.
So for a bit of a behind-the-scenes glimpse of Weird Things Food Bloggers Stress About, today I thought I'd share this delicious Roasted Cauliflower Orzo Salad recipe with you…before and after the ?.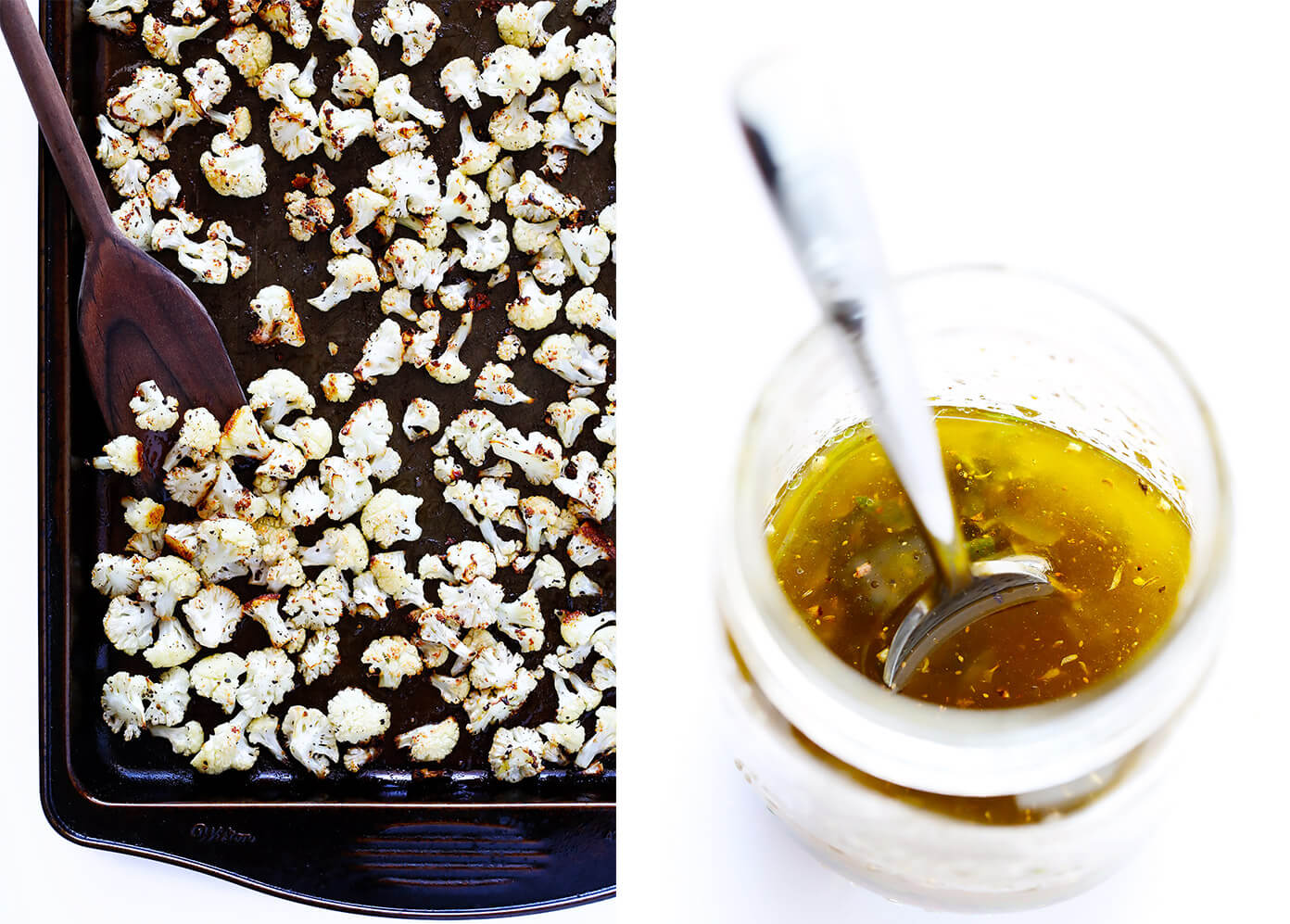 The inspiration for this one was easy. I had a fresh head of cauliflower at home that I was itching to roast, and a bunch of leftover Mediterranean ingredients in the fridge after making a video of this farro salad (coming soon!). So I decided to put them all to good use with my favorite kind of summertime dish — a nice and hearty pasta salad.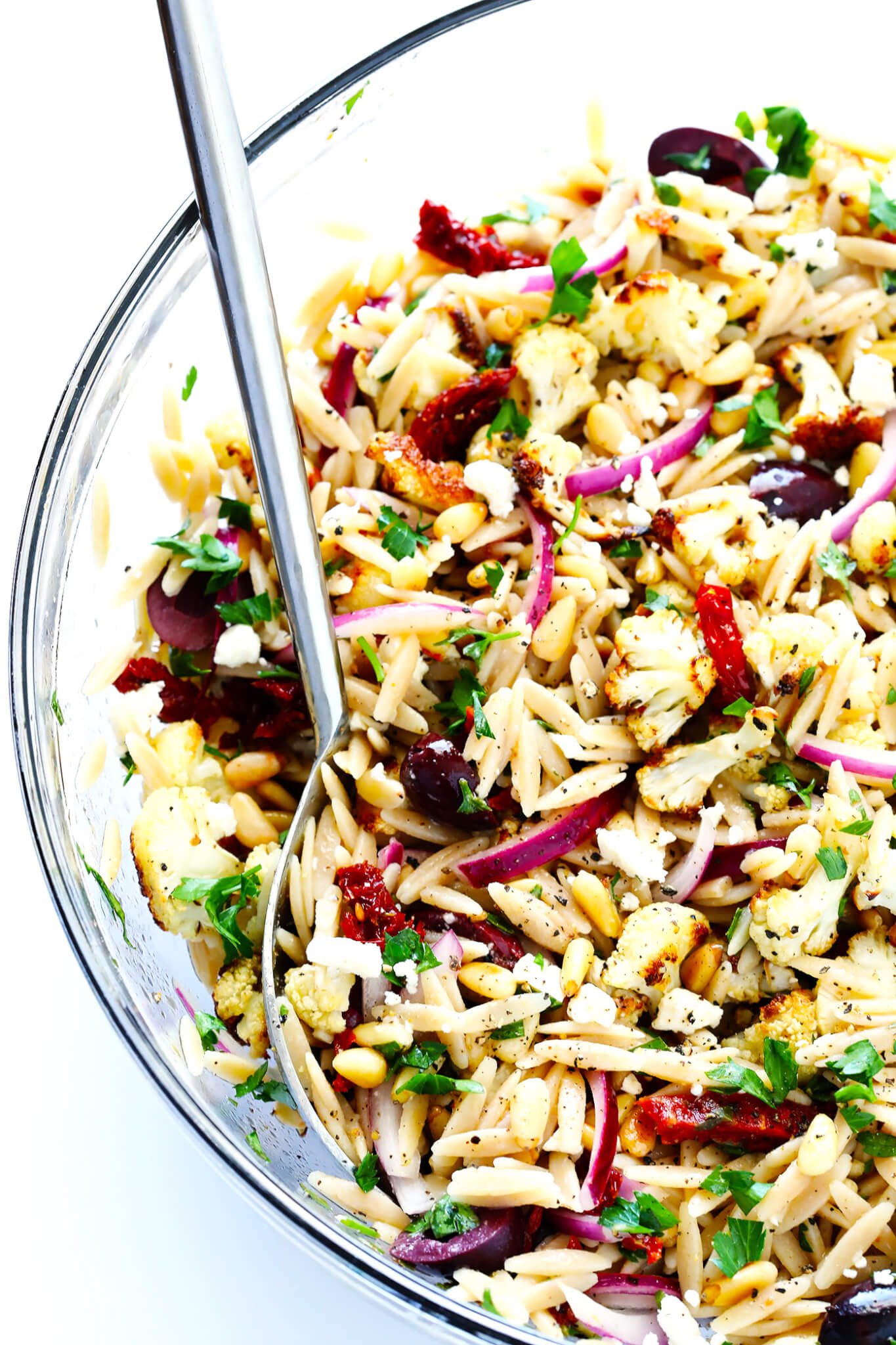 Everything came together easily and looked and tasted delicious, so grabbed my camera and snapped a few photos in case I wanted to blog about this one later. But after eating a few bites, I still felt like there was a little something missing. I took a scan through the pantry, and thought about tossing in some roasted red peppers…but I felt like the sun-dried tomatoes were carrying most of that load. I thought about adding in some chickpeas…but nah, it already seemed plenty hearty with the pasta and pine nuts. Then I opened the fridge to take a look around, and all of a sudden…???.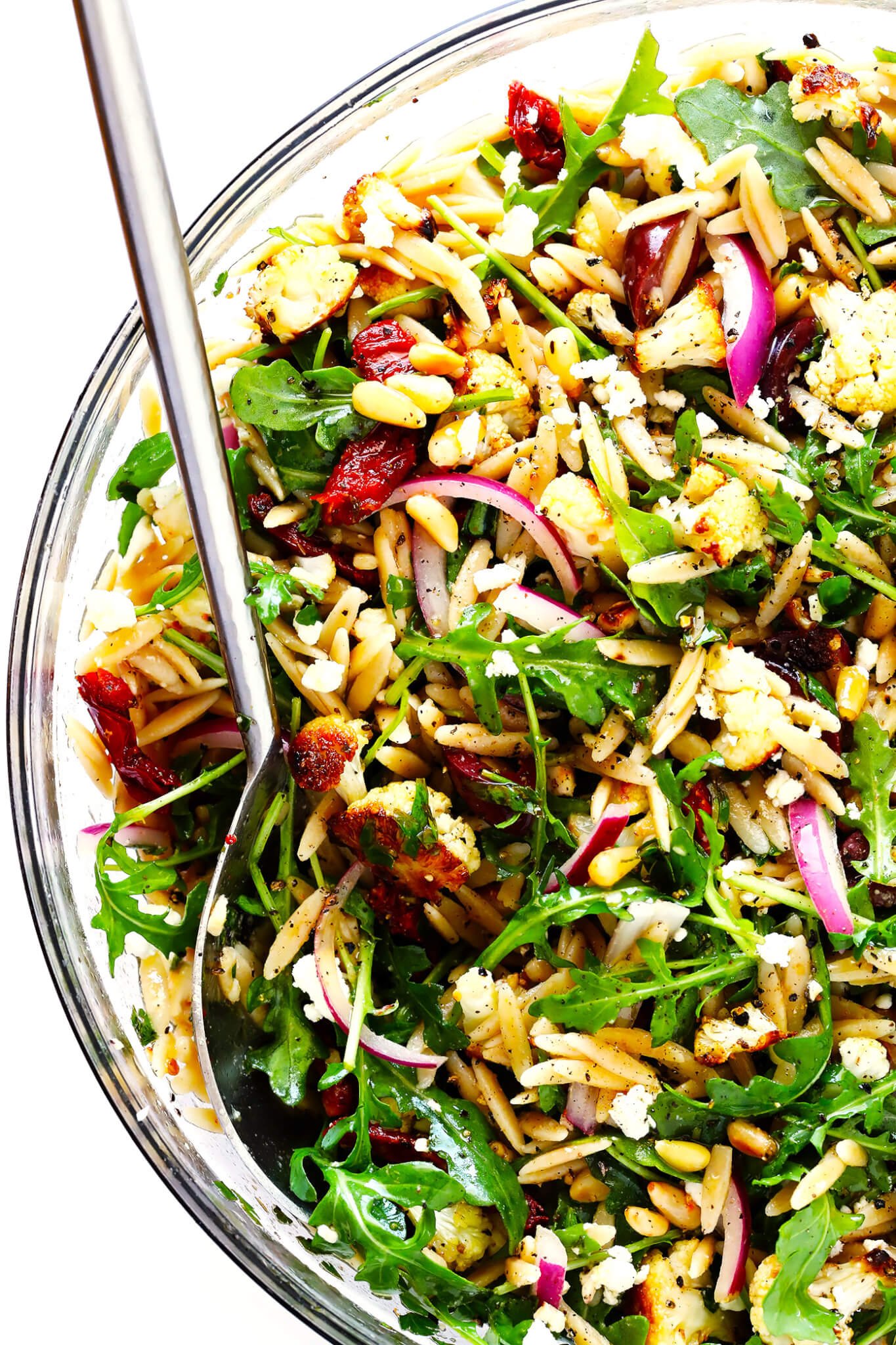 ARUGULA!
Ah ha! That fresh, peppery, green goodness was exactly what the salad needed. So I stirred a bunch in…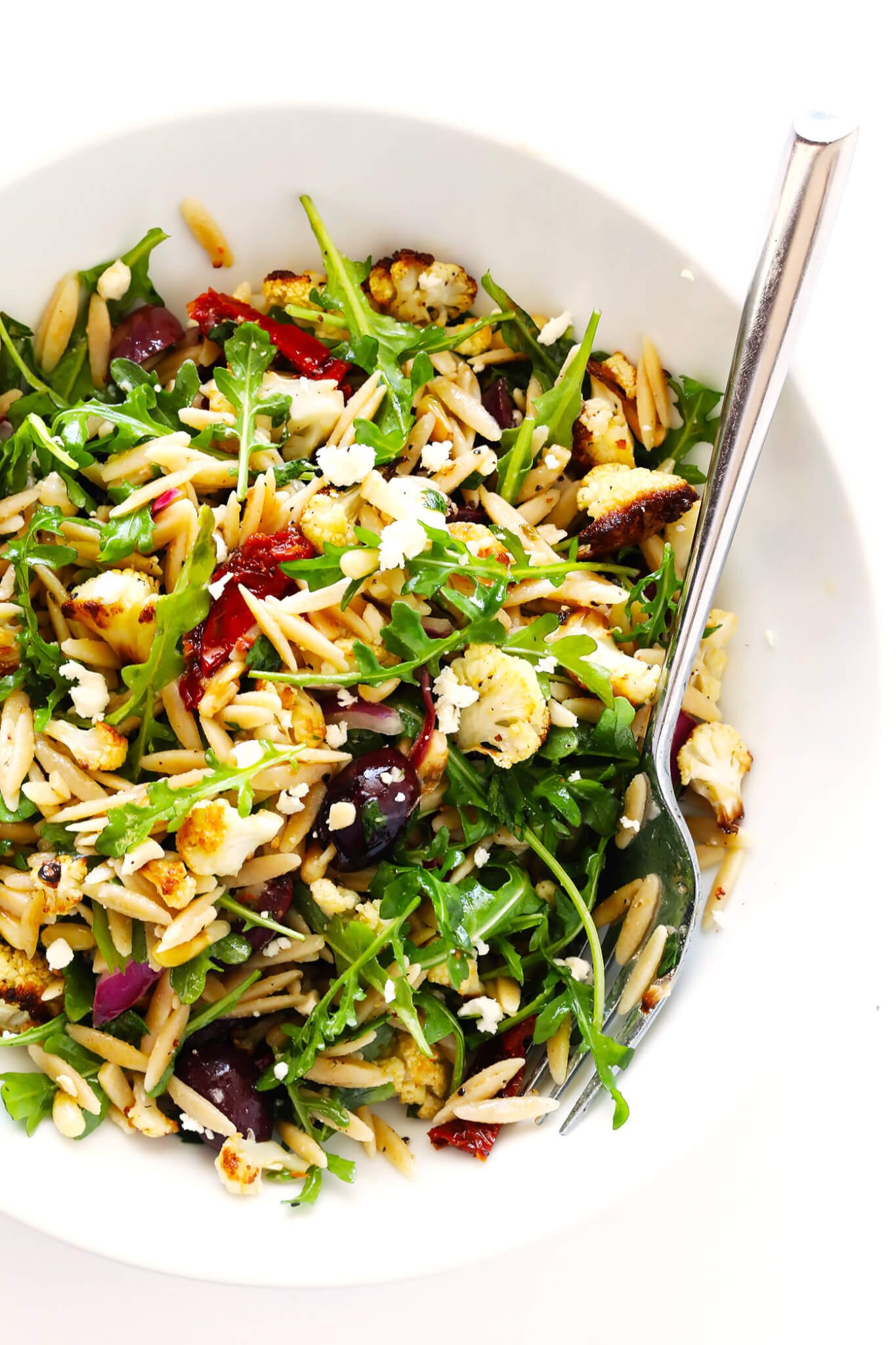 …and bingo. It totally hit the spot. And — bonus — made the salad look so much more fresh and fun and colorful too, don't you think? I had a huge bowl for lunch.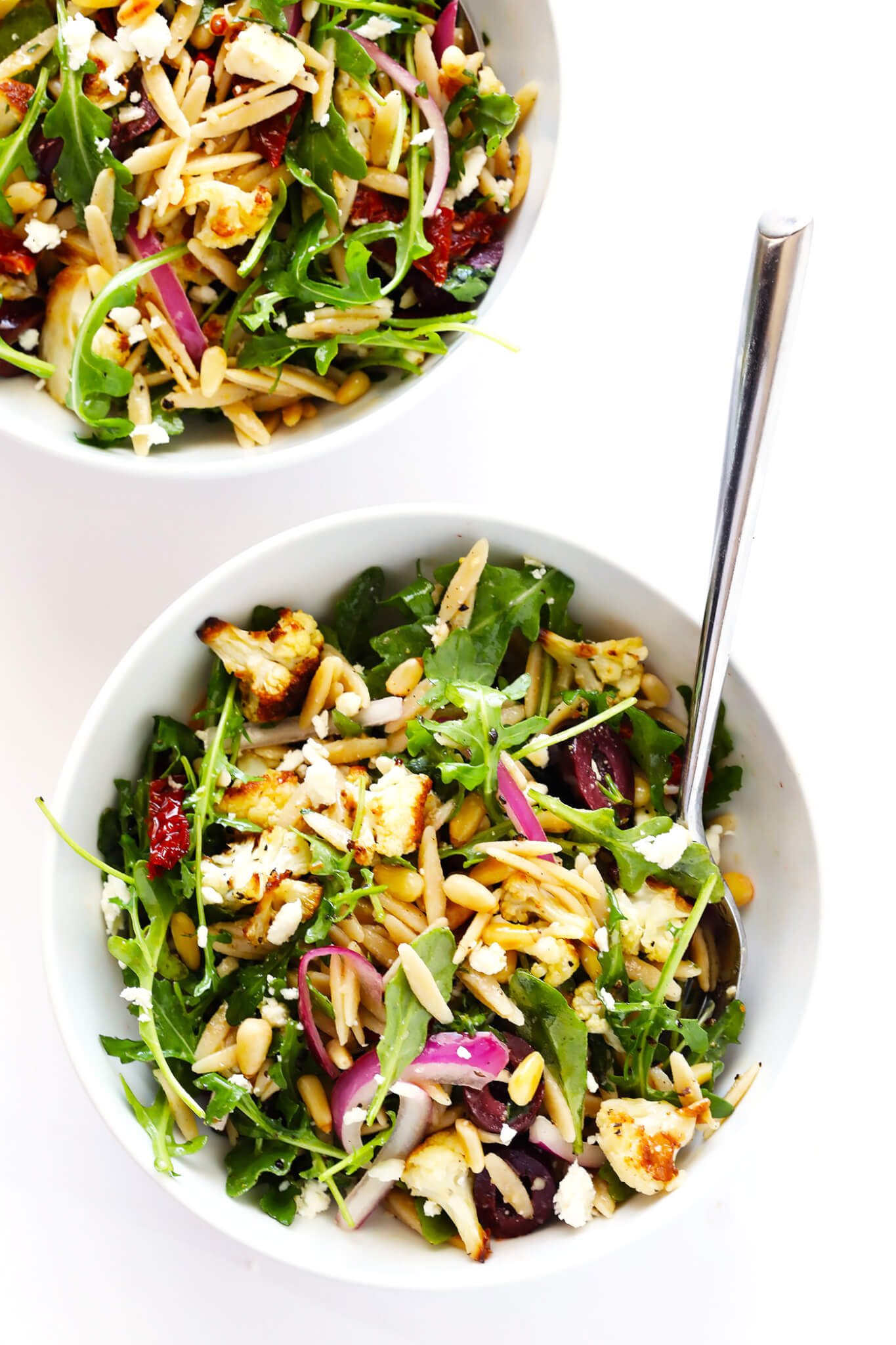 And then made it again a few days later just to double-test it. (But let's be real — mostly just to have an excuse to eat it again.)
Barclay also had some of the leftovers as a side to go with this Honey-Mustard Salmon, and gave both recipes a major thumbs up, so I figured this one was ready to share with you too. ?
Enjoy! (And thanks for indulging my random food blogging stress talk.)
Yield: 8-10 servings
Roasted Cauliflower Orzo Salad
This delicious Roasted Cauliflower Orzo Salad is packed with delicious Mediterranean ingredients, and is delicious served warm or cold. Feel free to sub in your favorite ingredients!
Ingredients:
Roasted Cauliflower Orzo Salad Ingredients:
12 ounces uncooked pasta (I used orzo)
2 large handfuls fresh baby arugula
1 batch roasted cauliflower (see below)
1 cup Kalamata olives, pitted and halved
2/3 cup roughy-chopped sun-dried tomatoes
1/2 cup crumbled feta or goat cheese
1/2 cup toasted pine nuts
half a small red onion, thinly sliced
1 batch lemon vinaigrette (see below)
Roasted Cauliflower Ingredients:
1 head cauliflower
1 tablespoon olive oil
Kosher salt and freshly-cracked black pepper
Lemon Vinaigrette Ingredients:
1/4 cup olive oil
3 tablespoons freshly-squeezed lemon juice
3 tablespoons finely-chopped fresh parsley leaves
2 tablespoons red wine vinegar
1/2 teaspoon Kosher salt
1/4 teaspoon freshly-cracked black pepper
Directions:
To Make The Roasted Cauliflower Orzo Salad:
Cook the pasta in a large stockpot of generously-salted water until it is al dente, according to package directions. Drain pasta and rinse under cold water for about 20-30 seconds until no longer hot. Set aside.
In a large mixing bowl, combine the cooked pasta, roasted cauliflower, olives, sun-dried tomatoes, crumbled cheese, pine nuts, red onion, and vinaigrette. Toss until evenly combined.
Serve immediately, or cover and refrigerate for up to 3 days.
To Make The Roasted Cauliflower:
Heat oven to 400°F.
Add the cauliflower to a large mixing bowl, drizzle evenly with olive oil, and toss until combined. (You can also do this directly on the baking sheet.) Turn the cauliflower out onto a large baking sheet, and spread out in a single layer. Season evenly with a few generous pinches of salt and pepper.
Bake uncovered for about 25-30 minutes, or until the cauliflower is lightly browned and tender. Remove from the oven, and set aside until ready to use.
To Make The Lemon Vinaigrette:
Whisk all ingredients together in a small bowl (or shake in a mason jar) until completely combined.
Difficulty: EasyCategory: Quick


All images and text ©Gimme Some Oven
If you make this recipe, be sure to snap a photo and hashtag it #gimmesomeoven. I'd love to see what you cook!