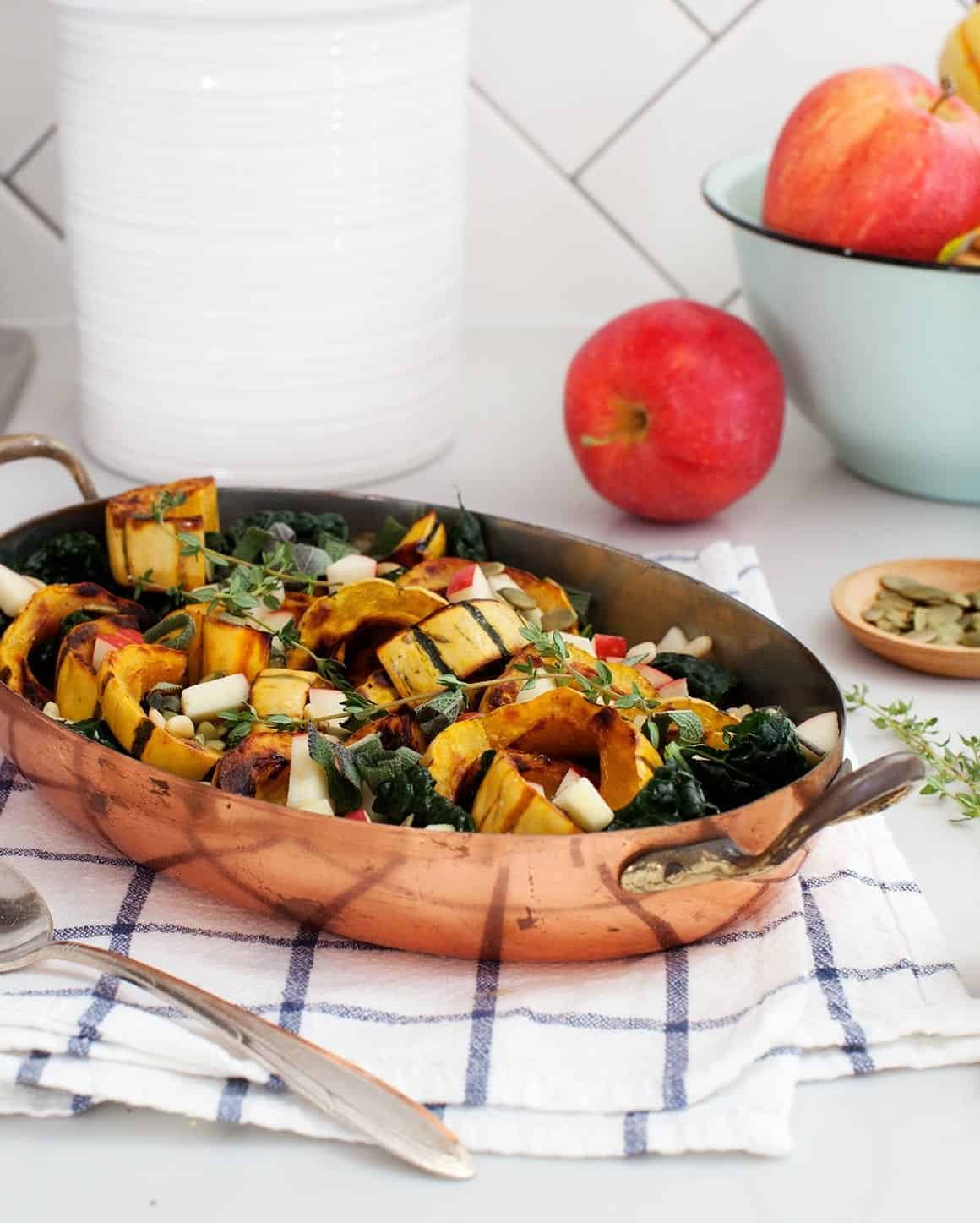 It's November, so let the countdown to Thanksgiving begin! My favorite part about this holiday: the sides! Of course there are the essentials: stuffing, mashed potatoes, and the infamous green bean casserole… but what I'm really excited for is the plethora of squashes that are available at this time of year, so I'll be making this roasted delicata squash that is so delicious and easy (plus, see the recipe below for a make-ahead option!).
This recipe is loosely inspired by a dish we enjoyed in Madison while visiting Sub-Zero and Wolf last month. Upon arrival, their chef cooked us a family-style feast made with freshly picked produce from their awe-inspiring garden. One dish in particular – made with delicata squash, apples, and a sort of tangy vinaigrette – stood out to me. It was beautiful and I loved the contrast of the savory roasted squash with the crisp fall apples.
When I got home, I took that apple + squash idea with me to the market and ended up combining both of those things with roasted pearl onions, kale, sage, and thyme. It all pops with a tangy apple cider-Dijon vinaigrette and it's topped with toasted pepitas for crunch.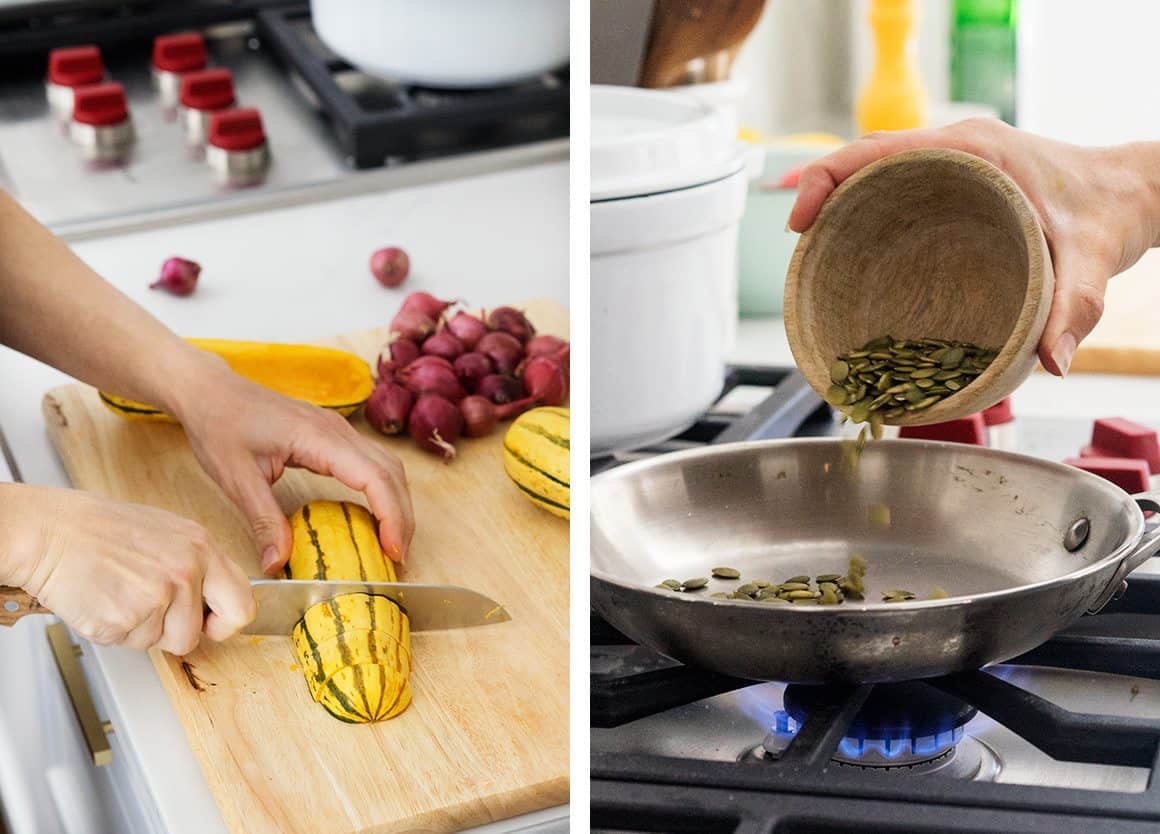 I always get questions about delicata squash and if the skin is edible – it absolutely is, no peeling necessary! It's tender skin gets tender after about 20-30 minutes, depending on your squash and your oven.

Between our moves from Austin to Chicago, I started to become a bit frustrated with cooking. Between short term rentals with old gas ovens and half-broken electric stoves, cooking food with consistent results (which is sort of needed for this blog) became a bit of a chore. So when we saw this house, with all Sub-Zero and Wolf appliances, I breathed a sigh of relief. Cooking has become fun again! Using our new oven's convection setting, which ensures consistent heat throughout the oven, my squash turned out perfect – tender on the inside and caramelized on the outside. I also love how the oven is at my eye level, so I don't need to bend over to see it!

You can toast your pepitas in the oven, but I love toasting nut and seeds over my gas cooktop because, well, it's faster. My old gas stove would burn them if I wasn't careful, (kitchen fires are the epic food blog fail!), but I love how precisely I can on our Wolf cooktop.

Once the squash (and onions) are roasted, toss them with the kale, apples, herbs, and the tangy cider-Dijon dressing. Next, I like to pop the final dish back in the oven for a few minutes, just to wilt the kale a bit. Drizzle the remaining dressing on top just before serving.
This recipe can be served right away (add a simply cooked protein and call it dinner!) or prepped a few hours in advance for the holiday. See the recipe below for reheating instructions. Happy holiday planning!

Roasted Delicata Squash with Apples & Sage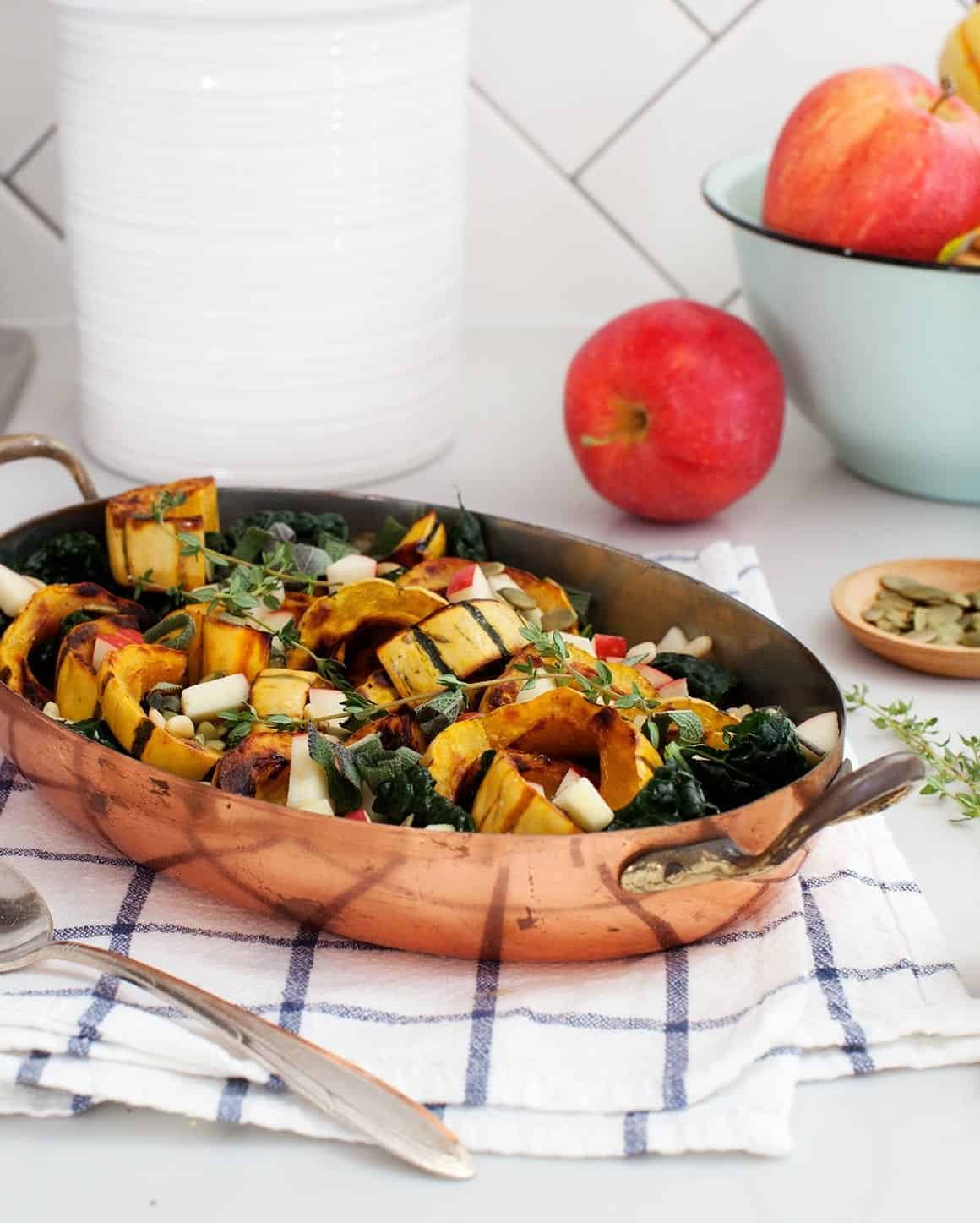 2 delicata squash, halved lengthwise and seeded, cut into ½-inch pieces
½ cup pearl onions, sliced in half
Extra virgin olive oil, for drizzling
2 tablespoons pepitas and/or pine nuts
2 cups torn lacinato kale (2 to 3 leaves)
6 sage leaves, chopped
Leaves from 3 thyme sprigs
1 small gala apple, diced
Sea salt and freshly ground black pepper
2 tablespoons extra-virgin olive oil
1 tablespoon apple cider vinegar
½ garlic clove, minced
¼ teaspoon Dijon mustard
⅛ teaspoon maple syrup
sea salt and freshly ground black pepper
Preheat the oven to 425°F and line a baking sheet with parchment paper.
Place the squash and onions on the baking sheet and drizzle with olive oil and generous pinches of salt and pepper. Toss to coat and arrange on the sheet so that they're not touching. Roast until the squash is golden brown on all sides and until the onions are soft and browned, 25 to 30 minutes.
Make the dressing: In a small bowl, whisk together the olive oil, apple cider vinegar, garlic, mustard, maple syrup, and a pinch of salt and pepper. Set aside.
In a small pan over medium-low heat, toss the pepitas with a pinch of salt and cook until toasted, stirring frequently, for about 2 minutes. Set aside.
In a medium mixing bowl, combine the kale, sage, and thyme. Add the warm roasted squash and onions, the apples, half the pepitas, and half the dressing. Toss to coat. Transfer to an oven-safe serving dish. (If you're making this dish in advance stop here and follow the saving/reheating instructions in the notes below).
Place the serving dish into the oven for 8 to 10 minutes, or until the apples and kale are warm and the kale is just wilted. Just before serving, drizzle with the remaining dressing, and top with the remaining pepitas.
Make-ahead instructions:
Once the roasted vegetables are transferred to the serving dish, cool to room temp. Cover with foil and chill the dish until ready to reheat (Ideally, make this around 4 hours in advance). When ready to reheat, preheat the oven to 425°. Loosen the foil and bake, very loosely covered for 12 to 15 minutes or until everything is heated through. Just before serving, drizzle with the remaining dressing, and top with the remaining pepitas.
3.4.3177
Special thanks to Sub-Zero and Wolf for partnering on this post!