Easy40 minsVegan
These Roasted Sweet Potato, Chickpea and Kale Bowls are easy to make ahead of time if you'd like (meal prep!), easy to customize with whatever veggies you have on hand, and they're the perfect blend of sweet and savory delicious flavors.  (This post includes affiliate links.)
Today's officially marks a new chapter in this solo working-from-home life of mine.
I now have a handsome coworker working here at home with me — Barclay!  ?
As some of you saw on my Instagram, this past Friday was his last day as a full-time employee at Unbound, the awesome non-prof where he has worked these past 5 years.  It was a bittersweet day for him, for sure, since he loves his coworkers and will miss them deeply.  But the good news is that he's still going to be freelancing with the organization going forward.  And — probably the part Barclay's most excited about — now he finally gets to say farewell to cubicle life and say hello to the working-from-home life here with me and the pups!  Actually, in exactly three short weeks from now, in Spain with me and the pups!
It's a mega change, and one that we've both agreed has made this upcoming move of ours feel even more real.  And I have no doubt that it'll be a big adjustment for the two of us (especially for my introverted self who's used to charging up on my alone time during the day), and we expect it'll take us awhile to find our rhythm working from home together.
But I've gotta say, right now I'm pretty dang excited about all of the fun stuff that'll come with him not being stuck in a cube from 9-5.  You know, like everything from not having to rush to get him off to work in the morning, to getting to listen to one another's playlists while we work, to having him whip up his famous espressos when we hit the afternoon slump, to not having to ask for PTO when we want to travel, to — hey, once we get to Barcelona — being all Spanish and taking a nice siesta in the afternoon if we'd like.  This new season of his work life feels like one more piece of the adventure we're beginning.  And I'm pretty excited to see how it goes.
Anyway, that said, probably the biggest perk I'm looking forward to having Barclay working from home is all of the lunch dates we now get to have!  I usually do most of my photographing for the blog around lunchtime, which has always made it difficult to meet friends out for lunch dates.  (Which means that Trevor Noah has been my date most days. ?)  But now that Barclay will be home — plus, all mealtimes in Spain seem to happen a few hours later — we're excited to have some more fun lunch dates in our life!
So this week, I whipped up a batch of these yummy bowls for our lunch together.  They're nice and seasonal (oh hey, first week of autumn), they're totally naturally vegan and gluten-free (this husband of mine is vegetarian), and they're easy to make and customize, and they are absolutely delicious.  Perfect for make-ahead lunches…and lunch dates. ?
Actually, I made this recipe twice this past week.
The first time, I just made a simple salad (see below), drizzled with my favorite Dreamy Tahini Dressing.  But then it was so good that I wished I'd made extra for leftovers!  ?  So this weekend, I made a second batch and portioned the salad into little meal prep bowls for lunches this week, and nixed the avocado (doesn't hold up well for meal prep ahead of time, although you're welcome to add some in at the last minute) and added in some chewy farro to make them extra-hearty.
And both times, these bowls absolutely hit the spot.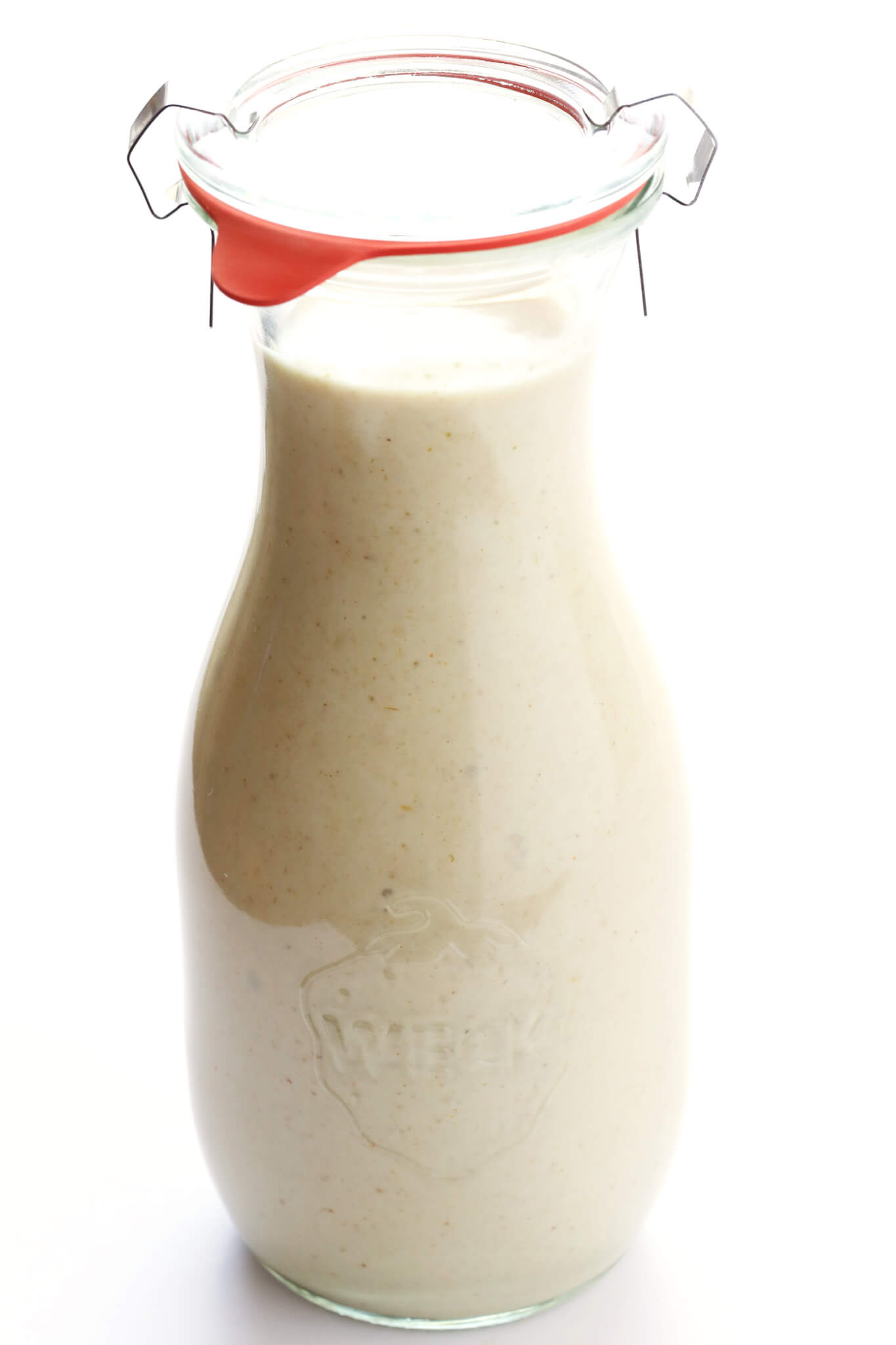 And if you ask me, the star of the show was this Dreamy Tahini Dressing.
Honestly, the ingredients in these salad bowls are so versatile that nearly any of my 10 Favorite Salad Dressing recipes would work here.  But I can't seem to get enough of those lemony, garlicky tahini flavors lately, and they paired perfectly with all of these autumn-inspired ingredients.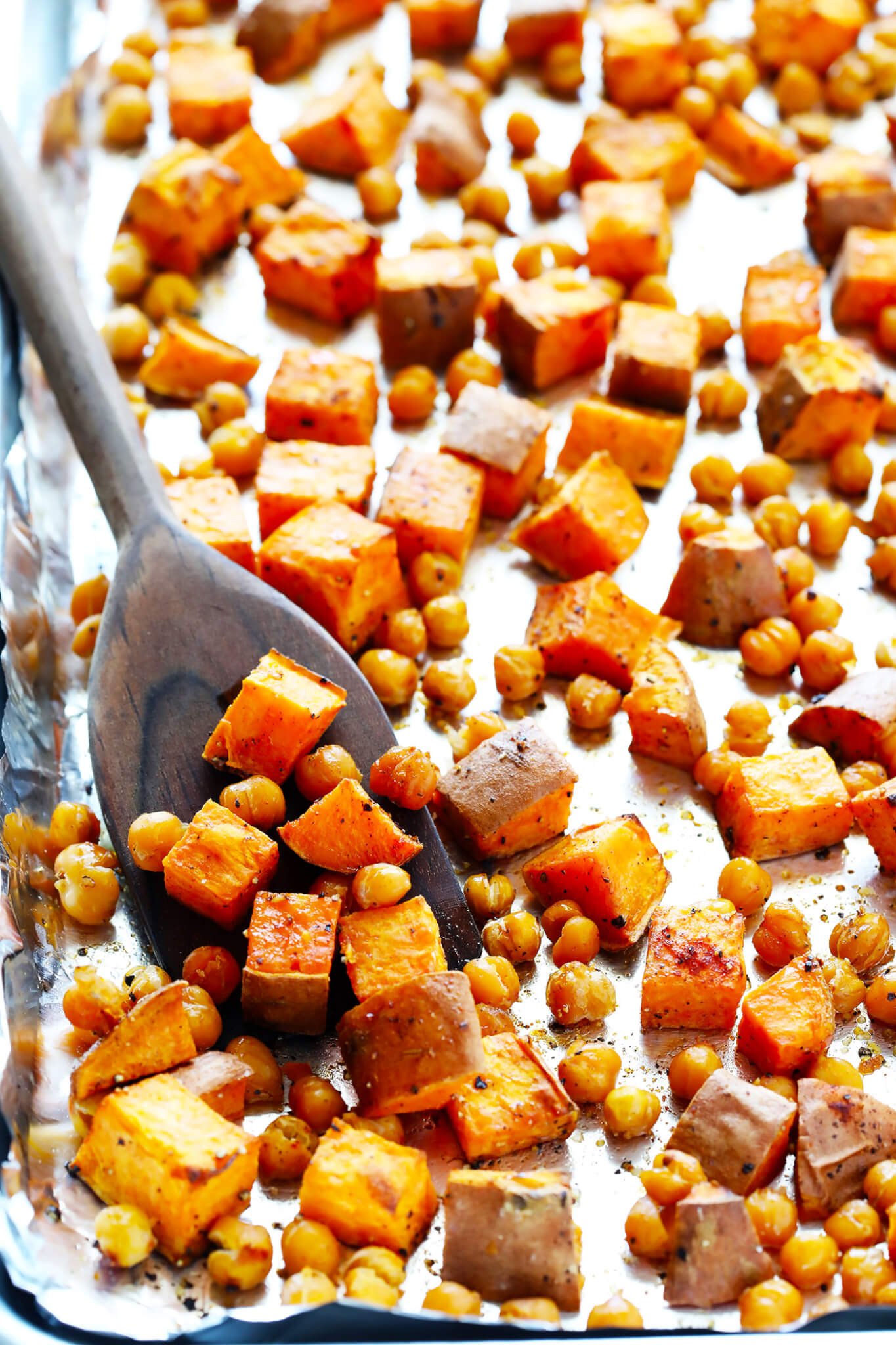 To make the bowls, just roast up some seasoned sweet potato (or you could use butternut squash, or any other roast-able veggies you have on hand) and a can of chickpeas.  Then while they're in the oven, prep the dressing and the rest of your ingredients.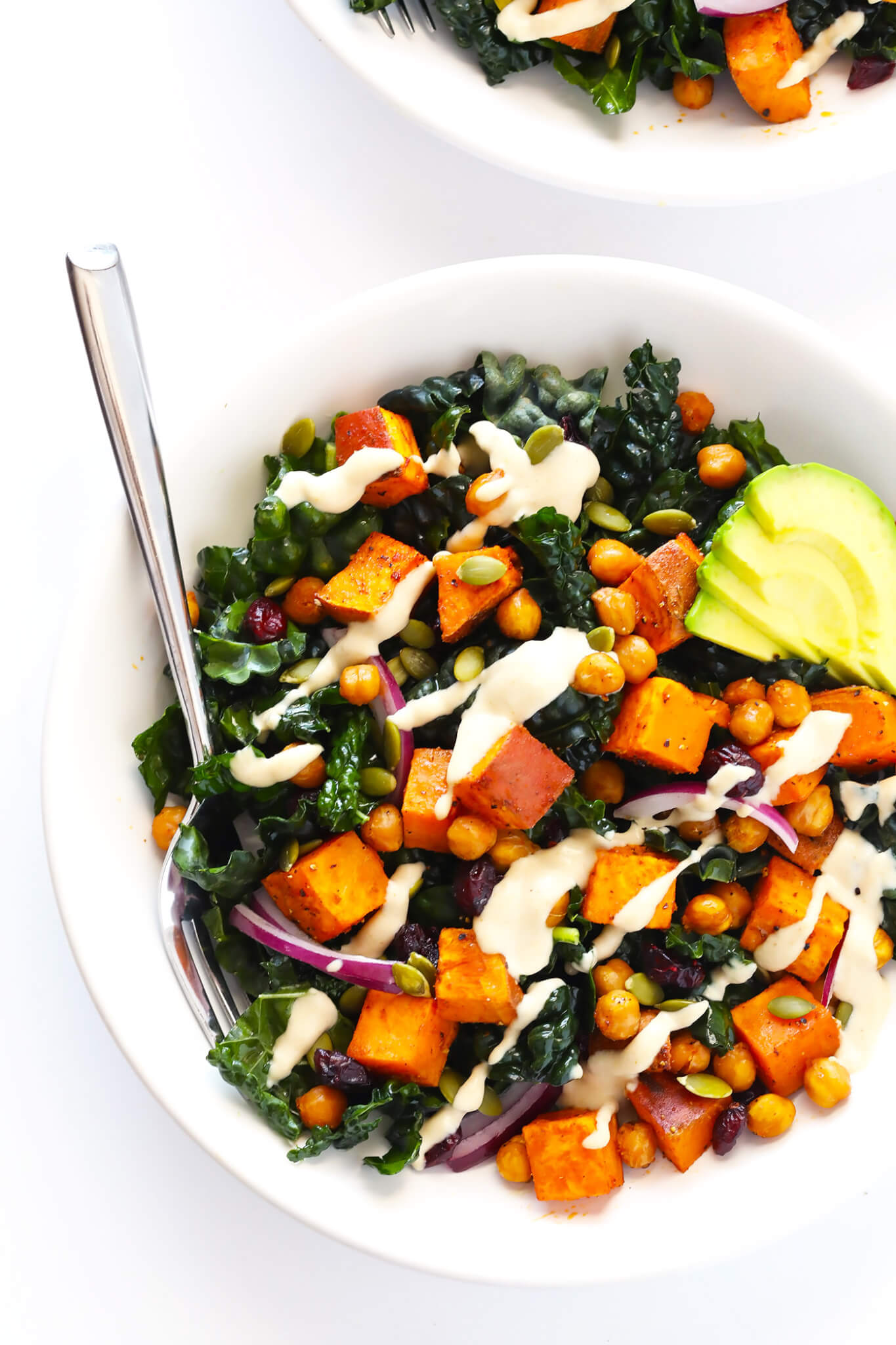 Then dish them up into a salad…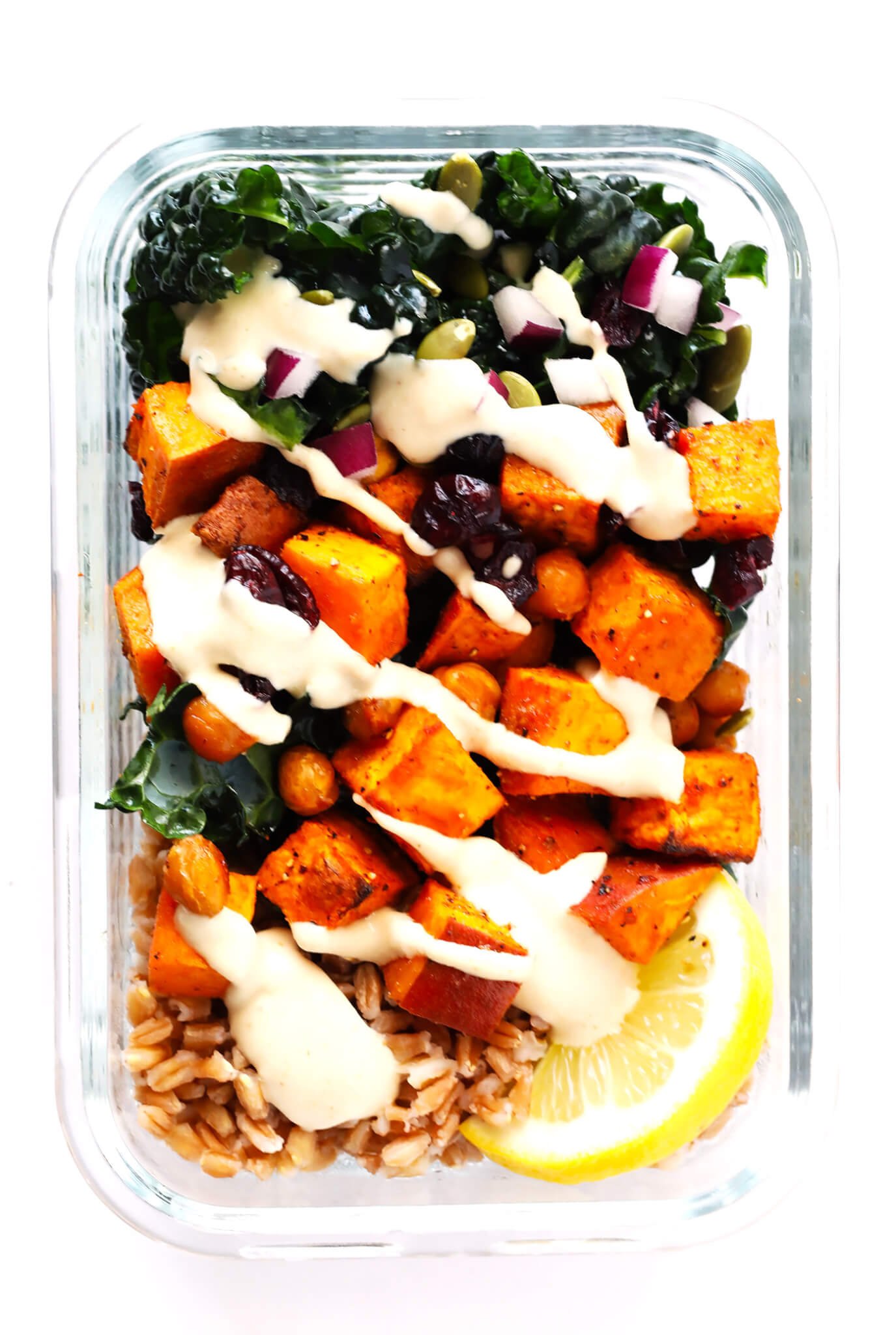 …or some meal prep bowls…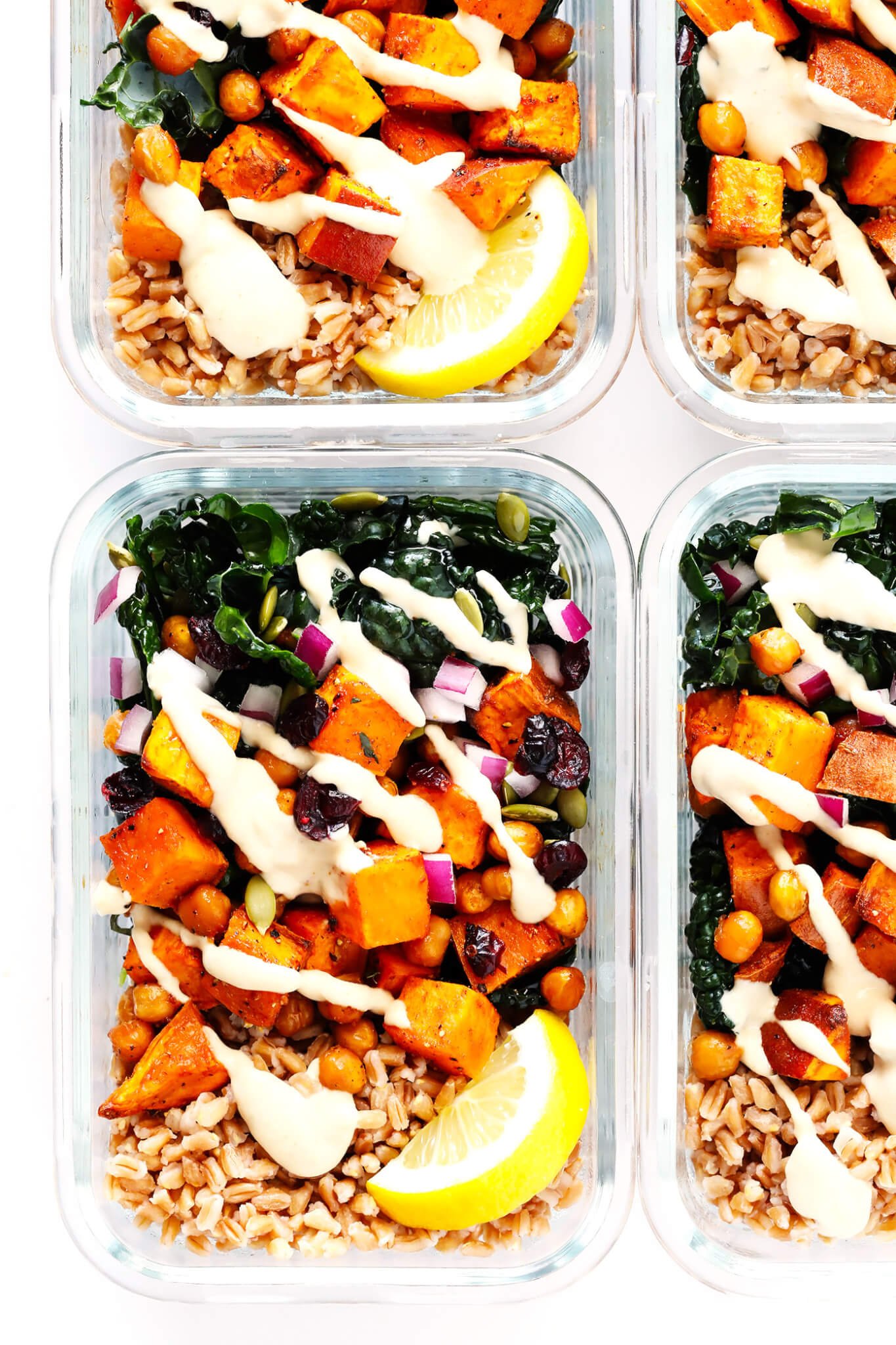 …drizzle with that dreamy tahini dressing and maybe an extra sprinkle of lemon juice…and serve!
Seriously, these bowls absolutely nailed the balance between sweet and savory, crunchy and chewy and soft, zesty and creamy, light and hearty.  And I have a feeling you are going to love them.  ?
Enjoy, everyone!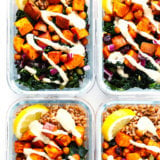 Yield: 4 servings
Roasted Sweet Potato, Chickpea and Kale Salad Bowls
These Roasted Sweet Potato, Chickpea and Kale Bowls are easy to make ahead of time if you'd like (meal prep!), easy to customize with whatever veggies you have on hand, and they're the perfect blend of sweet and savory delicious flavors.
Ingredients:
Salad Bowl Ingredients:
1 batch Roasted Sweet Potatoes and Chickpeas (see below)
6-8 cups roughly-chopped Lacinato or curly kale, tough stems removed
1 avocado**, peeled and pitted and sliced
half a small red onion, peeled and thinly sliced or diced
1/3 cup dried cranberries
1/3 cup pepitas
1 batch Dreamy Tahini Dressing
Roasted Sweet Potatoes and Chickpeas Ingredients:
2 medium sweet potatoes
1 (15 ounce) can chickpeas, drained and rinsed
2 tablespoons olive oil
1/2 teaspoon 

each

: garlic powder + ground cumin + smoked paprika
pinch of cayenne
Kosher salt and freshly-cracked black pepper
Directions:
To Make The Salad Bowls:
Prepare the Roasted Sweet Potatoes and Chickpeas as directed below.  Then to save time, prep the remaining ingredients while the sweet potato mixture is roasting in the oven.
Once the sweet potatoes and chickpeas are ready to go, add the kale to your serving bowl, or portion it evenly between your food storage containers.  (Optional: add in the cooked farro, if you'd like.)  Top evenly with the roasted sweet potato, chickpeas, avocado, red onion, dried cranberries, and pepitas.  Then drizzle everything evenly with the dressing.
Serve immediately, garnished with extra lemon slices/wedges if desired.  Or store in sealed containers for up to 4 days.
To Make The Roasted Sweet Potatoes and Chickpeas:
Heat oven to 425°F.  Line a baking sheet with aluminum foil and spray with cooking spray.
In a large bowl, add the sweet potatoes and chickpeas, and drizzle with oil.  Sprinkle evenly with the garlic powder, cumin, smoked paprika and cayenne, and toss until evenly combined.
Pour the sweet potato mixture out onto the prepared baking sheet in an even layer.  Then season everything evenly with a few pinches of salt and pepper.
Bake for 30 minutes, or until the sweet potatoes are cooked through and soft.  Transfer the pan to a cooling rack until ready to use.
¹ To make cooked farro, bring 3 cups of vegetable stock (or chicken stock, or lightly-salted water) to a boil in a medium saucepan.  Add farro, and simmer for about 30 minutes until the farro is soft and chewy.  Drain off any excess liquid, then serve.  Or…here's how to cook quinoa.  
² If meal prepping these bowls ahead of time, wait to add the avocado until just before serving the bowls.  It won't hold up well in the fridge over multiple days.
I included some of the prep time in the cooking time listed above, since you can multitask it while the sweet potatoes and chickpeas are roasting. 😉
Difficulty: EasyCategory: Vegan


All images and text ©Gimme Some Oven
If you make this recipe, be sure to snap a photo and hashtag it #gimmesomeoven. I'd love to see what you cook!