This post may contain affiliate links. Please read my disclosure policy.
This Salmon in Burst Tomato Sauce recipe is ultra-easy to make in 30 minutes and simmered in a garlicky tomato basil cream sauce. Serve with crusty bread, pasta, rice, or whatever sounds good!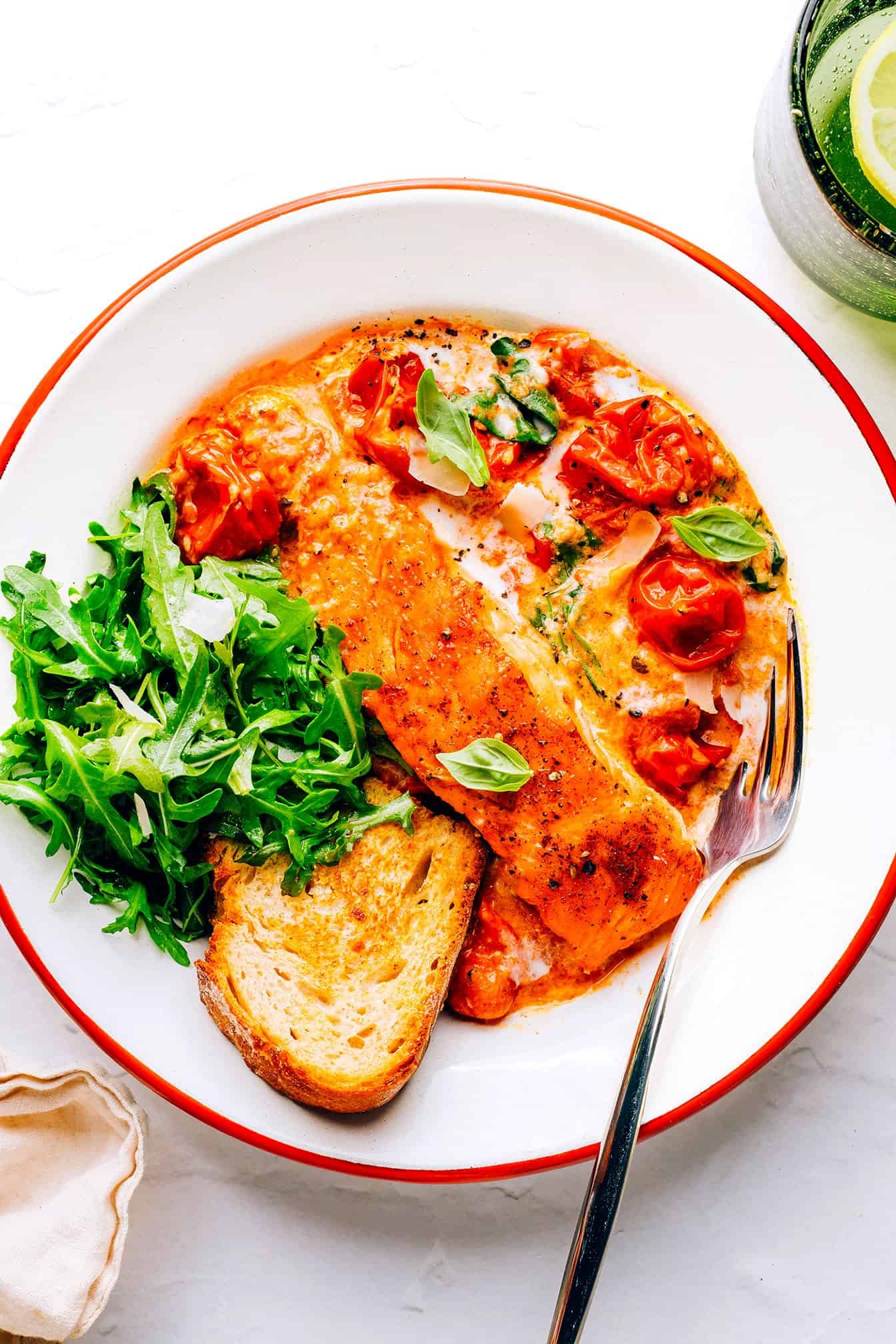 This one definitely wins the award of most-made (and most-loved!) dinner recipe in our house this season. ♡
Seriously, we've been making some version of this salmon with burst tomato sauce almost weekly for the past few months and still can't seem to get enough of it. Even 11-month-old Teo is a fan too!
It ticks all of those boxes we're craving right now. Ready to go from start to finish in 30 minutes (like, honestly and truly fast)? Check. Super easy to make with minimal prep (basically just chop garlic, basil, and grate some Parmesan)? Check. Summertime fresh tomato sauce vibes in the middle of winter (thank you, cherry tomatoes that still taste alright in February)? Check. Fun recipe to play around with (hello, adding burrata or pasta, tossing in some chilis to amp up the heat, or lightening things up by skipping the cream altogether)? Check, check, check.
We love serving ours with a simple lemony arugula salad and a thick slice of crusty bread for dunking in that dreamy tomato sauce. But this salmon would also be wonderful served with pasta, rice, farro…you name it. It's one of those flexible recipes that promises to taste good with just about whatever you have on hand. So bring home some salmon filets, and let's make dinner together!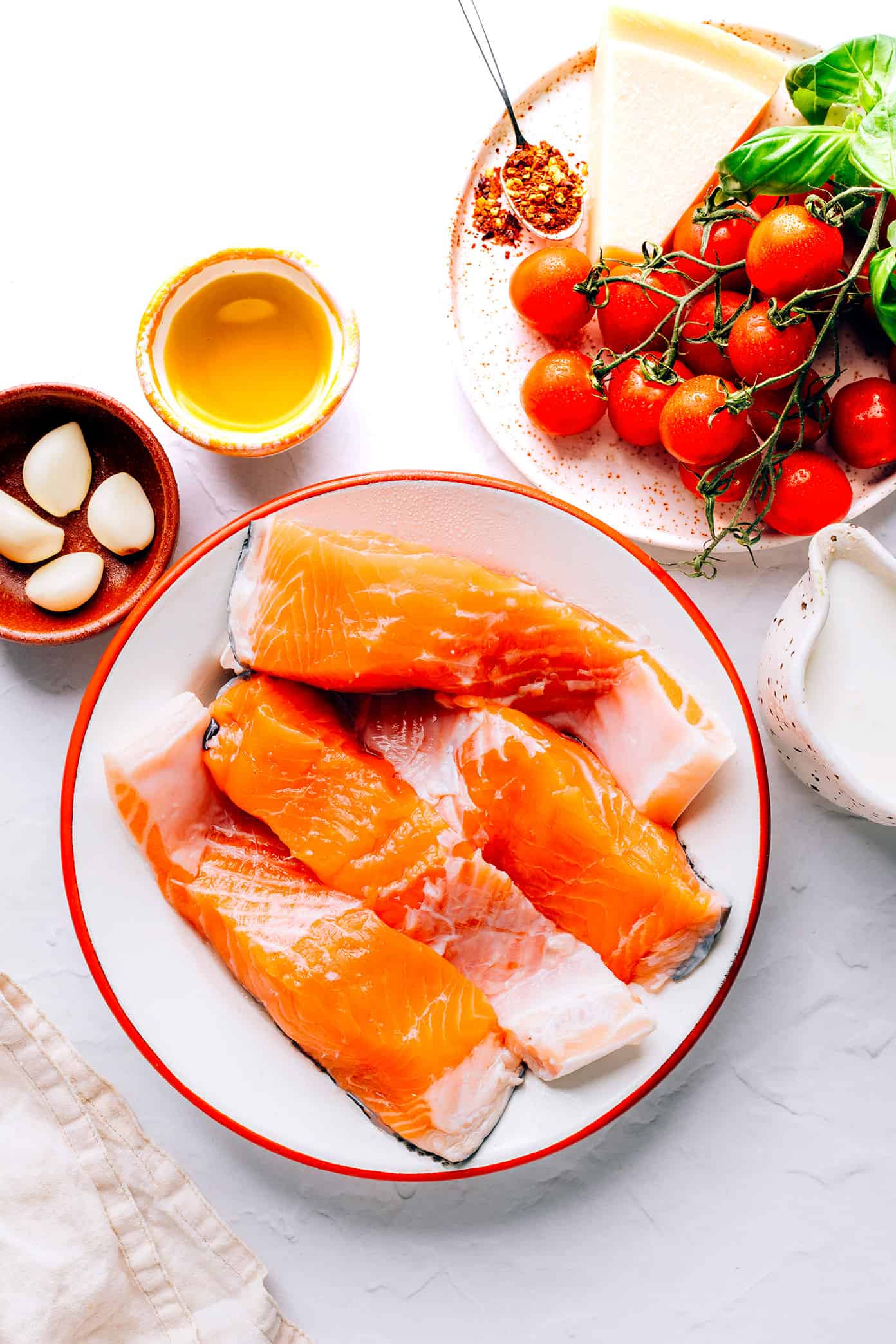 Salmon with Burst Tomato Sauce Ingredients
I usually have quite a few ingredient notes for my recipes. But to be honest, the list for this salmon is pretty straightforward!
Salmon filets: Really, just about any variety of salmon (fresh or frozen, skin on or off) will work for this recipe. I just recommend trying to find four filets that are more or less identical in size so that they will cook evenly.
Olive oil: Which we will use to both sear the salmon and burst the tomatoes.
Cherry or grape tomatoes: Either cherry or grape tomatoes (any color) will be great in this recipe. And as a bonus, these also happen to be varieties of fresh tomatoes that still taste decent this time of year.
Garlic: Love a tomato basil sauce with lots of garlic! I wrote this recipe using four large cloves, but often toss even more into our batches.
Seasonings: Even if you're not into heat, I recommend adding at least a pinch of crushed red pepper flakes to give this sauce a hint of chili flavor. If you'd like to make it even spicier, though, definitely feel free to add more! Be sure to also season the salmon generously with salt and pepper before searing, in order to create a flavorful sear. And don't forget to season the sauce with salt and pepper to taste too.
Heavy cream: I recommend adding 1/3 cup cream to the sauce to begin, then you can add more if you would like it to taste even creamier. That said, we've also made this recipe multiple times without the cream and it's wonderful without too!
Fresh basil: We will stir a handful of roughly-chopped fresh basil leaves into the sauce just before serving. Then I also like to add an extra sprinkle on top as a garnish too.
Parmesan: Same story as the basil! As always, I strongly recommend freshly-grating a block of Parmesan just before serving to bring out its best flavor.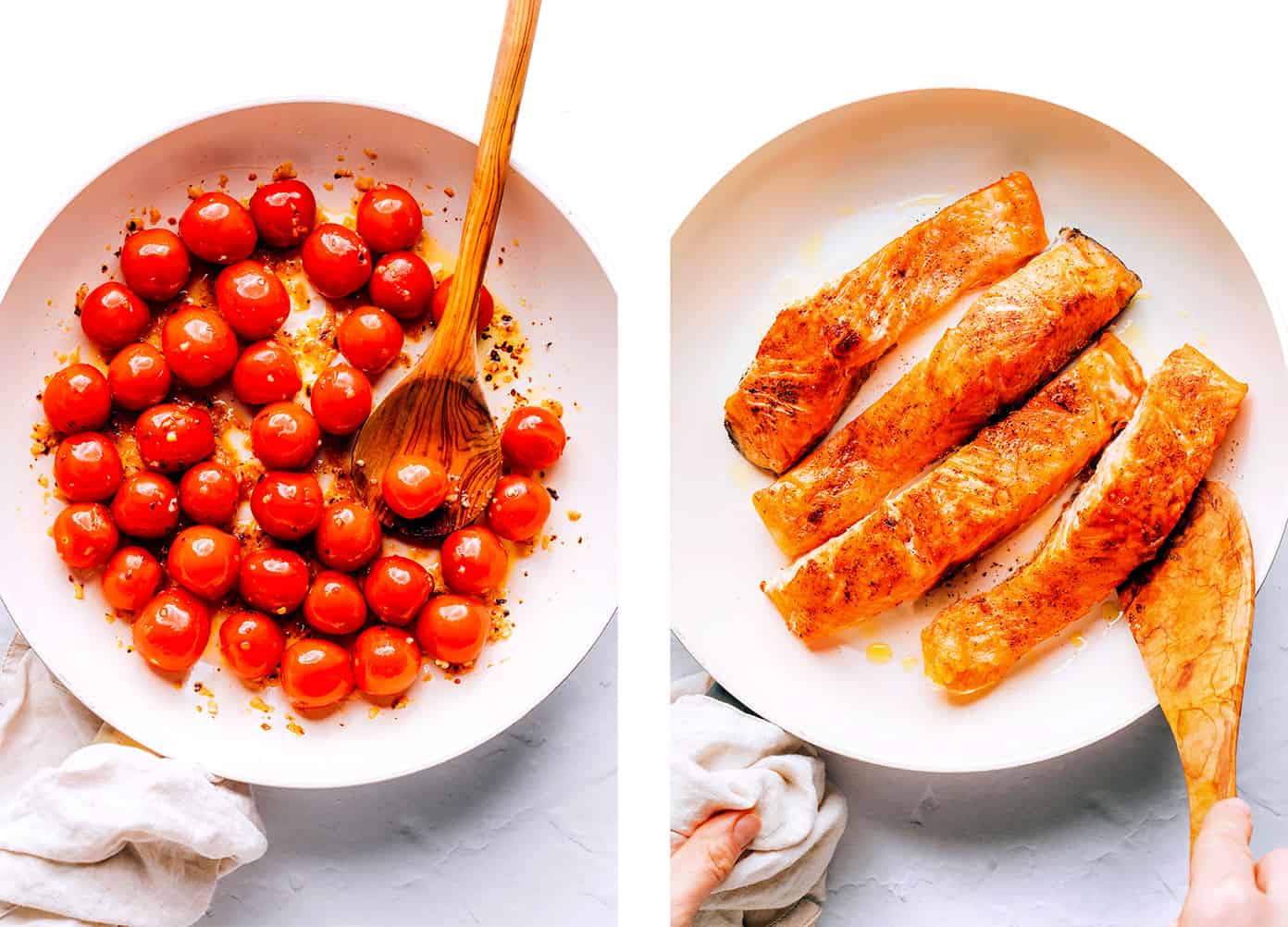 Potential Recipe Variations
This recipe is incredibly flexible, so please feel free to customize it and make it your own! For example, feel free to…
Add spinach: Whenever I have fresh spinach in the house, I love wilting it into the sauce during the final few minutes of cooking to add some greens to this dish. So easy and delicious!
Add different herbs: If you happy to have any other Italian herbs in the house (rosemary, oregano, thyme, etc), feel free to add them in to taste.
Add burrata: Instead of (or — if you're feeling extra-indulgent — in addition to) the heavy cream, add in a torn ball of fresh burrata to the dish just before serving. I can vouch that it is heavenly.
Omit the cream: Or if you would like to lighten this dish up, we've also made it a few times sans heavy cream and it's still perfectly delightful.
Use canned tomatoes: I have to admit that I really prefer the texture/flavor of this dish using fresh tomatoes. But if you're in a pinch, it will also taste great using one large (28-ounce) can of good-quality whole tomatoes, which you can break up with a wooden spoon as they cook.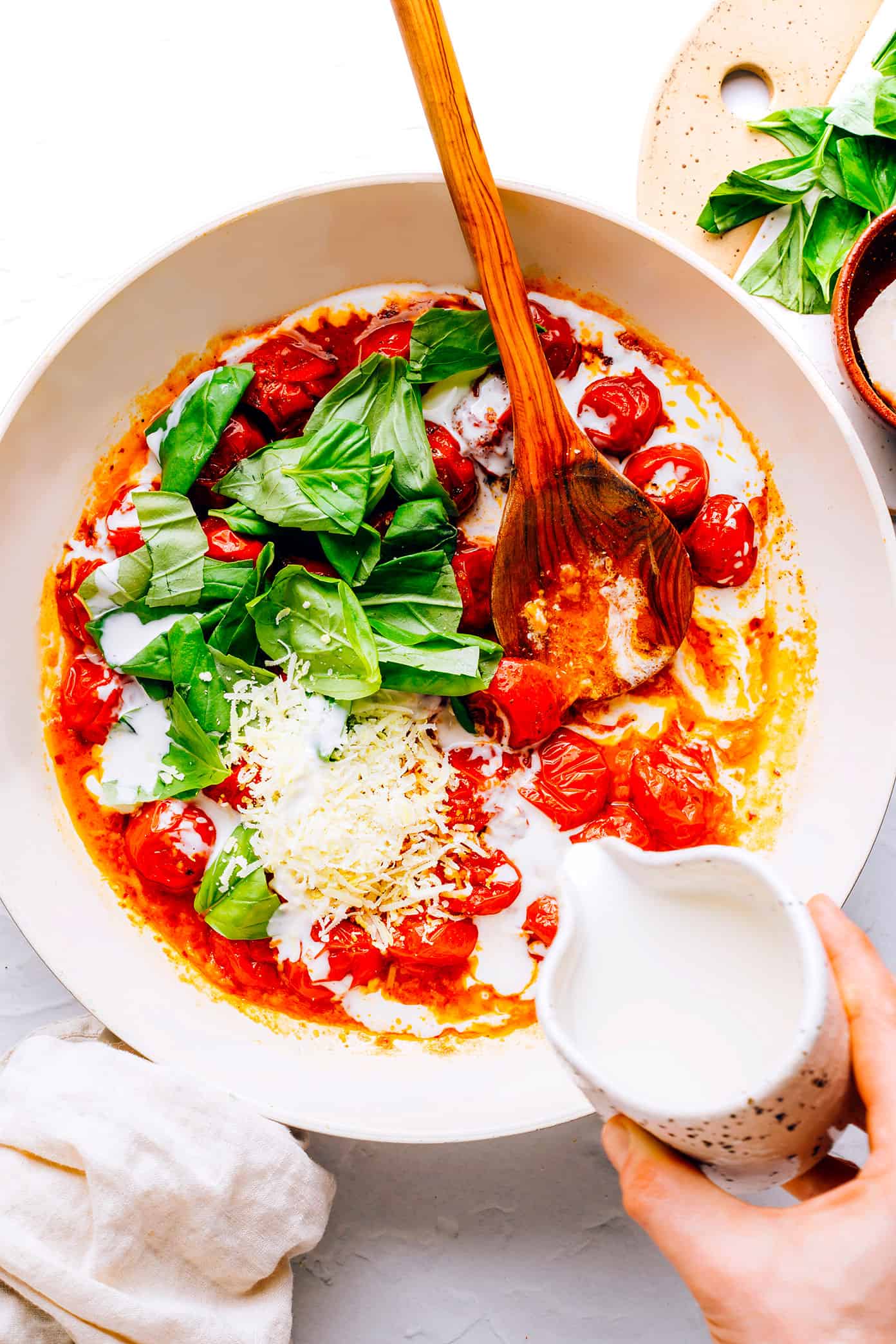 More Easy Salmon Recipes
If you're looking for a few more easy salmon recipes to try, here are a few of my faves…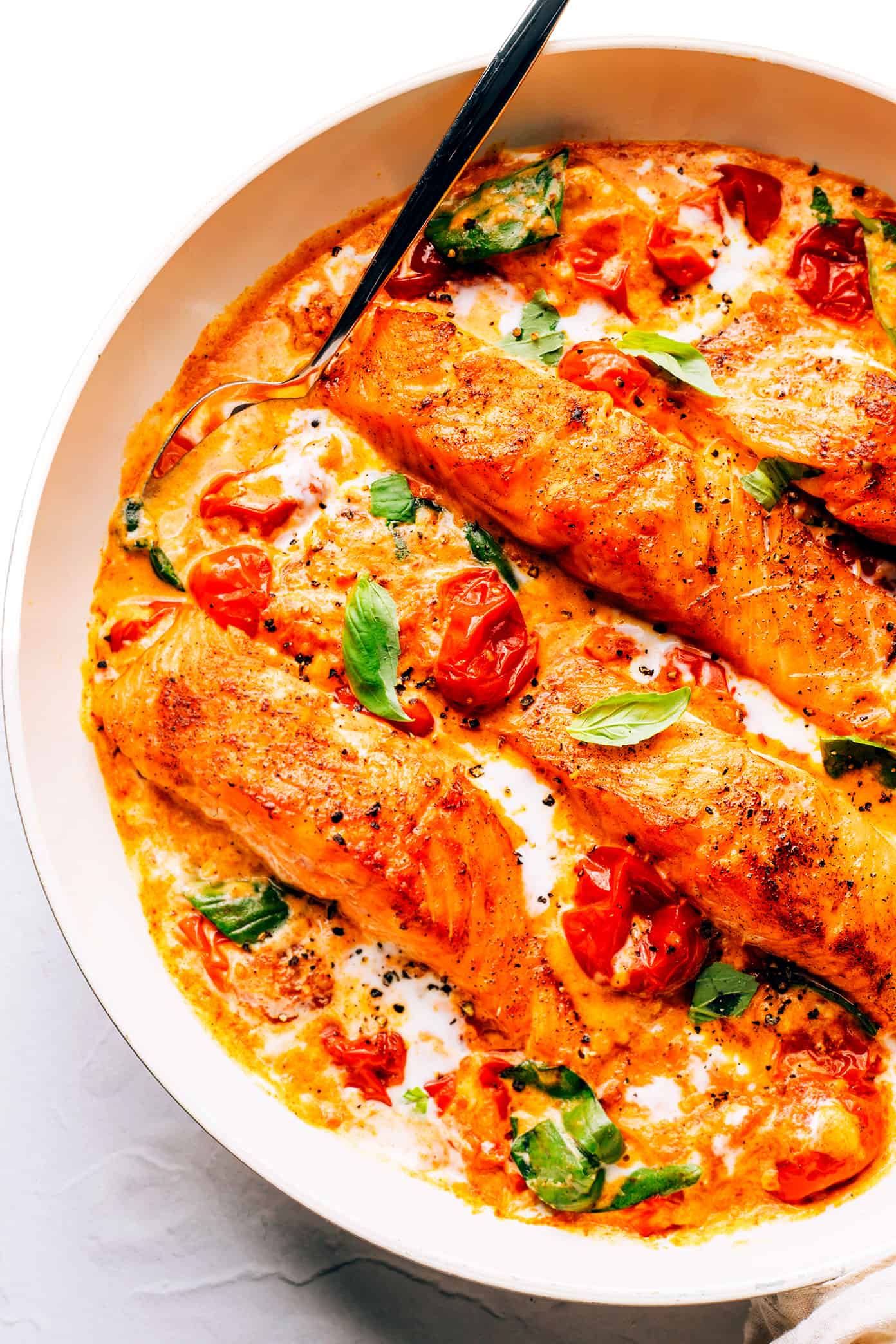 ---
4

salmon filets

fine sea salt and freshly-cracked black pepper

⅓ cup

olive oil, divided

2

pounds cherry or grape tomatoes

4

cloves garlic, pressed or finely minced

½ teaspoon

crushed red pepper flakes

⅓

to

½

cup heavy cream (feel free to add more or less, to taste)

⅓ cup

roughly-torn fresh basil leaves, packed

1 ounce

freshly-grated Parmesan cheese, plus extra for sprinkling
---
Cook the salmon.

Season the salmon filets generously with salt and pepper. Heat

1 tablespoon

oil in a large non-stick skillet over medium-high heat. Place the salmon flesh-side-down in the skillet and sear, undisturbed, for 2-3 minutes or until golden. Flip the salmon over and cook for 2 minutes more, until it is nearly cooked through. Transfer the salmon to a clean plate and set aside.

Burst the tomatoes.

Add the remaining olive oil to the pan and reduce heat to medium. Add the tomatoes, garlic, crushed red pepper flakes and toss gently until evenly coated with the oil. Cook for about 10-15 minutes, stirring occasionally, until all of the tomatoes have burst and their juices have reduced to a sauce that is fairly thick. (After a few minutes of cooking, you can use a spoon to gently smash some of the tomatoes to release more of their juices, but I prefer to leave most of the tomatoes intact so that the sauce is nice and chunky.)

Add the remaining ingredients. G

ently stir in the heavy cream, basil, Parmesan, 1 teaspoon fine sea salt, and a few twists of black pepper until combined. Nestle the salmon filets into the sauce and continue cooking for 1-2 more minutes, or until the salmon is cooked through to your liking.

Season.

Taste and season the sauce with extra salt, pepper and/or crushed red pepper flakes as needed.

Serve. Serve immediately, garnished with extra basil and Parmesan, and enjoy!
---
Notes
Serving suggestions: We love serving this salmon either with crusty bread, pasta or rice. Then I also love tossing some fresh arugula with lemon juice, olive oil, Parmesan, salt and pepper as a light side salad. Delicious!