Easy homemade salsa recipe made with fresh ingredients is better than any store-bought version. Takes minutes and tastes amazing!
There's nothing better than a full bowl of fresh salsa to scoop up with corn chips or homemade tortilla chips! With an easy, authentic method, our salsa recipe is guaranteed to be a hit at your table!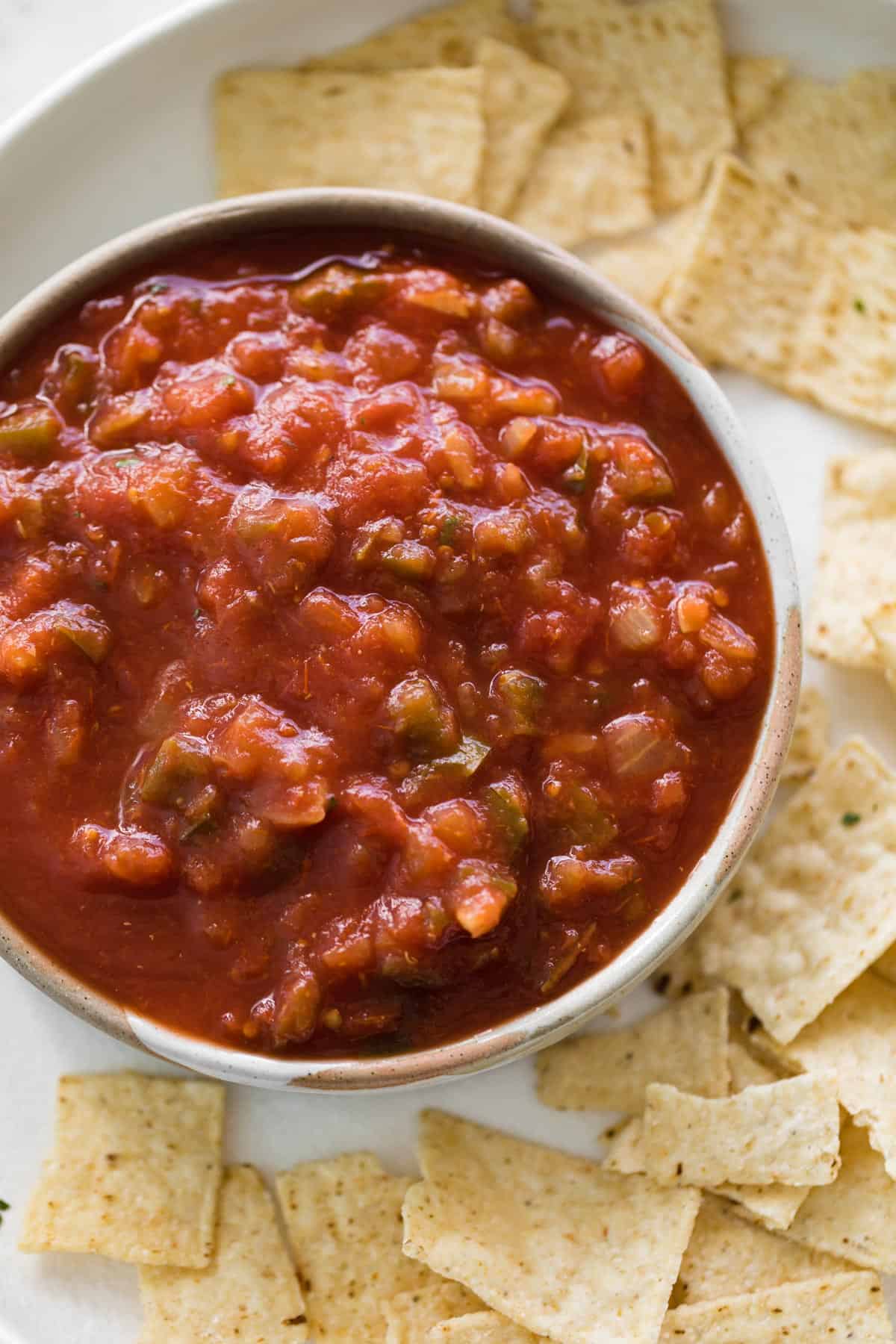 SALSA RECIPE
Addictive and full of flavour, this salsa recipe rivals your favourite Mexican restaurant. Skip the queues, save your money and make it at home!
Healthier than the jars filled with additives, preservatives and artificial colours/flavours sold at the grocery store, homemade salsa has flavour you cannot find in a jar!
HOW TO MAKE RESTAURANT STYLE SALSA
The key ingredients that add great flavour to salsa are cumin, cilantro (or coriander), oregano, garlic, white onion, jalapeños and Serrano peppers. You can also add canned green chiles to add a kick of smokiness and heat.
First, you're going to blend your tomatoes in a blender or food processor along with your onion, garlic and peppers. Pulse to roughly chop/blend. For a chunky salsa, pulse only three or four times. Or, for a smooth salsa, blend your ingredients until smooth.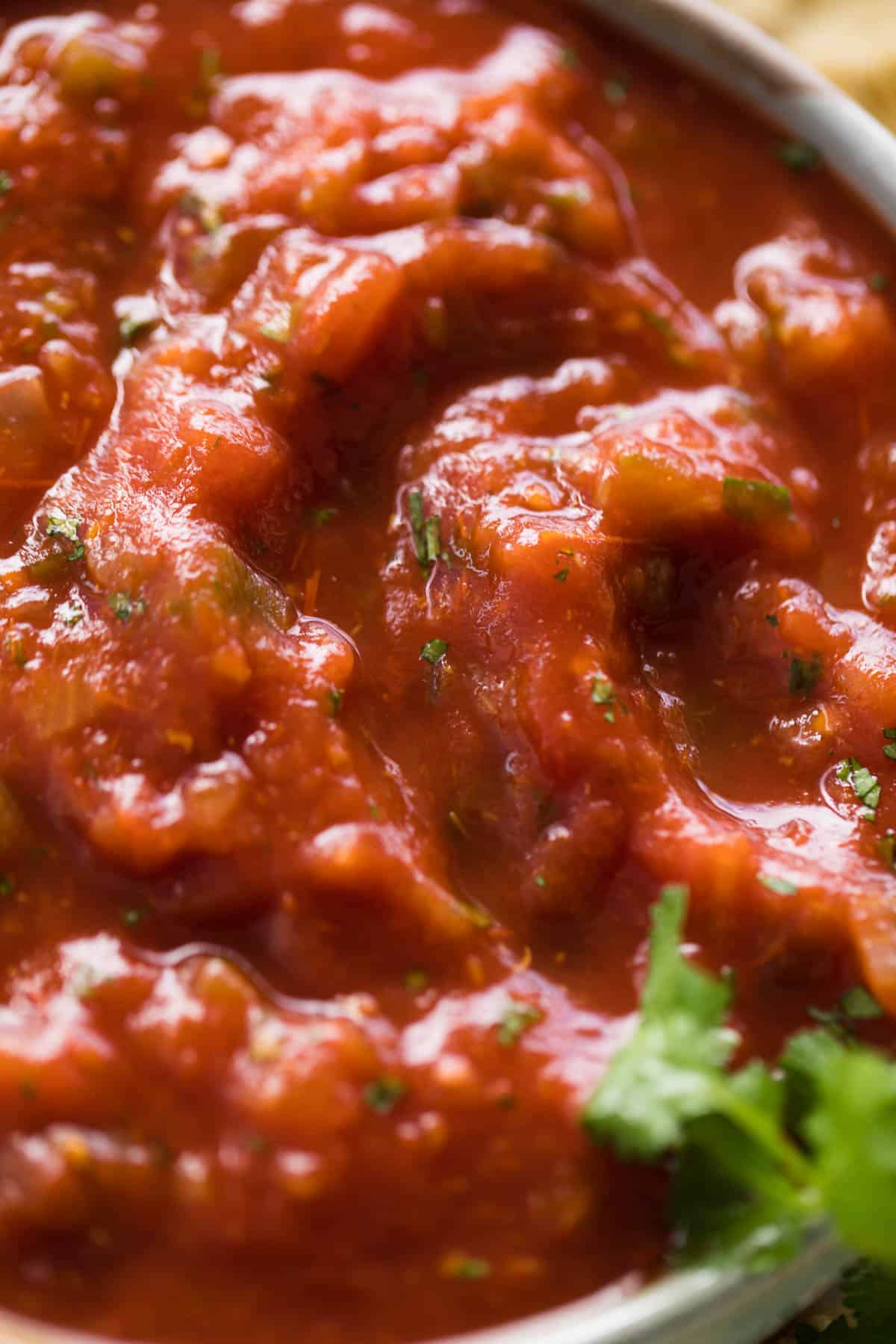 Now, here comes the fun part!
Most online salsa recipes skip this part entirely, BUT this is what makes true Mexican salsa: sautéing your tomato mixture for a couple of minutes to draw out the flavours!
This makes ALL the difference! It's easier than boiling/peeling your tomatoes and adds a better flavour for your salsa. PLUS, you'll find cooking your ingredients takes the bite out of the onion and garlic.
Add the cilantro, cumin and oregano. Season with salt and pepper, to taste and transfer to serving bowl!
WHAT TO SERVE WITH SALSA
There are so many great ways to use salsa! Here's a few ideas:
Topping grilled chicken, steak or fish
As a dip for tacos, burritos, fajitas, nachos, quesadillas – anything Mexican
Stuff inside a grilled cheese
Dollop on a taco salad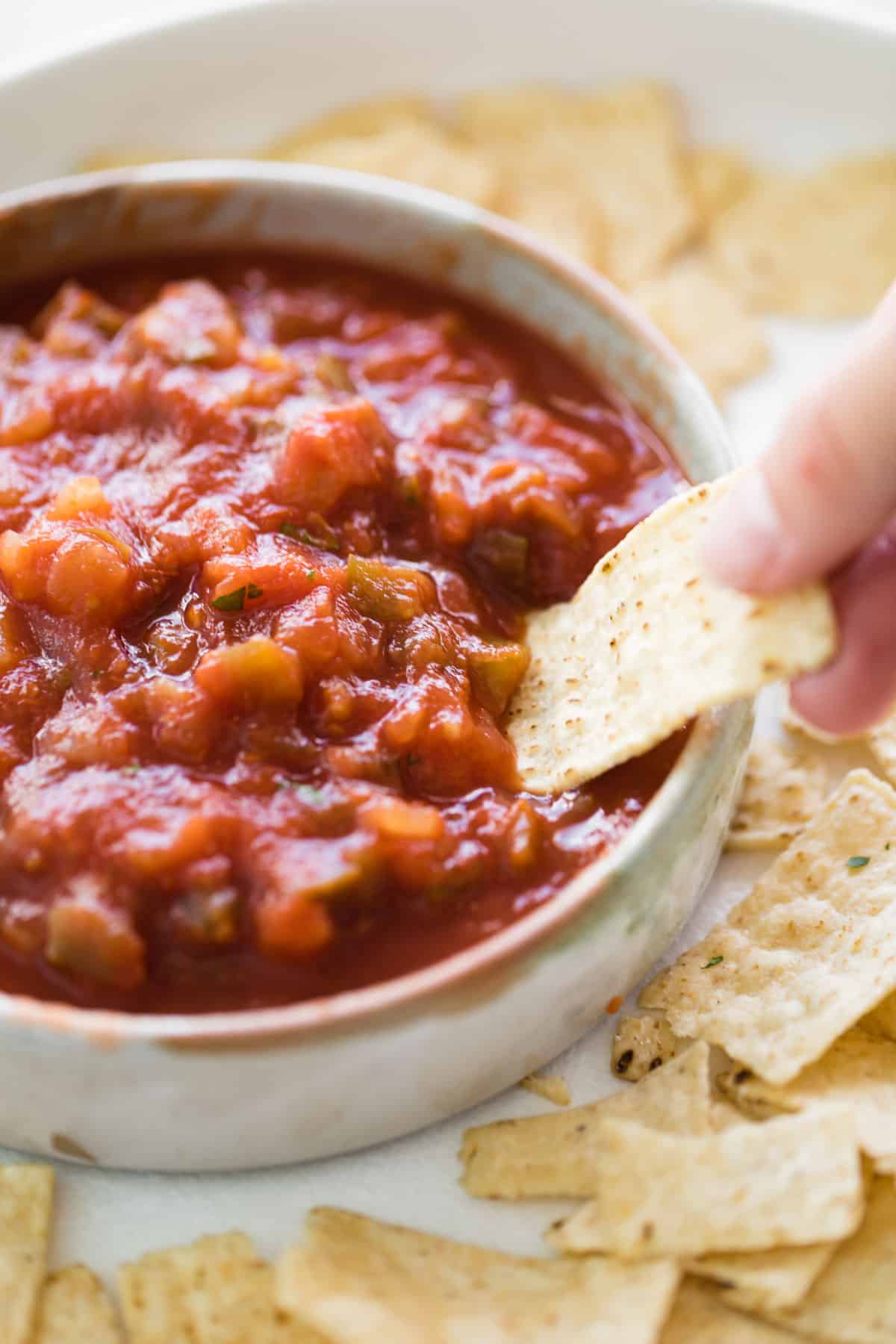 MORE MEXICAN RECIPES
Queso (Mexican Cheese Dip)
Guacamole
Crispy Pork Carnitas (Mexican Pulled Pork)
Avocado Salsa
BEST Churros Recipe
Frozen Margarita Slushies
Best Chicken Fajitas
Flour Tortillas