Tender carrots and asparagus, plus sweet-tart golden raisins mixed with deliciously fluffy Couscous! This healthy 15-minute side dish will make busy weeknights a total breeze.
Easy Couscous Recipe with Asparagus and Raisins
Whenever I need to whip up a nutritious, yet unique side dish in a pinch, I turn to this couscous recipe. You just can't go wrong with soft boiled veggies, fluffy couscous, and zingy little golden raisins. Everything about this dish is like baby bear's porridge – just right! 🙃
It's seasoned to perfection with tangy lemon juice and, of course, some salt and pepper. Once you try this flavorful, veggie-filled recipe, you'll kiss plain old couscous goodBYE! Besides, this dressed-up version is made in the same amount of time. Score!
What Exactly is Couscous?
Couscous is a staple of West African cuisine that originated in Algeria. Commonly mistaken as a grain, couscous is technically a kind of pasta. It's made from durum wheat that's ground up and turned into semolina, which is a course powder popular in Italian pasta-making. Durum wheat actually has more protein than regular wheat. 👌
Recipe Ingredients
You only need a haldful of ingredients to make this wholesome dish. Subsitutions are welcome!
Chicken Broth: If you're vegan or vegetarian, you can use vegetable broth instead.
Carrots: Shredded.
Asparagus Pieces: Diagonally cut; each piece should be about 2 inches long.
Red Bell Pepper: Diced.
Olive Oil: Or avocado oil.
Lemon Juice: You will love the zingy flavor this provides.
Salt & Pepper
Ground Coriander
Ground Cumin
Couscous: Regular or whole wheat.
Golden Raisins: You can sub with regular raisins if you must, but the golden ones just go really well with the other flavors in this dish.
Chopped Fresh Parsley: For garnish.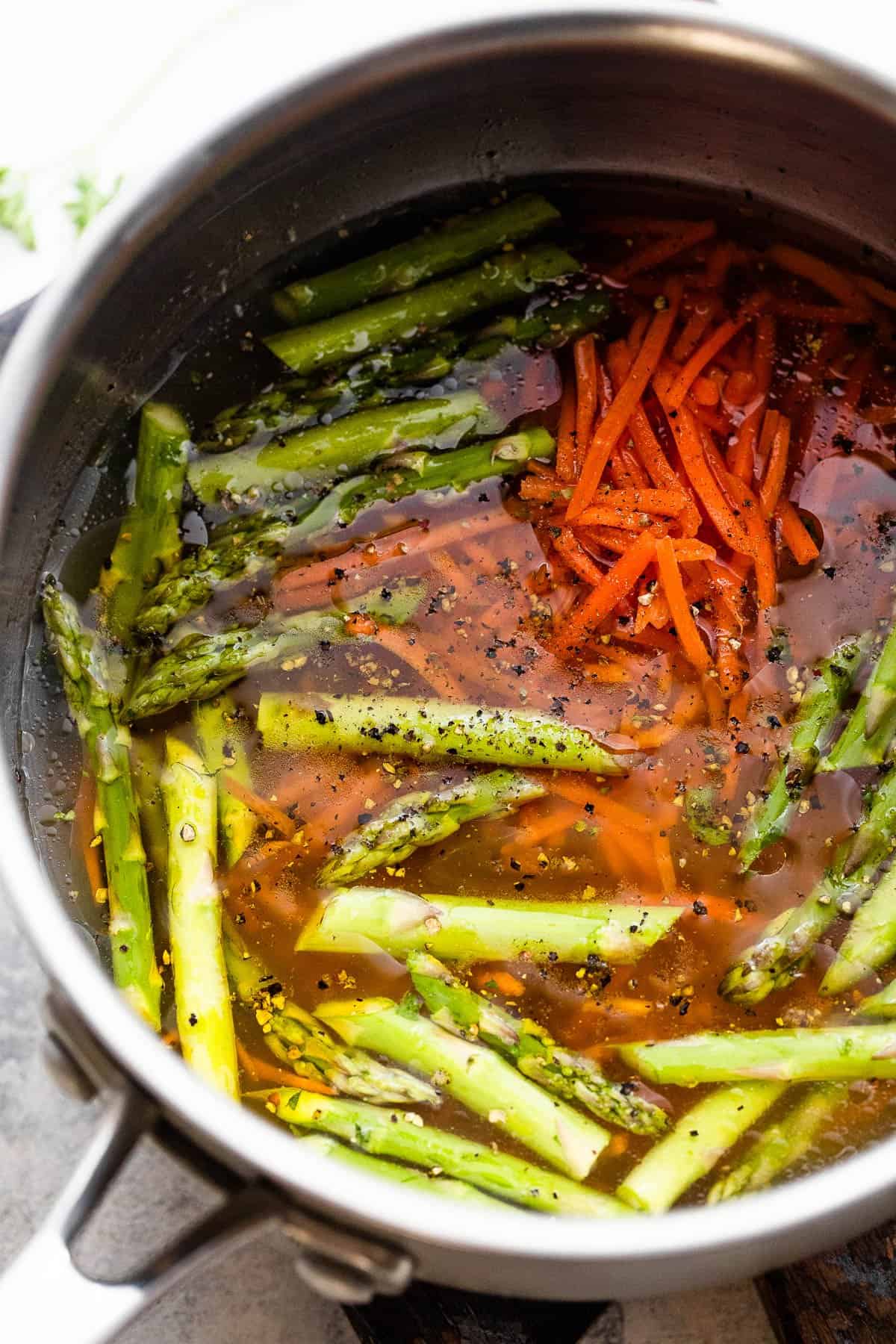 How to Make Couscous with Asparagus and Raisins
Nothing is better than a healthy side dish that comes together in a snap. Three cheers for this couscous!
Combine Everything Except Couscous & Raisins: In a saucepan, combine the chicken broth, shredded carrots, asparagus, peppers, olive oil, lemon juice, salt, pepper, coriander, and cumin. Set over medium-high heat and bring to a boil.
Remove From Heat: Remove saucepan from the heat.
Add Couscous & Raisins: Stir in the couscous and raisins.
Cover & Let Sit: Cover the saucepan and let rest for 5 minutes.
Enjoy! Fluff the couscous up with a fork, garnish with parsley, and serve.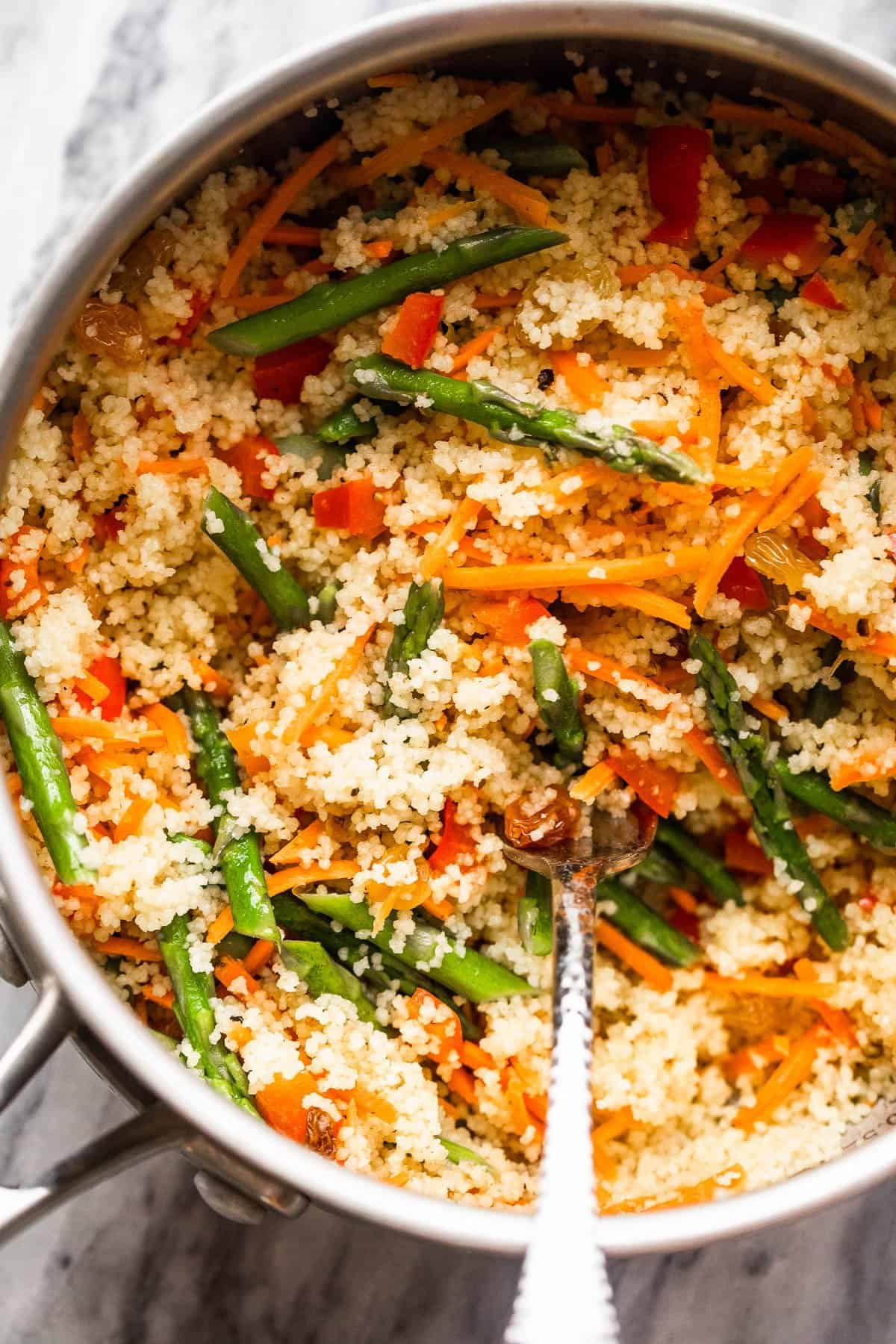 Tips for Success
Making couscous may be easy, but a few extra tips never hurt anyone! Here are some recipe suggestions:
Toast the Couscous: Want to add an irresistible nuttiness to the equation? You can toast your couscous before cooking it to do just that. Add a splash of oil to a hot skillet and toss until the couscous turns golden brown. Just don't let it get too dark, since you still need to cook it in the covered saucepan.
Cover the Pan Quickly: Make sure you don't waste any time when you stir in the couscous and cover the saucepan. If you let too much heat escape, your couscous won't cook as well.
Don't Disturb Cooking Couscous: You shouldn't be opening and closing the saucepan while the couscous cooks. Wait 5 minutes, then check on it – if it looks a little watery, let it sit for a few extra minutes to allow the couscous to soak up the excess liquid. Then uncover, fluff up, garnish, and serve.
Variation Ideas
There are tons of ways to change up this recipe and create your own couscous masterpiece. Just look at some of the possibilities!
Add spinach sauteéd with garlic and olive oil.
Use spices like paprika or garlic powder.
Add diced dried apricots or currants.
Add toasted pine nuts or slivered almonds.
Incorporate fresh herbs like dill, rosemary or oregano.
Add lemon zest.
Serving Suggestions
This couscous is so good, it runs the risk of outshining your main dish. These entrees are definitely up for the challenge!
Serve with Grilled Chicken: Not just any grilled chicken. These Grilled Brown Sugar Chicken Thighs will have you licking your plate! 😋
Serve with Shrimp: My crispy Coconut Lime Shrimp are grilled in a foil packet with lime slices, veggies and some seriously tasty seasonings. Super easy cooking and even easier cleanup!
Pair with Moussaka: Need a meatless option that won't disappoint? Say hello to Vegetarian Moussaka – your new best friend!
How to Store and Reheat Leftovers
Store leftover couscous in an airtight container or a zip-top bag with all the air squeezed out. It will stay fresh in the fridge for up to 3 days.
If you want to enjoy it within an hour or two of storing it, you can keep it on the counter.
To reheat cooked couscous, add a little bit of water to the bowl. Then, reheat it gently in the microwave until it's warmed through.
ENJOY!
Fluffy Couscous with Asparagus and Golden Raisins
Tender carrots and asparagus, plus sweet-tart golden raisins mixed with fluffy and delicious couscous.
Instructions 
In a 2.5 quart saucepan or larger, combine chicken broth, shredded carrots, asparagus, peppers, olive oil, lemon juice, salt, coriander, cumin, and pepper; set over medium-high heat and bring to a boil.

Remove from heat and stir in couscous and raisins.

Cover and let stand 5 minutes.

Fluff with a fork.

Garnish with parsley and serve.
Nutrition Facts
Fluffy Couscous with Asparagus and Golden Raisins
Amount Per Serving
Calories 266
Calories from Fat 81
% Daily Value*
Fat 9g14%
Saturated Fat 1g5%
Polyunsaturated Fat 1g
Monounsaturated Fat 6g
Sodium 513mg21%
Potassium 347mg10%
Carbohydrates 40g13%
Fiber 4g16%
Sugar 8g9%
Protein 7g14%
Vitamin A 4203IU84%
Vitamin C 23mg28%
Calcium 36mg4%
Iron 2mg11%
* Percent Daily Values are based on a 2000 calorie diet.
Keywords: cooking couscous, how to make couscous, vegetable couscous
Want To Save This Recipe?
More Asparagus Recipes to Try
Crazy about asparagus? You're right where you belong – I am too! Especially when it comes to the dishes below.