These Salted Honey Chewy Pumpkin Cookies are sweet, buttery, and perfectly pumpkin spiced. A crispy edge and a chewy center set these pumpkin cookies apart!
Love the idea if Salted Honey? Try My Salted Honey Pistachio Cookies too!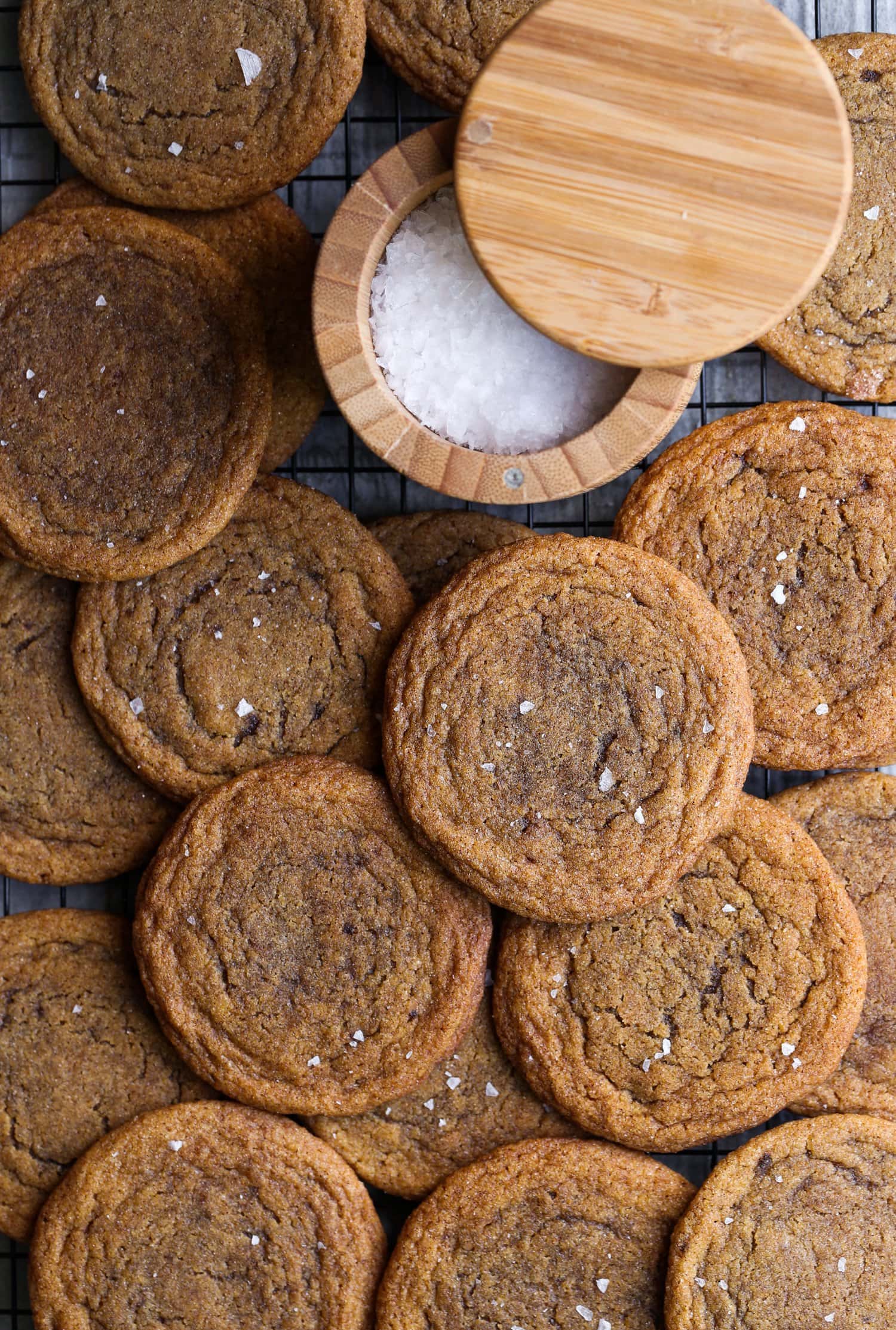 Salted Honey Chewy Pumpkin Cookies Are Easily My New Favorite Fall Cookie Recipe!
Today you're in for a treat. Literally. These Chewy Pumpkin Cookies are not only easy, but a total fall mood. You don't need to use your stand or hand mixer, just a bowl or even the saucepan you brown the butter in! They are different from a typical pumpkin cookie because they are a truly CHEWY cookie. A lot like a molasses cookie, you will be eating these all through fall into the holidays. Perfect with a cup of coffee or tea, or on your holiday platter. Just be prepared to give the recipe to all your friends. Everyone loves these!
What To Expect With This Recipe:
An easy cookie recipe that requires no mixer!
A cookie with crispy Edges and perfectly soft, chewy centers.
The perfect amount of pumpkin flavor.
No chill time needed, so a truly QUICK and easy cookie recipe.
A cookie recipe that you will make again and again that people will rave about!
A salty bite from the addition of salted honey and flaked sea salt.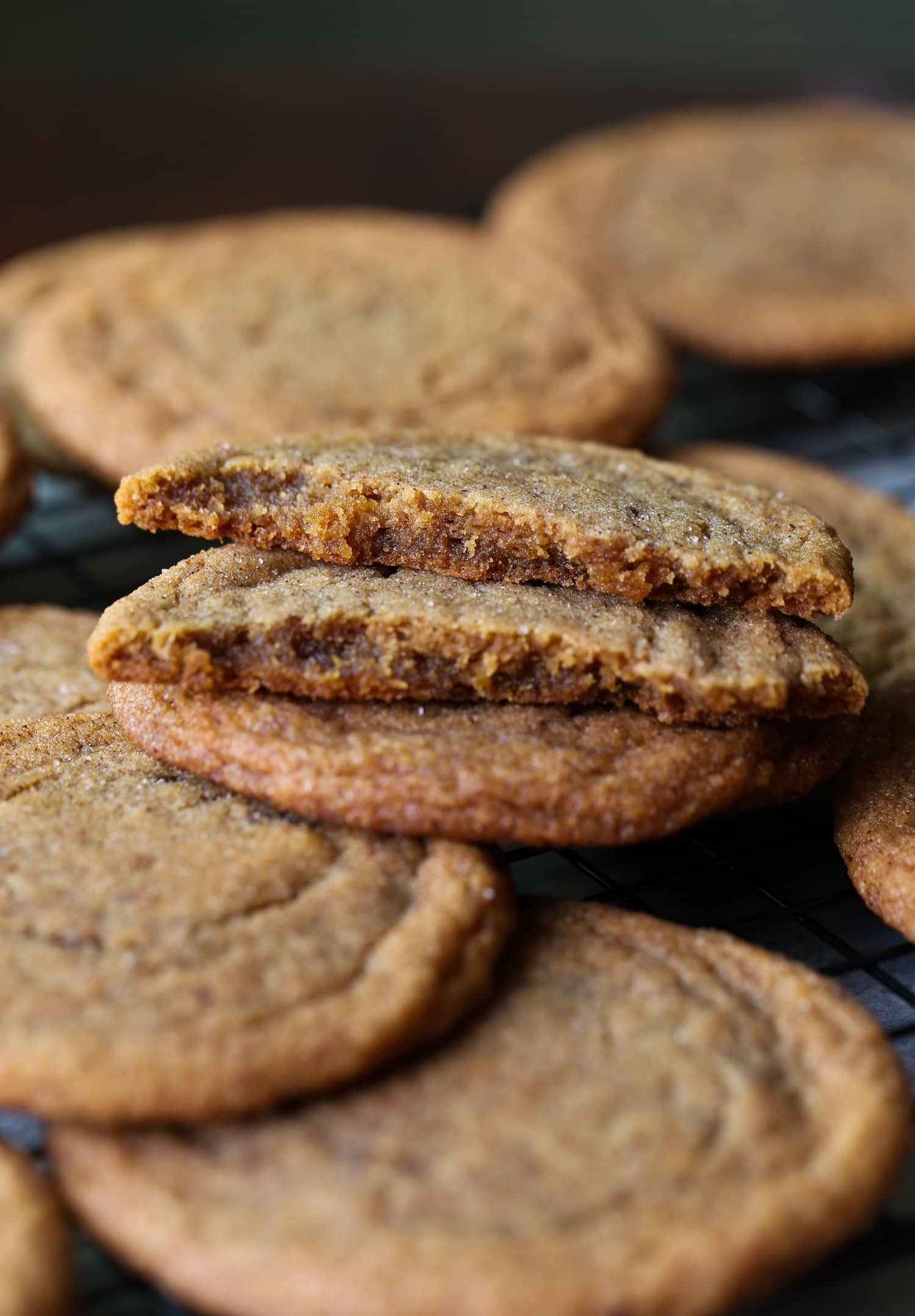 I've Cracked the Code On TRULY Chewy Pumpkin Cookies!
I've made so many cookies over the years using pumpkin. My Soft Pumpkin Cookie recipe is a HUGE favorite or friends and family. And while I LOVE that cookie recipe, this is a totally different kind of pumpkin cookie. This cookie, as you can see from the pictures is not cakey in any way. I have a few tricks up my sleeve with this recipe that I can't wait to share with you.
First, What Is Salted Honey?
Before I get into the details of the cookie making process, let me start with the Salted Honey! The addition of honey adds a subtle sweetness that pairs with the brown sugar beautifully. What I like to do is dissolve some salt into the honey before adding it into the cookie dough because the flavors melds together creating liquid gold! The salty/sweet combination works beautifully in the flavor, while the honey adds to the chewy texture!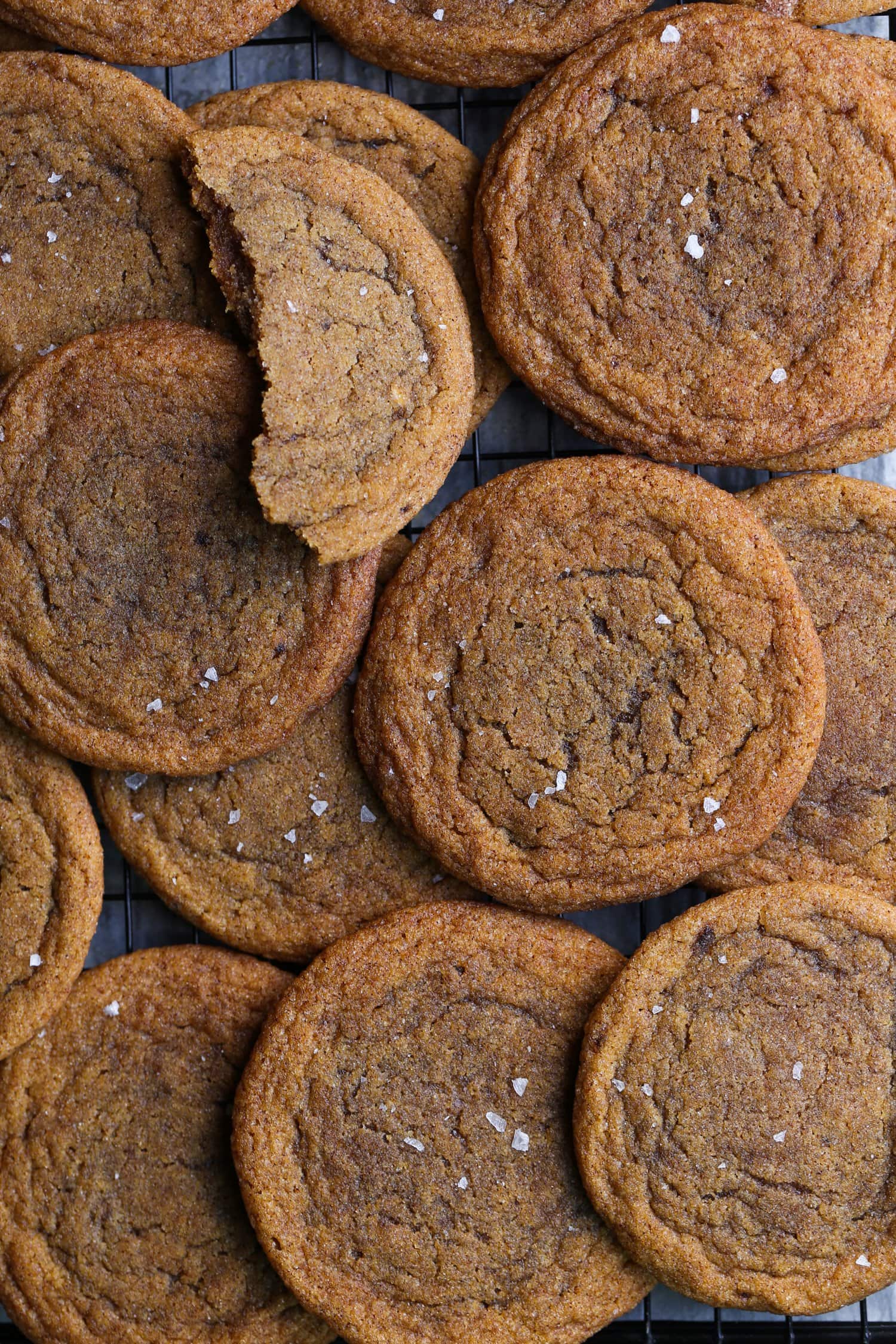 How Do You Actually Make Pumpkin Cookies Chewy And Not Cakey?
Let me break this down for you because it's easier than you think! Pumpkin in cookies, or any baking is a great ingredient because while it adds flavor, fiber, and texture, it can also be a perfect egg substitution. But it does make your baked good cakey. Which is great if you're baking cakes, muffins, or quick breads. And while some cakey-style cookies are great, not all pumpkin cookies should have to be cakey! So here are a few of the tips that I discovered while testing this recipe!
Use a small amount of pumpkin. You want the flavor, but not the texture!
When baking cookies with pumpkin omit a lot of the egg you would otherwise use. I use only an egg yolk in this recipe and let the pumpkin do the rest of the work.
Adding honey to this recipe adds to the chewiness while keeping the dough a little softer than a traditional cookie dough.
Melted butter helps the cookies spread a bit, which give you those crispy, buttery edges.
BANG THE COOKIE SHEET! This is a great tip when you want chewy, flat cookies with crinkly tops. 
What Ingredients Do You Need to Make Chewy Pumpkin Cookies?
Salted butter. You will be browning the butter and using it in the cookie dough after it has cooled, but has not become solid again. The melted butter aids in spreading the cookies a bit more which gives you those buttery, crisp edges! You can use unsalted butter if that's what you have on hand. I wouldn't adjust the salt in the honey, but you could just add more flaked sea salt on top if you want to add more saltiness to taste. 
Honey + Kosher Salt. This is the salted honey! 
Dark brown sugar. Using dark brown sugar adds more molasses flavor, while aiding in the chewy texture.
Egg yolk. Just using a yolk in this recipe adds fat and protein, while not adding too much moisture into the cookie. You are using pumpkin, so you don't need the extra moisture from the egg white, but the yolk binds and stabilizes the dough.
Vanilla extract
Pumpkin puree. Make sure you're using 100% pure pumpkin and not pumpkin pie filling!
Baking soda
Pumpkin pie spice. You can also substitute cinnamon in this cookie if you don't have pumpkin spice. Or make homemade pumpkin pie spice (1 tablespoon ground cinnamon + 3/4 teaspoon ground ginger + 3/4 teaspoon ground nutmeg + 1/4 teaspoon ground cloves)
All purpose flour
Granulated sugar + Cinnamon. This is the cinnamon sugar mixture you will roll your cookie dough in before baking. 
Flaked sea salt to sprinkle on top for garnish. This is optional, of course, but that flaky salt on top really adds something special. You don't need a lot!