Easy1 hour 20 minsVegetarian
My favorite recipe for cheesy, creamy, garlicky, crazy-delicious scalloped potatoes.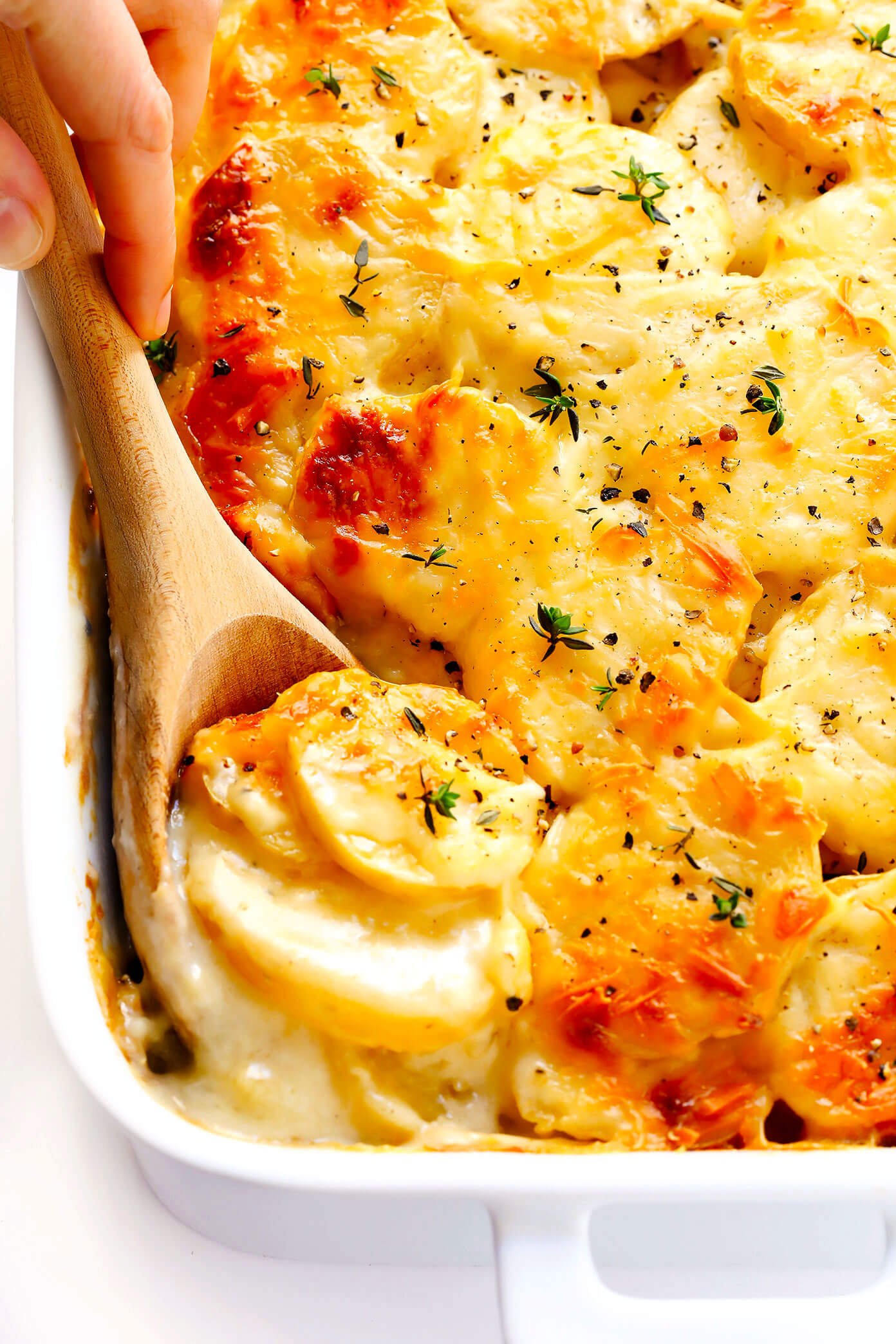 Anyone else out there still have yet to plan your menu for Easter Sunday this coming weekend?
Well, good news: 1) you're not alone and 2) I've gotcha covered! ♡
We have all sorts of delicious recipes here on our Easter section of the blog that are sure to please a crowd.  If you're feeling those brunch vibes, there's everything from my favorite 1-hour cinnamon rolls, to the world's best sour cream coffee cake, to a classic breakfast casserole, to nearly every way to prepare eggs, to mimosa sangria and more.  Or, if you're going more of the Easter dinner route, our family's favorite salad, these perfectly roasted Brussels sprouts, an easy fruit salad, these quick 1-hour soft and buttery dinner rolls might be calling your name.  Of course, carrot cake (or this vegan, gluten-free carrot cake) is also a must around here every Easter.
But the other non-negotiable for me each Easter, Christmas, Thanksgiving and — let's be real — any night of the year that I'm craving some creamy, garlicky, cheesy comfort food?
Scalloped potatoes.
Specifically, these scalloped potatoes.  In my humble opinion, they are simply the best.  And in the years since I originally posted this recipe here on the blog, thousands of you have also tried them and agreed!  So today, I thought I'd bump this recipe back to the top of the stack for those of you who might be new to the blog and looking for a tried and true recipe to make this weekend.  As someone who has made these dozens and dozens of times, I can vouch — they won't let you down.
Scalloped Potatoes Recipe | 1-Minute Video
Scalloped Potatoes Ingredients:
The ingredients to make this classic scalloped potatoes recipe are pretty simple.  You'll need:
Yukon gold potatoes: I prefer these to Russets because of their nice creamy texture and buttery flavor.
Shredded cheese: It's important to have a good melty cheese for these.  I have always preferred a nice sharp cheddar (not one that has been aged, since those don't melt as well).  But I have also made these with mozzarella, gouda, fontina and gruyere, and all have been delicious.  So feel free to pick your favorite, or use a mix!  Plus, some freshly-grated Parmesan is also a must.
Sliced onion: For extra flavor.  I always cook the onion in the sauce, and then strain it out and add it to the middle layer of the potatoes, so that there aren't a bunch of onion slices sitting on the top layer.
Garlic: If you ask me, the more the merrier.  The recipe calls for 4 cloves, but I've used up to 8 before.  🙂
Fresh thyme: I've always used this as my main seasoning for scalloped potatoes, but you could use just about any of your favorite fresh herbs or dried seasoning blends.  I also love occasionally adding some blackening seasoning to my sauce.
Creamy sauce: In lieu of heavy cream, my sauce for this recipe calls for a roux with butter and flour, milk and chicken (or veggie) stock.
How To Make Scalloped Potatoes:
To make your scalloped potatoes, begin by chopping up your onions and garlic, and making your sauce on the stovetop.  Since we're using milk instead of cream, it's important not to let the sauce boil.  Just let it get warm enough that it barely comes to a simmer so that it can thicken.  (Otherwise the sauce will "break" and become watery when baked.)  Then remove it from the heat until it's ready to be used.
Meanwhile, as your sauce cooks, slice up all of those potatoes.  The thinner they are, the quicker they will cook.  So I usually slice mine about 1/4-inch thick.
Once your sauce and potatoes are ready to go, it's time to layer everything up!  I usually go in the following order:
Half of the potatoes
Half of the sauce (including the onions that I strain out with a slotted spoon)
Half of the shredded cheese
Parmesan
Half of the potatoes
Half of the sauce
Half of the shredded cheese
Once everything is ready to go, cover the pan lightly with aluminum foil.  Then bake for 30-35 minutes, or until the sauce is nice and bubbly around the edges.  Remove the foil and bake for another 30 minutes or so, until the cheese is nice and golden on top and the potatoes are cooked through.  (If the cheese starts to get too brown on top, just lightly cover the top with a sheet of foil again until the potatoes are ready to go.)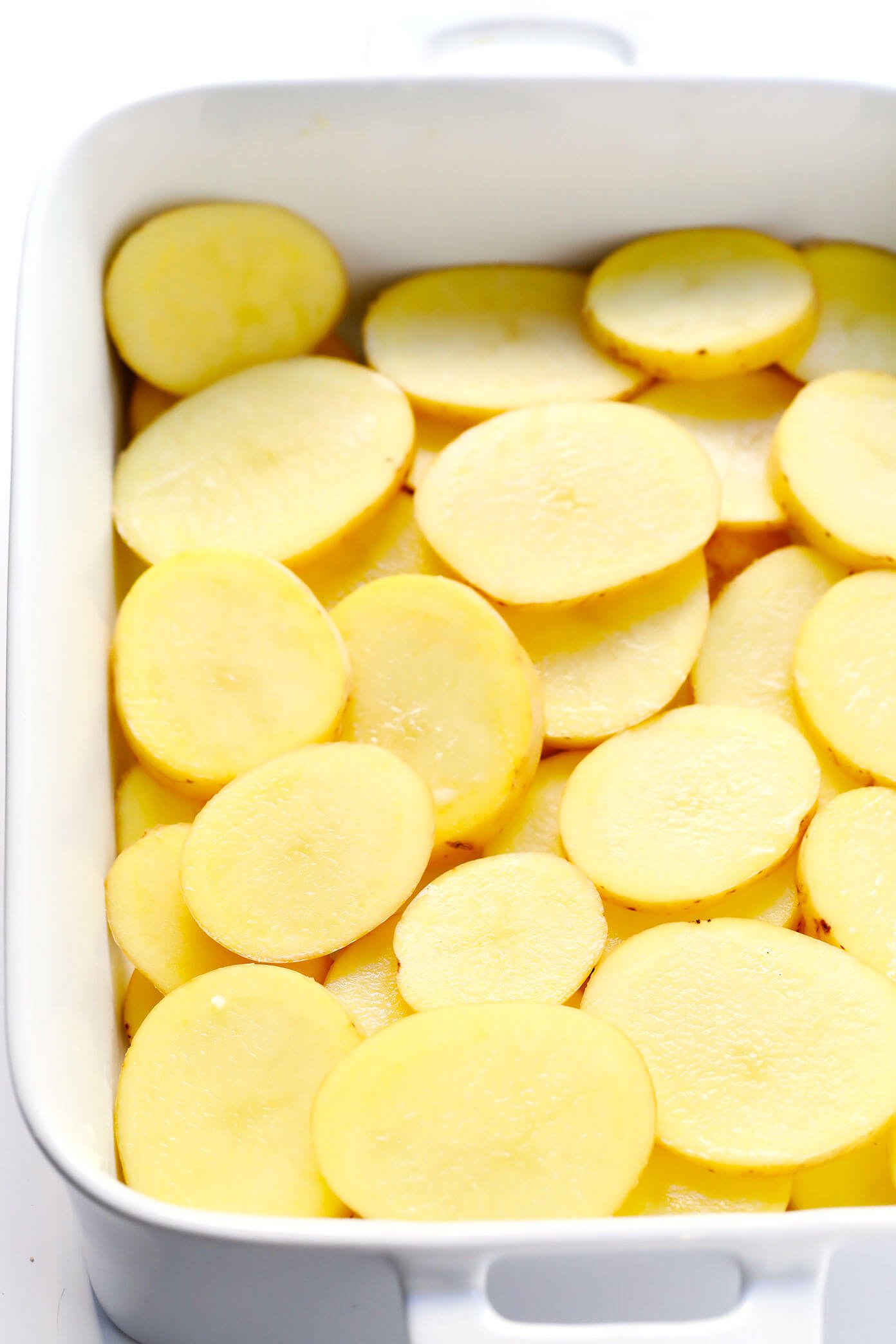 Then remove, sprinkle with some extra thyme and black pepper, and serve!
I mean, just look at that cheesy, creamy, golden crust. ♡♡♡
Who wants some??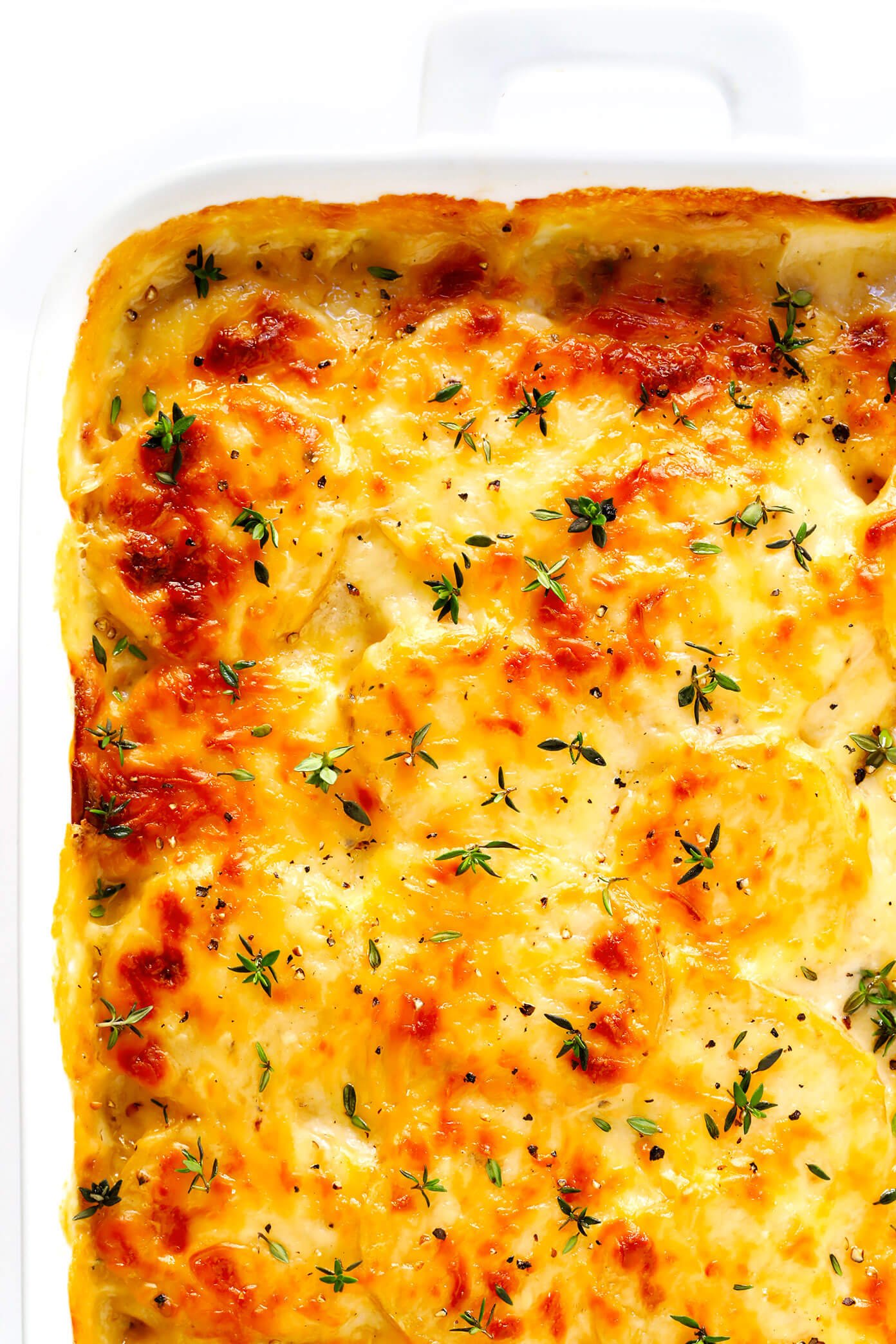 How To Make-Ahead Scalloped Potatoes:
Over the years, I've had lots of you ask if you can prep this scalloped potatoes recipe in advance, and the answer is yes!  You can either:
Prep the scalloped potatoes up to the point of baking (covering tightly with foil) and refrigerate for up to 2 days before baking.  Then remove from the fridge, and bake according to the recipe instructions.  (They might need an extra 5-10 minutes.)
Bake the scalloped potatoes and let them cool completely to room temperature.  Then cover tightly and refrigerate for up to 3 days.  Then bake covered (with foil) at 350° for 30 minutes, or until warmed through.
I prefer the first method, so that you can still get that freshly-melted cheese and perfectly creamy sauce texture.  But the second method will also work well if needed.  (It's also a great way to re-heat leftovers.)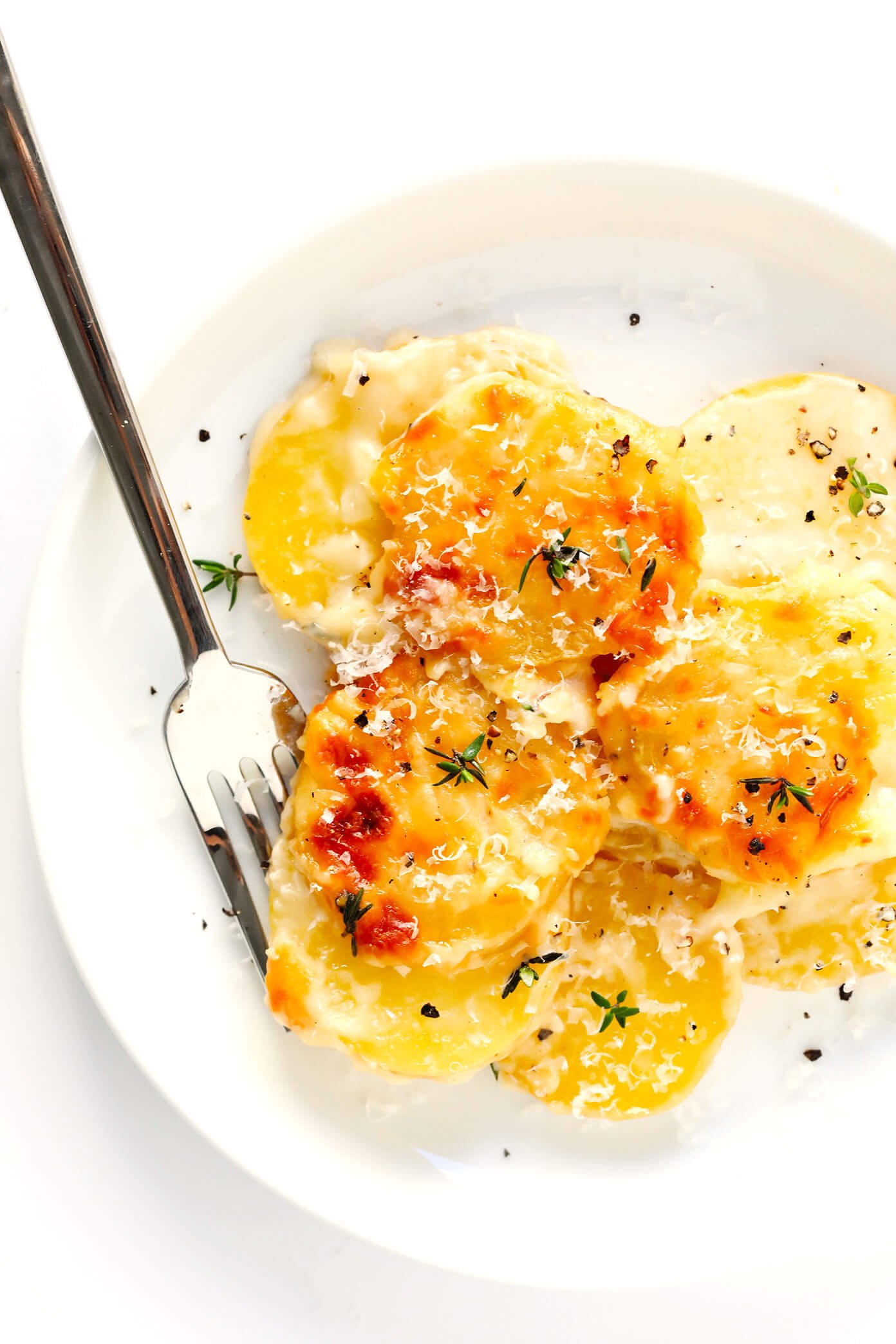 Other FAQ:
Can you freeze this recipe? Unfortunately, I don't recommend it.  Neither the potatoes or cream sauce freeze well.
Can I make this recipe gluten-free?  Sure thing!  Just use all certified-GF ingredients.  And instead of flour, you can either use gluten-free all-purpose flour.  Or, you can nix the flour and whisk 3 tablespoons of cornstarch into the cold milk before adding it to the sauce.
Can you add other seasonings? Absolutely! 🙂  Again, I just seasoned this classic recipe with garlic and thyme.  But feel free to stir your favorite seasoning mixes into the sauce or sprinkle on your favorite herbs or veggies.
Can you substitute other kinds of potatoes? Sure thing.  I've made this before with Russets and red potatoes, and also enjoy occasionally using a mix of Yukon golds and sweet potatoes.  But for the classic recipe, Yukon golds are my favorites.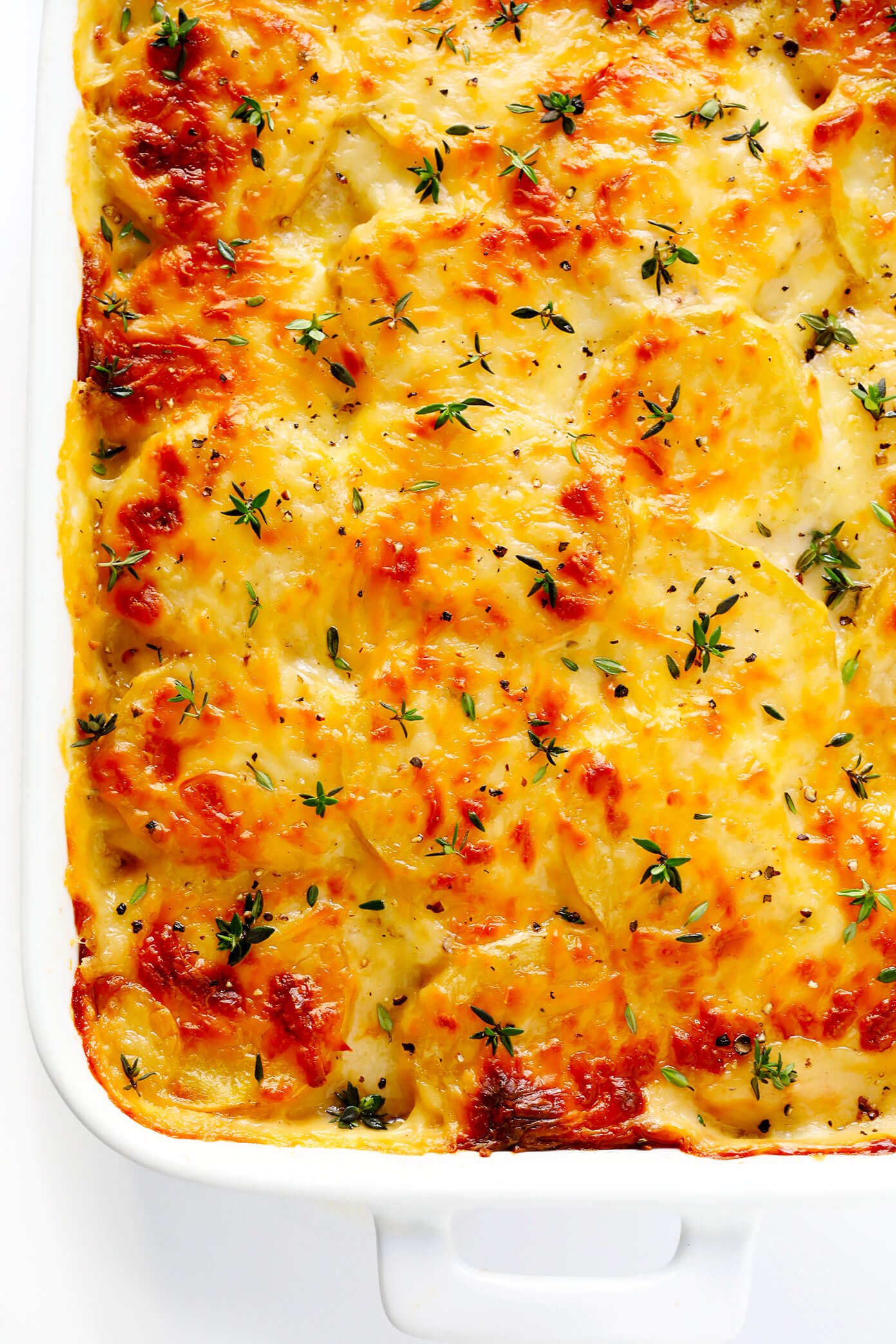 If you have any other questions, I'll try to get to them below.  But otherwise, hope that you enjoy this one!  And I wish you all a lovely, hope-filled weekend ahead.  ♡
This post contains affiliate links.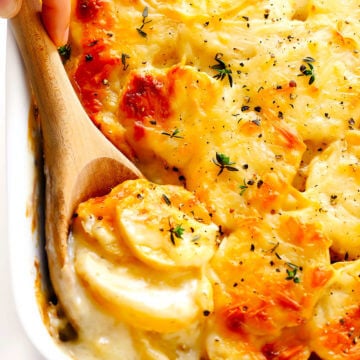 Yield: 10-12 servings
Scalloped Potatoes
My favorite recipe for garlicky, cheesy, perfect scalloped potatoes — lightened up a tad with milk instead of heavy cream.
Ingredients:
3 tablespoons butter
1 small white or yellow onion, peeled and thinly sliced
4 large garlic cloves, minced
1/4 cup all-purpose flour
1 cup chicken stock or vegetable stock
2 cups milk (I recommend 2% or whole milk)
1 1/2 teaspoons Kosher salt
1/2 teaspoon black pepper
2 teaspoons fresh thyme leaves, divided
4 pounds Yukon Gold Potatoes, sliced into 1/8-inch rounds
2 cups freshly-grated sharp cheddar cheese*, divided
1/2 cup freshly-grated Parmesan cheese, plus extra for serving
Directions:
Preheat oven to 400°F.  Grease a 9 x 13-inch baking dish with cooking spray; set aside.
Melt butter in a large sauté pan over medium-high heat.  Add onion, and sauté for 4-5 minutes until soft and translucent.  Add garlic and sauté for an additional 1-2 minutes until fragrant.  Stir in the flour until it is evenly combined, and cook for 1 more minute.  Gradually pour in the stock, and whisk until combined.  Add in the milk, salt, pepper, and

1 teaspoon

thyme, and whisk until combined.  Continue cooking for an additional 1-2 minutes until the sauce just barely begins to simmer around the edges of the pan (avoid letting it come to a boil) and thickens.  Then remove from heat and set aside.
Spread half of the sliced potatoes in an even layer on the bottom of the pan.  Top evenly with half of the cream sauce.  (I usually strain out all of the onions and add them here too.)  Then sprinkle evenly with 

1 cup

 of the shredded cheddar cheese, and all of the Parmesan cheese.  Top evenly with the remaining sliced potatoes, the other half of the cream sauce, and the remaining 1 cup of cheddar cheese.
Cover the pan with aluminum foil and bake for 30 minutes.  The sauce should be nice and bubbly around the edges.  Then remove the foil and bake uncovered for 25-30 minutes, or until the potatoes are cooked through.
Transfer the pan to a cooling rack, and sprinkle with the remaining teaspoon of thyme and extra Parmesan.  Serve warm.
*I recommend not buying pre-grated cheese for this recipe, since it will not melt as well.  Instead, it's best if you purchase a block of cheese and shred it yourself just before baking.  Over the years, I have also experimented with a variety of different cheeses here.  While I prefer the flavor of sharp cheddar, mozzarella, gouda, fontina and gruyere work great too!  (Or feel free to use a mix!)


All images and text ©Gimme Some Oven
If you make this recipe, be sure to snap a photo and hashtag it #gimmesomeoven. I'd love to see what you cook!