These Shortbread Toffee Cookie Bars are made with a buttery brown sugar shortbread crust, filled with a sweetened condensed milk caramel, and topped with milk chocolate and toffee bits! SO sweet and rich!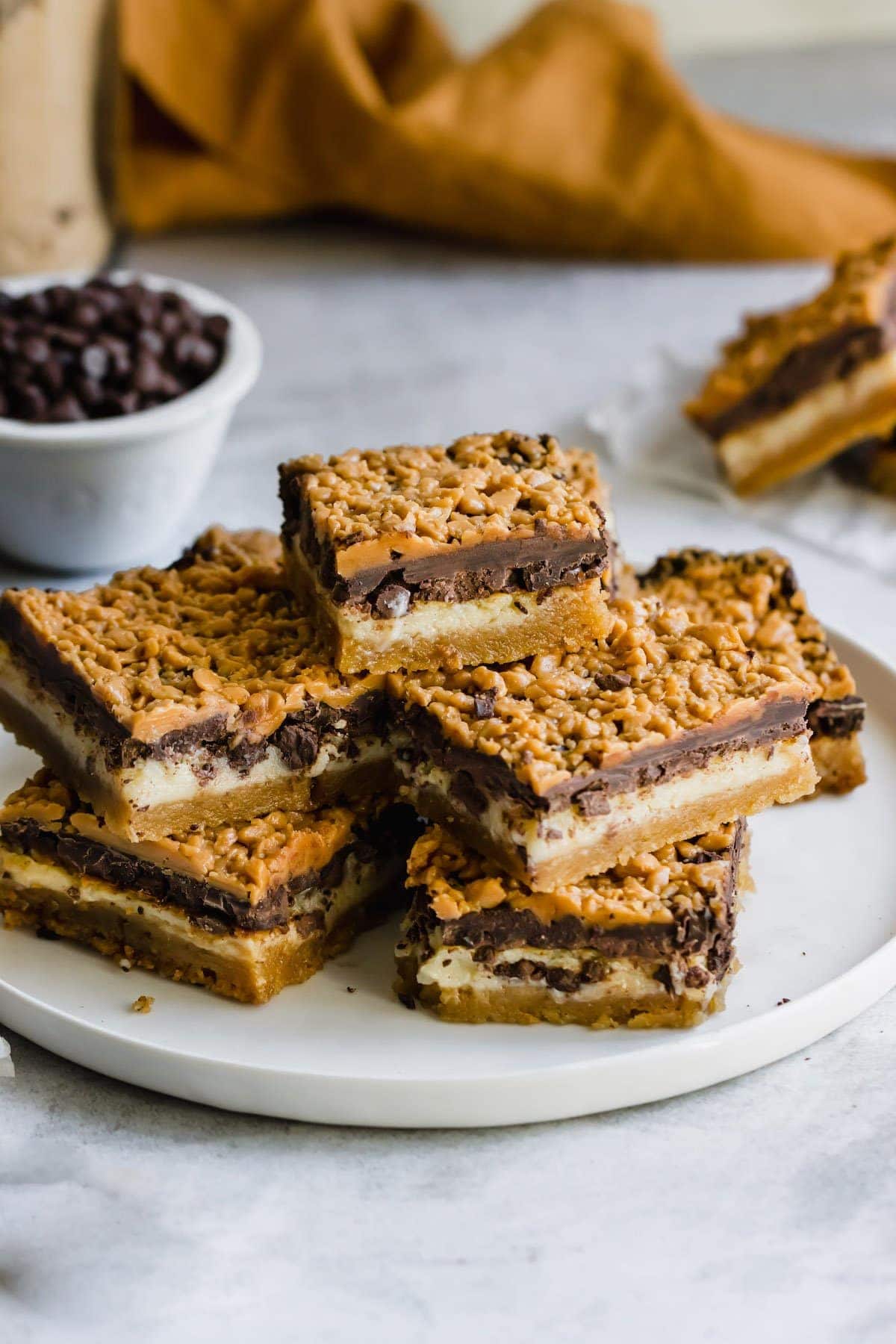 This recipe was originally published in 2014. The images and recipe tips were updated in 2021. The recipe remains the same!
Buttery Shortbread Cookie Bars with Toffee
Shortbread Toffee Cookie Bars is one of those recipes that has been around for ages, I think. I found the base for this recipe on Pinterest and decided to give it a try…unfortunately the picture just kept leading me back to a million other sites and never a proper source. Annoying.
So, I slightly varied the recipe that the person reposted on the picture. Recipe police, don't arrest me.
Anyway, I know that calling these cookies "Best Ever" is a pretty confident statement to make, but I think they deserve the praise. Because these are the "Best Ever Shortbread Toffee Cookie Bars" I've ever had. Their base is a brown sugar shortbread, the filling is a caramelized sweetened condensed milk, and the topping is a mixture of milk chocolate and toffee. It's everything you could ever want all in one place.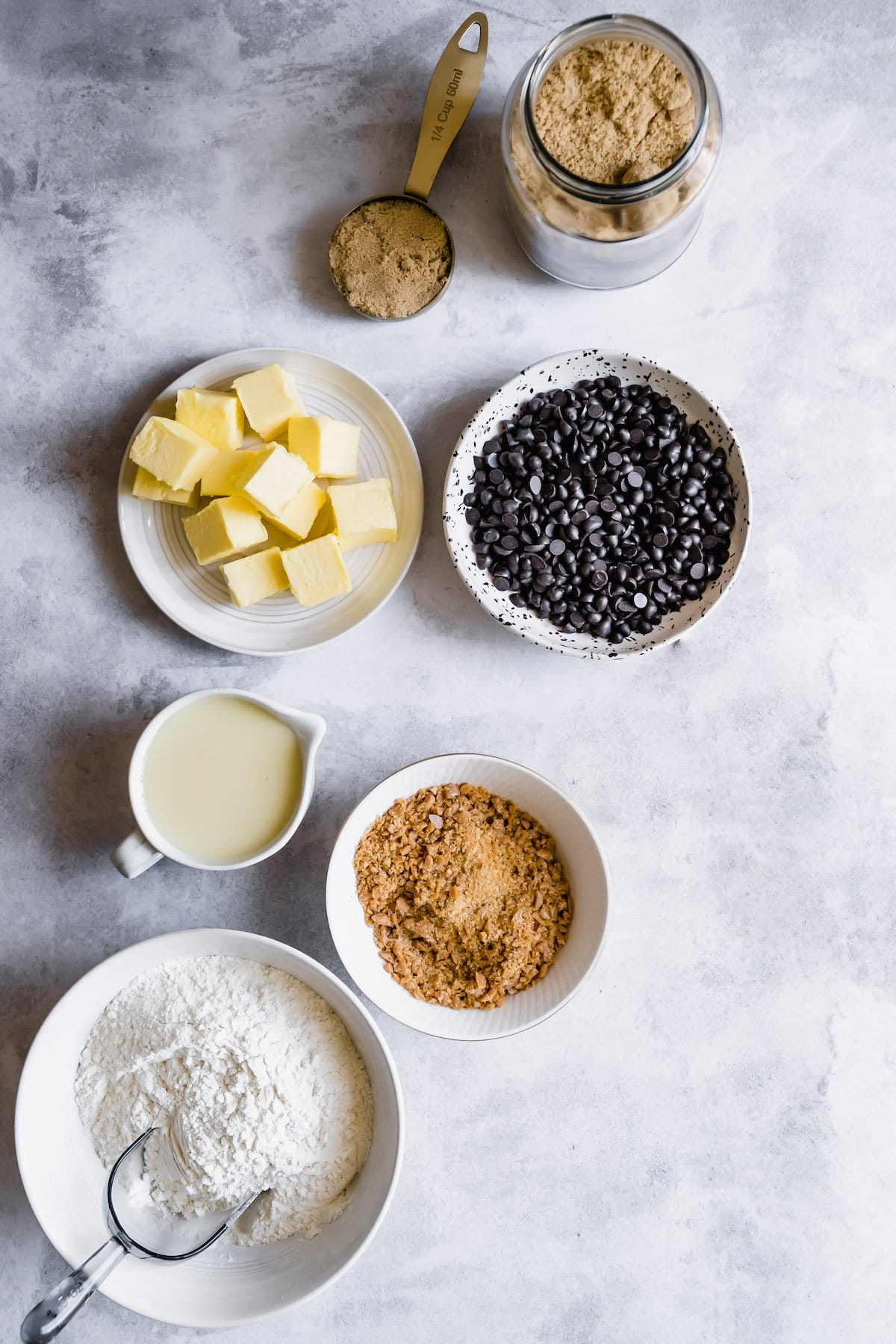 Recipe Ingredients
Let's stop staring at these beautiful cookie bars, and bake them into being! Here's what we'll need to do that:
For the Shortbread Crust:
Butter: Make sure the butter comes to room temperature so that it will easily cream with the sugar.
Brown Sugar: I used light brown sugar for its sweet, caramel notes.
Flour: I used all-purpose flour for these cookie bars.
For the Filling:
Sweet Condensed Milk: Whatever brand your local store carries is fine.
Butter: You can use salted or unsalted, whichever you prefer.
For the Topping:
Chocolate Chips: You'll need 2 cups of milk chocolate chips – if you want to add richness, mix in some dark chocolate chips.
Toffee Bits: You can buy these at your local store, or make a batch of toffee and crush some of it up!
How to Make Shortbread Toffee Cookie Bars
These chocolate toffee cookie bars take about 15 minutes to prepare, and 30 minutes to bake – and it's all super easy! I love cookie bars because they can be a casual dessert for snacking on, but you can also make them as a somewhat decadent dessert.
Prepare: Preheat oven to 350° and line a 9×13 pan with foil and spray lightly with nonstick spray.
Cream the Butter and Sugar: Beat butter and sugar together until combined, 1-2 minutes.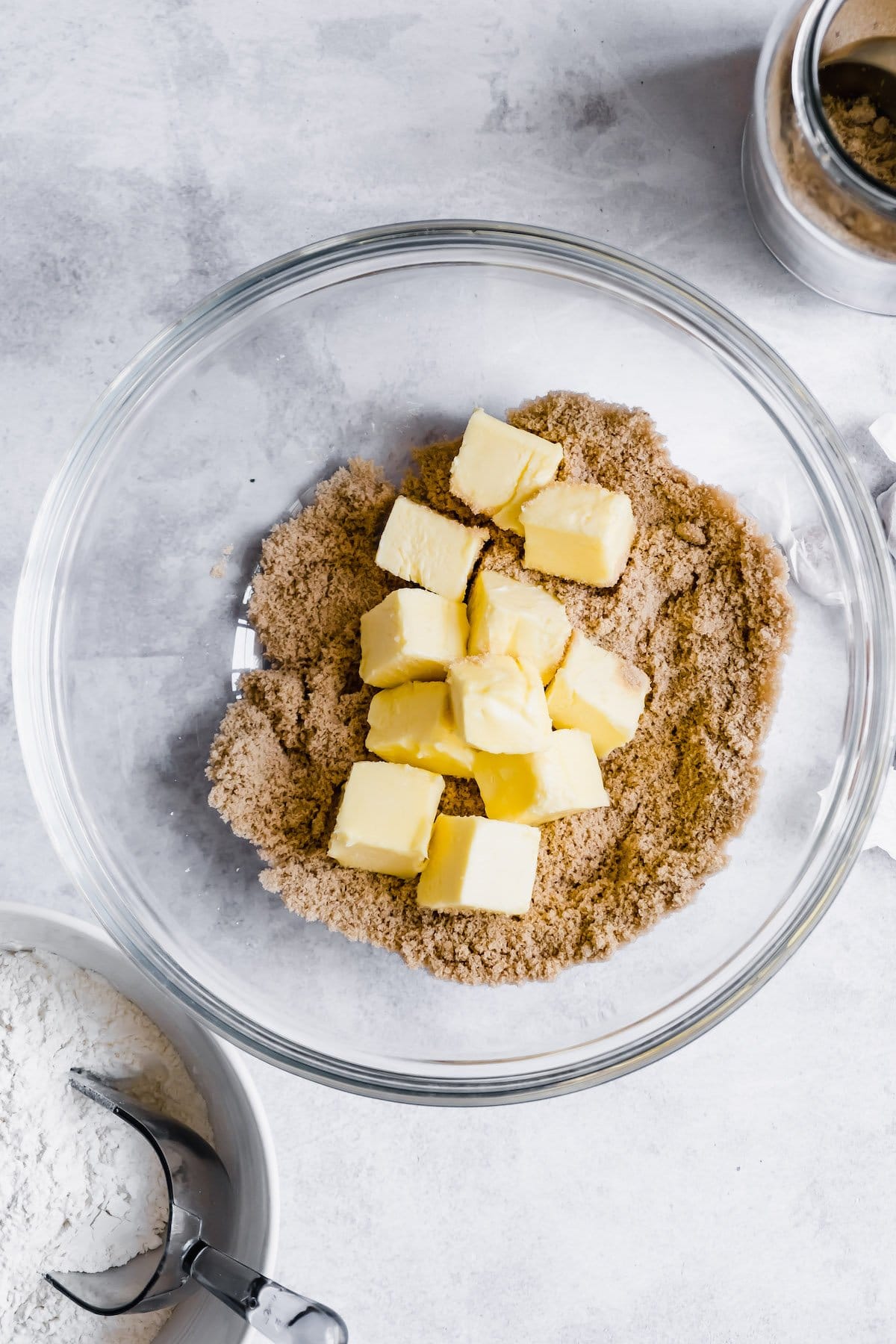 Mix in Flour & Bake: The mixture will be slightly dry. Press into prepared pan. Bake for 15 minutes until lightly golden. Remove from oven and allow the pan to cool slightly.